Office of Communications
Director of Communications
Jacob Luecke
573-635-9127, ext. 261
Creative Services Coordinator
Annie Williams
573-635-9127, ext. 231
---
The Catholic Missourian
Editor
Jay Nies
573-635-9127, ext. 235
Associate Editor/Advertising Coordinator
Kelly Martin
573-635-9127, ext. 238
---
Alphonse J. Schwartze
Memorial Catholic Center
2207 West Main Street
Jefferson City, MO 65109-0914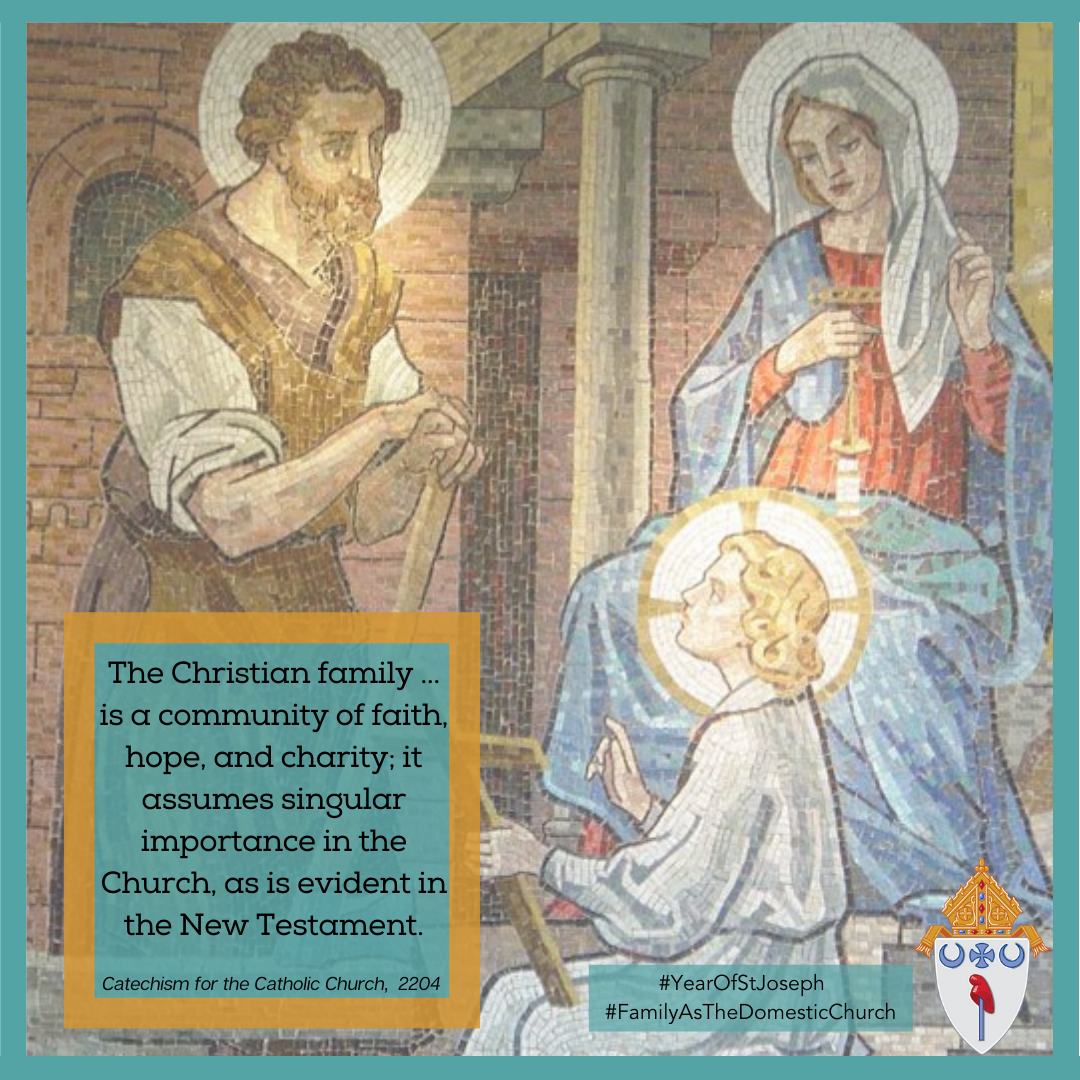 The texts and graphics can be used in print material (such as bulletins) or on digital channels (such as social media and websites.) During the Year of St. Joseph, the…
Read More
Novena in Honor of St. Joseph
Join Bishop W. Shawn McKnight and Catholics in the Diocese of Jefferson City March 10-18 in praying a novena to honor St. Joseph.
Preparation
Families may consider creating an Altar for St. Joseph in their home. It can be simple, with an image of St. Joseph or the Holy Family. Consider using it as a focal point for collecting food for the poor or other alms. Some families celebrate the feast of St. Joseph by inviting family, friends and those in need to a feast!
Resources for St. Joseph Altars:
Please use the Novena prayer for each day, March 10-18. The readings specific to each day are below and should be inserted after the opening greeting.
Optional opening Hymn: Included in daily novena videos above.
Antiphon: St. Joseph, our Protector, pray for us.
Leader: Behold, the faithful and wise servant
Response: Whom the Lord has placed over His household
Reading: (specific to each day)
Leader: Let us Pray.
Almighty God, at the beginnings of our salvation, when Blessed Mary conceived Your Son and brought Him forth into the world, You placed them under Saint Joseph's watchful care. May his prayer still help Your Church to be an equally faithful guardian of Your mysteries, and a sign of Christ to mankind. We ask this through Christ our Lord.
Response: Amen
Year of St. Joseph
Pope Francis called for observance of the Year of St. Joseph, which began Dec. 8, 2020.
The diocesan communication team, through our various channels, intends to focus on a particular aspect of St. Joseph each month, trying to connect an attribute with ordinary celebrations and commemorations throughout the year. Diocesan communications will feature these themes each month:
January: those working to support their families - especially those seeking work
February: family as the domestic church
March: St. Joseph's primary feast day March 19; protector of children
April: Protector of the Vulnerable, foster parents
May: May 1 feast of St. Joseph the Worker
June: Father's Day June 20
July: Patron of travelers
August: St. Joseph was the first teacher of Jesus (along with Mary)
September: Highlighting men's ministries in the diocese
October: Patron of immigrants
November: Patron of a happy death
December: St. Joseph proclaimed patron of the Universal Church Dec. 8, 1870
We invite you to use the resource below and articles published in The Catholic Missourian as you deem appropriate in your parishes and ministries.