Women's Ministry Staff
Coordinator of
Women's Ministry
Barbara Prasad
573-635-9127, ext. 222
Administrative Assistant
Mary Madelyn Mertes
573-635-9127, ext. 228
---
Alphonse J. Schwartze Catholic Center
2207 West Main St.
Jefferson City, MO 65109-0914
Watch for opportunities to join other women in our diocese in fellowship, prayer, faith formation and service!
Diocesan Women's Ministry Events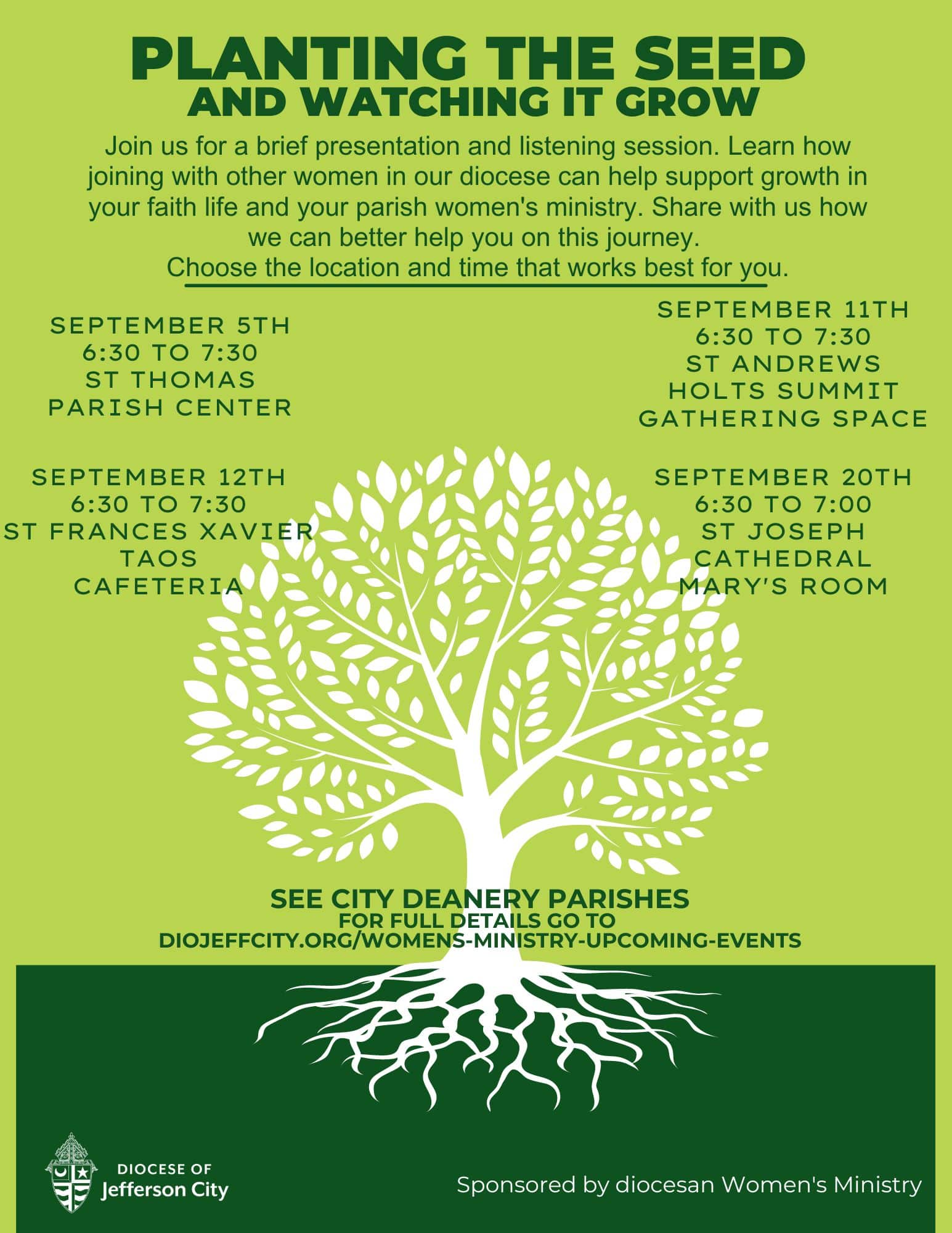 Planting the Seed and Watching it Grow
Women of the See City Deanery are invited to attend any of the above listening sessions about our diocesan Women's Ministry. We want to share our work with you and hear about your needs. 
You can come to any session, it does not have to be the one at your parish. 
Our See City parishes are:
Cathedral of St. Joseph (Jefferson City)

Immaculate Conception (Jefferson City)
St. Andrew (Holts Summit)
St. Cecilia (Meta)
St. Francis Xavier (Taos)
St. Margaret of Antioch (Osage Bend)
St. Martin (St. Martins)
St. Michael (Russellville)
St. Peter (Jefferson City)
St. Stanislaus (Wardsville)
St. Thomas the Apostle (St. Thomas)
We hope to see you there!
Connect with Us
Follow us on Facebook and Instagram
Our Mission
Supporting women in their journey to sainthood through providing opportunities for growth in prayer, fellowship, service, and faith formation/education.
Our Vision
A community of women that look to the Church as the center of their lives and who actively seek to share the joys of their faith with others by participation in the life and mission of their parish.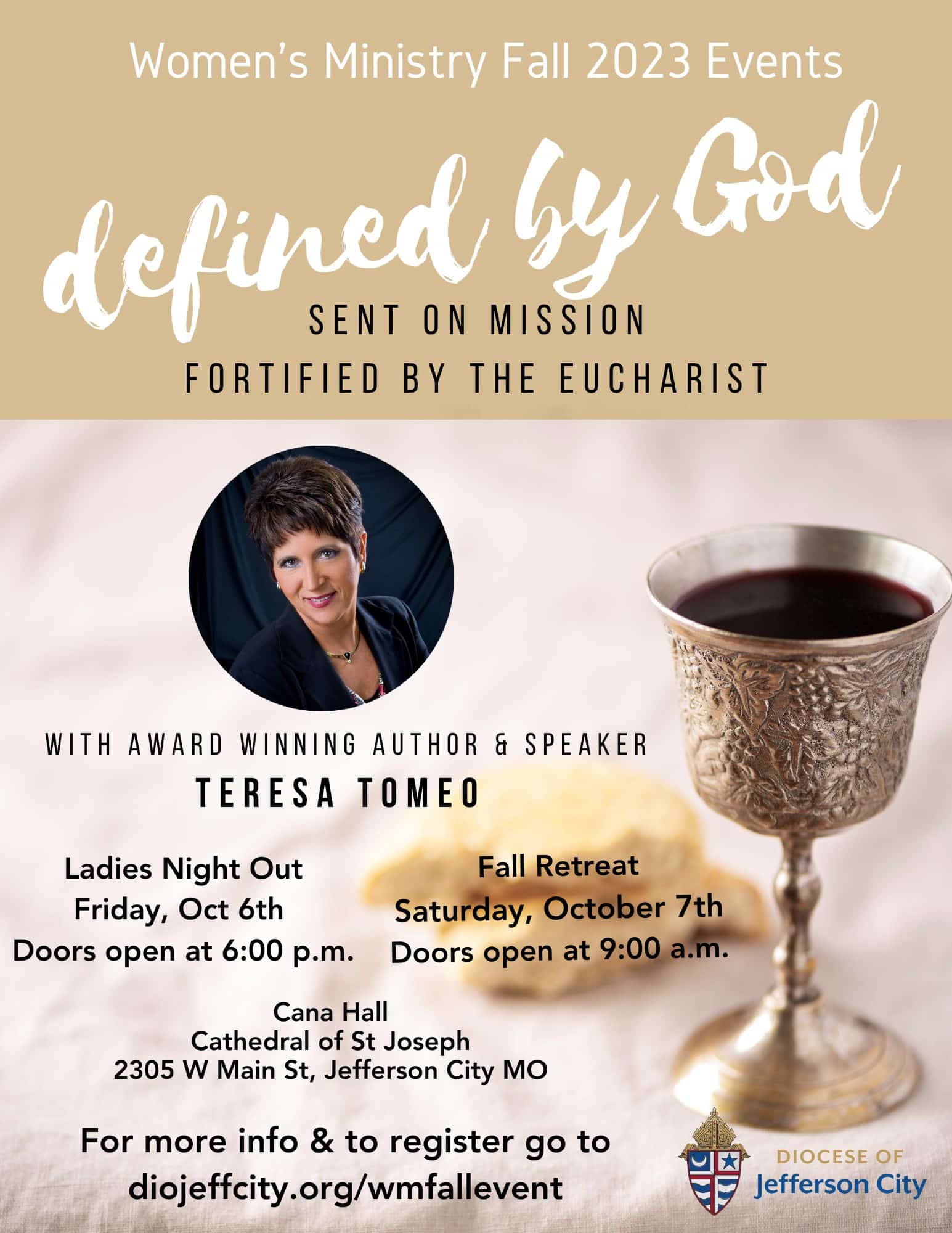 Join Us for Our Fall Events 
October 6th and 7th
Cathedral of St Joseph, Jefferson City MO
Fall Ladies Night Out
Friday October 6th
doors open at 6:00/events starts at 6:30
Ladies invite your moms, daughters, granddaughters, sisters and friends and head out and enjoy some good food, good company and inspiration from Teresa Tomeo our featured speaker for the weekend. Teresa is an author, syndicated Catholic talk show host, and motivational speaker whose weekday morning radio program, Catholic Connection, is featured on EWTN and Covenant radio. Teresa will challenge us to listen for how God defines us rather than the media/our world. Don't miss out! Enjoy dinner and a cash bar. $25 fee for dinner. Scholarship tickets available.
Fall Women's Ministry Retreat
Saturday October 7th
doors open at 9:00/events starts at 10:00
Teresa will return Saturday for our all-day retreat. She will inspire us to Take Our Faith Beyond Sunday and embrace Our Royal Heritage: by Becoming Daughters of the King Via the Eucharist. Along with Teresa's motivational talks we will also provide time for prayer, faith sharing and learning about other opportunities to grow in our faith life. Morning hospitality and lunch will be provided. There is a $15 fee for lunch. Scholarship tickets are available.
You may register for one event or both
Parish Women's Ministry Events
If you have a parish event that you would like to submit to be featured on this page,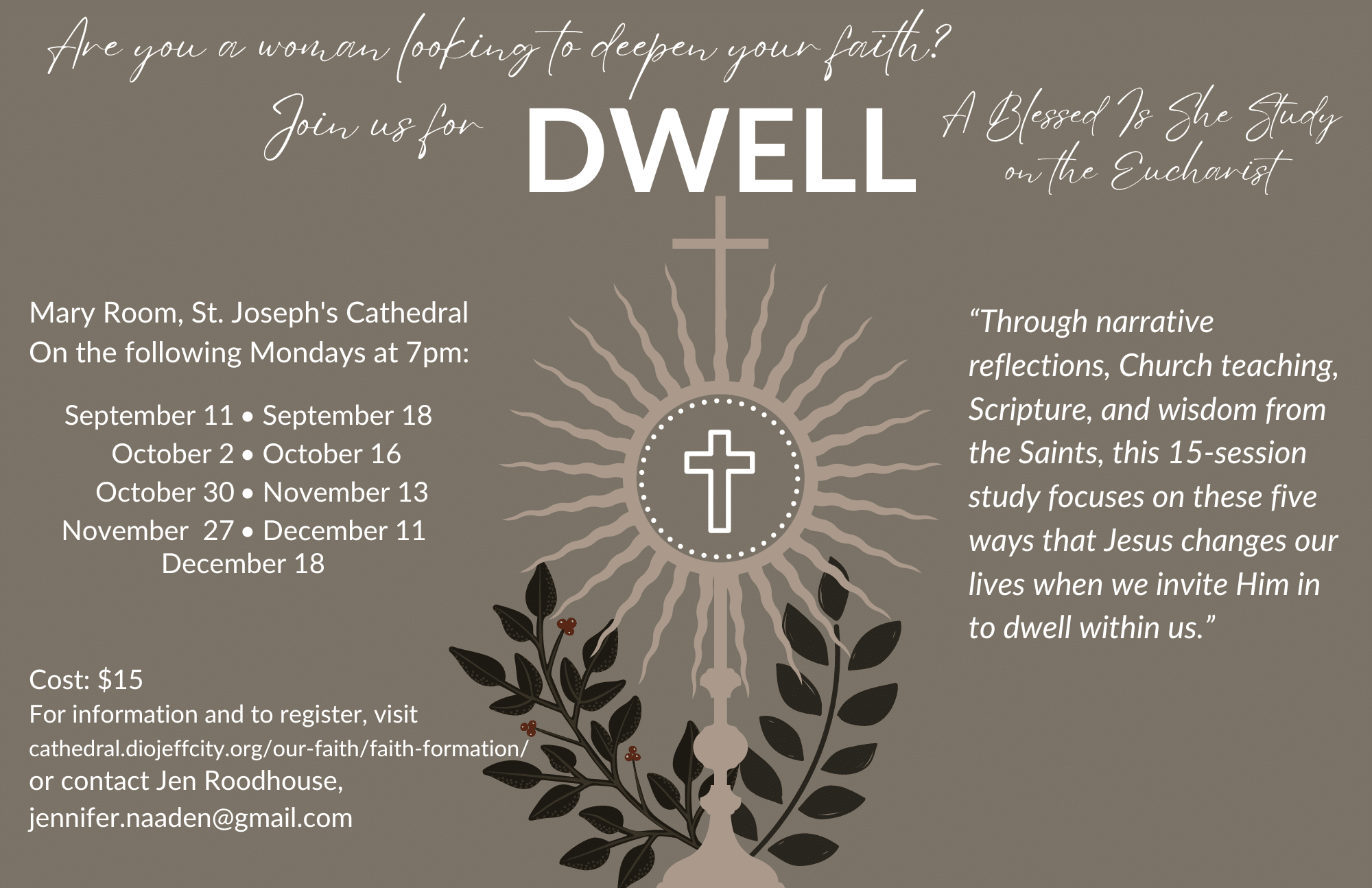 Women's Small Group Study
Are you a woman looking to deepen your faith and draw closer to Jesus in the Blessed Sacrament? Do you enjoy fellowship with women and long to connect with others through our Catholic faith? Join us for Dwell, Blessed Conversations, a study on Jesus coming to dwell within us in the Blessed Sacrament. "Through  narrative reflections, Church teaching, Scripture, and wisdom from the Saints, this 15-session study focuses on these five ways that Jesus changes our lives when we invite Him to dwell within us."
Women of all ages are invited to participate. The study will meet at St. Joseph's Cana Hall (Undercroft) from 7:00 p.m.-8:30 p.m. beginning on Monday, September 11. The study will meet a couple times a month through December. For information and to register, fill out the form on the Cathedral website, or for questions, email Jen Roodhouse at jennifer.naaden@gmail.com.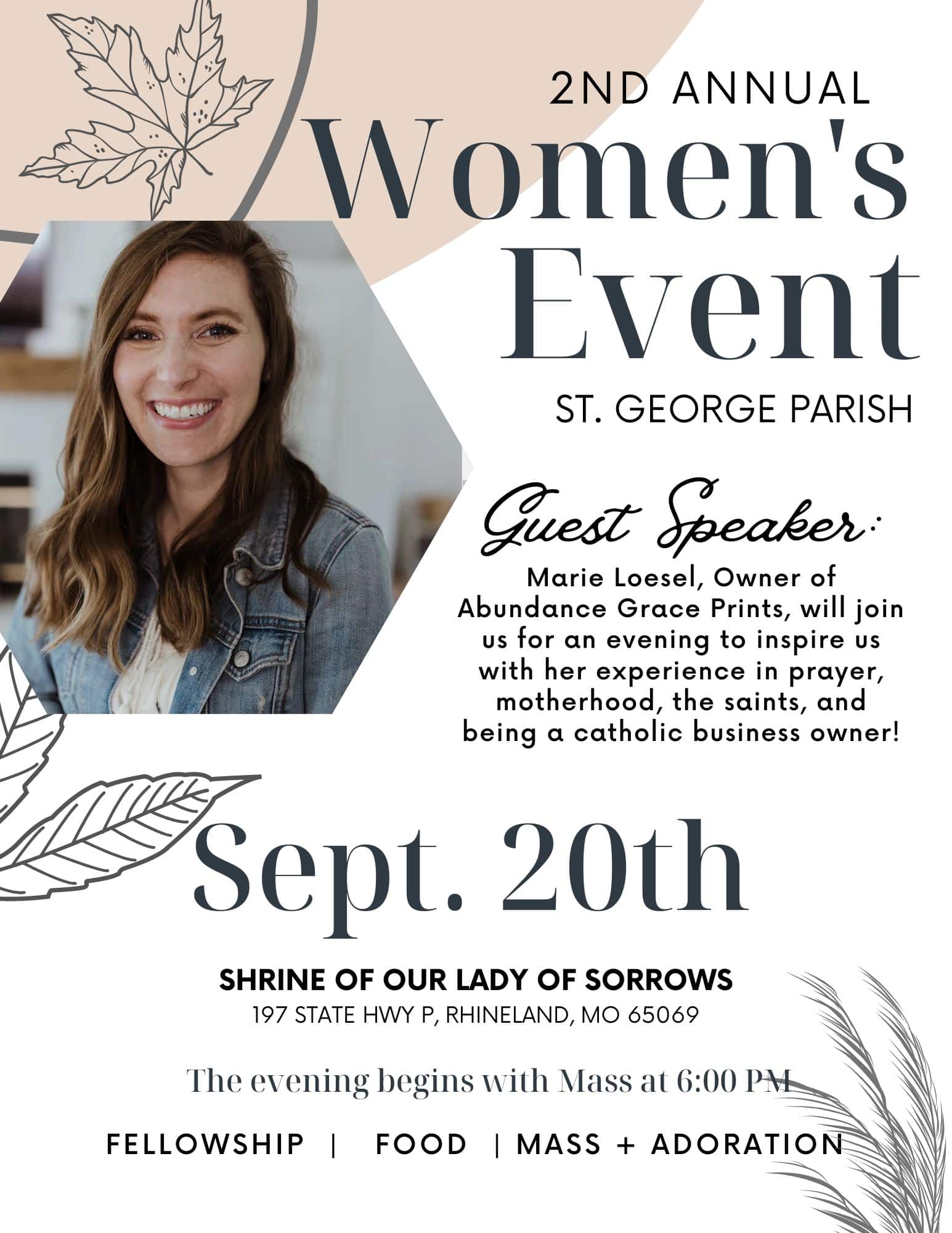 St. George Parish 2nd Annual Women's Event
Save the date for our 2nd Annual Women's Night! Complete with a talk from business woman and mom, Maria Loesel, a gift shop, plenty of food, wine, Mass + adoration, and fellowship with other like-minded women!
Bring your friends!