Staff
Diocesan Coordinator
LeAnn Korsmeyer
573.635.9127, ext. 222
---
2207 West Main St | PO Box 104900
Jefferson City, MO 65110-4900
Staff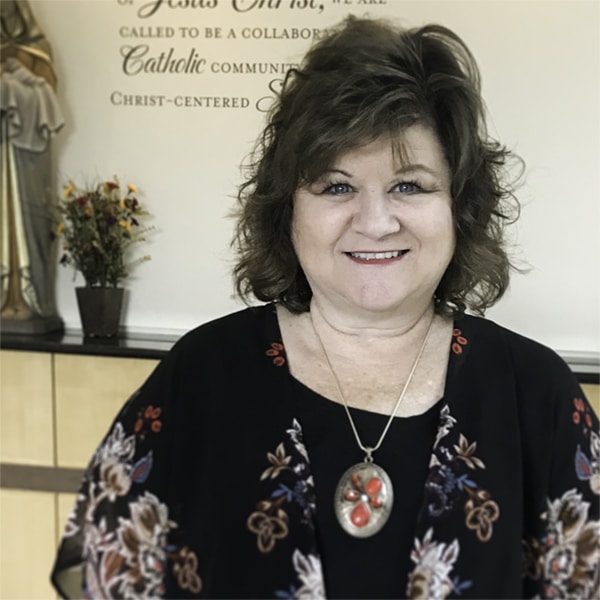 Coordinator
of Women's Ministry
LeAnn Korsmeyer
573.635.9127, ext. 222
Alphonse J. Schwartze Catholic Center
2207 West Main St | PO Box 104900
Jefferson City, MO 65110-4900
When Women Rise The Community Shines
Catholic women's ministry in today's church is vital to the mission and ministry of Jesus Christ. When we, as Church, provide safe and non-judgmental spaces for women to share their stories, create avenues to serve others within our communities, encourage a moral stand on social justice issues and provide spiritual growth opportunities, we will reap life-giving results not only for women but for our families, parishes, and communities. And within strong families, strong vocations are borne.
The Diocese of Jefferson City has launched a diocesan-wide Women's Ministry to help us mentor, support and teach each other how to live a Spirit-filled life, one that God is calling us to live.
Ladies, we are in a season of opportunity. May we bring forth our finest gifts and share in the bounty of this blessing. Join me in praying our ministry provides a fertile ground in which deep roots of mercy, compassion and service strengthens us and feeds the needs of those around us. Please also consider completing this brief survey to help us learn what a strong, supportive women's ministry means to you.
Other Resources for Women
Currently none available. 
Grief support for those who have lost a child. Steel Magnolia Momma's Group –9:00 am the third Saturday of each month at the West Point Executive Center, 2701 West Main Street, Jefferson City, MO. 
Contact Peggy Talken at (573) 301-0142.
Faith-Based Health Ministry Network, we call "Parish Nursing". 
To join or learn more, contact Lucy Brenner at (573) 294-6675 or Georgia Anderson by phone at (573) 808-6074 or email imacolrn@aol.com.
Kolbe Family Ministry. Do you have a loved one or family member who is incarcerated? Are you looking for a safe, welcoming community where you will be accepted?
For more information, meeting times and locations, call, 573.635.7719 x7 or send us a message at Kolbefamilyministry@gmail.com
Upcoming Events
Mark your calendar! Click here to see if we have an upcoming event in your area. We hope to see you there!
Sorry, we couldn't find any posts. Please try a different search.