Women's Ministry Staff
Coordinator of
Women's Ministry
Barbara Prasad
573-635-9127, ext. 222
Administrative Assistant
Tiffany Shanks
573-635-9127, ext. 228
---
Alphonse J. Schwartze Catholic Center
2207 West Main St.
Jefferson City, MO 65109-0914
This month we are offering 4 options for your May book clubs. May is the month of Mary and mothers so we have included an option for both topics. Find some women, order your books and get ready to gather and read this May.
First is an option for a Marian book study, The World's First Love: Mary, Mother of God  by Archbishop Fulton Sheen. This book presents powerful insights into how Our Lady can help us in dealing with the problems of today's world.
Second we have three book options on parenting.  As we celebrate mothers this month we thought it might be nice to give an option for gathering with other women to share our trials and successes plus get some good practical faith based advice. No matter what stage of mothering you are in we have book for you!
The World's First Love: Mary Mother of God presents powerful insights into how Our Lady can help us in dealing with the problems in todays world. 
While considering the different phases of Mary's life, Bishop Sheen discusses various problems common to mankind of every age and reveals clearly that every problem can be resolved. He emphasizes the unique dignity, strength and gifts of women and their ability to help heal the world's problems. Sheen stresses mankind's need of the Mother of God and her burning love for all her children.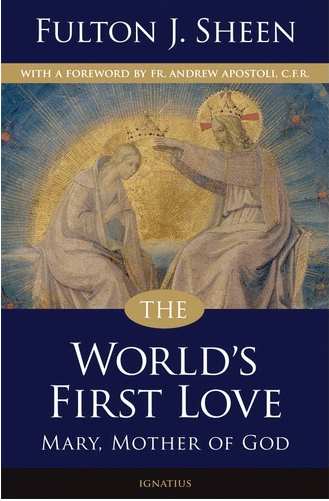 Parenting Books for Mothers of Faith
Treat yourself to the gift of time with other mothers! Get together with some of your favorite moms  and start chatting about your most pressing parenting issues. Let Dr. Popcak's advice be the starting point for some faith filled sharing. 
Connect with Us
Watch for our updated social media content coming soon!
Our Mission
Supporting women in their journey to sainthood through providing opportunities for growth in prayer, fellowship, service, and faith formation/education.
Our Vision
A community of women that look to the Church as the center of their lives and who actively seek to share the joys of their faith with others by participation in the life and mission of their parish.