Women's Ministry Staff
Coordinator of
Women's Ministry
Barbara Prasad
573-635-9127, ext. 222
Administrative Assistant
Mary Madelyn Mertes
573-635-9127, ext. 228
---
Alphonse J. Schwartze Catholic Center
2207 West Main St.
Jefferson City, MO 65109-0914
Join Us for Our Fall Events 
October 6th and 7th
Cathedral of St Joseph, Jefferson City MO
Connect with Us
Follow us on Facebook and Instagram
Our Mission
Supporting women in their journey to sainthood through providing opportunities for growth in prayer, fellowship, service, and faith formation/education.
Our Vision
A community of women that look to the Church as the center of their lives and who actively seek to share the joys of their faith with others by participation in the life and mission of their parish.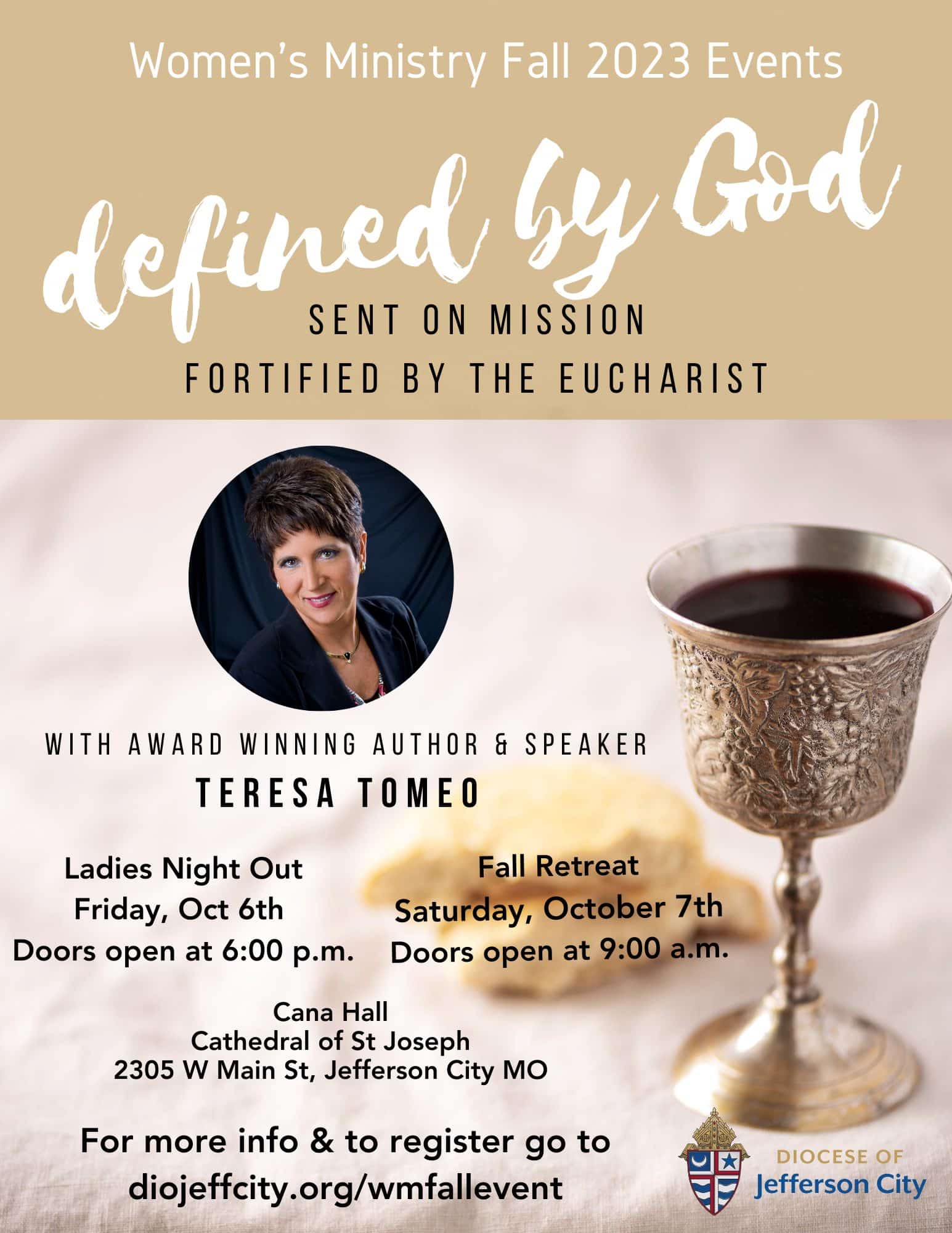 Fall Ladies Night Out
Friday October 6th
doors open at 6:00/events starts at 6:30
Ladies invite your moms, daughters, granddaughters, sisters and friends and head out and enjoy some good food, good company and inspiration from Teresa Tomeo our featured speaker for the weekend. Teresa is an author, syndicated Catholic talk show host, and motivational speaker whose weekday morning radio program, Catholic Connection, is featured on EWTN and Covenant radio. Teresa will challenge us to listen for how God defines us rather than the media/our world. Don't miss out! Enjoy dinner and a cash bar. $25 fee for dinner. Scholarship tickets available.
Fall Women's Ministry Retreat
Saturday October 7th
doors open at 9:00/events starts at 10:00
Teresa will return Saturday for our all-day retreat. She will inspire us to Take Our Faith Beyond Sunday and embrace Our Royal Heritage: by Becoming Daughters of the King Via the Eucharist. Along with Teresa's motivational talks we will also provide time for prayer, faith sharing and learning about other opportunities to grow in our faith life. Morning hospitality and lunch will be provided. There is a $15 fee for lunch. Scholarship tickets are available.
You may register for one event or both