Women's Ministry Staff
Coordinator of
Women's Ministry
Barbara Prasad
573-635-9127, ext. 222
Administrative Assistant
Mary Madelyn Mertes
573-635-9127, ext. 228
---
Alphonse J. Schwartze Catholic Center
2207 West Main St.
Jefferson City, MO 65109-0914
Walking Together
September 2023
A monthly newsletter to inform, support and share with women
the many ways the Spirit is moving through us in our diocese.
"When was the last time you set aside a whole day just for you and God? When was the last time you really took time to be with other women and be with Christ and share the faith?"                                                                                                         ~Teresa Tomeo
In the liturgical world September falls during the season known as Ordinary Time, which is represented by the liturgical color of green. Green is a color of hope. A color representing growth. During this season of harvest we look towards reaping the rewards of what we have sown. But let's not mistake ordinary for boring. I love the readings of this season! During this time of year we are challenged by the parables and journey along with Jesus during the ministry stage of His life. They are readings that have deeply formed who I am and how I think of the world. The stories that pepper my Catholic education and the countless homilies I have heard over the past 60 years. They infuse every aspect of who I am and never cease to challenge me.
So this September I challenge you to examine what you are doing with your ordinary time.
How do you spend it? Who do you spend it with? And what are the voices that fill your day?
Perhaps this question is the start of fully embracing what women's ministry can be in our world today! What is God placing on your heart? What is he calling you to do? I certainly don't have all the answers to this for myself or our church.  I do know, however, that when I surround myself with other faith filled women and participate in opportunities to dig deeper into my faith life I am never disappointed. So with that thought on my mind I invite and encourage all of you to join us at our fall women's ministry event. If you are feeling the desire to be there take that as the promptings of the Holy Spirit and find a way to make it happen. Set aside the day or the evening for you and God. Take time to surround yourself with other women and let the voices of this day fill you with inspiration and hope. God has a plan for each of us. Ours are the hands He has to use to minister to our world. So don't bury your talents, don't hide your light under a bushel, don't forget to fill your lamps with oil. Let the parables of our Lord inspire you to live a life that is anything but ordinary. His ministry journey was not meant to be done alone!
We Are Better Together,
Barb
Connect with Us
Follow us on Facebook and Instagram
Our Mission
Supporting women in their journey to sainthood through providing opportunities for growth in prayer, fellowship, service, and faith formation/education.
Our Vision
A community of women that look to the Church as the center of their lives and who actively seek to share the joys of their faith with others by participation in the life and mission of their parish.
What's New in Women's Ministry
Watch for opportunities to join other women in our diocese
in fellowship, prayer, faith formation and service.
Diocesan Women's Ministry Fall Events
Cathedral of St Joseph/Cana Hall
Jefferson City, MO
October 6th and October 7th
JOIN US FOR ONE OR BOTH
It's time to reserve your spot for our diocesan-wide fall events! We are so excited to welcome author, syndicated Catholic talk show host, and motivational speaker Teresa Tomeo to our diocese! 
There are two opportunities to gather! Come to one/come to both!
 Friday night, October 6th  we will host a Ladies Night Out. Join us for dinner and Teresa Tomeo's  talk:  Defined by God. This event is perfect for high school age and up! Put together a table of friends, family or your parish women's group or sign up on your own and make some new friends! Tables will be assigned as registrations come in so get your registration in early! Doors open at 6:00 pm. Event starts at 6:30 pm 
Saturday, October 7th  is our all day retreat. Continue to be motivated as Teresa leads through two additional talks:  Sent On Mission & Fortified By The Eucharist. This will be a full day which will also include opportunity for prayer and fellowship. Doors open at 9:00 am and event begins a 10:00 am.
Not familiar with Teresa Tomeo? Catch her radio show, Catholic Connection, on EWTN and your local Covenant radio.
You are not going to want to miss out! So join us We Are Better Together!!
Would you like to invite women of our diocese to your parish event?
Please send details to bprasad@diojeffcity.org for inclusion in upcoming newsletters.
Visit Our Events page for other happenings around our diocese.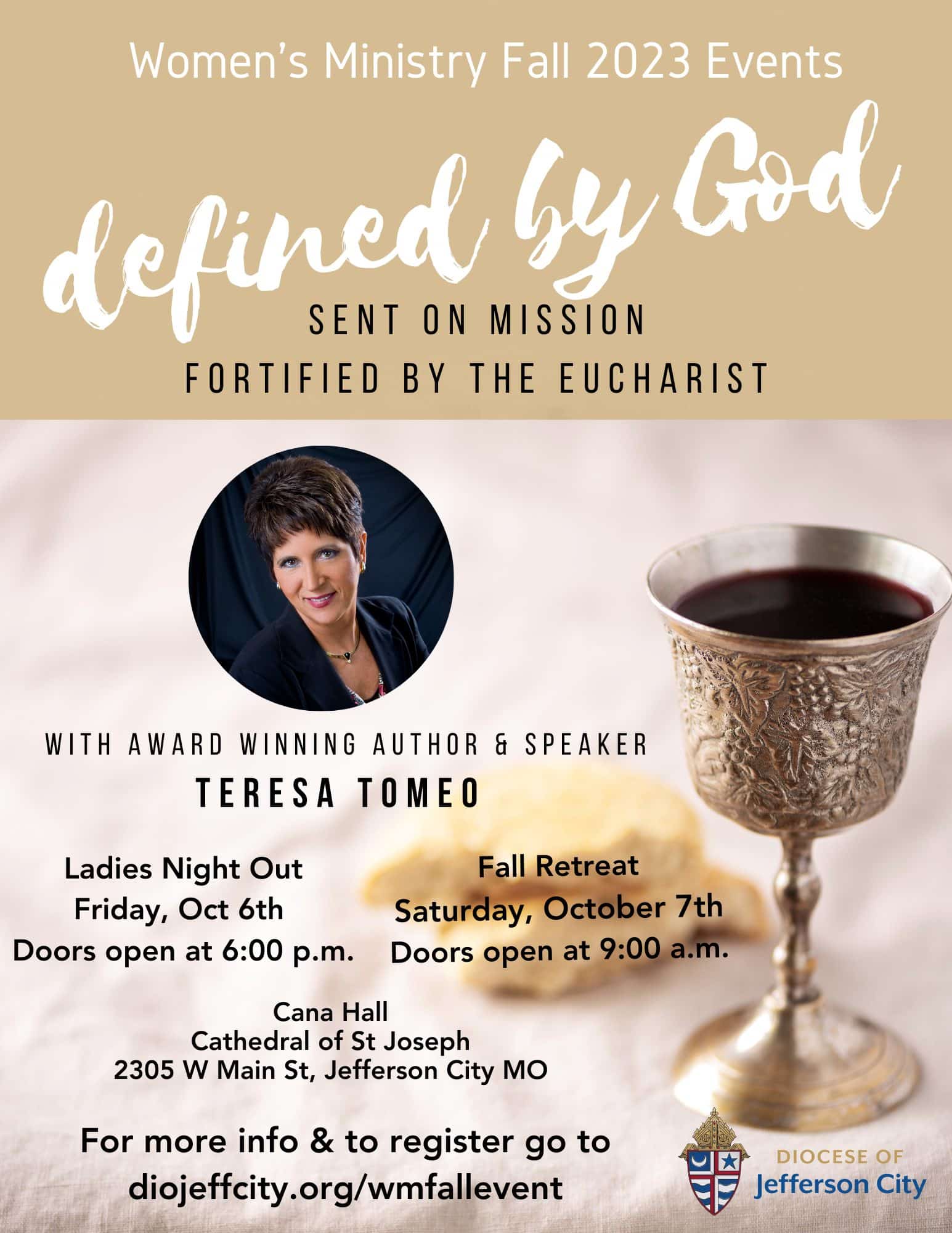 The book of the month recommendation is designed to be put into action two months from now. Our Faithful Departed is a great book to add to your October/November schedule to correspond with All Souls Day. This time lag allows you time to invite others to participate, advertise to your parish,  plan a date and order books. Of course any of this book can also be used for personal book study. 
Contact bprasad@diojeffcity.org to order discounted bulk copies of this book for your book club 
Please send our office, bprasad@diojeffcity.org, suggestions for books to include in upcoming newsletters.
Any reviews on the book would also be greatly appreciated.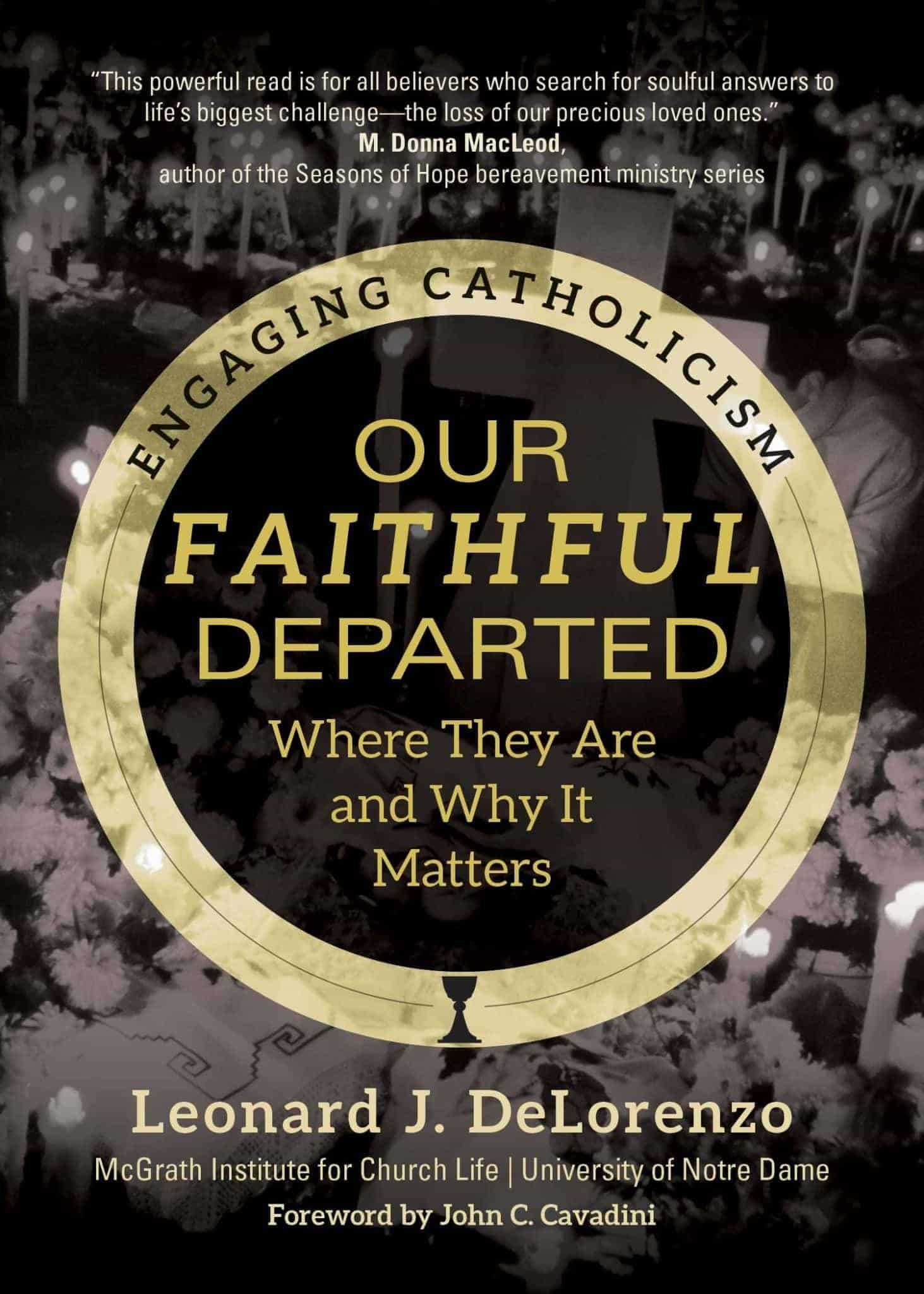 New Opportunities to Serve
Get information in how you can join in the efforts to grow women's ministry throughout our diocese
Is your parish offering a ministry program or event you would like to share?  We are working on building a portal of ideas for women working/volunteering in ministry to access. Please send us information on what is working in your parish. Email ministry ideas to bprasad@diojeffcity.org and help us build a portal that will inspire us all.
Go to our Prayer Aides page and join us in our prayer of the month.
September is dedicated to Our Lady of Sorrows. This month add the Seven Sorrows Rosary to your prayer routine in honor of this special feast on September 15th.