Women's Ministry Staff
Coordinator of
Women's Ministry
Barbara Prasad
573-635-9127, ext. 222
Administrative Assistant
Mary Madelyn Mertes
573-635-9127, ext. 228
---
Alphonse J. Schwartze Catholic Center
2207 West Main St.
Jefferson City, MO 65109-0914
Walking Together
November 2023
You cannot be a half a saint. You must be a whole saint or no saint at all.

~St Theresa of Lisieux
I can remember as a kid thinking about the saints and dreaming about how I could one day be one. I was probably in 2nd or 3rd grade and I really wanted to be a saint. I developed these grandiose ideas of mission work and martyrdom and pretty fantastical ideas of what that would look like. In my mind sainthood meant doing something so outstanding that I would one day be canonized. Somewhere along the way I lowered the bar and stopped thinking about sainthood and prayed for the grace to be good enough. If I'm honest sometimes I didn't worry about it all!
Fast forward to a November quite a few years back. I was chaperoning my daughters NCYC trip. I will never forget Steve Angrisano asking a stadium filled with Catholics if anyone wanted to be a saint. No one made a peep. Steve then reminded us that everyone in heaven is a saint, not just those that are canonized. You can only imagine that all hands shot up then. I'm sure I was taught that at some point in my catholic school education.  What stuck, however, was that being a saint was next to impossible and probably beyond my ability.
So where do I stand now. I think you could say I have come full circle. Being a saint is my number one goal! And not just my goal for me, but helping those around me get there too. I now understand that becoming a saint means walking this journey with others and urging them on, letting them carry me when I stumble and being there to carry them too. It is my vocation as a wife to be that person for my husband. Helping him reach sainthood and praying and encouraging my children towards it also. It is a rocky road I travel and I stumble far more than I would like. What I can't imagine is making this journey without our Church and my faith friends that are making this journey with me. To me that is the why of women's ministry. We have a goal and it's not a goal we can get to by doing it halfway. And in my opinion it is next to impossible to be done alone.
This month, I will be traveling throughout our diocese presenting informational meetings on what joining our FIAT Women's Ministry movement is. And yes I like to call it a movement, not another committee or club, but Faith In Action Together. We will initially have 12 core team locations throughout the diocese and I will be visiting 6 of them this November. We will pick back up after the holidays and meet with the rest in early 2024. I hope you will come out and explore the many ways you can get involved. What they will become, is a story yet to be written, but I hope you will help me pen the pages. Our stories might never show up in an all About the Saints book but that doesn't mean our stories can't have power and meaning in our little part of the world. I recently attended a seminar and the speaker boldly proclaimed that our savior didn't die for a powerless church. But He did leave that power in us. Let's not do this halfway!
We Are Better Together,
Barb
Connect with Us
Follow us on Facebook and Instagram
Our Mission
Supporting women in their journey to sainthood through providing opportunities for growth in prayer, fellowship, service, and faith formation/education.
Our Vision
A community of women that look to the Church as the center of their lives and who actively seek to share the joys of their faith with others by participation in the life and mission of their parish.
What's New in Women's Ministry
Join Us for One of Our Informational Meetings
Join us for an informational night at a parish near you! We have 6 nights planned for November. See  information below. We will also be planning to host  additional nights in Lake of the Ozarks, Kirksville, Canton, St Clement and Rhineland in early 2024. We hope to see you at one of them. Help us empower women to bring Christ to our families, parishes and communities! Learn how you can be a part of our FIAT Women's Ministry Movement.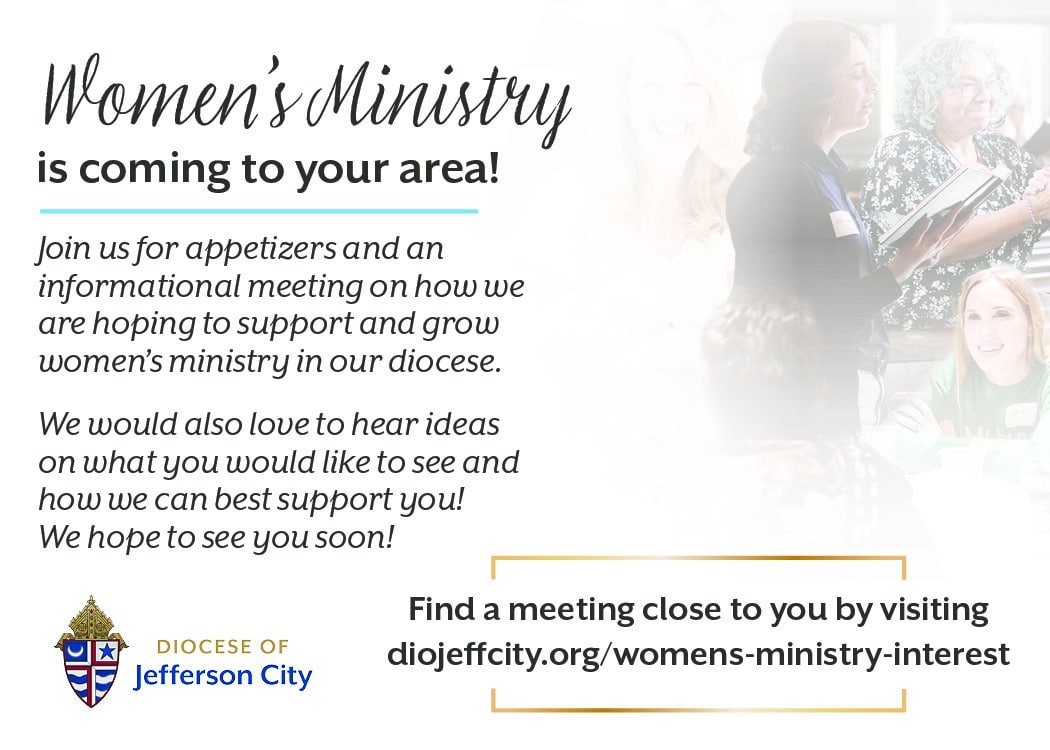 Join Us for Our Advent Events!
Coming to a parish near you- December 4-7th
Join us in gathering for an evening of fellowship with women from your deanery! Speaker Patty Schneier's will give an Advent reflection on the Joy of being Catholic.
We hope to see you there! Go to our events page for full details and to register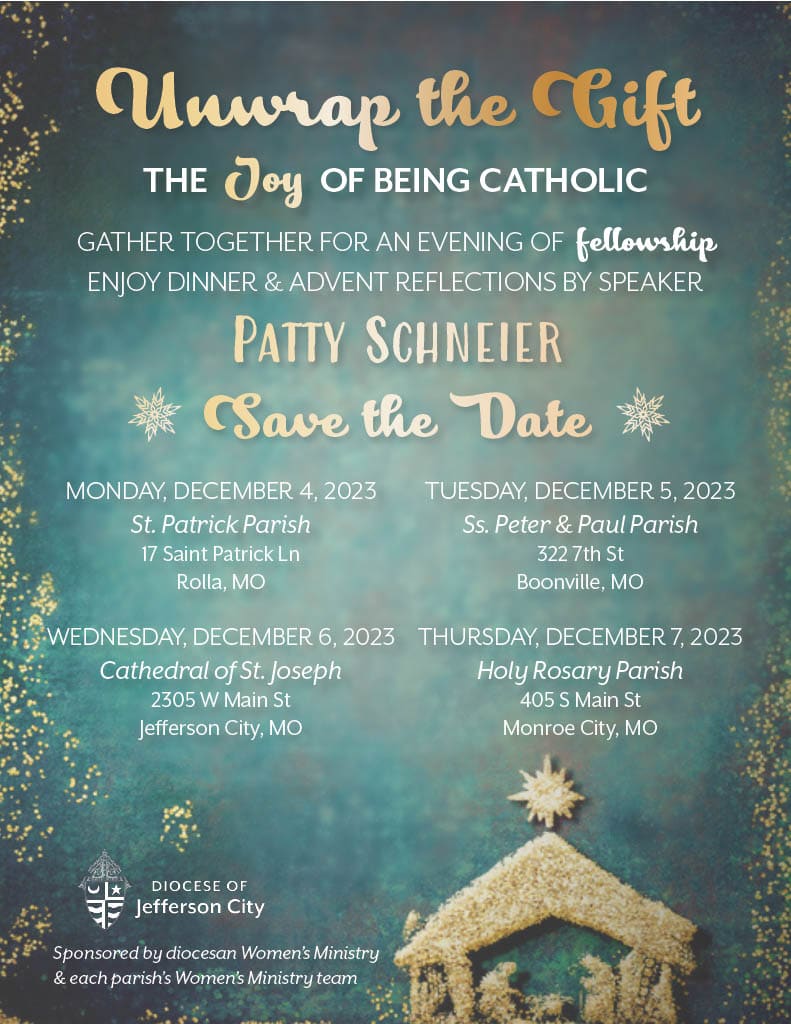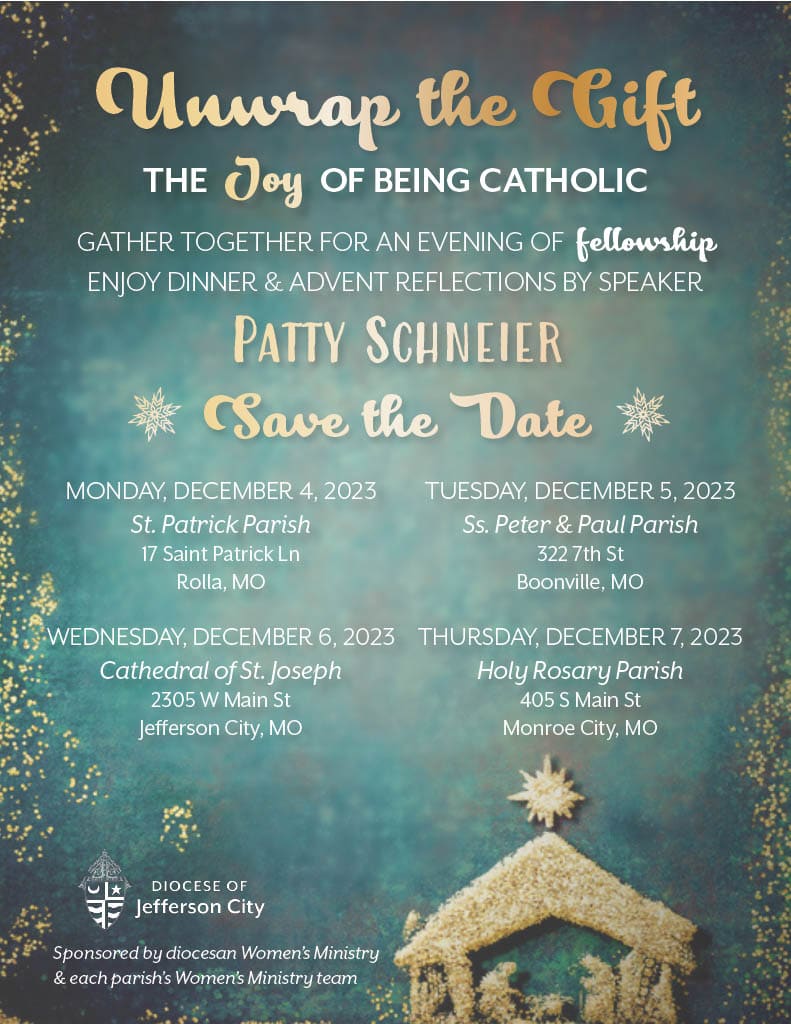 Book Study Recommendation
This month of remembrance gather other women and read Our Faithful Departed: Where they are and Why It Matters. This book is available for bulk purchase at a discounted rate. Click below for more information on the book and how to get your copies.
Wanting a suggestion for a good Advent read try Joy to the World: How Christs Coming Changed Everything and Still Does by Scott Hahn. Great to read alone or with others.
Please send our office, bprasad@diojeffcity.org, suggestions for books from your book club to include in upcoming newsletters. Any reviews on the book would also be greatly appreciated. 
New Opportunities to Serve
Get information in how you can join in the efforts to grow women's ministry throughout our diocese
Is your parish offering a ministry program or event you would like to share?  We are working on building a portal of ideas for women working/volunteering in ministry to access. Please send us information on what is working in your parish. Email ministry ideas to bprasad@diojeffcity.org and help us build a portal that will inspire us all.
Check out our November prayer challenge of the month. Add prayers of Remembrance for the Souls in Purgatory this month