Women's Ministry Staff
Coordinator of
Women's Ministry
Barbara Prasad
573-635-9127, ext. 222
Administrative Assistant
Mary Madelyn Mertes
573-635-9127, ext. 228
---
Alphonse J. Schwartze Catholic Center
2207 West Main St.
Jefferson City, MO 65109-0914
Walking Together
August 2023
A monthly newsletter to inform, support and share with women
the many ways the Spirit is moving through us in our diocese.
But if we hope for what we don't see, we wait for it with patience    Romans 8:25
Sometimes as we reflect back over a time period it seems like there is a theme God is trying to plant on our heart. For me the theme of the past month has been patience and progress. I have had the opportunity to meet in person or via email or Zoom with many women throughout our diocese and I am inspired by the dreams they have for ministry in their parishes and their lives. I too have dreams for how we can network and support each other and wish I could just forge ahead and make everything come to fruition for us all right away!! But of course our ways need to be tempered by God's timing. We have a large diocese and it is going to take me time to get out and meet everyone and expand beyond what is close and familiar. It also takes time to really learn how we can best support what you are doing in your parishes. So there has been a lot of patience in this process.
Fortunately there has also been progress! Here are a few of the things to watch for in the next months
Planting the Seed and Watching It Grow
We have developed a presentation that is ready to hit the road and be offered in your parish. We currently have 5 parishes hosting these presentations and listening days in the See City deanery. This presentation is geared to sharing how our office can assist you and your parish in your ministry efforts but is also designed for you to give us feedback on what you would like and what support is most wanted. If you are interested in hosting this at your parish please reach out to us to get that scheduled.
Ministry Portal
We are hard at work collecting ideas to create a portal where women working and volunteering in ministry in the parishes can access ideas to help in planning. Watch for our the September 1st  launch of our book club recommendations to expand beyond one book a month and also offer books suggested by women's groups sorted by topic. We will also list the beginnings of our speaker's bureau with names of local and statewide speakers to bring in for your upcoming meetings and events. Finally, we will expand our prayer aides to include resources for aps, daily scripture meditations and other resources to deepen your prayer life. If you have ideas you would like to add to our portal please email me at bprasad@diojeffcity.org. We would love your feedback!
Core Teams
Emails are going out this week to plan meetings with existing core team volunteers throughout the diocese. Watch your inbox if you have expressed an interest in joining us. If you want further information on our diocesan core team visit our service opportunities.
Event Planning
We are working on planning the details for our upcoming fall events. We will have the opportunity to gather as a diocese on Friday evening for a Ladies Night Out and on Saturday for a Fall Retreat Day. You can attend one or both! Registration is now open.
Hopefully you find our progress exciting and inviting. We want to find opportunities to invite all women to join with us in ways that are meaningful to their stage and interests. If you find yourself hoping for things you don't see, share those ideas with us too. Finally, thank you for your patience and continued prayers. Faith is believing that God is going to take you places before you even get there!
We Are Better Together,
Barb
Connect with Us
Follow us on Facebook and Instagram
Our Mission
Supporting women in their journey to sainthood through providing opportunities for growth in prayer, fellowship, service, and faith formation/education.
Our Vision
A community of women that look to the Church as the center of their lives and who actively seek to share the joys of their faith with others by participation in the life and mission of their parish.
What's New in Women's Ministry
Watch for opportunities to join other women in our diocese
in fellowship, prayer, faith formation and service.
Join Us for Our Fall Events 
October 6th and 7th
Cathedral of St Joseph, Jefferson City MO
Fall Ladies Night Out
Friday October 6th
doors open at 6:00/events starts at 6:30
Ladies invite your moms, daughters, granddaughters, sisters and friends and head out and enjoy some good food, good company and inspiration from Teresa Tomeo our featured speaker for the weekend. Teresa is an author, syndicated Catholic talk show host, and motivational speaker whose weekday morning radio program, Catholic Connection, is featured on EWTN and Covenant radio. Teresa will challenge us to listen for how God defines us rather than the media/our world. Don't miss out! Enjoy dinner and a cash bar. $25 fee for dinner. Scholarship tickets available.
Fall Women's Ministry Retreat
Saturday October 7th
doors open at 9:00/events starts at 10:00
Teresa will return Saturday for our all-day retreat. She will inspire us to Take Our Faith Beyond Sunday and embrace Our Royal Heritage: by Becoming Daughters of the King Via the Eucharist. Along with Teresa's motivational talks we will also provide time for prayer, faith sharing and learning about other opportunities to grow in our faith life. Morning hospitality and lunch will be provided. There is a $15 fee for lunch. Scholarship tickets are available.
You may register for one event or both
Would you like to invite other women to an upcoming event at your parish??
To invite women of our diocese to your parish events, please send details to bprasad@diojeffcity.org for inclusion in upcoming newsletters.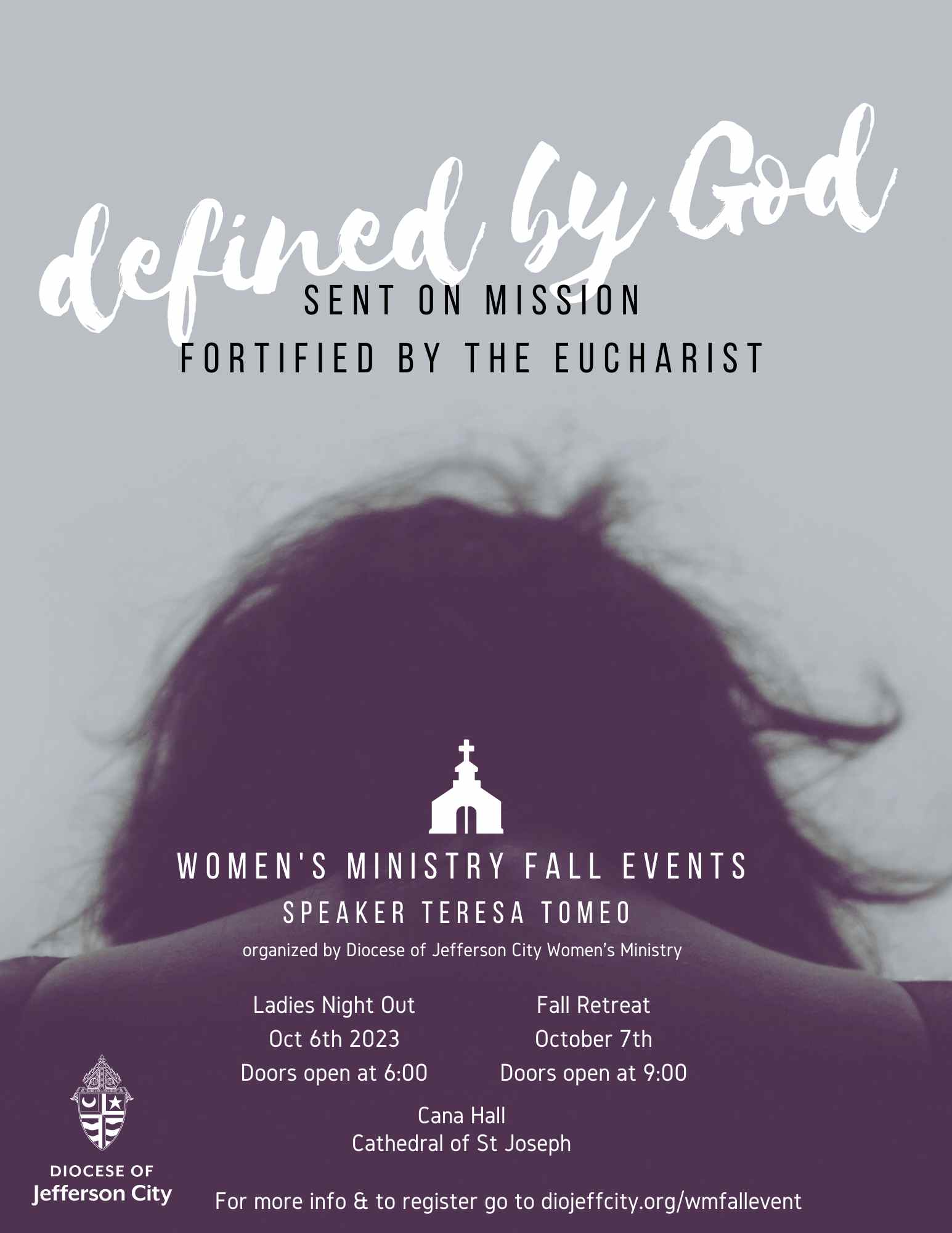 The month of October is dedicated to the Holy Rosary. The Memorial of Our Lady of the Rosary is celebrated on October 7th
What better way to celebrate this special devotion than to join with other women and explore a new way of praying the rosary based on the teachings of St Theresa of Avila
For a full description of the book click on our book of the month page below.
Please send our office suggestions for books to include in upcoming newsletters. Any reviews on the book would also be greatly appreciated.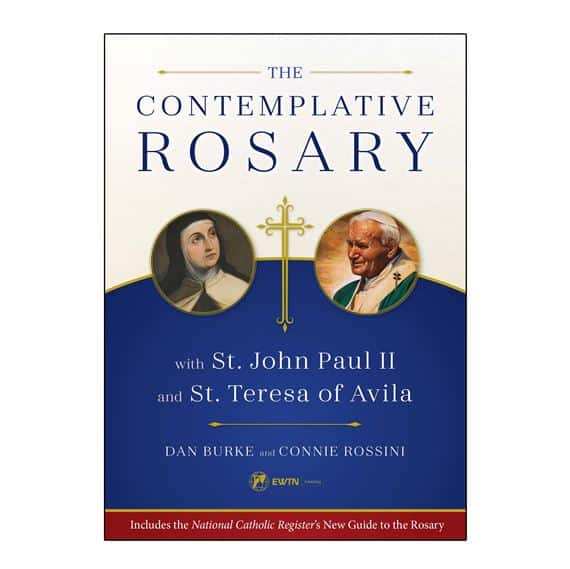 New Opportunities to Serve
Get information in how you can join in the efforts to grow women's ministry throughout our diocese
Building a Ministry Resource Portal
Is your parish offering a ministry program or event you would like to share? Have you utilized a faith formation program you would highly recommend? Have you utilized speakers other groups may enjoy.  We are are building a portal of ideas for women working/volunteering in ministry to access. Please send us information on what is working in your parish. Email ministry ideas to bprasad@diojeffcity.org and help us build a portal that will inspire us all.
Visit our prayer aides page for featured prayers of the month. August is dedicated to The Immaculate Heart of Mary, the patroness of our diocese. Consider adding this month prayer to your prayer routine.