Catholic Stewardship Renewal
A four-session small group guide which explores the spirituality of our upcoming Catholic Stewardship Renewal. This guide is available in English and Spanish and can be downloaded at no charge.
Stewardship Key Contacts

Director of Stewardship
Fr. Stephen W. Jones
573-635-9127, ext. 239
Associate Director of Stewardship
Patricia Lutz
573-635-9127, ext. 230
Administrative Assistant
Vacant
573-635-9127
---
Alphonse J. Schwartze
Memorial Catholic Center
2207 West Main St
Jefferson City, MO 65109-0914

Provide training and mentoring for stewardship councils
 Provide assistance and resources for Catholic Stewardship Renewal
What identifies a steward? Safeguarding material and human resources and using them responsibly are one answer; so is generous giving of time, talent, and treasure.  But being a Christian steward means more. As Christian stewards, we receive God's gifts gratefully, cultivate them responsibly, share them lovingly in justice with others, and return them with increase to the Lord.
We plant seeds, knowing they hold hope for the future. We lay foundations, knowing much building must follow. There is a sense of liberation, however, in realizing this. We can do something, and we can do it very well. We can take the first step in making a difference, knowing that we may never see the end of the road, the results of our actions, the recipients of our giving. We receive and offer the gift of hope. The harvest will come.
Many of our days are spent "growing dirt," preparing the soil for future plantings. That is an act of hope. We know we are only workers, not the Master Gardner. Accepting the gifts of silence, light, the guiding Spirit and hope, we are co-creators of the future, which is in God's hands.
Why It's Important to Participate in the Catholic Stewardship Renewal
Each October all parishes of the Diocese of Jefferson City participate in the annual Catholic Stewardship Renewal (CSR). This local renewal process, facilitated by the diocese, is a means by which parishioners are asked to commit to living out the "3-legged stool" of Christian Stewardship in their parish through their prayer (attendance at weekend and Holy Day Mass) participation (using their time and talent to build up the parish) and sacrificial giving (pledging a proportional and sacrificial gift of treasure to support the ministry of the parish).
Not unlike "Time, Talent, and Treasure" campaigns of the past, the Catholic Stewardship Renewal seeks to provide the pastor and parish leadership with the data needed to successfully sustain and grow the ministries of the parish.
However, the Catholic Stewardship Renewal process is much more intentional than any stewardship campaigns we have done before, because each year we will be asking all parish families to participate and fill out the stewardship materials provided by the parish.
This request is something which causes many of our long-time parishioners to ask "Why do I need to fill this material out every year?  You know that I come to Mass and that I give to support the parish, so why do I need to fill out all this paperwork?"
The answer to this question is quite simple: the Catholic Stewardship Renewal is not just something which is administrative but is also deeply spiritual.  It is the yearly opportunity for each parishioner to purposefully and prayerfully review, redirect, reaffirm and recommit.
Reviewing & Redirecting allows parishioners to ask themselves the following questions: How am I doing at striving to live as an active steward in my parish? How is my Mass attendance? How do I participate in the communal life of the parish?  How well does my level of giving support the ministries of the parish?
Reaffirming & Recommitting allows parishioners – on a yearly basis – to concretely proclaim "Yes! I am a part of this parish, and I am supportive of its mission and ministries!"
While the CSR does provide the pastor with a lot of important data which will help him plan for the budget and the various ministries of the parish, it is also a lot like what Catholics experience every year at Easter.
At the Easter Vigil and on Easter Sunday the priest – standing before the gathered people of God – says the following:
"Dear brothers and sisters, through the Paschal Mystery we have been buried with Christ in Baptism, so that we may walk with him in newness of life. And so, now that our Lenten observance is concluded, let us renew the promises of Holy Baptism, by which we once renounced Satan and his works and promised to serve God in the holy Catholic Church."
Following this exhortation, the gathered assembly engages in the three-fold renunciation of Satan and the three-fold affirmation of our Catholic Faith. Finally they are sprinkled with Holy Water as a sign and reminder of our baptism, and enter the Easter season renewed in faith.
The yearly parish Catholic Stewardship Renewal process is very similar in that it gives us an ongoing opportunity to reaffirm our commitment to our parish and its ministries.  It is our way of concretely renewing our commitment to our parish and showing that – through that commitment - we belong to our parish family and are supportive of its vision, mission, and ministries.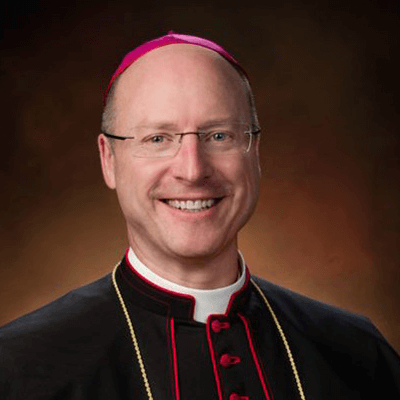 The fact we are Catholic is not only manifested in the beauty of our churches; it is in our daily living as generous stewards. I invite you to consider the ways in which you make room for God in your life through your personal, ongoing faith formation; by your active charitable works; and by personal prayer and active participation in Mass.
Be not afraid to give yourself to Christ by being a generous steward. You will not regret it.
Most Rev. W. Shawn McKnight
Bishop of Jefferson City
The four pillars of stewardship are Hospitality, Prayer, Formation and Service. These pillars invite parishioners to experience, witness and live the stewardship way of life in response to their baptismal call to discipleship. Each baptized person is called to give of time, talent and treasure to strengthen these four pillars that support the parish community – your parish community.
Previous Tithing Model
Given to the diocese by parish

Cathedraticum (tax the diocese charges parishes)
Christmas Assessment
Easter Assessment
Universal Collections

Faithful give to the diocese directly

Catholic Stewardship Appeal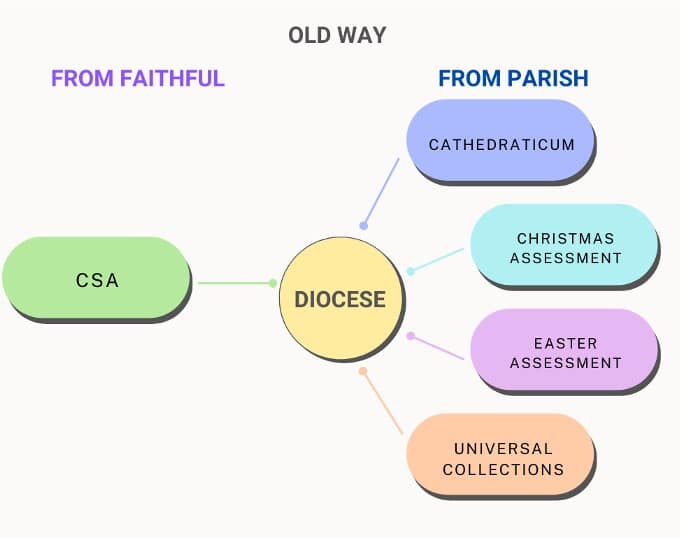 New Tithing Model
Given to the diocese by parish

Christmas Assessment
10% of Ordinary Receipts

Faithful give directly to the parish

8% (or whatever % is their personal sacrificial gift) — the other 2% goes to charities of their choice that promote the common good through Catholic values
What they would have given to the Catholic Stewardship Appeal
What they would have given to Universal Collections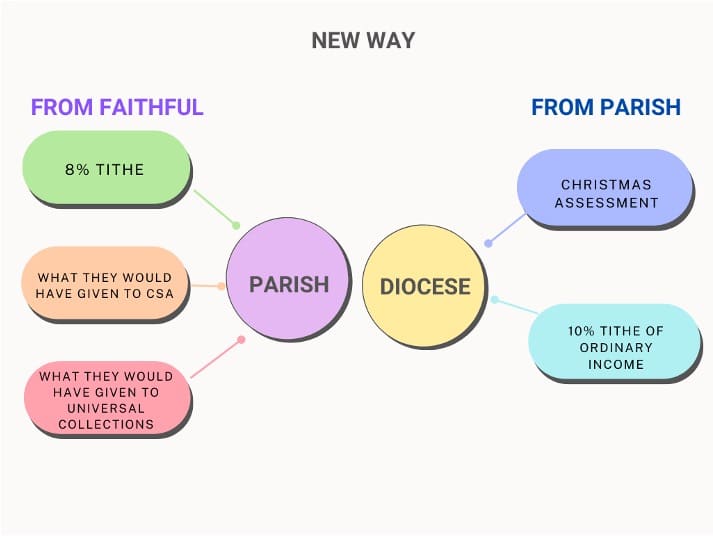 Stewardship...Growing our Faith
TIME
Good stewardship requires us to make the most of our time. In so doing, we make God the center of our lives.
When we use our time to give back to God, we most effectively make meaningful connections with others, planting seeds for future harvest. 
TALENT
Our loving Creator has given each of us special blessings: talents, skills and abilities. He has entrusted us to "steward" our gifts, calling us to use them to benefit others.
We fulfill the unique purpose He has designed for each of us in His perfect plan.
TREASURE
Everything we have is a gift from God to be shared with others – for our benefit and for the benefit of others.
When we recognize that what we accumulate in this life does nothing to prepare us for the next life, it is easier to let go and use that treasure in ways that will pay dividends in heaven.