The Four Pillars of Stewardship
A four-session small group guide which explores The Four Pillars of Stewardship. This guide is available in English and Spanish and can be downloaded at no charge.
Stewardship Key Contacts

Director of Stewardship
Fr. Stephen W. Jones
573-635-9127, ext. 239
Associate Director of Stewardship
Patricia Lutz
573-635-9127, ext. 230
Administrative Assistant
Stacy Downard
573-635-9127, ext. 237
---
Alphonse J. Schwartze
Memorial Catholic Center
2207 West Main St
Jefferson City, MO 65109-0914

What identifies a steward? Safeguarding material and human resources and using them responsibly are one answer; so is generous giving of time, talent, and treasure.  But being a Christian steward means more. As Christian stewards, we receive God's gifts gratefully, cultivate them responsibly, share them lovingly in justice with others, and return them with increase to the Lord.
We plant seeds, knowing they hold hope for the future. We lay foundations, knowing much building must follow. There is a sense of liberation, however, in realizing this. We can do something, and we can do it very well. We can take the first step in making a difference, knowing that we may never see the end of the road, the results of our actions, the recipients of our giving. We receive and offer the gift of hope. The harvest will come.
Many of our days are spent "growing dirt," preparing the soil for future plantings. That is an act of hope. We know we are only workers, not the Master Gardner. Accepting the gifts of silence, light, the guiding Spirit and hope, we are co-creators of the future, which is in God's hands.
The four pillars of stewardship are Hospitality, Prayer, Formation and Service. These pillars invite parishioners to experience, witness and live the stewardship way of life in response to their baptismal call to discipleship. Each baptized person is called to give of time, talent and treasure to strengthen these four pillars that support the parish community – your parish community.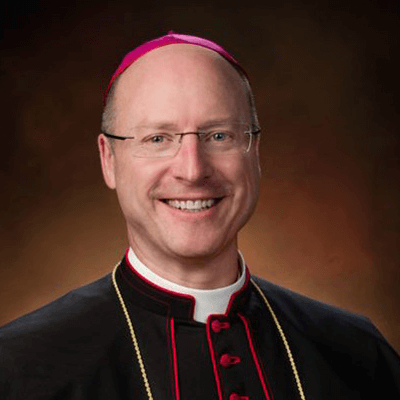 The fact we are Catholic is not only manifested in the beauty of our churches; it is in our daily living as generous stewards. I invite you to consider the ways in which you make room for God in your life through your personal, ongoing faith formation; by your active charitable works; and by personal prayer and active participation in Mass.
Be not afraid to give yourself to Christ by being a generous steward. You will not regret it.
Most Rev. W. Shawn McKnight
Bishop of Jefferson City
Stewardship...Growing our Faith
TIME
Good stewardship requires us to make the most of our time. In so doing, we make God the center of our lives.
When we use our time to give back to God, we most effectively make meaningful connections with others, planting seeds for future harvest. 
TALENT
Our loving Creator has given each of us special blessings: talents, skills and abilities. He has entrusted us to "steward" our gifts, calling us to use them to benefit others.
We fulfill the unique purpose He has designed for each of us in His perfect plan.
TREASURE
Everything we have is a gift from God to be shared with others – for our benefit and for the benefit of others.
When we recognize that what we accumulate in this life does nothing to prepare us for the next life, it is easier to let go and use that treasure in ways that will pay dividends in heaven.