Office of Communications
Director of Communications
Jacob Luecke
573-635-9127, ext. 261
Creative Services Coordinator
Annie Williams
573-635-9127, ext. 231
---
The Catholic Missourian
Editor
Jay Nies
573-635-9127, ext. 235
Associate Editor/Advertising Coordinator
Kelly Martin
573-635-9127, ext. 238
---
Alphonse J. Schwartze
Memorial Catholic Center
2207 West Main Street
Jefferson City, MO 65109-0914
Welcome to the Social Media Resources Page!
This page is provided as a hub of resources for social media administrators in the Diocese of Jefferson City.
IMPORTANT!
Make sure you have permission to take pictures/video of students and post them. If you are unsure whether or not you have permission, either blur/cover the student's face or do not use the photo. If available, consult digital media permission forms.
Avoid using the names of students in posts and NEVER share last names of students. You must have permission to post students' first names.
School Content Ideas
Take pictures of what students are doing in their classrooms today
Share fun facts about your school
Share activities that students do with the pastor of the parish
Share activities that students might do with their parents, if parents are involved during school activities
Do interviews with teachers:

What's your favorite part about teaching here?

If there's a special Mass for something, share that! This could be photos or videos.
Answer the question: How are students growing in faith at your school?
Share anonymous (always avoid sharing names, and never share last names) stories from students about their favorite part about school, their favorite class and why, how they live their love of God everyday, etc.
Ask your teachers to help! They can take pictures and get content for you as students are doing their activities.
At the Chancery, we ask staff to take pictures/video when they travel throughout the diocese for events. When communications staff cannot attend those events, having staff take pictures allows us to still post engaging content.
When selecting images to use on social media, make sure you have the rights to use them. Downloading an image from Google without verified rights (regardless of if the image has watermarks or copyright symbolism) is not recommended. 
The resources below provide images with verified rights that you can use without worry. 
If you're new to social media, these videos provide an overview of various platforms and how to use them.
Let us know what you're doing on social media by mentioning (or "tagging") our account in your posts! Here's a quick guide on how to tag the Diocese of Jefferson City on each platform.
If you're not sure of where to put the "@" mention, you can always put the "@" mention at the bottom of the post underneath your main text. We will still get mentioned and we will see your post.
Facebook:
When creating a post, start typing "@Diocese of Jefferson City" anywhere in the post and our account should display in the dropdown menu that appears. It is crucial that the "@" sign is displayed, as this is how Facebook knows that you are trying to mention someone. Facebook will automatically change the "@Diocese of Jefferson City" to just "Diocese of Jefferson City" once you click our account from the dropdown menu.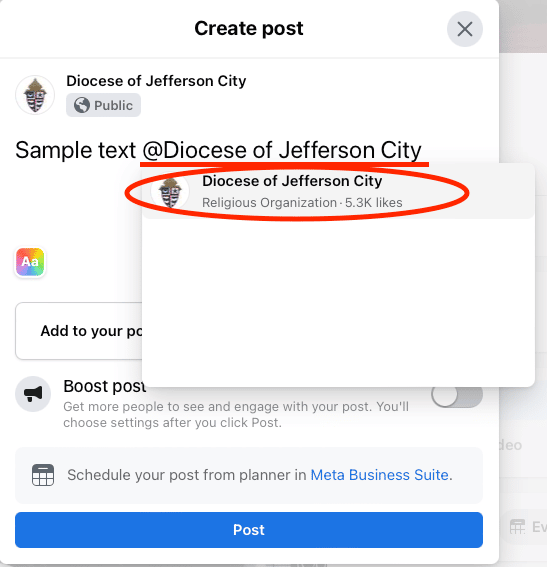 Instagram:
Anywhere in your post, type "@diojeffcity" and a dropdown menu will appear, similarly to Facebook's dropdown menu. Click on our account in the dropdown menu. This time, Instagram won't change the "@diojeffcity" in your text, so you may be worried that we won't get mentioned,  but don't worry—this is how Instagram does mentions and we will get tagged and notified as long as @diojeffcity is somewhere in the text. If you type @diojeffcity just like in this image, you are good to go!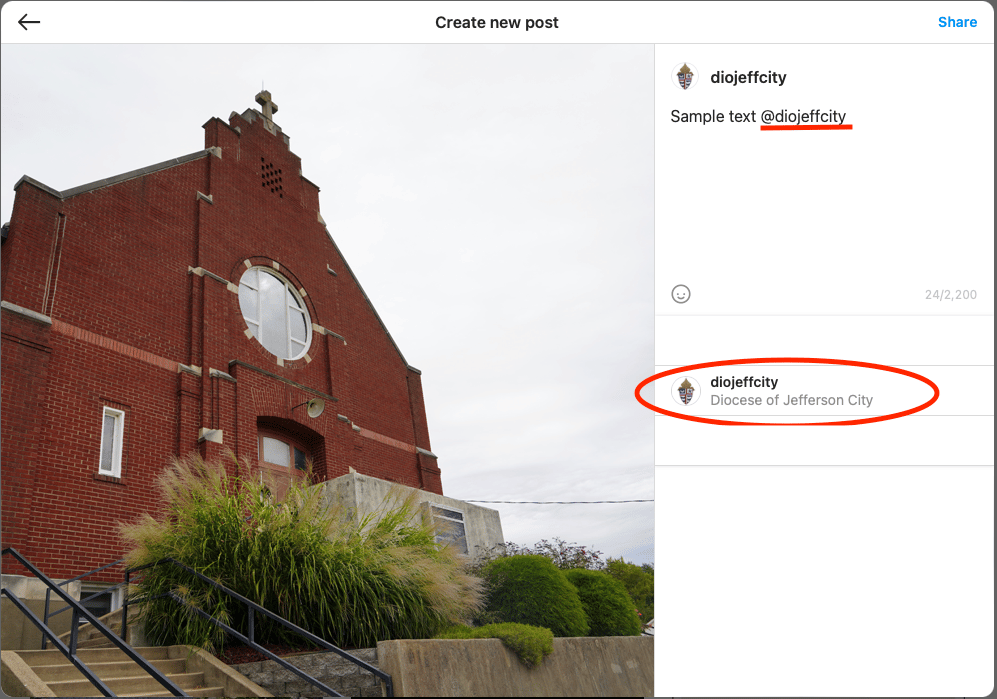 Twitter:
In the same manner as Facebook and Instagram, type "@DioJeffCity" and a dropdown menu will appear where you can pick our account. Just like with Instagram, Twitter will not change the appearance of "@DioJeffCity" once you pick our account, but as long as you have typed @DioJeffCity somewhere in the tweet just like in this image, we will be mentioned and notified that you tagged us in your post.