For Website Questions, Please Contact:
Creative Services Coordinator
Annie Williams
573-635-9127, ext. 231
---
Alphonse J. Schwartze Catholic Center
2207 West Main St.
Jefferson City, MO 65109-0914 
Welcome to Parish Website Administrator (PWA) Central!
This page is full of resources for parish website administrators. It will be updated routinely with news, including error resolutions, updates, and new innovations. As resources become available, they will be added to this page.  Please contact Annie Williams with any questions or ideas!
Look here for error resolutions, updates, and new innovations!
Quick workflows for routine website tasks.
Full website guide coming soon!
Join us for our weekly Q&A Office Hours!
Every Wednesday at 12:15 PM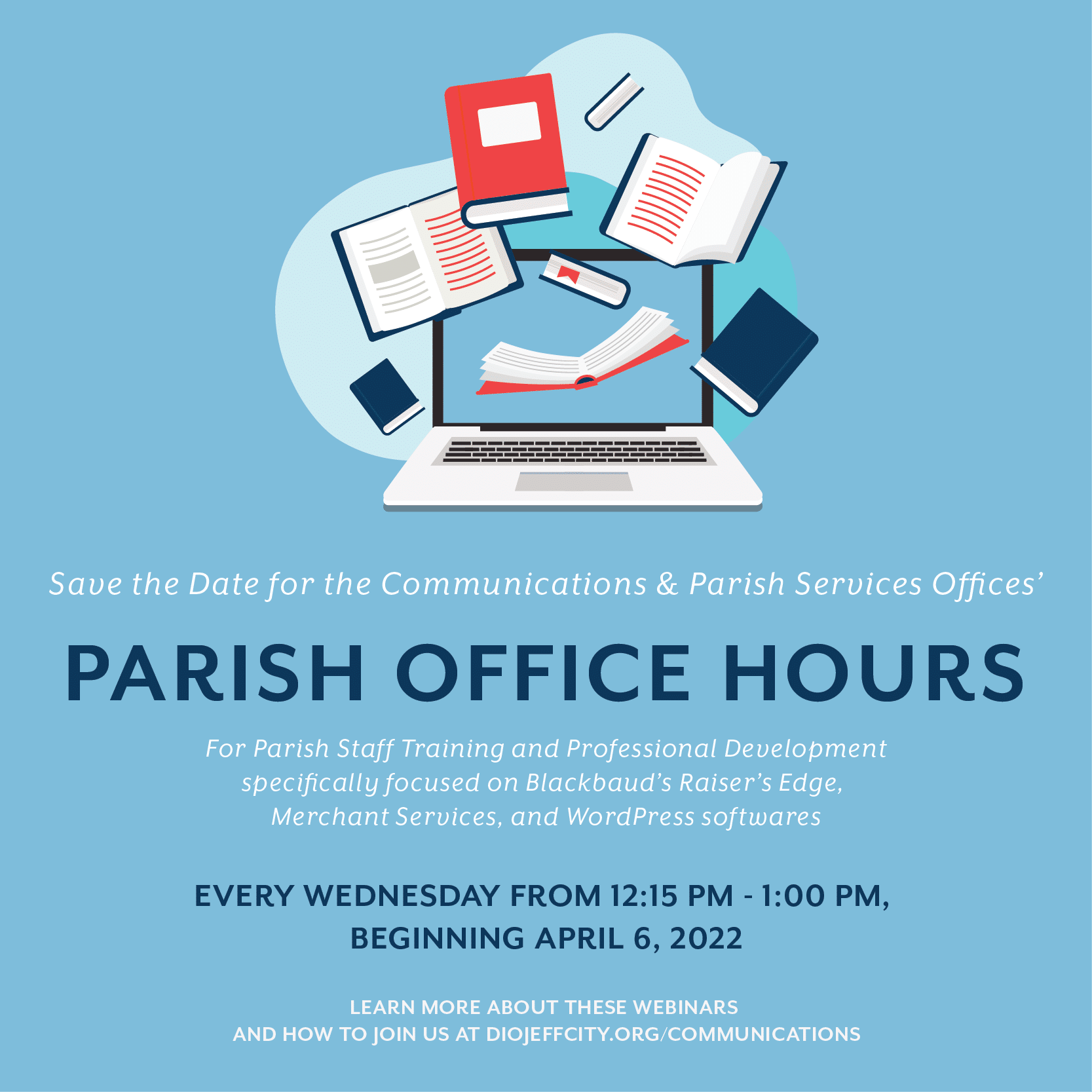 Or dial: ‪(US) +1 715-802-1435‬ PIN: ‪747 403 291‬#
No advance registration required!
Frequently Asked Questions
INTERESTED IN LEARNING MORE ABOUT THE PARISH WEBSITE PROGRAM?
Contact Annie Williams by email or call her at (573) 635-9127 (ext. 231) to set up a discovery meeting. We're more than happy to discuss whether or not a website in the program would be beneficial to your parish!
The possibilities are endless with Raiser's Edge!
Raiser's Edge is the database software used by the Diocese of Jefferson City to safeguard constituent information, track giving data, disseminate important information through email, etc. Raiser's Edge can be implemented for each parish at no cost. If you're interested in seeing if Raiser's Edge is right for your parish, contact Denise Barnes for a discovery call and future training.
Interested in tracking engagement with Google Analytics?
Google Analytics 4 is Google's website engagement measurement system that uses code within your website to track clicks, page views, interactions with online forms, etc. If you are interested in tracking user engagement on your site with Google Analytics, please contact Annie Williams to discuss training with the platform.