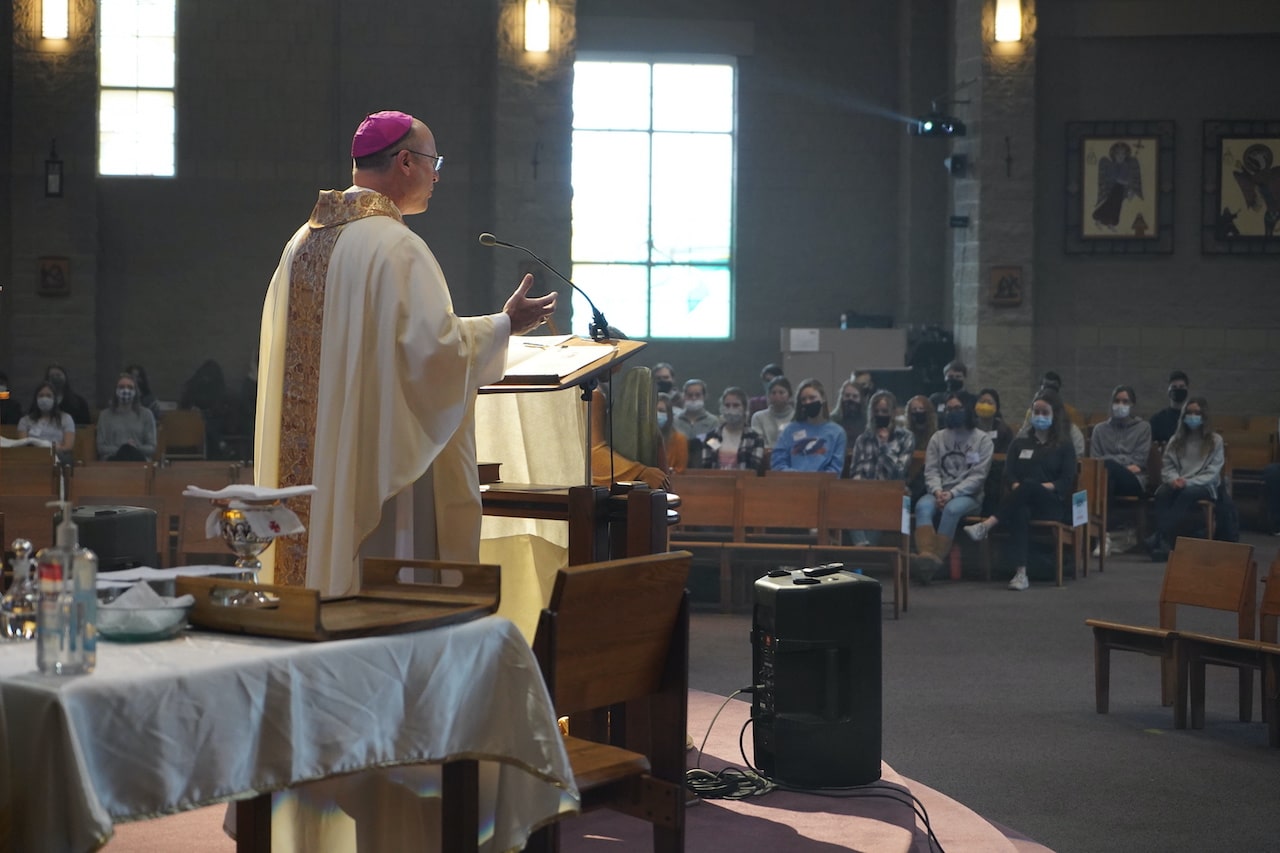 The Diocesan pastoral letter and plan were promulgated on February 6, 2021, at St. Thomas More Newman Center in Columbia, Missouri.
On the third anniversary of his ordination and installation, Bishop McKnight signed the letter and plan during Mass with the young adults telling them the Church needs their energy and "fresh eyes to help our Church transform into what the Lord is calling us to be," emphasizing the importance of our youth in the fulfillment of our mission as a Church.
---
Communications Office
Key Contacts
Director
Helen Osman
512-785-3006
Associate Director
Ashley Wiskirchen
573-635-9127
Communications Specialist
Denise Barnes
573-635-9127, ext. 246
---
The Catholic Missourian
Editor
Jay Nies
573-635-9127, ext. 235
Associate Editor/Advertising Coordinator
Kelly Martin
573-635-9127, ext. 238
---
Alphonse J. Schwartze
Memorial Catholic Center
2207 West Main Street
Jefferson City, MO 65109-0914
New diocesan pastoral plan serves as a roadmap for next three years of ministry
FROM THE CATHOLIC MISSOURIAN
Last winter, Bishop McKnight requested all parishes to discern their own plans for carrying out the Church's vision for parish life within their geographic territory. The bishop and his advisors gave a timeline and process for praying, discussing, and assessing each parish's strengths and weaknesses in the areas of:
Cultivating a spirituality rooted in the Catholic understanding of stewardship;
Promoting effective co-responsibility among ordained ministers and the laity; and
Helping every parish become universally recognized as a center of charity and a sanctuary of mercy within the larger community.
Pastors and lay leaders turned parishioners' suggestions into doable, measurable objectives for carrying out the three goals over the next three years.
The diocesan staff received parish pastoral plans from 70 parishes.
Throughout the summer, a group comprised of Diocesan Pastoral Council member Rick Nichols; LeAnn Korsmeyer, diocesan director of parish and charitable services; Father Jason Doke, moderator of the curia; Father Stephen Jones, director of stewardship, and Bishop McKnight reviewed and tabulated each of the plans.
Teens took part in online gatherings to give additional input.
Members of the Diocesan Pastoral Council met in August to ascertain themes and patterns among all of the parish plans. Their observations formed the basis for a working document presented at a September assembly of lay representatives throughout the diocese.
Participants discussed the working document in small groups — specifically, the aspects that ignite their passion, items that need clarification, and any concerns.
Their insights figured into creating a revised working document of the diocesan plan.
Bishop McKnight consulted with the priests of the diocese during their annual fall Institute before casting a final draft. He said the plan will shape how the diocese "coordinates and leverages its resources over the next three years, to assist the parishes in fulfilling their own goals and their own activities to which they are holding themselves accountable."