Contact/Staff
Communications Consultant
Helen Osman
512.785.3006
Parish Services Director
Denise Barnes
573.635.9127
---
2207 West Main St | PO Box 104900
Jefferson City, MO 65110-4900
Survey of parishioners' awareness of their parish's pastoral plan
A survey was conducted Aug. 22-Sept. 5, 2022, seeking to understand parishioners' awareness of their parish's pastoral plan and its effectiveness in aligning with the objectives of the diocesan pastoral plan. The survey was promoted in parishes, The Catholic Missourian and by an email to approximately 17,000 parishioners whose emails are registered with the diocese.
A total of 1,629 responses were received, representing almost every parishes in the diocese. The links at right are to a dashboard displaying the responses in graph format.
To view the dashboards:
Use a computer with a larger screen, such as a desktop or laptop computer.
Select your parish by clicking on its name.
If you would like to see more information on a particular question, use the icon in the upper right corner of the question box for a "pop up" window (see example below). Note you may have to change settings on your browser to allow pop up windows from Survey Monkey.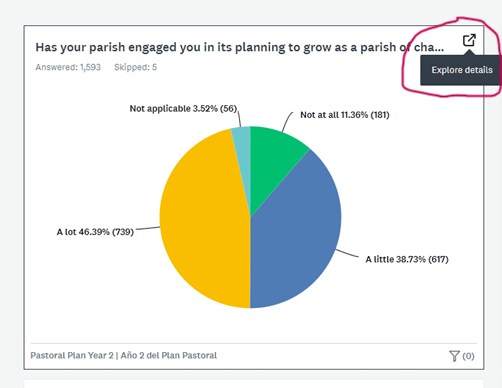 Links to survey results, by parish