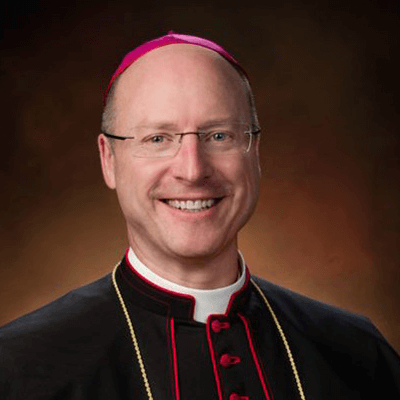 Dear Brothers and Sisters in Christ,
As I enter my third year as Bishop of the Diocese of Jefferson City, I am extremely grateful for your generosity and commitment to our Catholic faith.  This year's theme is,
"For I know well the plans I have in mind for you, plans for your welfare and not for woe, so as to give you a future of hope." JEREMIAH 29:11
I have watched our community grow stronger in faith even during these uncertain times we are experiencing.  I ask that you continue to help me carry out the mission and work of the church by prayerfully considering supporting the annual Catholic Stewardship Appeal through a sacrificial gift.
May God bless you for your generosity, and may Christ's peace be with you. I am,
Sincerely yours in Christ,
Most Rev. W. Shawn McKnight
Bishop of Jefferson City
Development Staff
Director
Jake Seifert
573.635.9127, ext. 227
Associate Director
Whitney Lammers
573.635.9127, ext. 249
Administrative Assistant
Carla McDaniel
573.635.9127, ext. 237
---
2207 West Main St
Jefferson City, MO 65109-0914
"For I know well the plans I have in mind for you,
plans for your welfare and not for woe,
so as to give you a future of hope."
JEREMIAH 29:11
Where does the money given to the CSA go?
This year's diocesan goal for the Catholic Stewardship Appeal is $2.45 million. Parishes are eligible to receive a rebate when pledges and/or cash meet or exceed their parish goal by March 15, 2021 and pledges are fulfilled by the fiscal year end June 30, 2021.  Any pledge funds received after July 1, 2021 will be applied to the following year's CSA parish goal.
No money collected in the Catholic Stewardship Appeal or in your parish contributions will be used for any payments related to sexual abuse.
PRAYER FOR A STEWARDSHIP PARISH
My parish is composed of people like me.
I help make it what it is.
It will be friendly, if I am.
It will be holy, if I am.
Its pews will be filled, if I help fill them.
It will do great work, if I work.
It will be prayerful, if I pray.
It will make generous gifts to many causes,
if I am a generous giver.
It will bring others into worship,
if I invite and bring them in.
It will be a parish of loyalty and love,
of fearlessness and faith,
of compassion, charity, and mercy,
if I, who make it what it is,
am filled with these same things.
Therefore, with the help of God,
I now dedicate myself to the task
of being all things that I want my parish to be.
Amen.
Downloadable Resources
Parishes are encouraged to use these resources to support the promotion of CSA 2021. The appeal begins the weekend of Oct. 17-18, 2020, with an alternative start date of Oct. 24-25, 2020.
Bulletin inserts:
Pre-kick-off Weekend (Oct. 3 or 10)
Kick-off Weekend (Oct. 17 or Oct. 24)
Third weekend (Oct. 31 or Nov. 7)
Fourth weekend (Nov. 7 or Nov. 14)
Fifth weekend (Nov. 14 or Nov. 21)
Brochures and Posters
Pictures
Logos: