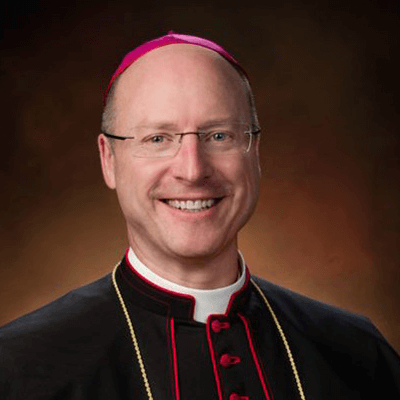 After three years as your bishop, I am truly amazed and humbled by Catholics in the Diocese of Jefferson City who make a sacrifice to support the Catholic Stewardship Appeal (CSA). Through the CSA, we continue to provide vital support to parishes, schools and the community at large.
For over a year now, our parishes have been planning and working on our diocesan pastoral plan that focuses on the challenges we currently face:
• Cultivating a spirituality rooted in the Catholic understanding of stewardship;
• Promoting effective co-responsibility among ordained ministers and the laity; and
• Helping every parish become universally recognized as a center of charity and a sanctuary of mercy within the larger community.
It is with your constant support that we are able to continue spreading God's message of stewardship, co-responsibility, charity and mercy. I humbly ask that each of you prayerfully consider making a sacrificial gift so we, as a church, can continue serving those in need. I thank you for all you have done and continue to do to lift up your Local Church.
Most Rev. W. Shawn McKnight
Bishop of Jefferson City
Development Staff
Director of Development & Missions
Jake Seifert
573-635-9127, ext. 227
Administrative Assistant
Position Vacant
573-635-9127, ext. 237
---
Alphonse J. Schwartze
Memorial Catholic Center
2207 West Main St
Jefferson City, MO 65109-0914
"Consider this: whoever sows sparingly will also reap sparingly, and whoever sows bountifully will also reap bountifully. Each must do as already determined, without sadness or compulsion, for God loves a cheerful giver"
2 CORINTHIANS 9:6-7
Where does the money given to the CSA go?
This year's diocesan goal for the Catholic Stewardship Appeal is $2 million. Parishes are eligible to receive a rebate when pledges and/or cash meet or exceed their parish goal by March 15, 2022 and pledges are fulfilled by the fiscal year end June 30, 2022.  Any pledge funds received after July 1, 2022 will be applied to the following year's CSA parish goal.
No money collected in the Catholic Stewardship Appeal or in your parish contributions will be used for any payments related to sexual abuse.
Weekly Resources for Parishes
Prayers of the Faithful for Parishes
PRAYER FOR A STEWARDSHIP PARISH
My parish is composed of people like me.
I help make it what it is.
It will be friendly, if I am.
It will be holy, if I am.
Its pews will be filled, if I help fill them.
It will do great work, if I work.
It will be prayerful, if I pray.
It will make generous gifts to many causes,
if I am a generous giver.
It will bring others into worship,
if I invite and bring them in.
It will be a parish of loyalty and love,
of fearlessness and faith,
of compassion, charity, and mercy,
if I, who make it what it is,
am filled with these same things.
Therefore, with the help of God,
I now dedicate myself to the task
of being all things that I want my parish to be.
Amen.
Downloadable Resources
Bulletin Graphics
Bulletin graphics, both one column and two column, can be downloaded for each weekend, beginning Oct. 9-10. 
Logos: