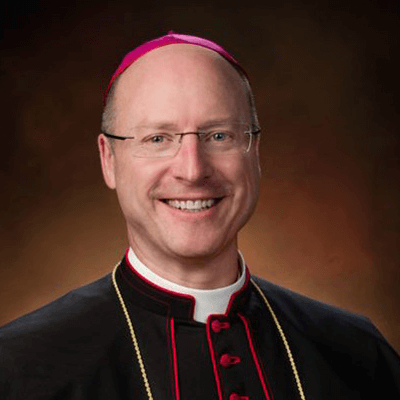 Dear Brothers and Sisters in Christ,
This year's theme "As each one has received a gift, use it to serve one another as good stewards," speaks to one of the many ways we are united in giving thanks to God for His many blessings.
I am extremely grateful for your past generosity. Now I am coming to you to ask you to continue to "serve one another as good stewards" to help our community grow stronger in faith.
I ask that you prayerfully consider supporting the 2020 Catholic Stewardship Appeal through a sacrificial gift.
May God bless you for your generosity, and may Christ's peace be with you. I am,
Sincerely yours in Christ,
Most Rev. W. Shawn McKnight
Bishop of Jefferson City
Development Staff
Director
Jake Seifert
573.635.9127, ext. 227
Associate Director
Whitney Lammers
573.635.9127, ext. 249
Administrative Assistant
Carla McDaniel
573.635.9127, ext. 237
---
2207 West Main St
Jefferson City, MO 65109-0914
"As each one has received a gift,
use it to SERVE ONE ANOTHER as good stewards."
1 PETER 4:10
Where does the money given to the CSA go?
This year's diocesan goal for the Catholic Stewardship Appeal is $2.45 million. Any parish that meets or exceeds its individual goal will be awarded 10 percent of that goal and 90 percent of the amount received in excess of that goal.
No money collected in the Catholic Stewardship Appeal or in your parish contributions will be used for any payments related to sexual abuse.
PRAYER FOR A STEWARDSHIP PARISH
My parish is composed of people like me.
I help make it what it is.
It will be friendly, if I am.
It will be holy, if I am.
Its pews will be filled, if I help fill them.
It will do great work, if I work.
It will be prayerful, if I pray.
It will make generous gifts to many causes,
if I am a generous giver.
It will bring others into worship,
if I invite and bring them in.
It will be a parish of loyalty and love, of fearlessness and faith, of compassion, charity and mercy,
if I, who make it what it is,
am filled with these same things.
Therefore, with the help of God, I now dedicate myself to the task of being all things that I want my parish to be.
Amen.