Sharing God's Gifts: Fiscal 2023 Parish Tithe Report
The Catholic Stewardship Renewal process is beginning in the Diocese of Jefferson City. Parishioners from across the diocese are praying and reflecting on their gifts from God — and considering how they can use those gifts in support of their parishes.
As Catholics engage in this spiritual process, and commit to their parish tithe, the Diocese of Jefferson City is providing this overview of how the diocesan Chancery office utilizes your support to develop and enrich the faith of our community.
A Spanish version of this report is available here.
Additional Catholic Stewardship Renewal Resources
---
Oct. 16-18: Protect Young Eyes workshops
A new promotional video is now available as we continue to encourage participation in a series of events that will educate students about safe online practices and help parents create tech-ready homes.
The video is available for you to share at this link: Promo video
National speakers from Protect Young Eyes will be in the diocese for a series of presentations in seven communities over the course of three days in October. The events are free to attend and all parents are encouraged to join the evening sessions.
Monday, Oct. 16
6:30 p.m. — St. Brendan School, Mexico
6:30 p.m. — Alphonse J. Schwartze Memorial Catholic Center, Jefferson City
6:30 p.m. — Immaculate Conception School, Macon
Tuesday, Oct. 17
6:30 p.m. — St. Pius X School, Moberly
6:30 p.m. — Holy Rosary School, Monroe City
6:30 p.m. — Our Lady of Lourdes Interparish School, Columbia
Wednesday, Oct. 18
6:30 p.m. — St. Joseph School, Westphalia
Please promote these events in your parish. A promotional flyer and social media graphics are available here.
---
This week: Women's Ministry fall events
All women of our diocese are invited to attend our diocesan wide fall events. There are two opportunities to gather. Come to one/come to both! Join us for a Ladies Night out Friday evening or our all day retreat on Saturday. Both feature author and syndicated talk show host, Teresa Tomeo. We hope to see you there! Click here to register.
---
Pet dogs open doors to evangelization and fun
The latest issue of The Catholic Missourian features a story about how priest's pets help them spread the word of God across our diocese. Editor Jay Nies writes:
Sit right back and you'll hear a tail.

Listen closely. It's hard to hear it wagging with all those children around.

"It's always a good time for everybody when I have Miss Africa with me!" proclaimed Father Henry Ussher.

"Children come out and call her and say they want to pet her," he said of the floppy little Shih Tzu mix that has learned how to dance. "People come up and talk to me, even if they're not Catholic."

That's a common theme.

"If I ever take the dogs out when the kids are there, the kids just swamp us," said Father William Peckman. "The dogs love it, and the kids love it."

His 13-year-old wire-haired dachshund, Buddy, and 2-year-old goldendoodle, Molly, are but a few of the heavenly hounds that help keep things lively in rectories across the diocese.

"There's definitely a humanizing factor to having the pets," said Fr. Peckman, pastor of Immaculate Conception Parish in Macon, St. Mary Parish in Shelbina and the Mission of Sacred Heart in Bevier.

"I've found that people who, for lack of a better term, are 'afraid' of priests. If they have a dog like the priest does, it becomes a moment of a little connection," he said.

Father Joshua Duncan called his dogs "a natural conversation starter."

"At funerals or even at weddings, when people who barely set foot in church find out that I have a dog, it just opens up the conversation amazingly," he said. "They're showing me pictures and asking me for pictures.

"And sometimes, they ask me the deeper questions."
Watch a short video that accompanies the story.
---
Order additional copies of the 2023-2024 Diocesan Directory
It is time to order extra copies of the 2023-24 Diocesan Directory, if necessary.
As a reminder: Each parish and each school receives two free copies. In addition, each religious, priest, deacon, parish life collaborator, principal, school president, and assistant principal will receive a free copy. Additional copies are $5 each.
If your parish, school or organization would like to order additional copies to supplement your free copies, please use THIS LINK to place an online order by Thursday, October 5. Payment by debit or credit card is required when you place your order.
---
Parish Secretaries' Workshop – September Videos Available
The September workshop videos are now available on the diocesan website at this link.
You can also access all of the videos from the diocesan homepage by clicking on the "About Us" tab and then "Policies, Procedures, and Particular Law" from the dropdown menu. The Parish Secretaries Workshop Videos are located on the right-hand side of the page.
If you have questions or topic suggestions, please contact Bernadette Adams at badams@diojeffcity.org.
---
Does your parish need more 2% envelopes?
If your parish needs more 2% envelopes please click here to order more. The 2% envelopes are offered as a way to help our faithful as they move forward in their personal growth during our process of stewardship renewal.
It is important to remember that the biblical tithe is 10%. As all of our parishes move forward in the stewardship way of life, we are asking each Catholic individual and family to prayerfully tithe 8% of their first fruits to their parish and 2% to charities of their choice which promote the common good through Catholic values.
These envelopes address the 2% piece of the equation.
For any parishioner already giving in support of their 2% obligation, these envelopes are not intended to change those giving practices.
But some parishioners may wish to contribute to a charity, national collection or in support of a disaster relief effort using these 2% envelopes. When donations are made via these new envelopes, the parish supports them in making these gifts by forwarding the contributions to the correct recipient.
---
Walking Together Women's Ministry newsletter
The October women's ministry newsletter is here! Last minute details on our upcoming event, ideas for prayer opportunities for this month of the rosary and more. Click here to read the newsletter.
Oct. 28: Diaconate information session
The Office of Diaconate Formation will be hosting an information session for anyone interested in learning more about the permanent diaconate. The session will include insights into the life and ministry of permanent deacons. It will also offer information on the application and formation process.
The session is open to anyone who has wondered if they were being called to the vocation of the diaconate and to their spouse.
It is going to be held on Saturday, October 28 from 9:30 a.m. to noon at the Diocesan Chancery in Jefferson City. Please email Deacon John Schwartze at jschwartze@diojeffcity.org for more information and to RSVP.
Where: Diocesan Chancery, Rooms 306 and 307
Date: Saturday, October 28
Time: Begins at 9:30 a.m. and ends at noon
---
St. Mary's Hospital Partners with Helias High School for Keep Warm Drive
St. Mary's Hospital and Helias High School have partnered for a Keep Warm Drive through the month of October. The drive will collect warm clothing to be donated to the Samaritan Center and provide protection for those in need from the cold months ahead.
St. Mary's Hospital will have drop off locations throughout the campus including the main visitor entrance, the outpatient entrance, garden level employee elevators, and the Health Plaza entrance. These drop offs are available all month long.
Helias High School will also be collecting warm clothing at the main office, the crucifix entrance, and the commons. Their drop off locations are available October 9-18.
Requested items include new or gently used coats, new stocking caps, new gloves or mittens, and new socks. All items will be delivered to the Samaritan Center before the Thanksgiving holiday.
St. Mary's Hospital is honored to serve the Jefferson City community. Please bring in your items during the drop off times and help keep those in need warm for the upcoming winter season.
---
St. Mary's Hospital Celebrates the Feast of St. Francis with Paper Shredding Event
Celebrate the Feast of St. Francis with a paper-only shredding event at SSM Health St. Mary's Hospital – Jefferson City. This event is open to the public and will take place on October 3, from 3:00 p.m. to 6:00 p.m. in the Health Plaza parking lot on the St. Mary's Hospital campus.
St. Francis is associated with patronage of the environment and for Catholic health care, the reminder of our connectedness is urgent. Our commitment to the sick and the poor demands that we take careful stock of our behaviors and environmental impact. As it is impossible for people to be healthy on a sick planet, we must work toward the healing of the environment as well as the patients and families in our care.
Visit our Facebook event page for updates and to let us know you would like to participate.
---
Mass attendance counts continue
Mass attendance counts are continuing in the Diocese of Jefferson City for at least the next 1 to 2 years. The decision was made by the Presbyteral Council during their June 6 meeting. The counting had been set to end on July 31. However, the counts were deemed useful to the Pastoral Planning process and it was decided that parishes should continue to collect these statistics.
All parishes should continue counting and reporting their Mass attendance.
The rules for reporting will remain the same. Parishes are encouraged to continue using the online form to report their counts: https://diojeffcity.org/mass-attendance/
---
Share in bulletins, emails, social media, and websites
---


---
Catholic Charities PEACE events
"Love faces a vast field of work and the Church is eager to make her contribution with her social doctrine, which concerns the whole person and is addressed to all people."
– Compendium of Social Doctrine of the Church
Join Catholic Charities for an afternoon of faith formation, fellowship, and information on how Catholic Charities can help equip you and your parish to meet the needs of others through works of charity and mercy. With six event options spanning the diocese and host parishes in each deanery, we look forward to collecting together in an atmosphere of prayer to explore how Catholic Charities can best equip individuals, families, and parishes to carry out works of charity for their local communities.
What to expect:
Dynamic speakers, informative presentations, afternoon snacks, and an opportunity to connect with others in your community and across your deanery who are involved in stewardship, social ministries, and more. We hope you'll join!
RSVP for the event most convenient for you at: cccnmo.diojeffcity.org/peace
---
Catechesis of the Good Shepherd is a Montessori style religious education program. That means we have beautiful materials kids and adults can touch, move and manipulate to learn and wonder about God through scripture and the sacraments.
Join us Saturday, October 28 from 9am to 4:30pm at Newman Parish in Columbia for a workshop on CGS and the Eucharist and discover what CGS can bring to you and your community. Click here to Register.
---
Oct. 11: CPR Training
The Immaculate Conception Health Ministry Team is hosting CPR Training on October 11 from 5:30-8:30 pm in Pleus Hall at Immaculate Conception Parish in Jefferson City. Cost is $75. Contact Debbie Hilke at dhilke@icangels.com or 573-690-8077.
---
Date change! Please note the new date for this upcoming event at the Cathedral of St. Joseph in Jefferson City: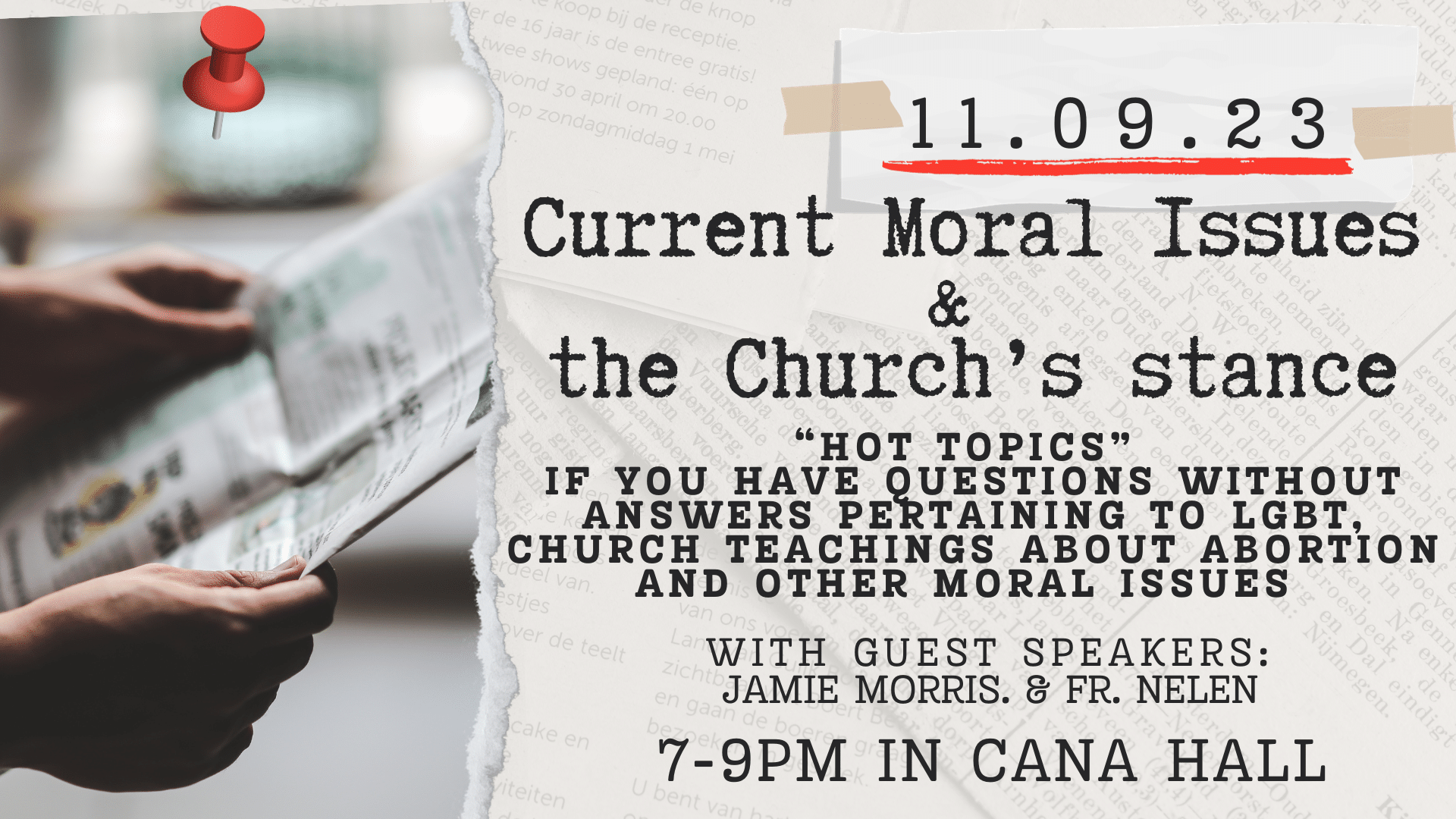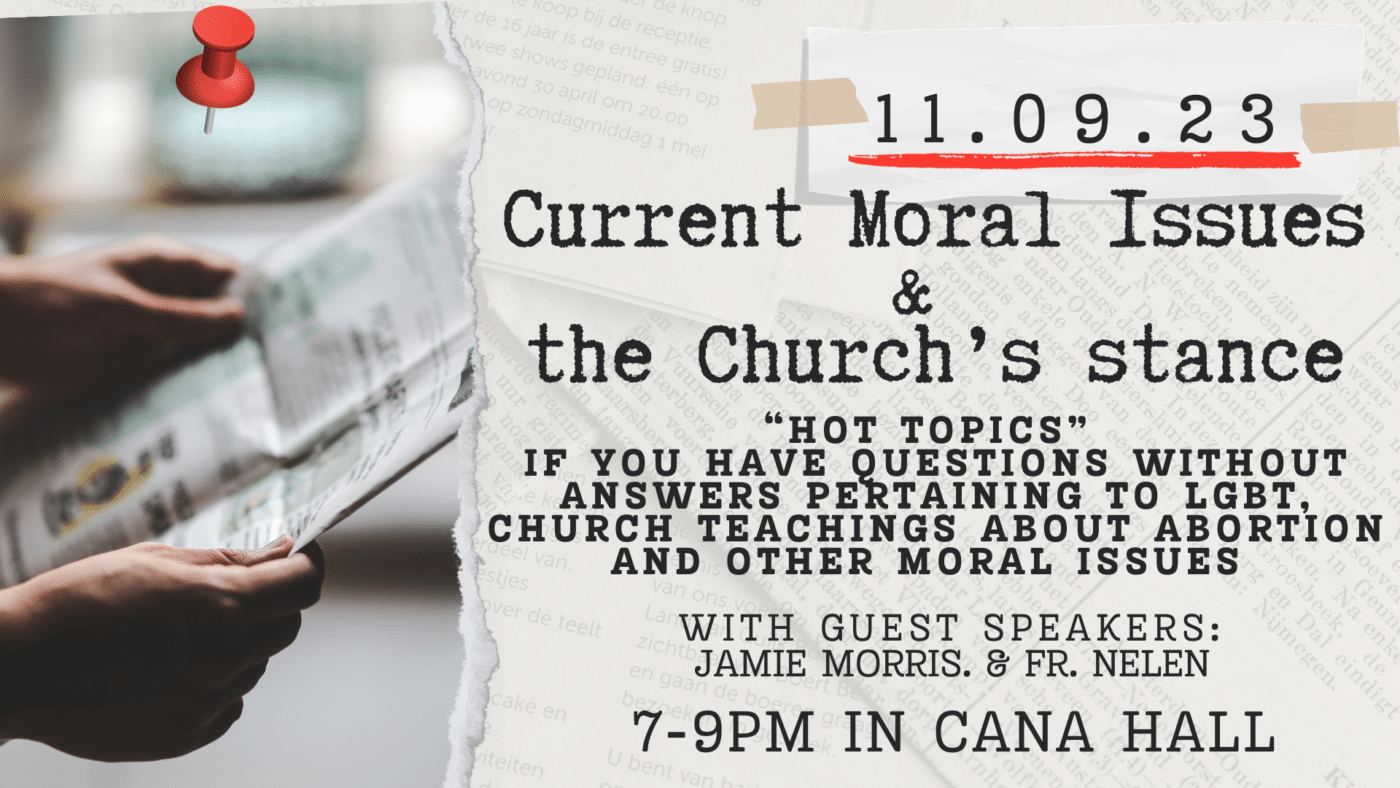 ---
Eventos en Español
---
Congreso Diocesano: Multipurpose Building-Saline County Fairgrounds, Marshall (7 de octubre, 8:30am-6pm, y 8 de octubre, 8:30am-4pm)
El Congreso Diocesano es un evento organizado por el Comité Diocesano de la Renovación Carismática Católica. Es un evento de gracia y bendición para toda la comunidad y las familias Hispanas de la diócesis. Por medio de la alabanza, oración, enseñanza y fraternidad que se vive durante todo el evento, se fortalecen y sanan las familias, los servidores y las comunidades. Este es un evento único y especial que nadie puede perderse.
Para más información contacte Ilsi Palacios al (316) 530-1004 o por correo electrónico a ComiteDiocesanoRCCH@gmail.com.
---
Retiro para Preparación de Quinceañera: San Pedro, Marshall (14 de octubre, 10am-4pm)
---
Retiro de Crecimiento: Escuela Sacred Heart, Sedalia (18 y 19 de noviembre)
Este retiro es para mujeres y hombres que ya vivieron el retiro de vida en el Espíritu. Es una experiencia de fortalecimiento y reencuentro con Jesús para renovar su compromiso bautismal. Así, los participantes pueden contribuir de una manera más comprometida en la misión de la Iglesia compartiendo sus dones y talentos en sus comunidades. Para más información contacte a Ilsi Palacios al (316) 530-1004 o por correo electrónico a ComiteDiocesanoRCCH@gmail.com.
---
PEREGRINACIÓN A ROMA Y TIERRA SANTA del 20 de noviembre al 1 de diciembre del 2023 – Diócesis de Jefferson City (Pilgrimage in Spanish)
¡Acompañe al Padre Cesar Anicama en una gran peregrinación a Roma y Tierra Santa! Volaremos a Roma para visitar sus basílicas, y lugares culturales, audiencia con el Papa, Asís y más. Después volaremos a Tierra Santa donde caminaremos por los lugares santos donde Jesús vivió, incluyendo Tiberíades, Belén, Jerusalén, Galilea y más.
Para hacer una reservación, póngase en contacto con Canterbury Pilgrimages & Tours HOY al: 1-800-653-0017. También por WhatsApp/textos/llamadas al (347) 463-3998.
Contacto local: Diacono Enrique Castro (573) 680-3650.
---
Employment opportunities
Our Lady of the Lake Catholic Church is seeking a full-time Music Director.
The Music Director is a professional who holds specialized credentials in music and who has a thorough understanding of Roman Catholic liturgy. This person of faith is responsible for the effective planning, coordination, and execution of music within the liturgical celebrations of the parish.
The ideal candidate will be familiar with both traditional and contemporary music suitable for the Catholic church
Will help facilitate with the Spanish Mass
Will develop an adult choir for the parish
The Music Director will be available for parish weddings and funerals
The employer offers a full range of benefits including life insurance, long-term disability, medical, dental, vision and a matching 403(b) retirement plan.Requirements: College degree in Music or Liturgy, Ability to lead a choir, Professional skill with many instruments, including organ and piano or keyboard, Flexible with schedule to accommodate office needs as well as mass, weddings and funerals, Knowledge of appropriate music for Catholic church. Apply on Indeed.
---
St. Joseph (Westphalia) Seeks Secretary/Bookkeeper
St. Joseph Parish in Westphalia is seeking a parish secretary and bookkeeper, to begin fully in January of 2024, with training to begin in the final months of 2023. This could be a 30-hour-a-week position with potential for 40-hours. It could also be two part-time positions, depending on applicants. There is some potential for flexibility of hours.
For more information, see: www.stjosephwestphalia.org/parish-secretary.html
If you are interested in this position, please send a resume to Fr. Dylan Schrader at dschrader@diojeffcity.org
---
The Catholic Diocese of Jefferson City has a career opportunity for a Controller who will manage the accounting department for the organization. Duties include managing chancery accounting personnel, Sage accounting and investment portfolio platforms, cash flow, accounts payable, billing, accounts receivable, PP&E, GL level and general accounting platforms. Specific duties include monthly accounting period closings and reconciliations, preparing monthly trial balance, preparing monthly financial analysis and quarterly financial statements. This individual will also manage the annual financial audit process and oversee all chancery bank accounts and supervise maintenance of budgets. Education and Experience:
Bachelor's degree from an accredited college or university majoring in Accounting
Minimum of ten (10) years of job-related experience preferred, but not required
501(c)(3) fund accounting experience preferred, but not required
Public accounting experience helpful, but not required
Strong computer skills and ability to easily work in Sage, MS Excel and MS Word
Qualified applicants are encouraged to apply through our job posting on Indeed.com or send resume and cover letter to hrdir@diojeffcity.org
---
The Catholic Diocese of Jefferson City is seeking a Finance Manager to assist the Chief Financial Officer with overseeing and supervising the day-to-day functions of the Finance Office. This individual will oversee the accounting of multiple entities, including but not limited to general ledger, accounts payable, accounts receivable, budgeting, banking and cash receipts. Additional duties include providing support to parishes, and assisting with the diocese investment platforms, oversight of the risk management program and annual external audits. Bachelor's Degree, preferably in Accounting, Finance or Business Administration, plus three to five years' experience in a multi-faced accounting role. Non-profit fund accounting is preferred. Experience with Sage accounting system is a plus, but not required. Qualified candidates are encouraged to apply with our posting on Indeed.com or send resume to hrdir@diojeffcity.org
---
St. Peter Catholic Church is seeking a Custodian to serve in a full time position that will include cleaning of the school and Selinger Hospitality Center. The custodian will need good communications skills to interact with teachers, parents, students and priests. Reports to the Maintenance Supervisor. This position will require an 8-hour workday with the starting time to be determined in consultation with the supervisor. It could include work on Saturday/Sunday, if needed, such as when we have inclement weather or a special event. Complete job description at https://www.saintpeterjc.org/employment/
---
Sacred Heart School in Sedalia MO has an opening for a Communication and Technology Director. This is a full-time, exempt position. All interested persons should complete the application and contact the Principal, Nancy Manning at nmanning@gogremlins.com.
Responsibilities Include:
Communications (website management, social media, event photography, videos, create graphics, newsletter writing, etc.).
Technology (Google, PC, FACTS logins, copy machines, monitor solar panels, daily tech issues, audio system, e-rate management, teacher tech training, update technology, google domain management, iPad, Chromebook cart management, tech security, etc.). See this ad on Indeed.
---
St. Thomas More Newman Center in Columbia is seeking a Director of Music. Click here for more details and application information.
---
Immaculate Heart of Mary Child Development Center is seeking dedicated and passionate individuals to join our team as Early Childhood Center Staff. A successful candidate is committed to providing a safe, Christ-like environment for the children, where they are loved, safe, and encouraged to learn. As part of our center, you will play a crucial role in providing a nurturing and educational environment for young children. Your primary responsibilities will include engaging in age-appropriate activities, ensuring the safety and well-being of children, promoting their social and cognitive development, and maintaining a positive atmosphere within the center. Starting pay is $15.00 per hour. Click here for more information.
---
Seeking a Highly Skilled Administrative Assistant: The Administrative Assistant for the Stewardship office is responsible for assisting the Director and Associate Director in implementing the Bishop's vision of spirituality of stewardship throughout the Diocese of Jefferson City, which covers 38 counties in central and northeastern Missouri.
Prepares presentation materials and strategic briefings for deans and pastors
General administrative and office management duties
Meticulously plans, coordinates and executes events and activities
Provides administrative support for the department
Works closely with the Director of Stewardship and Associate Director of Stewardship as a team partner to educate parishioners on the spirituality of stewardship and convey the impact and importance of supporting their parish and sharing their gifts for the common good
Ability to travel within the diocese (no overnight travel); fleet vehicle provided for day trips
Practicing Catholic in good standing is preferred. Bachelor's degree is preferred. Event planning and management is desired.
We are seeking a confident, competent individual to manage the stewardship office. Please apply through our job posting on Indeed.com or send resume to hrdir@diojeffcity.org.
---
Holy Family Parish in Hannibal is seeking a Director of Religious Education and Youth Minister. Key responsibilities include:
Assist the pastor in the responsibility for the Catholic faith formation for parish youth and adults
Implements the Bishop's confirmation preparation policy
Organizes, schedules and oversees religious education in the parish
Administers a formation program for catechists that leads to certification and tracks completion
In cooperation with Diocesan Director of Religious Education and Youth Minister, orders approved textbooks, liturgy materials and other works that complement the religious education efforts of the parish
Provides resources and programs for adult formation
A Bachelor's degree in theology or religious education is preferred. The pastor is willing to consider either one (1) full-time candidate or possibly two (2) part-time individuals. Resumes can be sent directly to Fr. Alex Gabriel, Holy Family Parish, 218 S. Maple Avenue, Hannibal, MO 63401 or applicants can apply on Indeed.com.
---
Our Lady of Lourdes Interparish School Positions:
Cafeteria Supervisor: OLLIS is looking for three adults (parents, grandparents, friends) who like children and want to make extra money. Qualifications include love of children, practicing Catholic preferred, ability to lift 50 lbs., and standing on feet for extended periods. This is a position that follows the students' calendar. You are off when students are off. The essential duties include supervising students and assisting them with their needs during lunch, such as opening things, sweeping up the floor, and washing tables between shifts. This would be fun if you could find two other friends to join you. We would love to see a group that can help us with our ROAR expectations and makes our dining experience something students continue to enjoy. Hours are 10:30-1:30. If interested, please email Elaine Hassemer at ehassemer@ollisk8.org.