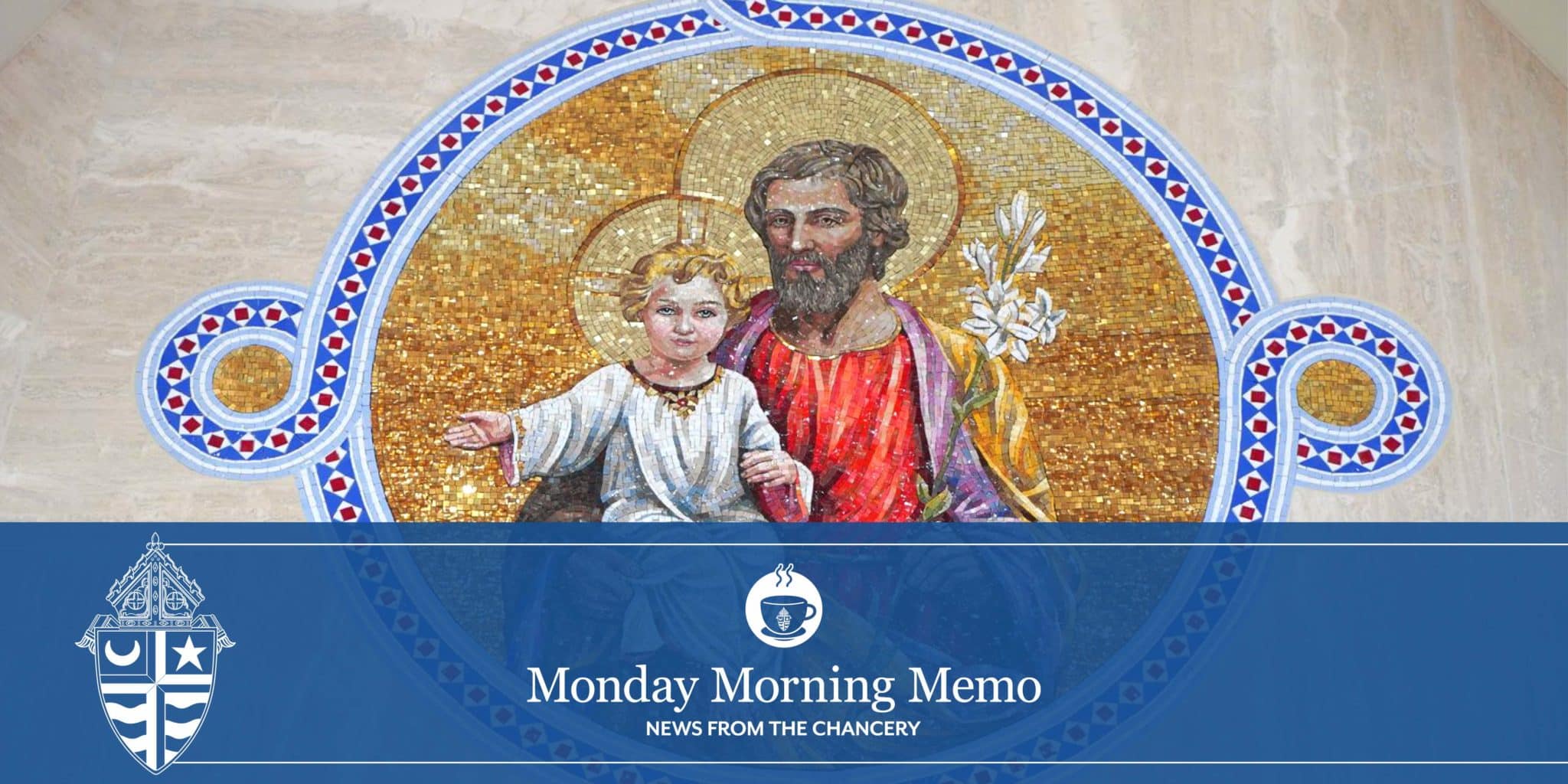 Important milestone for those seeking Easter Sacraments
The latest issue of the Catholic Missourian is now available

Recently, 72 catechumens and 82 candidates from parishes throughout the diocese who gathered with Bishop W. Shawn McKnight and their godparents and sponsors for the Rite of Election and Call to Continuing Conversion, writes editor Jay Nies in the latest issue of the Catholic Missourian.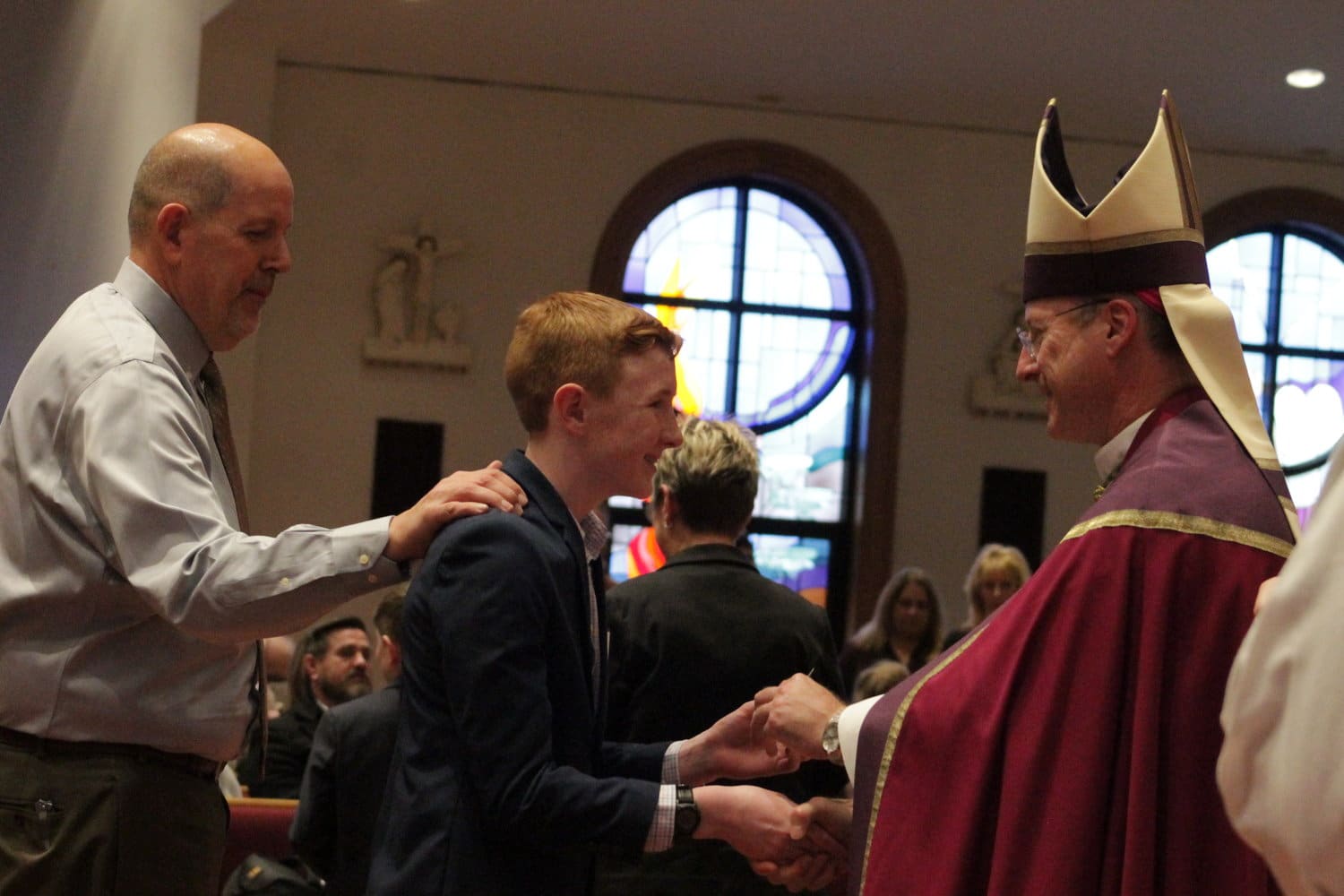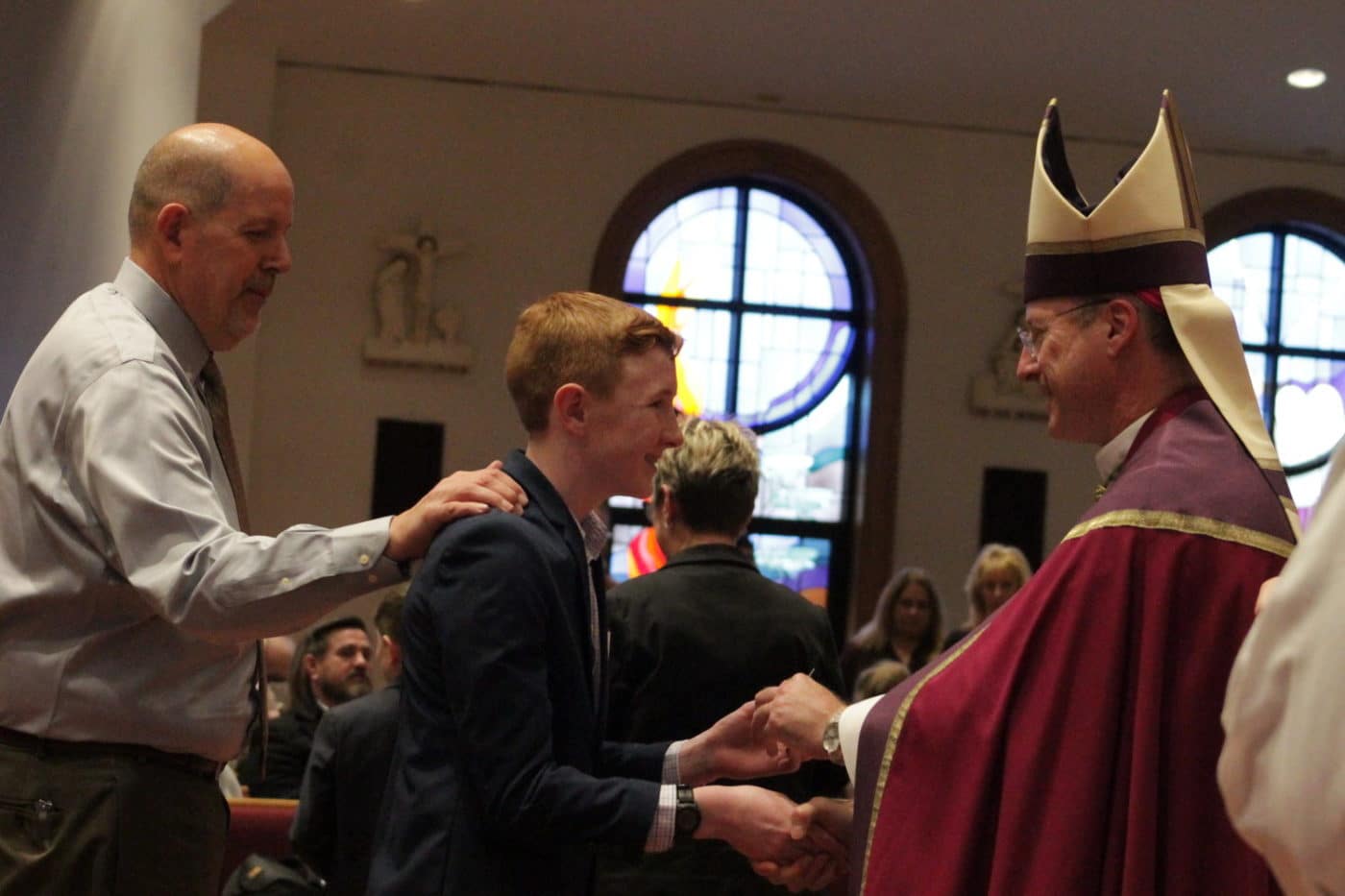 Held in cathedrals throughout the world on the First Sunday of Lent, this ritual is a significant milestone in the process of preparing to receive the Easter sacraments and become committed, active members of the Catholic Church.
Catechumens, now known as the Elect, are seeking Baptism, Eucharist and Confirmation at the Easter Vigil. Candidates have already been baptized and are seeking full communion with the Church.
Read more about this important celebration in the new issue of our diocesan newspaper, which is now available online at this link.
---
New Podcast: Why our Bishop went to Uganda

On Christmas Day — as we were home celebrating with our families and friends — Bishop Shawn McKnight and a small delegation from the Diocese of Jefferson City were boarding an airplane. Two days later, the travelers arrived in the Archdiocese of Kampala in Uganda.
In this month's podcast, Bishop McKnight and Fr. Boniface Nzabonimpa share their memories of the trip. They also explain our important connection with the Archdiocese of Kampala and describe how the two dioceses share their gifts to help Catholics in both places. Click here to listen to the latest Podcast from the Diocese of Jefferson City.
---
Parish Secretaries' Workshop — March 15, 2023

The next parish secretaries' workshop will be Wednesday, March 15, 10 a.m., via Zoom (https://us02web.zoom.us/j/83020715689?pwd=eGtnREZEWWxZTkxxZGtRbytYLzVxUT09) . Topics presented will include:
Sacrament recording overview
Changes to the 2024 annual sacrament forms
and a preview of the parish boundary map!
Each session will be recorded in case you cannot attend or if you want to re-watch the videos at a later date. Please bring your questions and future topic suggestions, and we will see you then!
---
Help us prevent work-related injuries

Missouri Employers Mutual has provided a new report with insight into the types of work-related injuries happening across the Diocese of Jefferson City. While injuries were down overall in 2022, it's important that we continue to follow best practices to prevent injuries. Read the latest report to review our trends and get tips you can use in your parish. Click here to download the report.
---
Account holders update

In April 2021, the Diocese of Jefferson City Fund began using Mateo software to track parish deposits and loans. Part of the functionality of the Mateo software is to generate monthly statements. Once a month is closed, statements are sent by email to all account holders.
An additional feature of Mateo is the ability for account holders to log in and download their statements and view balances at their convenience. There is also the ability to run a summary report for any period.
After the last meeting of the Diocese of Jefferson City Fund Trustees on January 26, it was determined to roll the functionality of account user access to all account holders. Each account will have the pastor or parish life collaborator assigned to the customer access for internal control purposes.
In addition, the pastor or parish administrator may assign an additional person to have access to the account in order to print statements and run reports. For example, the additional person could be the bookkeeper or finance council president who utilize the statements for parish reporting.
Please use this address https://diojeffcity.org/finance-office-deposit-loan-statements-form/ to complete the form for your account by April 15.
The Fund will send statements for February and March. Then, after May 5, each account holder will download the statements for April and following months as they become available.
Please email Kathy Smith (financeks@diojeffcity.org) with any questions
---
Read the latest Walking Together newsletter

Click here to check out the Women's Ministry latest Walking Together newsletter. Don't miss the new date for our upcoming pilgrimage. Add it to your calendar and spend a day in prayer and fellowship with other women from our diocese in our recently renovated and re-dedicated Cathedral. Also check out our first Book of the Month recommendation and get ready to start a small group book study this May. Click here to sign up to have this newsletter sent directly to you.
---
St. Patrick's Day — Decree of Dispensation Offered
Celebrating Catholics are encouraged to observe a suggested alternate penance
The Most Reverend W. Shawn McKnight has issued a decree dispensing the faithful from the obligation of abstinence from meat on the Memorial of St. Patrick, March 17. Please click here to read the full decree.
As stated in the decree, those who choose to celebrate St. Patrick's Day and take advantage of this dispensation are encouraged observe at least one of three alternative penances on that day: participate at Mass; participate in the devotion of the Stations of the Cross; or pray the Sorrowful Mysteries of the Holy Rosary.
---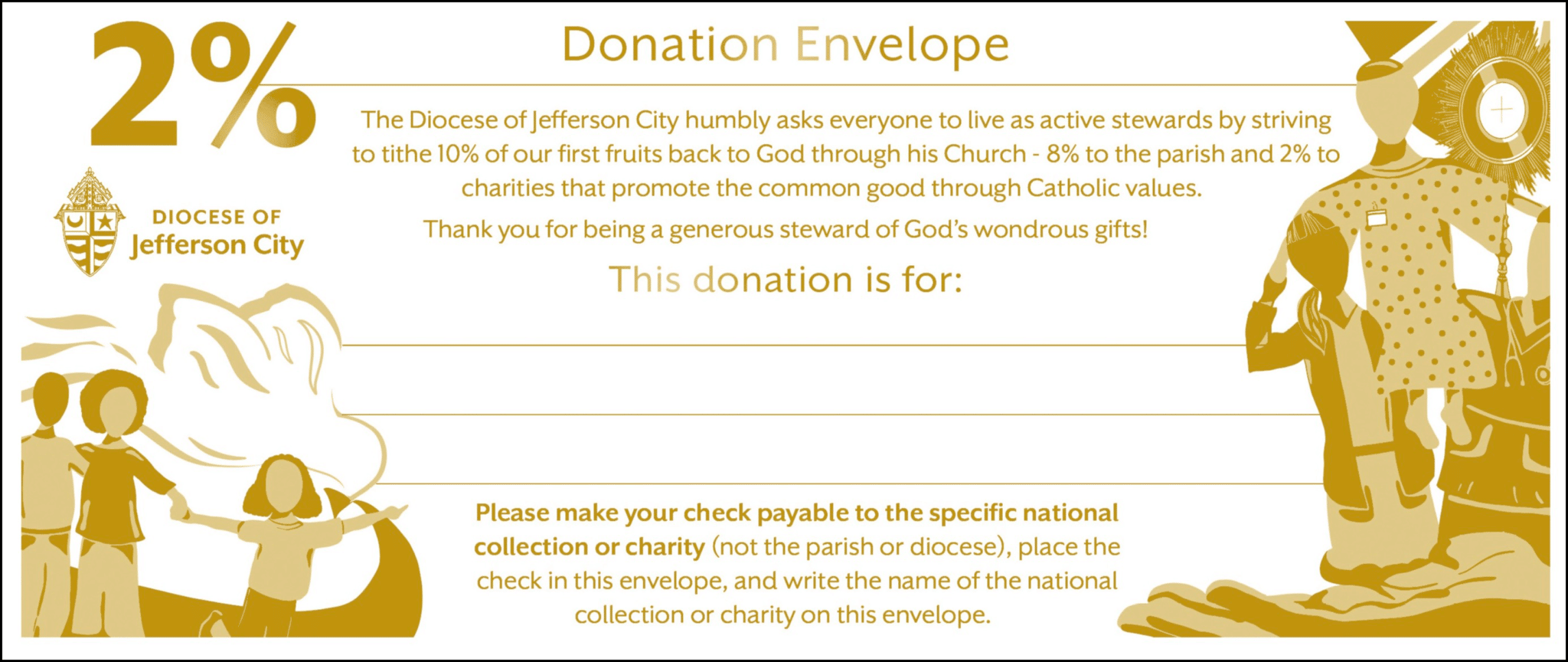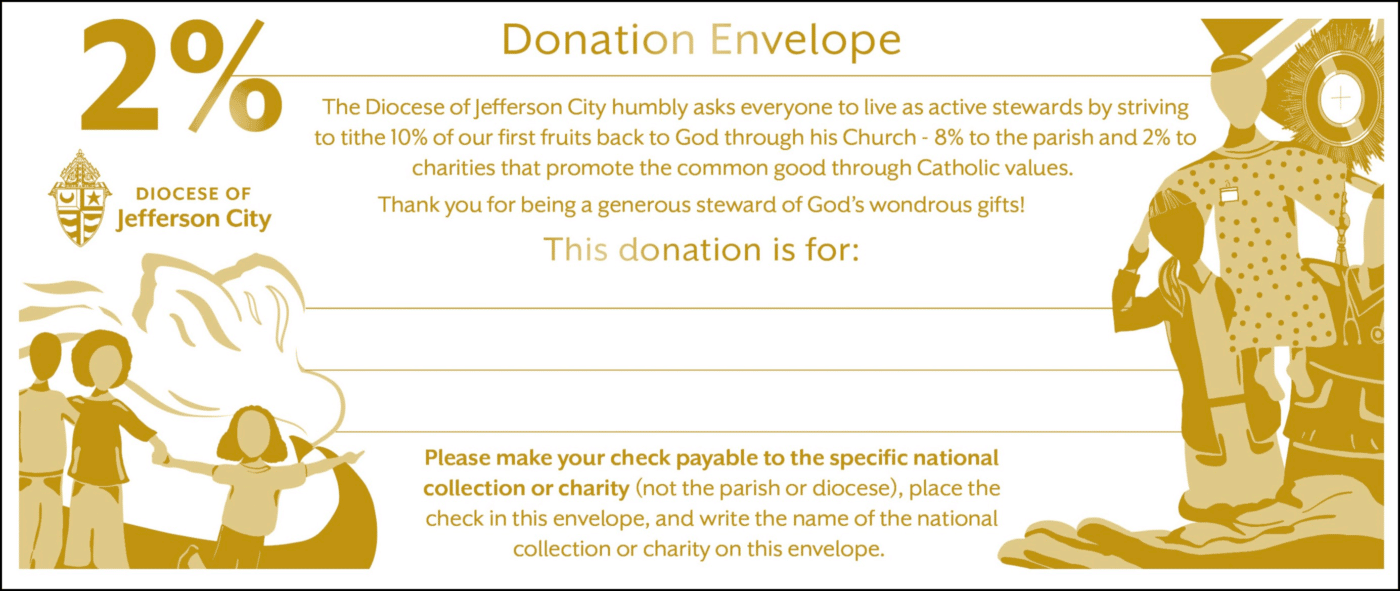 New 2% envelopes now available
Helping our faithful embrace the stewardship way of life
The Diocese of Jefferson City is providing 2% envelopes to the parishes in our diocese. If you have not received them already, these envelopes will soon be arriving at your parish.
The 2% envelopes are offered as a way to help our faithful as they move forward in their personal growth during our process of stewardship renewal.
It is important to remember that the biblical tithe is 10%. As all of our parishes move in the stewardship way of life, we are asking each Catholic individual and family to prayerfully tithe 8% of their first fruits to their parish and 2% to charities of their choice which promote the common good through Catholic values.
These envelopes address the 2% piece of the equation.
For any parishioner already giving in support of their 2% obligation, these envelopes are not intended to change those giving practices.
But some parishioners may wish to contribute to a charity, national collection or in support of a disaster relief effort using these 2% envelopes. When donations are made via these new envelopes, the parish will support them in making these gifts by forwarding the contributions to the correct recipient.
We hope these envelopes are useful to your parishes as we work to educate our faithful and move forward together — growing in the spirituality of stewardship.
---
Looking for a great fish fry?
The Diocese of Jefferson City events calendar is a great way to find Lenten fish fries — as well as many other types of activities all year round. Click here to see all upcoming fish fries and other events.
If you have something going on in your parish, make sure to submit it to our calendar!
---
Camp Registration is in Full Swing
This summer we have a full month of camp with new options for Camp Lolek.
Camp Lolek Session 1 (Junior High Boys) May 29-June 2, 2023
Camp Lolek Session 2 (Junior High Girls) June 5-9, 2023
Camp Lolek Session 3 (Junior High Boys) June 11-13, 2023
Camp Lolek Session 4 (Junior High Girls) June 15-17, 2023
Camp Maccabee (High School Young Men) June 19-24, 2023
Camp Siena (High School Young Women) June 25-30, 2023
Please help spread the word that Summer Camps registration is open. Flyers should be out soon!
For More information on Diocesan Summer Camps and to register click here: https://diojeffcity.org/youth-camps/
For Camps to be a success we need help from others:
For High Schoolers interested in Volunteering:
https://diojeffcity.org/camp-lolek-high-school-volunteers/
For Parishioners and Parents interested in Volunteering:
https://diojeffcity.org/adult-summer-camp-volunteers/
---
Chrism Mass Holy Oils Request Form 2023
Attention all priests & PLCs: It is time to request your Holy Oils again for the upcoming Chrism Mass taking place at St. Andrews in Holts Summit on Tuesday, April 4th, at 10 a.m.
Please read the memo beside this post and follow the link within the memo — or click this direct link to the Chrism Mass Holy Oils Request Form 2023 — to request the sizes & quantities of Holy Oils you would like.
Electronic forms are due by March 15th. If you must mail it, please see the information in the memo and postmark it by March 10th.
Contact Jamie Schulte at faithformation@diojeffcity.org or 573-635-9127 ext. 226 for any comments, questions and/or concerns.
---
---
Share in bulletins, emails, social media, and websites
---
Quinceañera retreat information now available
Please post the following announcement for available Quineceañera retreats and post the graphics at the "Download Graphic" button below:
The 2023 Quinceanera Retreats are now available in the following parishes. Please contact your parish Quinceanera Team or Deacon Castro at ecastro@diojeffcity.org or 573-680-3650 for more information.
Por favor publiquen el siguiente gráfico y anuncio de los retiros de Quinceañera disponibles:
Los Retiros de Quinceañeras 2023 ya están disponibles en las siguientes parroquias. Comuníquese con el Equipo de Quinceañeras de su parroquia o con el Diácono Enrique Castro a ecastro@diojeffcity.org o al 573-680-3650 para obtener más información.
---
William H. Simon and John L. Warack Scholarship Application Process is OPEN
We are pleased to announce the opening of the application process for the William H. (Bill) Simon Scholarship and the John L. Warack Scholarship, and we hope you will promote this opportunity to your parish families and use this information for a bulletin announcement.
Applications are accepted through March 31, 2023. These scholarships are available to high school seniors or current college students with financial needs who commit to practicing their faith. The John L. Warack Scholarship is specifically for a student attending the University of Missouri-Columbia.
Scholarship eligibility and applications are available at diojeffcity.org/scholarships. If you have any questions, please contact Jessica Hoogveld or Denise Barnes.
Our diocese is blessed to have families committed to the continuing education of our parish families. Please include the Simon and Warack families in your prayers.
---
Catholic Charities Annual Lenten Appeal
Support Catholic Charities of Central and Northern Missouri's Annual Lenten Appeal with a gift to help provide compassionate social services to those in need across our diocese. The Lenten Appeal is a wonderful opportunity to answer the call, as people of faith, to give alms this season. You can learn more about Catholic Charities, and give your secure gift online at cccnmo.diojeffcity.org/give.
Parish Secretaries and Bulletin Editors: Please consider using this graphic in your parish bulletins to help your parishioners become aware of the Annual Lenten Appeal and encourage support of our Catholic Charities agency.
---
The women of the Immaculata Club of Immaculate Conception Church in Jefferson City would like to invite ladies of all ages from your parish to a mini-retreat titled "Invitation to (W)holiness: Nurturing Body, Mind and Spirit as Women of Faith." The event will be on Saturday, March 18 in Kertz Hall (the cafeteria space) of Immaculate Conception's school building from 8:45 – noon and all are invited to start the morning together at the 8 a.m. Mass.
---
---


---
Attention all engaged couples, MPFs and pastors:
2023 Pre-Cana Conference dates & locations:
March 11th @ Our Lady of Lourdes: 903 Bernadette Dr, Columbia, MO 65203
June 17th @ Chancery Offices: 2207 W Main St, Jefferson City, MO 65109
September 23rd @ St. Thomas More Newman Center: 602 Turner Ave, Columbia, MO 65201
2023 Engaged Encounter dates & location are to be determined.
---
NCYC (National Catholic Youth Conference) Registration for Parishes is open. To lock in the cost of $650, Parishes must register with the number of registrants by March 15. For more info and to register click here: https://diojeffcity.org/national-catholic-youth-conference/
---
Employment opportunities
Our Lady of Lourdes Parish and Our Lady of Lourdes Interparish School is seeking a Communications Director to coordinate print, audio/visual, and digital outreach initiatives, including but not limited to websites, Facebook pages, Flocknotes, and print materials. We are seeking someone who desires to promote the Catholic Faith and Catholic Education. Education and experience in a related area or areas is preferred but not required. Qualified candidates should send their resume to frchris@ourladyoflourdes.org.
---
A Director of Youth Ministry is sought to create and direct an environment which leads the youth from Newman and Sacred Heart Parishes into a relationship with God through Jesus Christ and the Church in coordination with youth ministry staff at Our Lady of Lourdes through tri-parish high school and middle school youth groups. Click here for more details.
---
The Diocese of Jefferson City is seeking a skilled and dynamic Executive Director to promote the work and mission of Catholic Charities of Central and Northern Missouri. Under the direction of the Board of Directors, this role provides leadership and program support, ensures fiscal responsibility, and represents the agency with partner organizations, parishes, and communities across the diocese. Strong candidates are mission-minded, understanding that all leadership responsibilities are performed in concert with the agency's vision and Catholic social and moral teaching.
Catholic Charities responds to the needs of people in 38 counties regardless of faith, culture, or situation. This includes services in mental health, food security, health and nutrition education, Hispanic community support, disaster preparation and response, family reunification through immigration legal services, and resettlement of refugees. For more information, visit cccnmo.diojeffcity.org.
Catholic Charities offers a competitive compensation and benefit package, including medical, dental, vision, FSA, matching 403(b) retirement plan plus paid vacation and holidays. Applicants are encouraged to apply through our posting on Indeed.com or you can send your resume to hrdir@diojeffcity.org.
---
The Diocese of Jefferson City is seeking a highly experienced, self-motivated administrative assistant to provide support for the Vocations and Diaconate offices. This position encourages and champions the ministries of the Vocations and Diaconate office by providing:
Clerical support for activities, projects and events
Managing director's calendars
Overseeing or assisting with ministry-related check requests, expense forms, supplies, vendor purchases/contracts, etc.
Assists with travel arrangements for the assigned director(s)
Maintains database, ministry correspondence, records and takes minutes
Maintains a comprehensive "task list" with details, looking ahead on the annual calendar
In addition to serving assigned ministries and directors, the Administrative Assistant also serves as a member of the office team to support and be cross-trained to accomplish the needs of the Chancery office as a whole. Qualified candidates should send their resume to HRDir@diojeffcity.org.
---
Holy Family Parish in Hannibal is seeking a Director of Religious Education and Youth Minister. Key responsibilities include:
Assist the pastor in the responsibility for the Catholic faith formation for parish youth and adults
Implements the Bishop's confirmation preparation policy
Organizes, schedules and oversees religious education in the parish
Administers a formation program for catechists that leads to certification and tracks completion
In cooperation with Diocesan Director of Religious Education and Youth Minister, orders approved textbooks, liturgy materials and other works that complement the religious education efforts of the parish
Provides resources and programs for adult formation
A Bachelor's degree in theology or religious education is preferred. The pastor is willing to consider either one (1) full-time candidate or possibly two (2) part-time individuals. Resumes can be sent directly to Fr. Alex Gabriel, Holy Family Parish, 218 S. Maple Avenue, Hannibal, MO 63401 or applicants can apply on Indeed.com.
---
We are now hiring for summer missionaries! These are paid summer jobs for graduating seniors in high school through college age. Please help spread the word and personally invite young adults that may be a great missionary. To access social media, bulletin and flyer please click here: https://drive.google.com/drive/folders/1aOiwUhL3qlNGa8M62MrWVpP6x8dP40K0?usp=sharing
---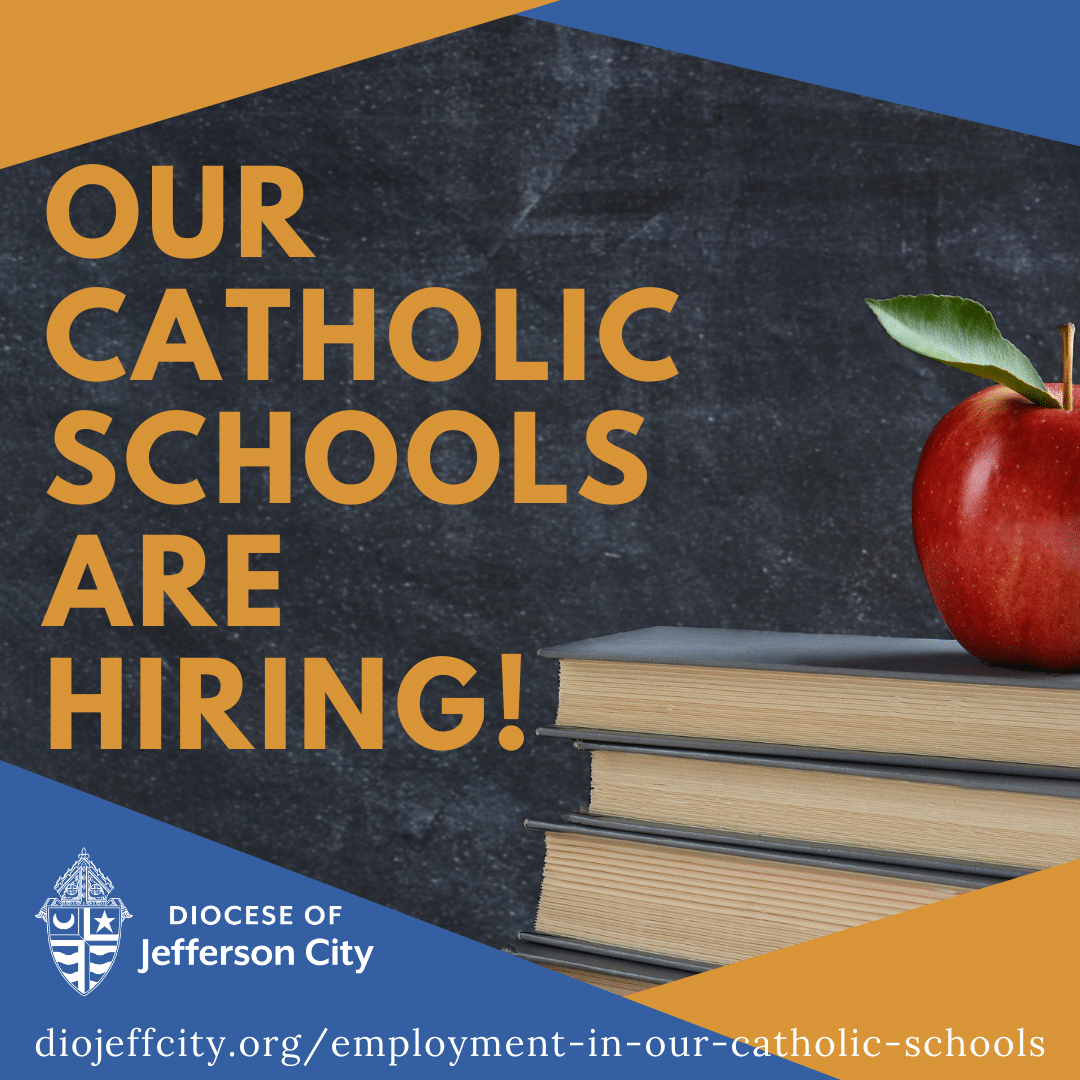 Since 1882, Sacred Heart School has been committed to formation in the Catholic faith, academic achievement, and the development of the whole person. Serving students from kindergarten through 12th grade, Sacred Heart is the mission of St. Vincent de Paul Parish in Sedalia, Missouri.
The successful candidate for President of Sacred Heart School will be an active Catholic, passionate in advancing the Stewardship Model of Catholic education, fostering Catholic Identity, implementing and expanding the current strategic plan, providing for the financial stability and operational vitality of the school, and building community relationships.
Experience in business financial management and confidence in leading the school's philanthropic efforts will be essential. The President leverages external and internal influence for the long-term viability of the school. The President serves on and is supported by an Advisory Council and reports directly to the pastor of St. Vincent de Paul.
A demonstrated capacity for strategic planning and institutional leadership can be attained through various career paths, including education, non-profit management, or work in the corporate or public sector.
If you believe you are called to this ministry, please send a letter of interest to Rev. Joseph S. Corel, Pastor St Vincent de Paul Catholic Church 421 W. Third Street, Sedalia, MO 65301.
---
St. Andrew Catholic School in Tipton has an opening for a junior high science and literature teacher. Part-time science and/or literature would be acceptable. All interested persons can contact the principal, Kara Higgins, at khiggins@saintandrewpirates.com.