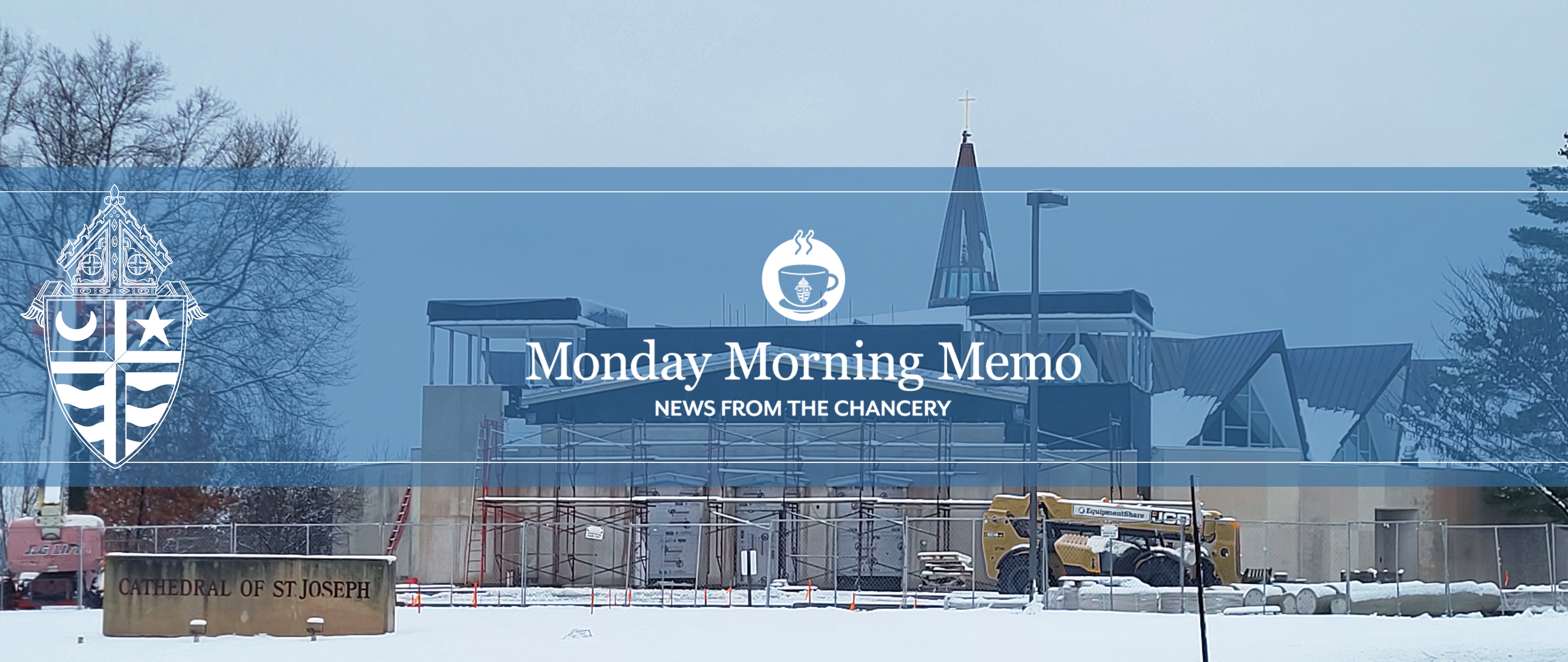 Podcast: Crossing Paths with Pope Benedict

This month, Catholics in our diocese — and around the world — mourned the death of Pope Emeritus Benedict XVI. While most of us knew the former pope by reading his work or by watching him on video, some people in our diocese were lucky enough to cross paths with Pope Benedict during his lifetime. In this month's Podcast from the Diocese of Jefferson City, listen to stories from three members of our clergy who were able to be in the presence of Pope Benedict — and hear how these experiences changed their lives. Click here to listen now!
---
Official Decree of Appointments

The Most Reverend W. Shawn McKnight, Bishop of Jefferson City, hereby makes the following
appointments to provide the most effective pastoral care of the Diocese of Jefferson City:
PRIESTS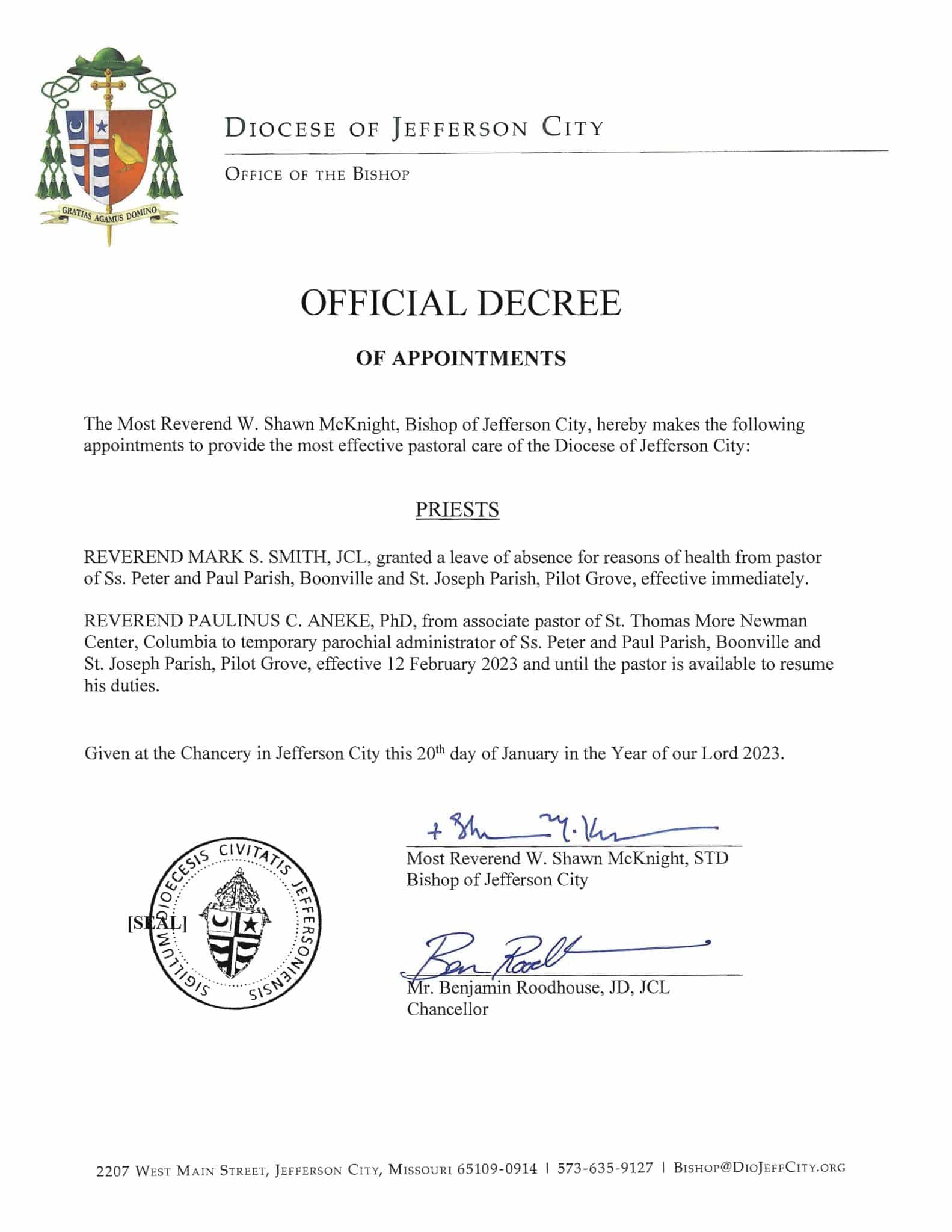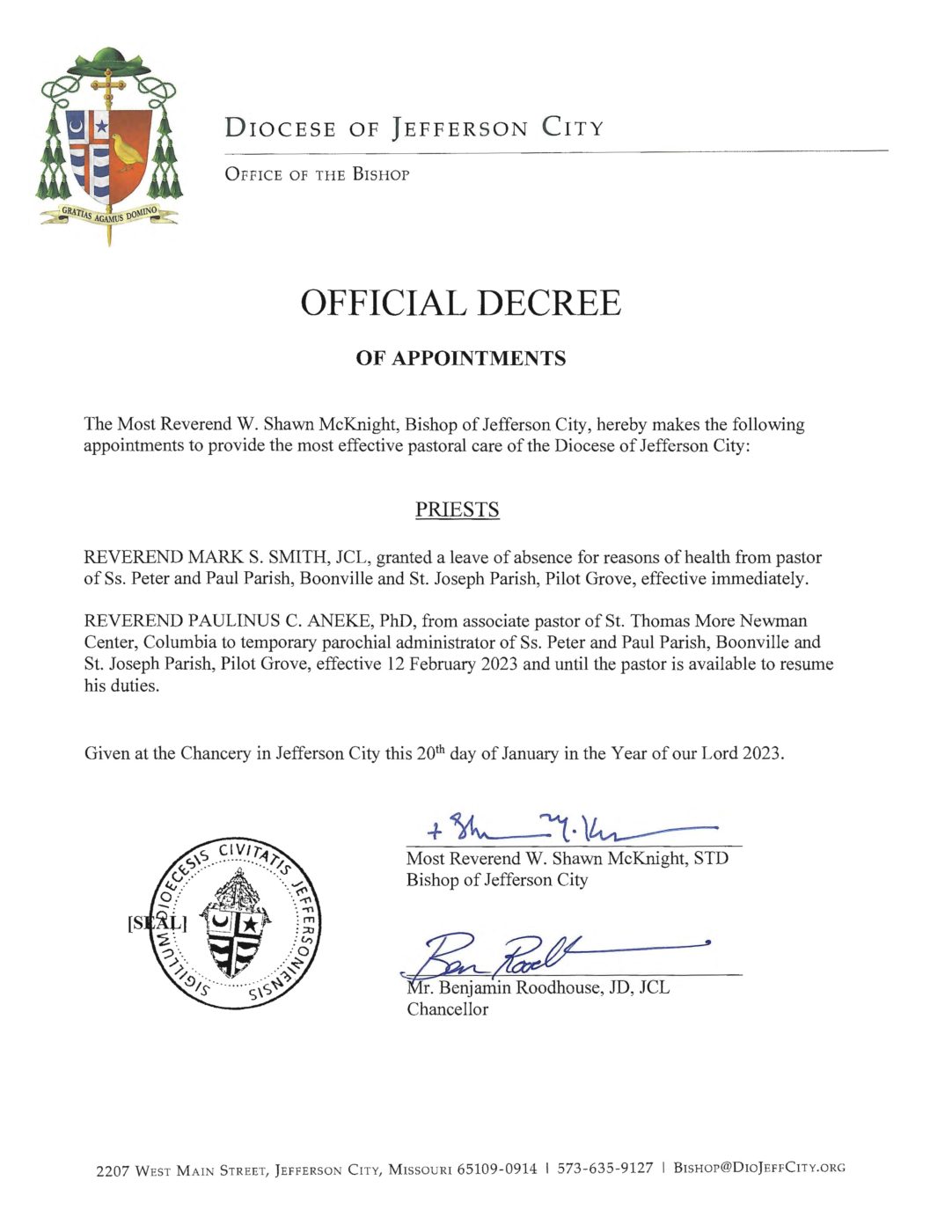 REVEREND MARK S. SMITH, JCL, granted a leave of absence for reasons of health from pastor of Ss. Peter and Paul Parish, Boonville and St. Joseph Parish, Pilot Grove, effective immediately.
REVEREND PAULINUS C. ANEKE, PhD, from associate pastor of St. Thomas More Newman Center, Columbia to temporary parochial administrator of Ss. Peter and Paul Parish, Boonville and St. Joseph Parish, Pilot Grove, effective 12 February 2023 and until the pastor is available to resume his duties.
Given at the Chancery in Jefferson City this 20th day of January in the Year of our Lord 2023.
---
William H. Simon and John L. Warack Scholarship Application Process is OPEN

We are pleased to announce the opening of the application process for the William H. (Bill) Simon Scholarship and the John L. Warack Scholarship, and we hope you will promote this opportunity to your parish families and use this information for a bulletin announcement.
Applications are accepted through March 31, 2023. These scholarships are available to high school seniors or current college students with financial needs who commit to practicing their faith. The John L. Warack Scholarship is specifically for a student attending the University of Missouri-Columbia.
Scholarship eligibility and applications are available at diojeffcity.org/scholarships. If you have any questions, please contact Jessica Hoogveld or Denise Barnes.
Our diocese is blessed to have families committed to the continuing education of our parish families. Please include the Simon and Warack families in your prayers.
---
Catholic Missourian — Jan. 20, 2023 issue now available

The year's first issue of Catholic Missourian is out now! Click here to read the stories online.
---
Revised translation: Order of Penance
All parishes and priests are encouraged to order the resources they need as we prepare to begin using a revised translation of the Order of Penance. We can begin using the new translation on Ash Wednesday, February 22. The revised materials will become mandatory on April 16, the Second Sunday of Easter/Sunday of Divine Mercy. We encourage you to order materials for both the priest and parish.
Please order your books now. All publishers may ship on January 25, 2023. The new books are available from:
---
Tribunal training offered in March: Learn how to be an advocate
In March, the Tribunal will be offering an Advocate Training Program for people throughout the Diocese of Jefferson City who are interested in working with the tribunal as advocates in marriage nullity cases. In many parts of the Diocese, additional trained advocates are greatly needed to assist our pastors in working with those who are seeking declarations of nullity.
The training will be offered for those who have no prior experience with the tribunal, but is also recommended for those who are already working with us as advocates. Any of our priests, deacons, and parish life collaborators would also be welcome to attend, and are encouraged to do so.
This training program will initially consist of two sessions: the first session will be on Saturday, March 4; and the second session will be on Saturday, March 11. Both sessions will be held from 10am – 3pm at the Alphonse J. Schwartze Memorial Catholic Center in Jefferson City. Lunch will be provided for those attending in-person. Participation via ZOOM will also be an option, but attendance in-person is highly encouraged, if possible.
For those who have not worked as advocates in the past, we will need a recommendation from his or her pastor. The pastor is ordinarily the first point of contact for a person seeking a declaration of nullity. The pastor's recommendation therefore not only ensures that the potential advocate enjoys a good reputation in the community and is a practicing Catholic, but also ensures that the pastor would be willing to refer people in his parish who are seeking a declaration of nullity to the advocate for assistance through the process.
We would like our pastors to consider inviting people to attend the training who they believe might be interested and capable of working with the tribunal as advocates. Interested parties must be at least 18 years of age, enjoy a good reputation, and be practicing Catholics.
More information on how to register will be announced soon.
---
Coming in Lent 2023 — A new series on the Mass
In response to Pope Francis' call for a "serious and dynamic liturgical formation" (ibid, 31), the Federation of Diocesan Liturgical Commissions is pleased to present a five-part Lenten series which will explore the Mass – "Eucharist: The Work of Our Redemption." This is offered in harmony with the United States Bishops' campaign for a National Eucharistic Revival.
The series will include some of the nation's most respected theologians and liturgists. They will offer not merely an exploration of the elements of the Mass but will reflect on its rich theology and identify implications for pastoral practice.
The sessions will be offered live each Thursday in Lent at 12 p.m. Each webinar will be 75 minutes in length and will include time for questions and answers. The sessions will be recorded so that all registered participants may watch it at a convenient time.
These webinars are offered free of charge. Online registration is now open at: www.fdlc.org/eucharistseries2023
---
Update: Mileage reimbursement rate
Effective January 1, 2023, the IRS increased the mileage reimbursement rate to $0.655 per mile. The diocesan rate coincides with the IRS rate, so any mileage incurred on or after January 1, 2023, will be at the new rate. The mileage rate for volunteers is unchanged, remaining at $0.14 per mile.
---
Share in bulletins, emails, social media, and websites
---
Feb. 2: World Day of Prayer for Consecrated Life
World Day for Consecrated Life will be celebrated in the Church on Thursday, February 2, 2023, and in parishes over the weekend of February 4-5, 2023. Please pray for all those who have made commitments in the consecrated life, and be sure to thank them on their special day. May they continue to be inspired by Jesus Christ and respond generously to God's gift of their vocation.
Here are two prayers of the faithful that can be used for this observance:
For those consecrated to God by the vows of chastity, poverty and obedience that they may seek to live their baptismal promises more intensely and have the grace to persevere in their commitment to the Lord and serve with open hearts and willing spirits. We pray to the Lord…
For those who have responded to the prompting of the Holy Spirit to be a consecrated person that they may experience the support of the Church as they continue their growth in holiness. We pray to the Lord…
---
Catholics in the Holy Land: Lectures coming in February
The public is invited to a special Mass and presentation on Feb. 4 at St. Stanislaus Church in Wardsville. Following a 10 a.m. Mass, there will be a lecture by Rami Salfiti regarding the Catholic presence in the Holy Land. Salfiti is a distinguished pilgrimage director and parishioner of the Church of the Holy Sepulchre. All are welcome to attend the Mass and presentation. St. Stanislaus Church is located at 6418 State Highway W.
One day earlier, Salfiti will also give a special lecture for priests at the Chancery. Information and RSVP details for this Feb. 3 presentation have been emailed to priests.
---
Learn about the National Eucharistic Revival
The National Eucharistic Revival is a movement to restore understanding and devotion to this great mystery here in the United States by helping us renew our worship of Jesus Christ in the Eucharist.
The United States Conference of Catholic Bishops has information and resources as the revival continues to unfold over the coming years. This includes the ability to subscribe to the Heart of the Revival newsletter. Click here to learn more.
---
The Four Pillars of Stewardship is a four-session small group faith sharing experience. It is available in both English and Spanish. Download copies for free at www.diojeffcity.org/stewardship
---
---
Confirmation Retreats for January (Jefferson City) and February (Monroe City) are now open for registration! For more information and to register click here.
---
Marriage Encounter: Best Western Capital Inn, Jefferson City, February 11-12, Celebrate this Valentine's Day by discovering a deeper level of satisfaction and joy in your marriage! Marriage Encounter provides the opportunity and the atmosphere for you to focus on and renew the blessings in your marriage. Don't let the busyness of life steal them away. Food, lodging, and programming are included in the $75 fee. Register today for the weekend retreat before the event fills up! Visit www.jeffcityme.com for more information and to register, or contact Harry & Cecilia Hentges at 573-619-7416..
---
Attention all engaged couples, MPFs and pastors:
2023 Pre-Cana Conference dates & locations:
March 11th @ Our Lady of Lourdes: 903 Bernadette Dr, Columbia, MO 65203
June 17th @ Chancery Offices: 2207 W Main St, Jefferson City, MO 65109
September 23rd @ St. Thomas More Newman Center: 602 Turner Ave, Columbia, MO 65201
2023 Engaged Encounter dates & location are to be determined.
---
NCYC (National Catholic Youth Conference) registration is now open for November 2023 in Indianapolis. For more information on the Conference, cost, and flyers and social media posts for advertising click here: https://diojeffcity.org/national-catholic-youth-conference/
---
Eventos en Español
Formación para Ministros de Comunión: Las Oficinas de la Cancillería, Jefferson City (4 de febrero, 9 am- 3 pm) Para todos los Ministros Extraordinarios de la Sagrada Comunión que desempeñan este servicio en su parroquia y para nuevos candidatos que hayan sido autorizados por su sacerdote para llevar a cabo este ministerio en un futuro. Cada ministro recibirá conocimiento sobre la liturgia y el ministerio que desempeña, así como herramientas y sugerencias prácticas para llevar a cabo su ministerio de una manera digna y apropiada. Favor de registrarse por medio del siguiente link: https://diojeffcity.org/ministerio-hispano/formacion-de-ministros-de-comunion/ o llamando al 573-680-3650.
---
Employment opportunities

Holy Family Parish in Hannibal is seeking a Director of Religious Education and Youth Minister. Key responsibilities include:
Assist the pastor in the responsibility for the Catholic faith formation for parish youth and adults
Implements the Bishop's confirmation preparation policy
Organizes, schedules and oversees religious education in the parish
Administers a formation program for catechists that leads to certification and tracks completion
In cooperation with Diocesan Director of Religious Education and Youth Minister, orders approved textbooks, liturgy materials and other works that complement the religious education efforts of the parish
Provides resources and programs for adult formation
A Bachelor's degree in theology or religious education is preferred. The pastor is willing to consider either one (1) full-time candidate or possibly two (2) part-time individuals. Resumes can be sent directly to Fr. Alex Gabriel, Holy Family Parish, 218 S. Maple Avenue, Hannibal, MO 63401 or applicants can apply on Indeed.com.
---
St. Peter Catholic Parish in Jefferson City is seeking a full-time Business Manager. This position oversees all financial elements of the parish, school, lunch program and Foundation. The work schedule varies based on needs of tasks at hand. The individual must have good communication skills, experience with various forms of media, and the ability to interact effectively with a variety of religious and secular personnel. Supervision is provided by the pastor. A degree in Business or Accounting or prior parish management experience is preferred. Experience with Microsoft Word and Excel are essential. Knowledge of Paylocity, QuickBooks and Community Church Builder would be helpful. St. Peter Catholic Church offers a comprehensive benefit package including health, dental, vision, vacation, and matching 403b retirement plan. Qualified candidates should email their resume with references to jsecrist@diojeffcity.org. For a detailed job description please visit https://www.saintpeterjc.org/employment/.
---
We are now hiring for summer missionaries! These are paid summer jobs for graduating seniors in high school through college age. Please help spread the word and personally invite young adults that may be a great missionary. To access social media, bulletin and flyer please click here: https://drive.google.com/drive/folders/1aOiwUhL3qlNGa8M62MrWVpP6x8dP40K0?usp=sharing
---
The Chancery Office of the Diocese of Jefferson City is seeking a full-time senior bookkeeper with advanced bookkeeping and elementary accounting work in the maintenance, review and analysis of detailed financial records throughout the entire accounting cycle. This individual will perform a variety of moderately complex to advanced bookkeeping/accounting tasks and procedures. Experience with general ledger, investments, insurance administration and payroll is strongly desired. Employer offers a comprehensive benefit package including health, dental, vision, and matching 403b retirement plan. Experience with Sage Intacct accounting system would be considered a plus. Knowledge and preparation of worksheets and financial statements and general ledger account classification is required. Qualified candidates should send their resume to HRDir@diojeffcity.org.
---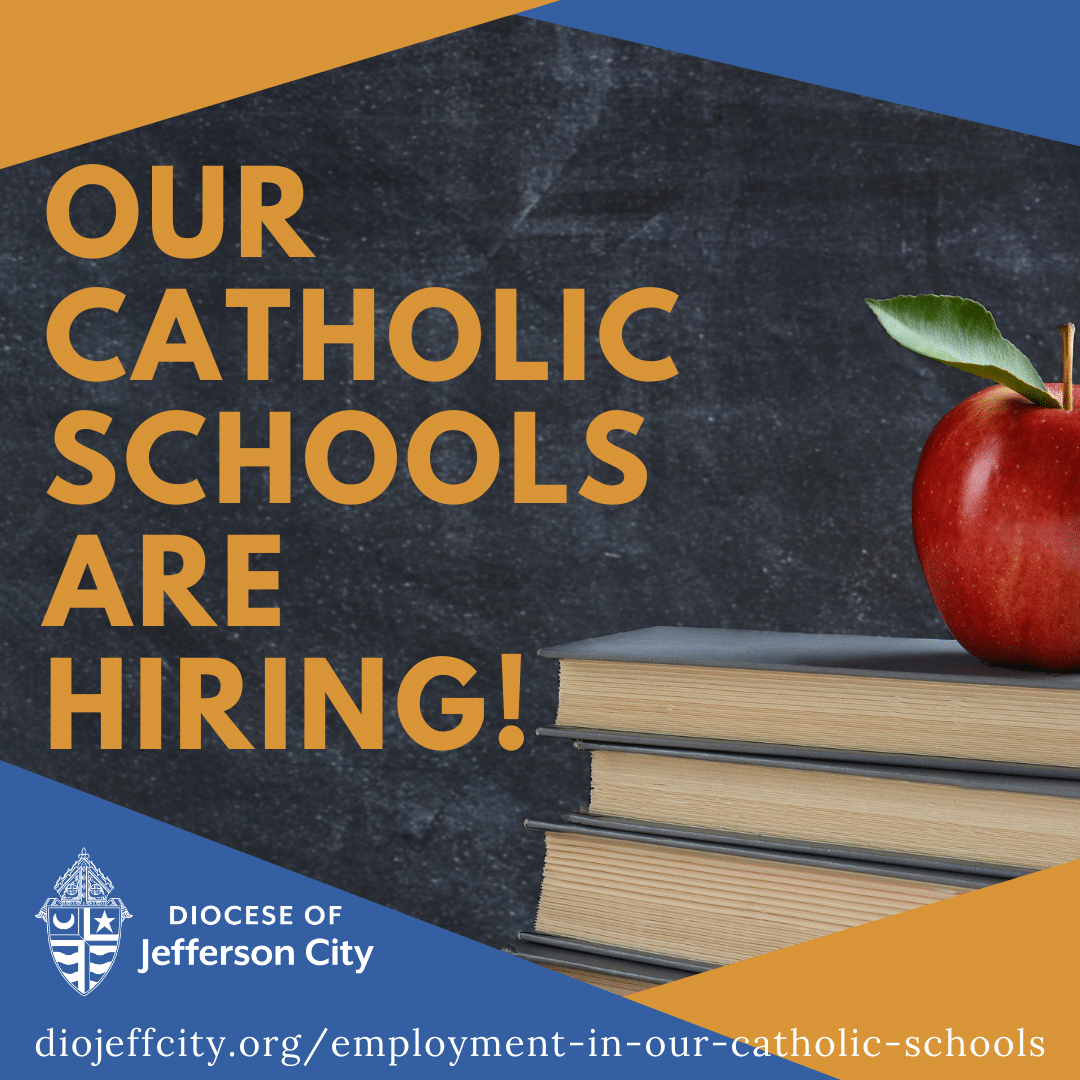 Since 1882, Sacred Heart School has been committed to formation in the Catholic faith, academic achievement, and the development of the whole person. Serving students from kindergarten through 12th grade, Sacred Heart is the mission of St. Vincent de Paul Parish in Sedalia, Missouri.
The successful candidate for President of Sacred Heart School will be an active Catholic, passionate in advancing the Stewardship Model of Catholic education, fostering Catholic Identity, implementing and expanding the current strategic plan, providing for the financial stability and operational vitality of the school, and building community relationships.
Experience in business financial management and confidence in leading the school's philanthropic efforts will be essential. The President leverages external and internal influence for the long-term viability of the school. The President serves on and is supported by an Advisory Council and reports directly to the pastor of St. Vincent de Paul.
A demonstrated capacity for strategic planning and institutional leadership can be attained through various career paths, including education, non-profit management, or work in the corporate or public sector.
If you believe you are called to this ministry, please send a letter of interest to Rev. Joseph S. Corel, Pastor St Vincent de Paul Catholic Church 421 W. Third Street, Sedalia, MO 65301.
---
St. Andrew Catholic School in Tipton has an opening for a junior high science and literature teacher. Part-time science and/or literature would be acceptable. All interested persons can contact the principal, Kara Higgins, at khiggins@saintandrewpirates.com.