Memorial Masses planned for Pope Emeritus Benedict XVI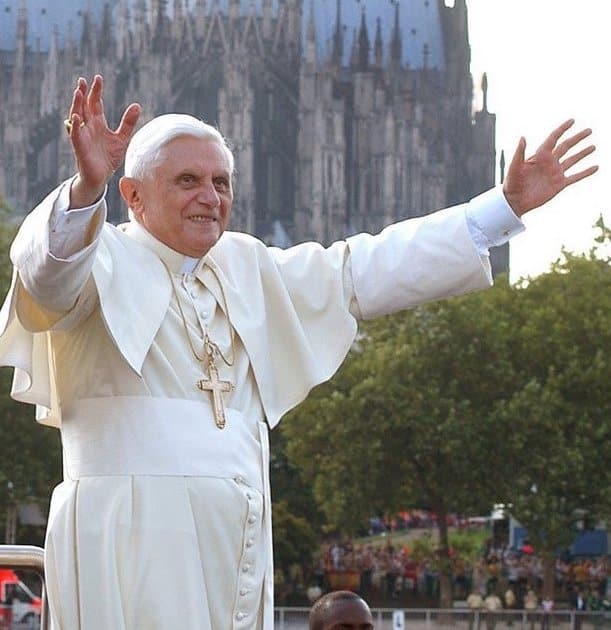 Catholics across the Diocese of Jefferson City are invited to attend a memorial Mass for Pope Emeritus Benedict XVI, who died on Dec. 31, 2022. Click here to read a special message from Bishop W. Shawn McKnight on the death of Pope Benedict.
Pope Benedict's funeral will be held on Jan. 5 in Rome. Following the funeral, our diocese and all Catholics will observe nine official days of mourning, called the Novemdiales.
Public memorial Masses for Pope Emeritus Benedict XVI will be held during this time in our diocese. Below is a partial list of memorial Masses being offered.
Please watch for more information about the times and locations of additional memorial Masses.
Friday, January 6
11 a.m., St. Andrew Parish, 400 St. Andrew Drive, Holts Summit, MO. Bishop Emeritus Gaydos will be the presider and homilist for this Mass
4:30 p.m., Mary Immaculate Catholic Church, 716 East Washington Street, Kirksville
Tuesday, January 10
7 p.m., St. Clement Parish, 21509 Hwy 161, Bowling Green
Wednesday, January 11
8:15 a.m., St. Patrick Church, 17 St. Patricks Lane, Rolla
Thursday, January 12
6:30 p.m., Our Lady of Lourdes, 903 Bernadette Drive, Columbia
Friday, January 13
7 p.m., St. Peter Catholic Church, 216 Broadway, Jefferson City
Saturday, January 14
8 a.m., Immaculate Conception Parish, 1206 E McCarty Street, Jefferson City
10 a.m., Sacred Heart Chapel of St. Vincent de Paul Parish, 421 W. Third Street, Sedalia
4 p.m., Our Lady of the Snows Parish-Mary's Home, 274 Highway H, Eugene 

If you are planning a memorial Mass for Pope Benedict in your parish, please contact jluecke@diojeffcity.org to be included in this list.