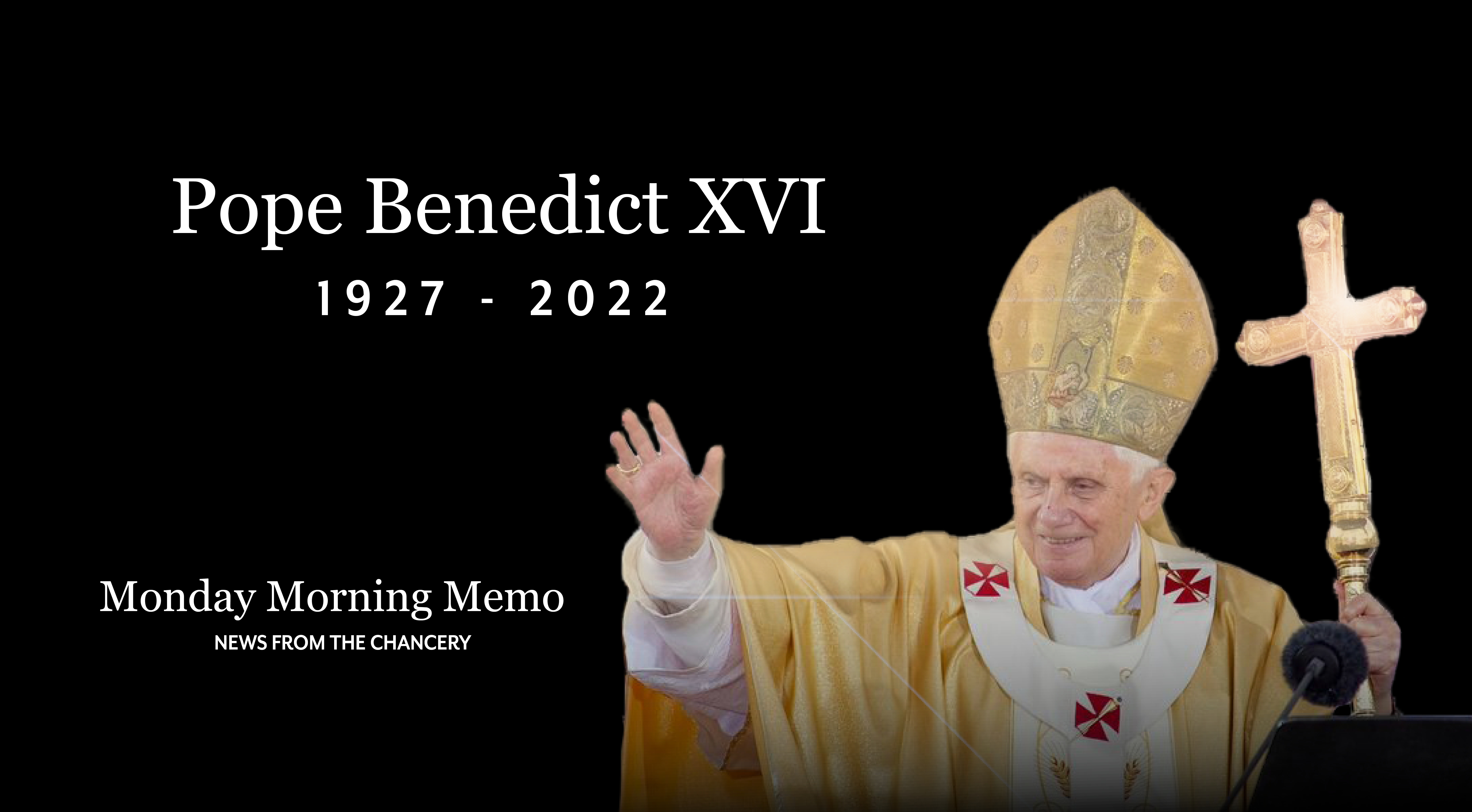 Links to more information are available by clicking on words highlighted in blue or the download graphic
---
Bishop McKnight: We mourn for a wise shepherd who dedicated his life to Christ and the mission of the Church
Leer en español: Ahora estamos de luto por la muerte del Papa Emérito Benedicto XVI
To the Faithful and Clergy of our Diocese,
We now mourn the death of Pope Emeritus Benedict XVI, a wise shepherd who dedicated his life to Christ and the mission of the Church. As we reflect on his impact on our world and our Church, the Diocese of Jefferson City joins Pope Francis and Catholics across the globe in prayer for our former pope.
Though we mourn his loss, we also thank God for his leadership and wisdom. The papacy of Pope Benedict XVI placed a powerful focus on the tenets of love, charity, truth and hope. He wrote that, "The one who has hope lives differently; the one who hopes has been granted the gift of a new life."
He also helped modernize our thinking about the important role of Catholic laity in the life of our church, calling lay people "'co-responsible' for the church's being and acting."
In communion with our global Church, the Diocese of Jefferson City will now participate in the traditions and customs of mourning the death of a pope. In the coming days, a funeral and burial will be held in Rome. Following the funeral, our diocese and all Catholics will observe nine official days of mourning, called the Novemdiales.
Public memorial Masses for Pope Emeritus Benedict XVI will be held during this time in each of our deaneries. Please watch for more information about the times and locations of these Masses.
In mourning our loss, let us honor Pope Emeritus Benedict XVI by striving for salvation in communion with one other. In his words, "As Christians, we should never limit ourselves to asking: How can I save myself? We should also ask: What can I do in order that others may be saved and that for them, too, the star of hope may rise? Then I will have done my utmost for my own personal salvation as well."
As we mourn this great loss and move forward in faith, let us always keep these words close to our hearts. I am
Sincerely yours in Christ,
Most Reverend W. Shawn McKnight, S.T.D.
Bishop of Jefferson City
---
How our diocese will mark the death of Pope Emeritus Benedict XVI
Bishop W. Shawn McKnight has issued plans for how our diocese will mark the death of a pope in accordance with the traditions and customs of our Church.
The funeral and burial of Pope Benedict will take place on January 5 in Rome. After the funeral, the Novemdiales — nine official days of mourning — are observed in Rome and throughout the Church.
Our diocese will participate in this time of mourning in a number of ways, including inviting Catholics to attend special memorial Masses which will be held in each of our Deaneries.
Click here to read an outline of the plans issued by Bishop McKnight.
---
Learn about the National Eucharistic Revival

The National Eucharistic Revival is a movement to restore understanding and devotion to this great mystery here in the United States by helping us renew our worship of Jesus Christ in the Eucharist.
The United States Conference of Catholic Bishops has information and resources as the revival continues to unfold over the coming years. This includes the ability to subscribe to the Heart of the Revival newsletter. Click here to learn more.
---
Coming in Lent 2023 — A new series on the Mass

In response to Pope Francis' call for a "serious and dynamic liturgical formation" (ibid, 31), the Federation of Diocesan Liturgical Commissions is pleased to present a five-part Lenten series which will explore the Mass – "Eucharist: The Work of Our Redemption." This is offered in harmony with the United States Bishops' campaign for a National Eucharistic Revival.
The series will include some of the nation's most respected theologians and liturgists. They will offer not merely an exploration of the elements of the Mass but will reflect on its rich theology and identify implications for pastoral practice.
The sessions will be offered live each Thursday in Lent at 12 p.m. Each webinar will be 75 minutes in length and will include time for questions and answers. The sessions will be recorded so that all registered participants may watch it at a convenient time.
These webinars are offered free of charge. Online registration is now open at: www.fdlc.org/eucharistseries2023
---
Christmas Special Collection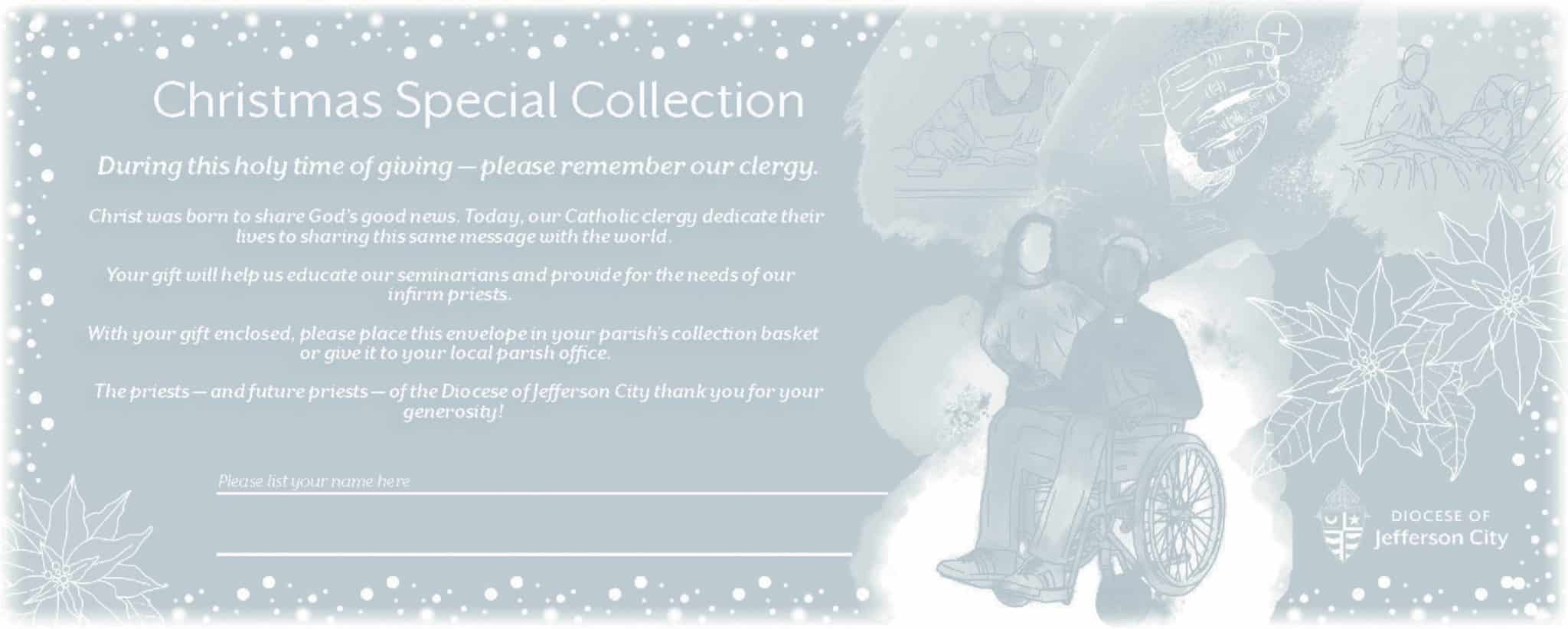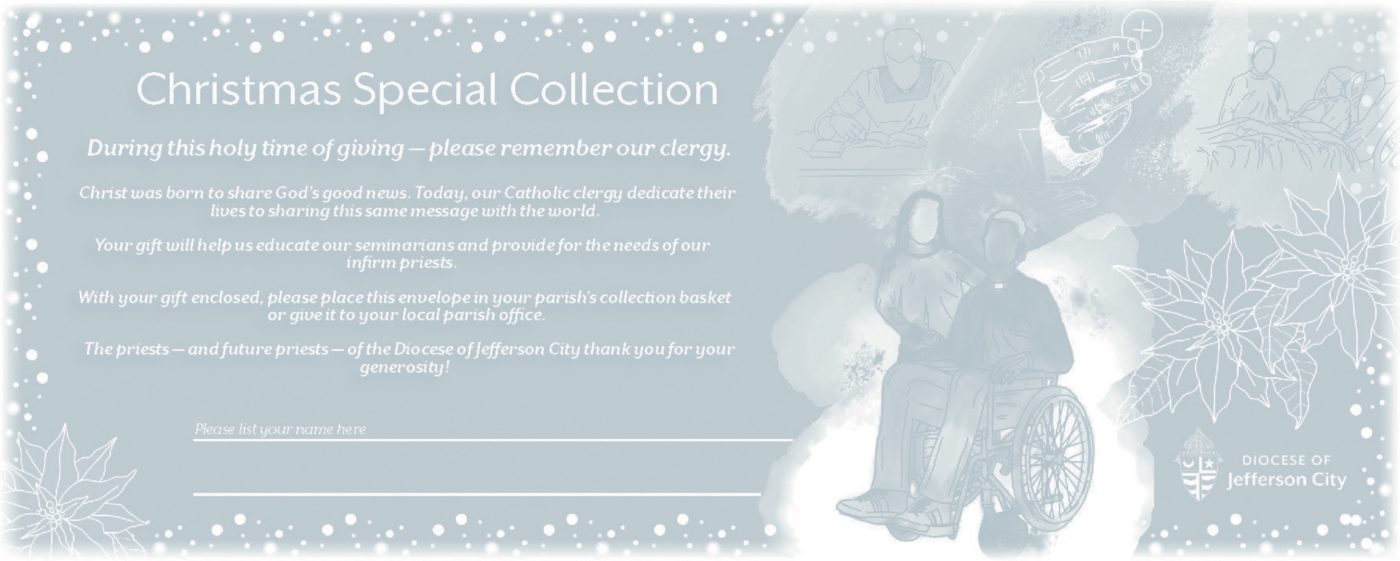 The Diocese of Jefferson City is conducting a Christmas special collection for the benefit of the education of our seminarians and our infirm priests. The envelope for this collection is inserted in the Dec. 16 edition of the Catholic Missourian.
Parishioners will be instructed to place their gifts in the envelope, then put the envelopes in a collection basket during Mass — or give it to the parish office.
Bishop McKnight discusses the importance of this collection in his Making Connections column. He writes: "I ask that you please keep our priests always in your prayers and remember them during this holy season of giving."
---
Memorial Mass for Mary Elizabeth Schaffer, the mother of Bishop McKnight
A public memorial Mass will be held for Mary Elizabeth (O'Reilly) Schaffer at 10:30 a.m. on Friday, January 20, 2023 at St. Andrew Parish in Holt Summit. Click here for more information.
---
Survey: Input needed for updated PSR and youth ministry manual
We are working on an updated Manual for PSR and Youth Ministry. We need your help in gathering data. We are collecting info on how you gather, average numbers, what resources used and what is needed. Please click here to complete the survey: https://diojeffcity.org/parish-religious-education-of-youth-youth-ministry-survey/
---
Share in bulletins, emails, social media, and websites
---
The Four Pillars of Stewardship is a four-session small group faith sharing experience. It is available in both English and Spanish. Download copies for free at www.diojeffcity.org/stewardship
---
The bulletin inserts and graphics are available for you to download as the 2022-2023 Catholic Stewardship Appeal continues.
---
NCYC (National Catholic Youth Conference) registration is now open for November 2023 in Indianapolis. For more information on the Conference, cost, and flyers and social media posts for advertising click here: https://diojeffcity.org/national-catholic-youth-conference/
---
We are now hiring for summer missionaries! These are paid summer jobs for graduating seniors in high school through college age. Please help spread the word and personally invite young adults that may be a great missionary. To access social media, bulletin and flyer please click here: https://drive.google.com/drive/folders/1aOiwUhL3qlNGa8M62MrWVpP6x8dP40K0?usp=sharing
---
¡Atención! La Diócesis de Jefferson City tiene parroquias que ofrecen Misas en español. Los lugares y horarios actualizados los puede encontrar en el siguiente enlace: https://diojeffcity.org/ministerio-hispano/misas-en-espanol/.
---
Confirmation Retreats for January (Jefferson City) and February (Monroe City) are now open for registration! For more information and to register click here.
---
Attention all engaged couples, MPFs and pastors:
2023 Pre-Cana Conference dates & locations:
March 11th @ Our Lady of Lourdes: 903 Bernadette Dr, Columbia, MO 65203
June 17th @ Chancery Offices: 2207 W Main St, Jefferson City, MO 65109
September 23rd @ St. Thomas More Newman Center: 602 Turner Ave, Columbia, MO 65201
2023 Engaged Encounter dates & location are to be determined.
---
Eventos en Español
CAMBIO DE FECHA: Encuentro de Liderazgo Diocesano: Chancery Offices | Las Oficinas de la Cancillería, Jefferson City (14 de enero; 8:30 am-3:30 pm) El Encuentro de Liderazgo Diocesano es un evento dirigido para el liderazgo parroquial (comité parroquial Hispano, grupo base, etc.) y para el liderazgo diocesano de los movimientos (Renovación Carismática y Cursillos). Para más información contacte a Diácono Enrique Castro al (573) 680-3650 por su celular o WhatsApp o por correo electrónico a ecastro@diojeffcity.org.
---
Formación para Ministros de Comunión: Las Oficinas de la Cancillería, Jefferson City (4 de febrero, 9 am- 3 pm) Para todos los Ministros Extraordinarios de la Sagrada Comunión que desempeñan este servicio en su parroquia y para nuevos candidatos que hayan sido autorizados por su sacerdote para llevar a cabo este ministerio en un futuro. Cada ministro recibirá conocimiento sobre la liturgia y el ministerio que desempeña, así como herramientas y sugerencias prácticas para llevar a cabo su ministerio de una manera digna y apropiada. Favor de registrarse por medio del siguiente link: https://diojeffcity.org/ministerio-hispano/formacion-de-ministros-de-comunion/ o llamando al 573-680-3650.
---
Employment opportunities
The Chancery Office of the Diocese of Jefferson City is seeking a full-time senior bookkeeper with advanced bookkeeping and elementary accounting work in the maintenance, review and analysis of detailed financial records throughout the entire accounting cycle. This individual will perform a variety of moderately complex to advanced bookkeeping/accounting tasks and procedures. Experience with general ledger, investments, insurance administration and payroll is strongly desired. Employer offers a comprehensive benefit package including health, dental, vision, and matching 403b retirement plan. Experience with Sage Intacct accounting system would be considered a plus. Knowledge and preparation of worksheets and financial statements and general ledger account classification is required. Qualified candidates should send their resume to HRDir@diojeffcity.org.
---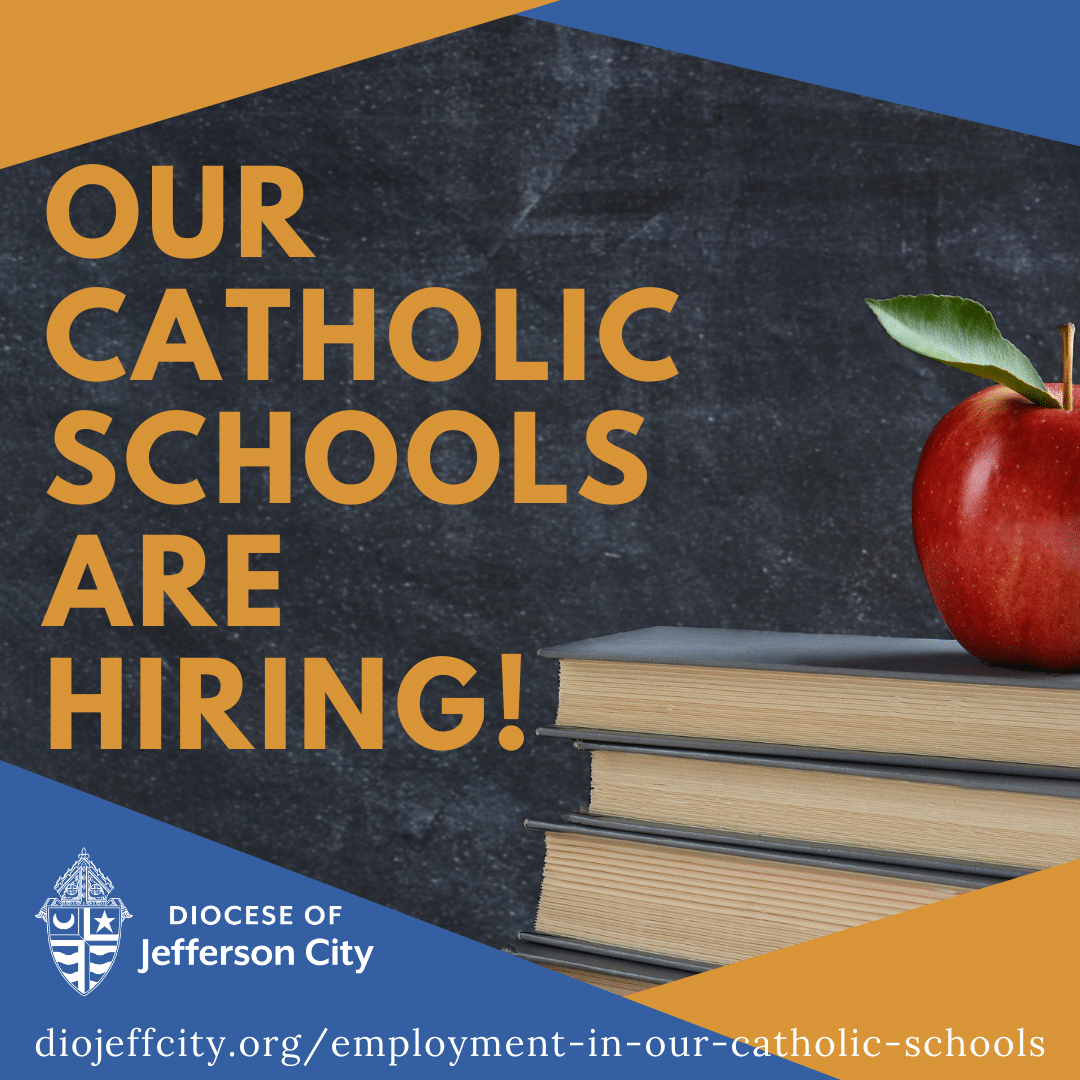 Since 1882, Sacred Heart School has been committed to formation in the Catholic faith, academic achievement, and the development of the whole person. Serving students from kindergarten through 12th grade, Sacred Heart is the mission of St. Vincent de Paul Parish in Sedalia, Missouri.
The successful candidate for President of Sacred Heart School will be an active Catholic, passionate in advancing the Stewardship Model of Catholic education, fostering Catholic Identity, implementing and expanding the current strategic plan, providing for the financial stability and operational vitality of the school, and building community relationships.
Experience in business financial management and confidence in leading the school's philanthropic efforts will be essential. The President leverages external and internal influence for the long-term viability of the school. The President serves on and is supported by an Advisory Council and reports directly to the pastor of St. Vincent de Paul.
A demonstrated capacity for strategic planning and institutional leadership can be attained through various career paths, including education, non-profit management, or work in the corporate or public sector.
If you believe you are called to this ministry, please send a letter of interest to Rev. Joseph S. Corel, Pastor St Vincent de Paul Catholic Church 421 W. Third Street, Sedalia, MO 65301.
---
St. Andrew Catholic School in Tipton has an opening for a junior high science and literature teacher. Part-time science and/or literature would be acceptable. All interested persons can contact the principal, Kara Higgins, at khiggins@saintandrewpirates.com.