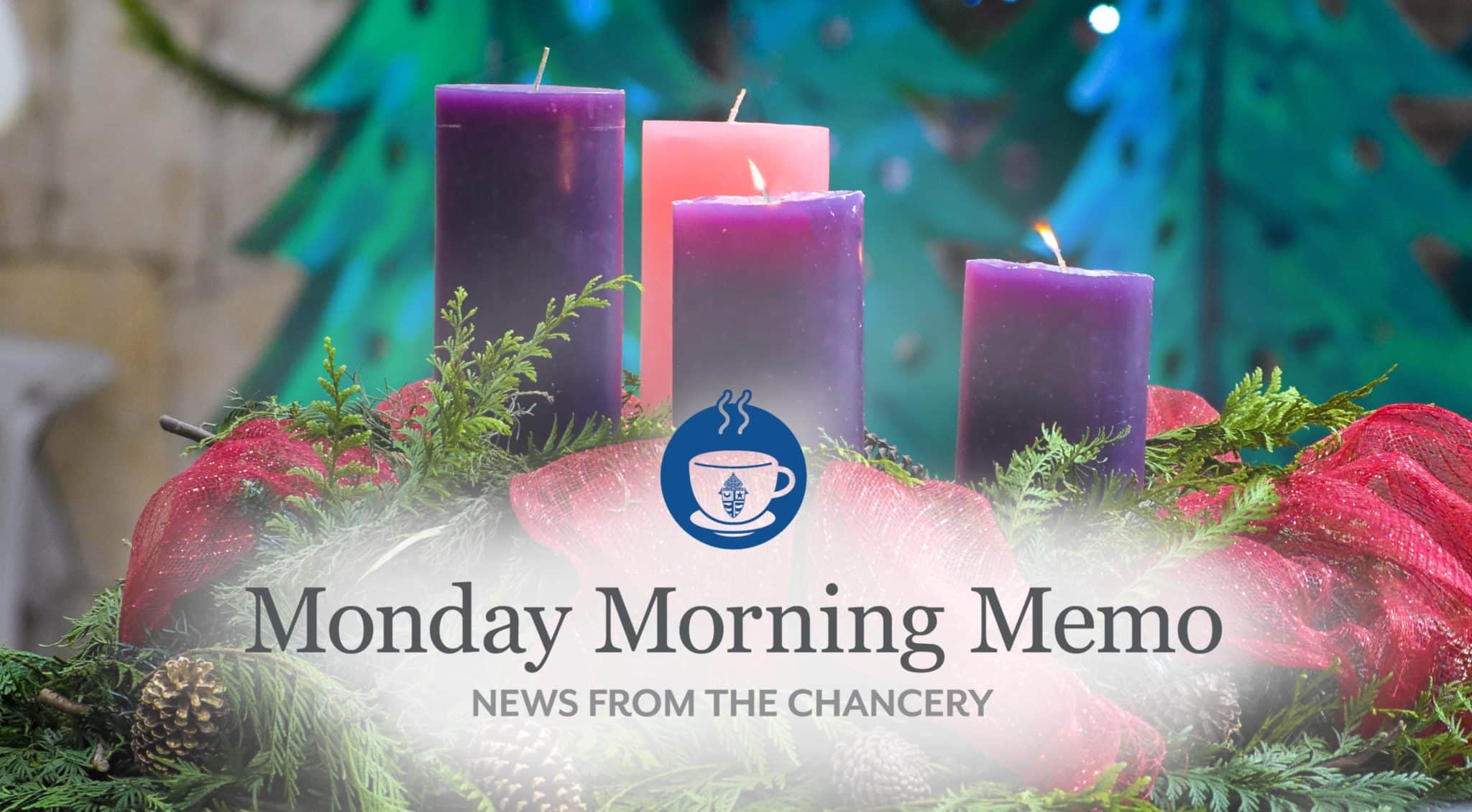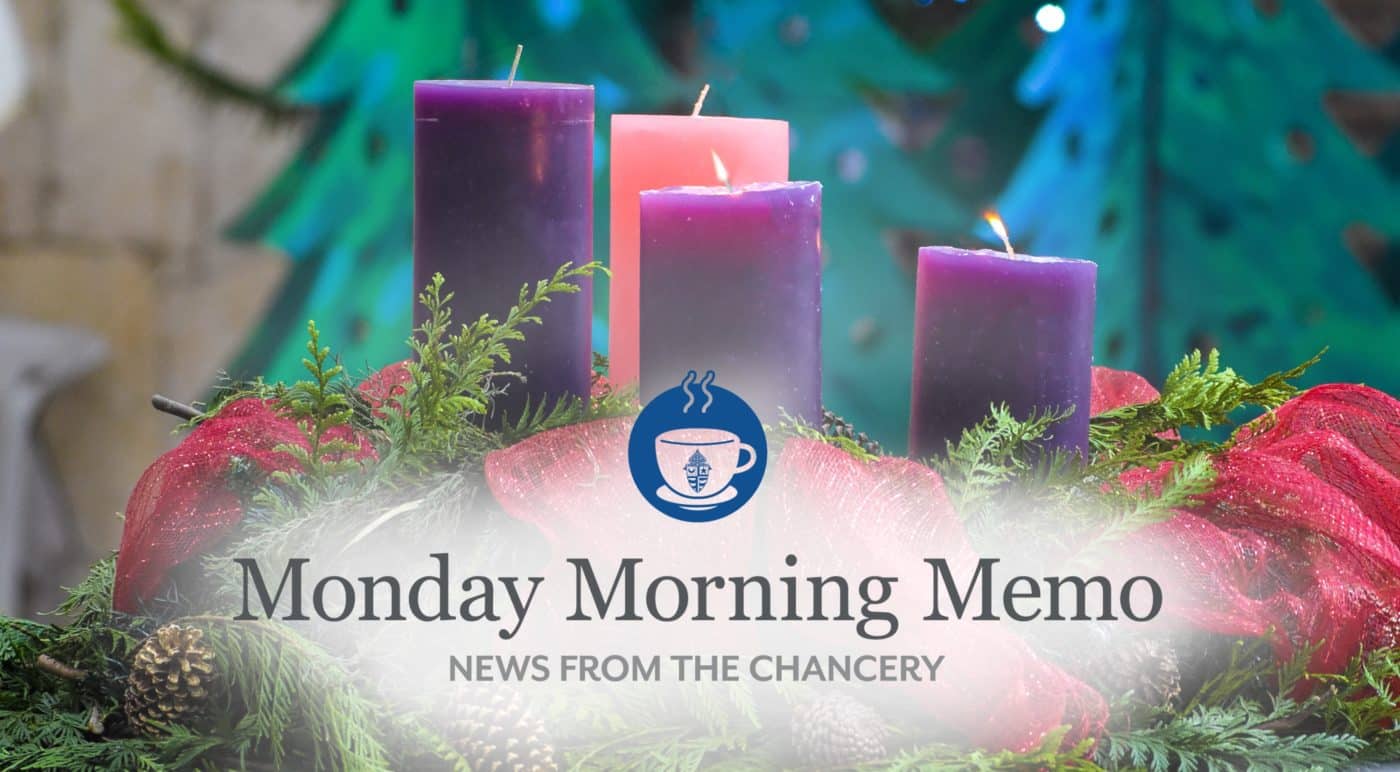 Links to more information are available by clicking on words highlighted in blue or the download graphic
---
Cathedral renovation update — See the progress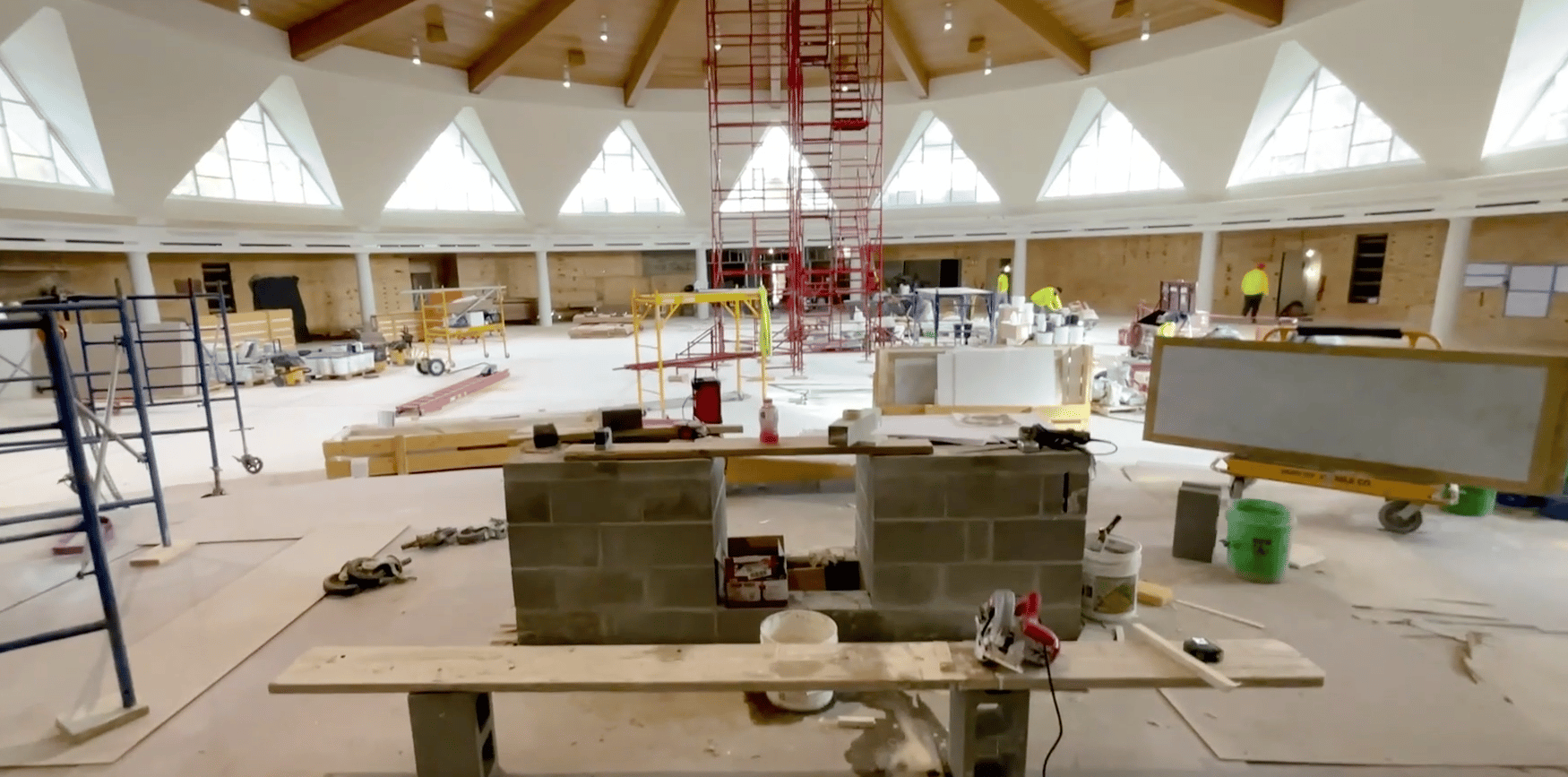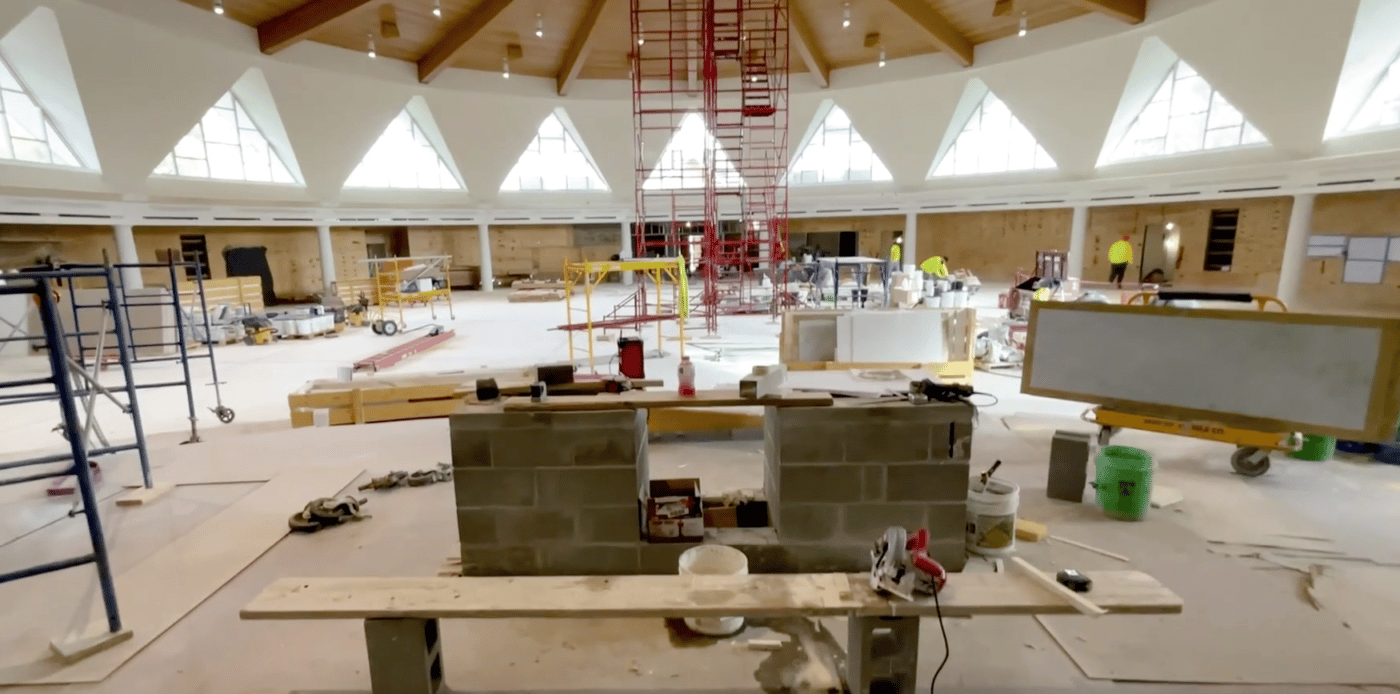 See the progress on the renovation of our Cathedral of St. Joseph in this new video (thanks to Jacob Akin).
The ongoing renovation and expansion addresses numerous mechanical and accessibility issues within the structure while greatly enhancing the cathedral's hospitality and spiritual functionality. This includes the installation of new artwork and liturgical features that more fully reflect the beauty of our Catholic faith — as well as highlight the culture and rich history of our diocese. This work is helping fulfill our diocese's original vision for the cathedral, which has not had a substantial renovation since it opened in 1968. The cathedral belongs to all Catholics in our diocese. Learn more about the renovation.
---
Christmas Special Collection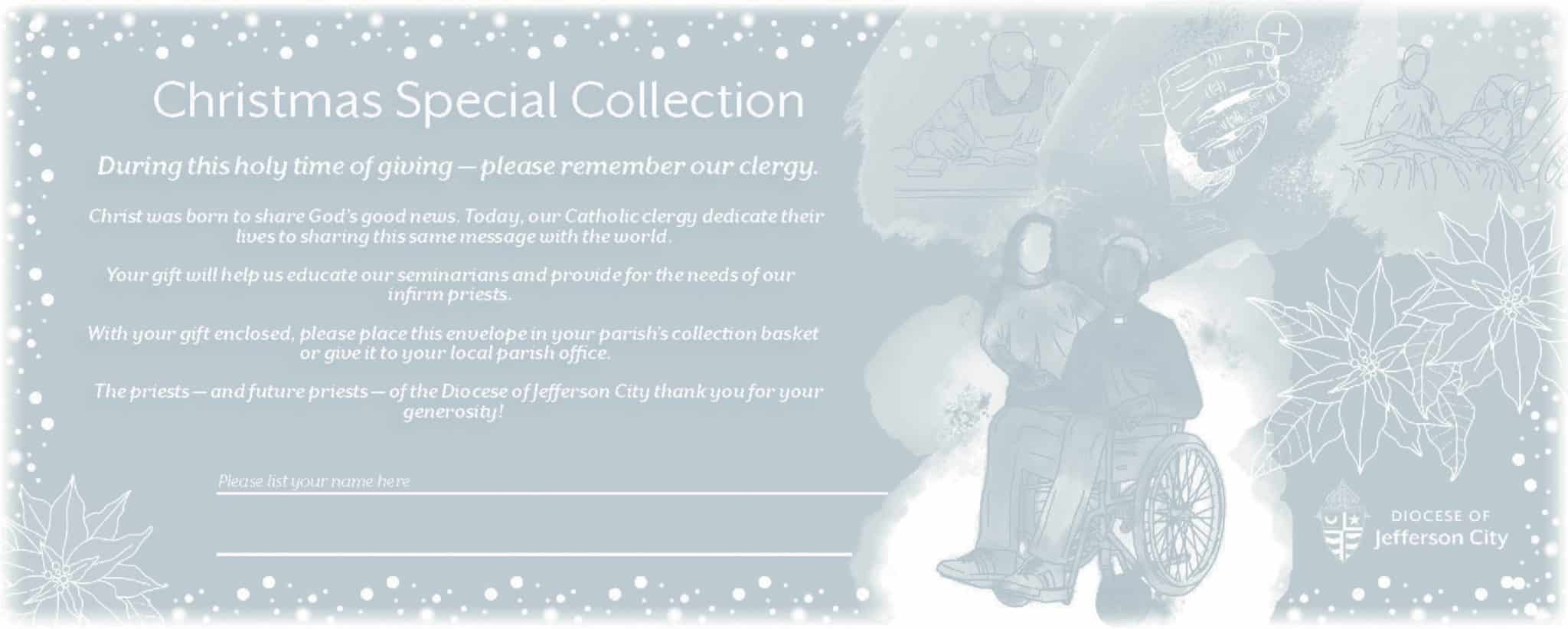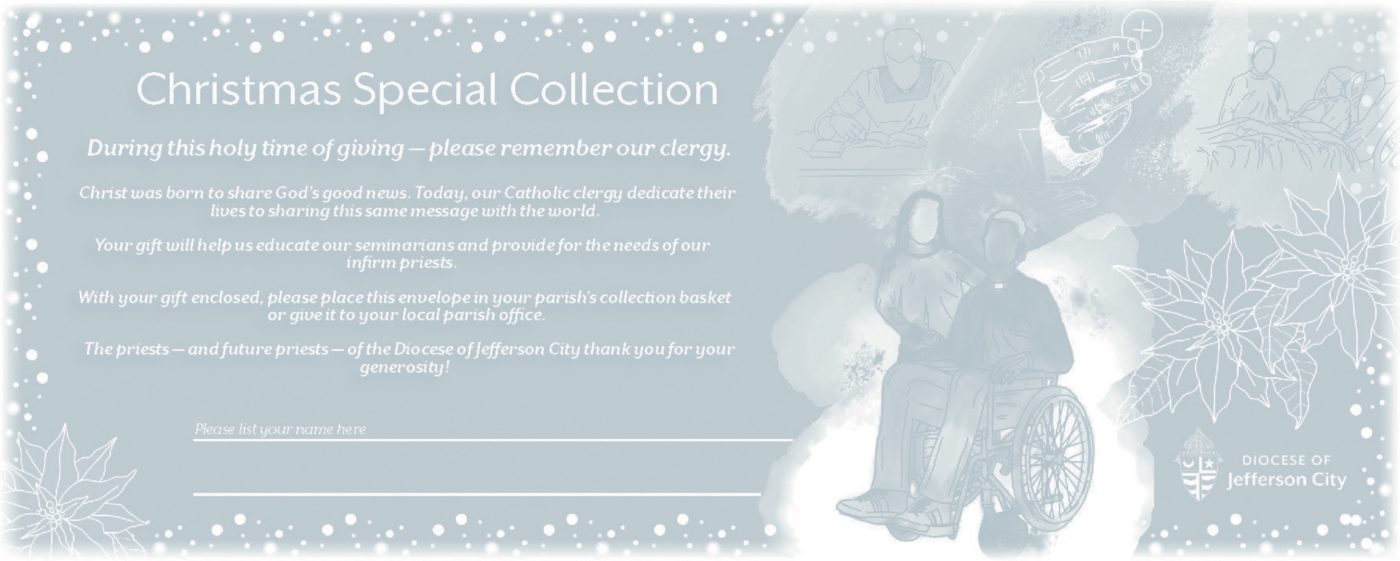 The Diocese of Jefferson City is conducting a Christmas special collection for the benefit of the education of our seminarians and our infirm priests. The envelope for this collection will be inserted in the Dec. 16 edition of the Catholic Missourian.
Parishioners will be instructed to place their gifts in the envelope, then put the envelopes in a collection basket during Mass — or give it to the parish office.
---
Share your Christmas crèche on social media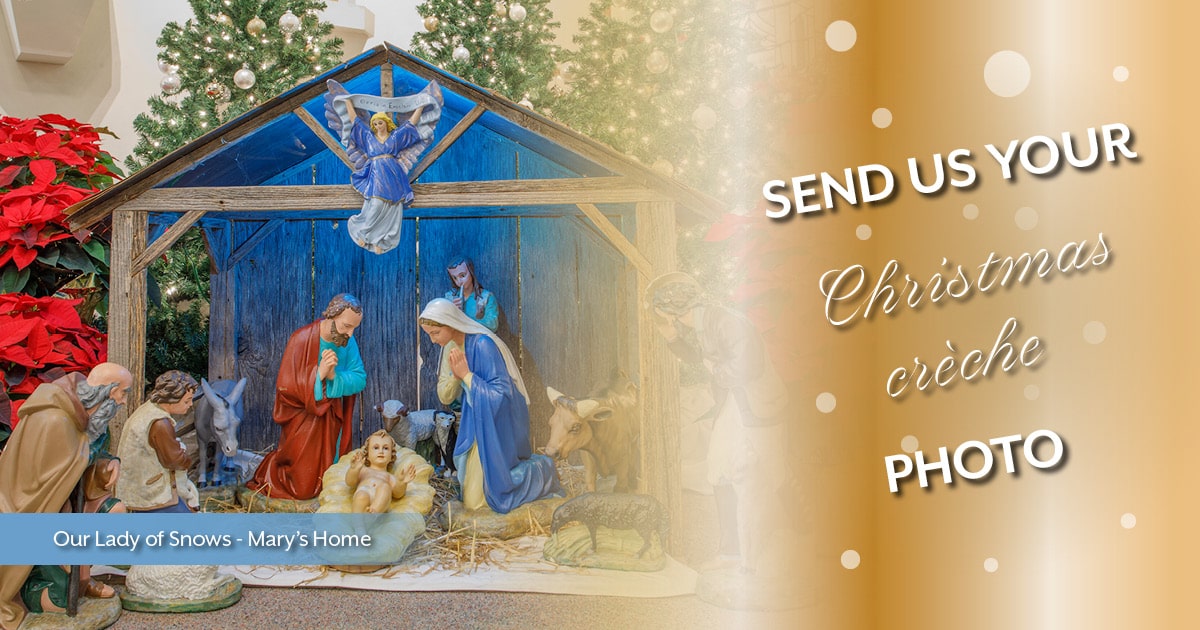 The Diocese of Jefferson City is inviting parishes, families and individuals to share their Christmas crèche photos with us. We will be posting these photos on social media as we prepare to celebrate the birth of our savior. Please use this form to share your crèche photo with us: diojeffcity.org/christmas-creche-photo-submission/
---
Final deadline — Official Catholic Directory updates

Many parishes are not receiving the emails from the editors of the Official Catholic Directory regarding the online updating of their listing. To ensure you receive the necessary information, please read the below notice and follow the instructions accordingly. If you have any questions or concerns about this process, do not hesitate to contact Bernadette Adams at badams@diojeffcity.org or 573-635-9127, ext. 236.
If you have already reviewed, updated, and submitted your OCD information online recently (i.e., for the 2023 edition update cycle), no further action is required.
The final deadline for completing your updates and submitting your information is December 7, 2022.
If you are not a 'registered user', please register. While this email is listed as the OCD Contact for at least one entity in the online update system, the email may not be registered. If this is the case, go to ocdedits.com/login, click the 'Register' button and follow the registration process.

If you are already a 'registered user' under this email address, simply go to ocdedits.com/login and enter this email and your password.

Can't remember your password? Use the 'Reset Password' button on the login page. Please be sure to check your spam/junk/promotion folders in case the reset password email gets re-routed to one of those folders. It is also a good idea to add our @nrpdirect.com domain to your 'safe senders' list in your email application prior to resetting your password.

Why is it important to review and update? The Official Catholic Directory is the best way for donors and granting bodies to verify your entity's inclusion in the IRS/USCCB's Group Ruling Exemption. Failure to keep your listing current could impede your ability to prove your tax-exempt status. The directory is also a widely used reference source within the Church.

Video Tutorials: Upon logging in, we encourage you to visit the brief Video Tutorials posted on the site to reacquaint yourself on how to navigate and utilize the system. Note: The system might look slightly different in the videos but the functionality is the same.

Catechesis and Religious Programs (CRPs) As noted in the last update cycle, CRPs have been integrated into the parent record and are no longer sub-orgs. There's now a CRP checkbox on the Basic Info screen which when checked, will indicate the parish has a Catechesis and Religious Program. Any CRP personnel, including Directors of Religious Education (DRE), will be listed with the parent parish personnel. Similarly, the CRP stats are now listed on the parent parish statistics.

Please Note: The OCD Online Update System is a browser-based application that is optimized for use with Google Chrome. Wherever possible, please use a Google Chrome browser when using the system.
---
Parish Secretaries' Workshop – December 14, 2022
The next parish secretaries' meeting will be Wednesday, Dec. 14, 10 am, via Zoom (https://us02web.zoom.us/j/82304740794?pwd=N2x5cHRITjRNejBRS1NDUHdqZjl1Zz09). Topics presented will include:
Receiving phone calls for assistance
Safe Environment compliance
First Communion recording
and more!
Each session will be recorded in case you cannot attend or if you want to re-watch the videos at a later date. Please bring your questions and future topic suggestions, and we will see you then!
---
Advent/Christmas liturgical preparation aid
Once again, the FDLC is providing a liturgical preparation aid for the seasons of Advent and Christmas. This annual, seasonal resource is now posted on the public pages of the FDLC website, in English and Spanish: www.fdlc.org/adventchristmas2022
Thank you to Sr. Rosanne Belpedio, CSJ for her translation work and to Michael Poradek for the cover design. Thanks, especially, to the USCCB, the Confraternity of Christian Doctrine, and to the International Commission on English in the Liturgy (ICEL) who have given their kind permission to reprint their copyrighted material.
The thirty-one page booklet contains:
The full text for the Rite of Reconciling Several Penitents with individual Confession and Absolution
Alternate readings, sample penances, music suggestions
A liturgical calendar advisory
A list of Lectionary readings for Sundays and solemnities
The Proclamation of the Nativity of the Lord (to be used at the Christmas Vigil)
The Proclamation of the Moveable Feasts (to be used on Epiphany)
---
Upcoming Matrimonial Tribunal closure dates
The Matrimonial Tribunal will be closed on the following dates for vacation:
Friday, December 9
Tuesday, December 20
Wednesday, December 21
Thursday, December 22
---
Share in bulletins, emails, social media, and websites
---
The Four Pillars of Stewardship is a four-session small group faith sharing experience. It is available in both English and Spanish. Download copies for free at www.diojeffcity.org/stewardship
---
The bulletin inserts and graphics are available for you to download as the 2022-2023 Catholic Stewardship Appeal continues.
---
¡Atención! La Diócesis de Jefferson City tiene parroquias que ofrecen Misas en español. Los lugares y horarios actualizados los puede encontrar en el siguiente enlace: https://diojeffcity.org/ministerio-hispano/misas-en-espanol/.
---
---

---
Confirmation Retreats for January (Jefferson City) and February (Monroe City) are now open for registration! For more information and to register click here.
---
Attention all engaged couples, MPFs and pastors:
2023 Pre-Cana Conference dates & locations:
March 11th @ Our Lady of Lourdes: 903 Bernadette Dr, Columbia, MO 65203
June 17th @ Chancery Offices: 2207 W Main St, Jefferson City, MO 65109
September 23rd @ St. Thomas More Newman Center: 602 Turner Ave, Columbia, MO 65201
2023 Engaged Encounter dates & location are to be determined.
---
Eventos en Español
Formación para Ministros de Comunión: Cancillería, Jefferson City (17 de diciembre, 9 am- 3 pm) Para todos los Ministros Extraordinarios de la Sagrada Comunión que desempeñan este servicio en su parroquia y para nuevos candidatos que hayan sido autorizados por su sacerdote para llevar a cabo este ministerio en un futuro. Cada ministro recibirá conocimiento sobre la liturgia y el ministerio que desempeña, así como herramientas y sugerencias prácticas para llevar a cabo su ministerio de una manera digna y apropiada. Favor de registrarse por medio del siguiente link: https://diojeffcity.org/ministerio-hispano/formacion-de-ministros-de-comunion/ o llamando al 573-680-3650.
---
CAMBIO DE FECHA: Encuentro de Liderazgo Diocesano: Chancery Offices | Las Oficinas de la Cancillería, Jefferson City (14 de enero; 8:30 am-3:30 pm) El Encuentro de Liderazgo Diocesano es un evento dirigido para el liderazgo parroquial (comité parroquial Hispano, grupo base, etc.) y para el liderazgo diocesano de los movimientos (Renovación Carismática y Cursillos). Para más información contacte a Diácono Enrique Castro al (573) 680-3650 por su celular o WhatsApp o por correo electrónico a ecastro@diojeffcity.org.
---
Employment opportunities
The Chancery Office of the Diocese of Jefferson City is seeking a full-time senior bookkeeper with advanced bookkeeping and elementary accounting work in the maintenance, review and analysis of detailed financial records throughout the entire accounting cycle. This individual will perform a variety of moderately complex to advanced bookkeeping/accounting tasks and procedures. Experience with general ledger, investments, insurance administration and payroll is strongly desired. Employer offers a comprehensive benefit package including health, dental, vision, and matching 403b retirement plan. Experience with Sage Intacct accounting system would be considered a plus. Knowledge and preparation of worksheets and financial statements and general ledger account classification is required. Qualified candidates should send their resume to HRDir@diojeffcity.org.
---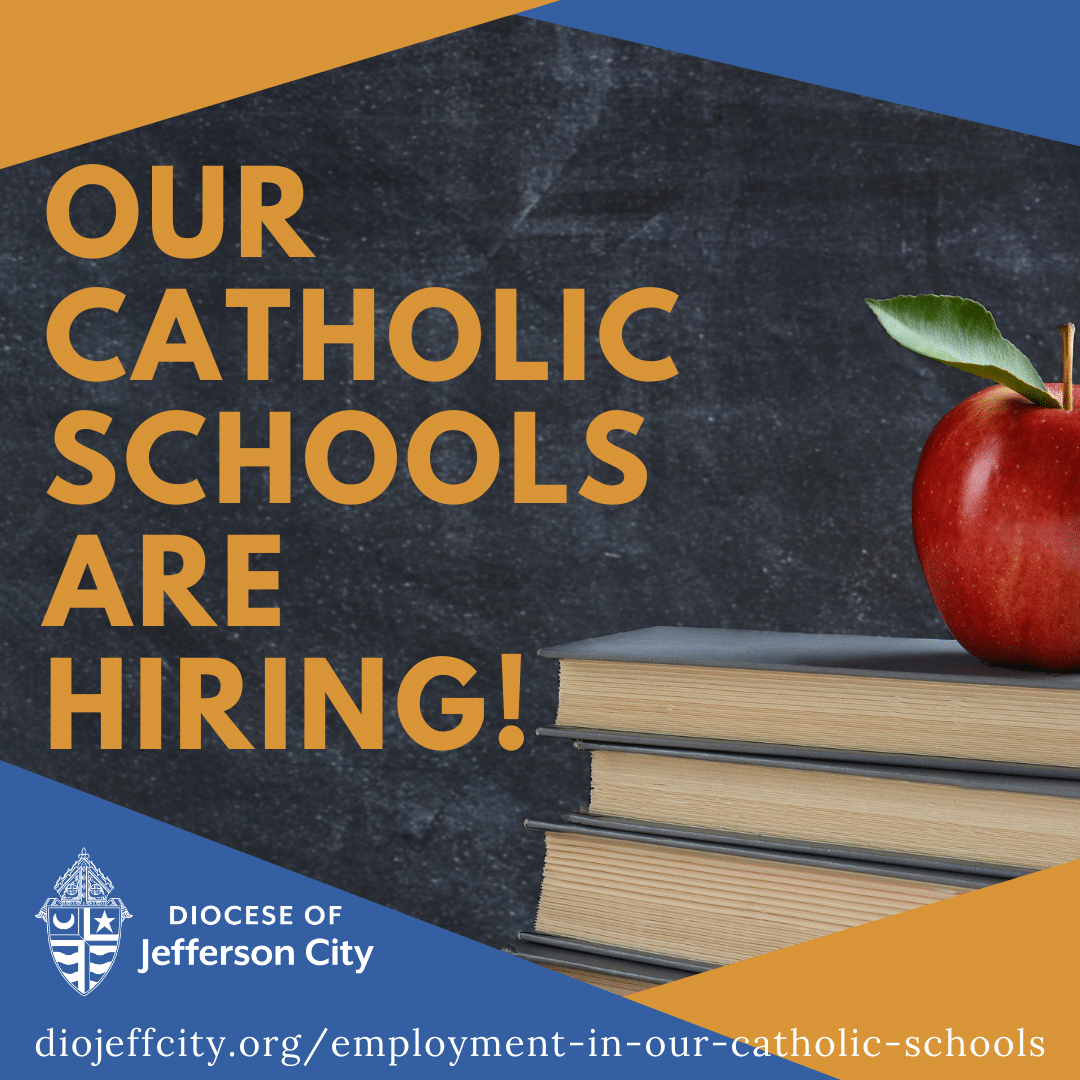 Since 1882, Sacred Heart School has been committed to formation in the Catholic faith, academic achievement, and the development of the whole person. Serving students from kindergarten through 12th grade, Sacred Heart is the mission of St. Vincent de Paul Parish in Sedalia, Missouri.
The successful candidate for President of Sacred Heart School will be an active Catholic, passionate in advancing the Stewardship Model of Catholic education, fostering Catholic Identity, implementing and expanding the current strategic plan, providing for the financial stability and operational vitality of the school, and building community relationships.
Experience in business financial management and confidence in leading the school's philanthropic efforts will be essential. The President leverages external and internal influence for the long-term viability of the school. The President serves on and is supported by an Advisory Council and reports directly to the pastor of St. Vincent de Paul.
A demonstrated capacity for strategic planning and institutional leadership can be attained through various career paths, including education, non-profit management, or work in the corporate or public sector.
If you believe you are called to this ministry, please send a letter of interest to Rev. Joseph S. Corel, Pastor St Vincent de Paul Catholic Church 421 W. Third Street, Sedalia, MO 65301.
---
St. Andrew Catholic School in Tipton has an opening for a junior high science and literature teacher. Part-time science and/or literature would be acceptable. All interested persons can contact the principal, Kara Higgins, at khiggins@saintandrewpirates.com.