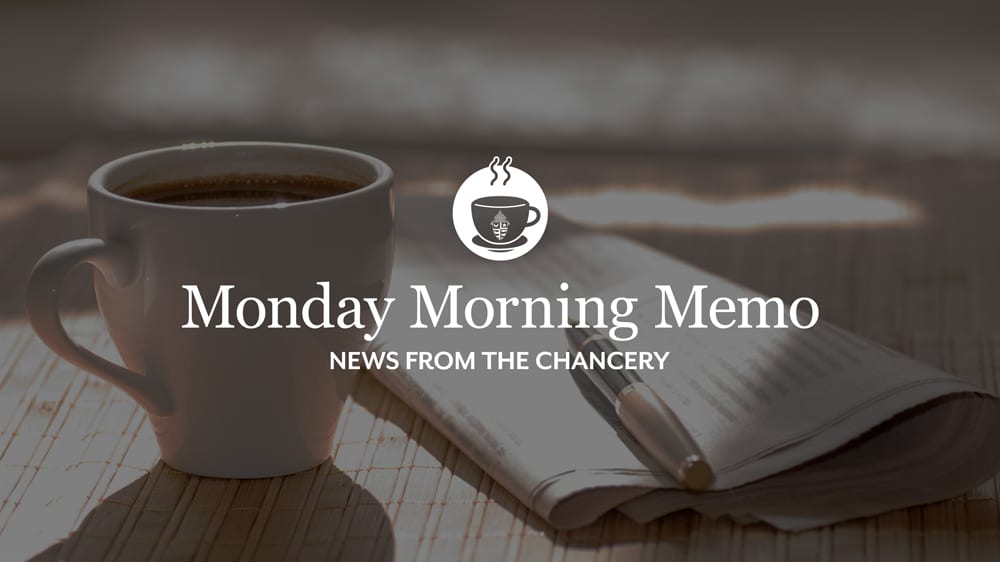 Links to more information are available by clicking on words highlighted in blue or the download graphic
---
First podcast episode: A blessing for our hunters

The Diocese of Jefferson City is launching a new podcast.
In our first episode, Bishop W. Shawn McKnight reflects on our stewardship of nature and the role of hunters in our society. Bishop McKnight offers a prayer for safety and a bountiful harvest for all who will be hunting in the coming weeks.
He also reflects on his own background as a hunter, sharing how he brought those experiences into the symbols that he chose to represent his service as bishop of Jefferson City.
Future episodes will highlight many different aspects of our Catholic faith and culture in our diocese.
Please help us share this new podcast — Click here to listen now!
---
Diocese gives more than $120,000 to Ukraine relief

When Ukraine was attacked at the beginning of the war, Catholics were asked to help with the relief effort. To date, our diocese has raised $122,588 in support of the people and church in Ukraine. We are continuing to accept donations. Learn more at this website.
---
Reminder: Election Day is Tuesday, November 8

In a recent social media post, Bishop McKnight urged Catholics to be engaged in our democracy: "We need good Catholics to be involved in political parties and the political process so that our society and its laws can be influenced by the gospel values of Jesus Christ."
Prayer for faithful citizenship
Gracious and loving God, let your Spirit be with me today.
Hear my prayers, and increase in me the will to follow your Son Jesus.
Help me to draw on the resources of my faith as I use the opportunities of our democracy to shape a society more respectful of the life, dignity, and rights of the human person, especially the poor and vulnerable.
I ask this through Jesus Christ, your Son, who lives and reigns with you in the unity of the Holy Spirit, God forever and ever. Amen.
---
National Vocation Awareness Week

It's critical we continue to promote vocations, including during National Vocation Awareness Week, which is this week. Click here for resources to help promote vocations. If you are a religious sister or brother, priest or deacon, please use this link to share your story, and we will share it on social media this week. Watch for our posts about vocations and help us share this important message!
---
Seeking dates, times, locations for Ecumenical Thanksgiving Prayer Services

The Catholic Missourian plans to publish in this week's print edition a list of ecumenical prayer services leading up to Thanksgiving Day. These prayer services are a long-standing tradition in many of our communities, and one of few opportunities we have to gather for prayer and fellowship with members of other Christian congregations.
We ask pastors or parish secretaries to check with local ministerial alliance about when and where any such services are to be held in your community, and send the date, time, location and any additional information to Jay Nies at editor@diojeffcity.org by the end of business on Tuesday, Nov. 8.
Please include whether any priests, deacons or other representatives of our parishes will be leading the service, giving the message or serving in some other capacity.
We will promote the events in the paper and in the online edition.
---

Bishop W. Shawn McKnight has provided an assignment to Father Mark Porterfield, who has recently chosen to return to priestly ministry, effective November 4, 2022. Father Porterfield's assignment includes providing ministry to the health care facilities in the Jefferson City and Columbia area, and in the prisons in the diocese. He is also available to serve as a "supply priest" for parishes needing occasional celebrants for weekend liturgies.
As previously announced, in 2018 Bishop McKnight received a serious allegation of sexual misconduct involving an adult former employee. Subsequently, Father Porterfield was placed on temporary administrative leave, and he ultimately resigned as pastor of St. Martin Parish in St. Martins. A thorough investigation was conducted by independent professional investigators. While the accuser was believed to be credible, the allegation could not be proven.
As a result of the canonical proceeding, Bishop McKnight set forth the conditions upon which Father Porterfield could return to ministry. Father Porterfield has recently fulfilled those conditions.
As this is a personnel matter, no further details on the canonical proceeding will be released.
---
Share in bulletins, emails, social media, and websites
---
The Four Pillars of Stewardship is a four-session small group faith sharing experience. It is available in both English and Spanish. Download copies for free at www.diojeffcity.org/stewardship
---
The bulletin inserts and graphics are now available for you to download as the 2022-2023 Catholic Stewardship Appeal continues.
---


---
Sunday, Nov. 20, is the Feast of Christ the King and is the Global Celebration of Young People as promulgated by Pope Francis. We will be having our first Celebration of Young People at Our Lady of Lourdes in Columbia. Click here to learn more. The day will include:
FELLOWSHIP: Food Trucks to enjoy as you arrive to the parish. (please bring money for this portion only)
REFLECTION: Hear from Brian Greenfield, a dynamic speaker who was MC at NCYC 2021 and on the stage at numerous Steubenville Conferences.
PRAYER: Bishop McKnight will lead us in concluding with Exposition of the Blessed Sacrament, adoration and a benediction.
El domingo, 20 de noviembre, es la Fiesta de Cristo Rey y es la Celebración Internacional de la Juventud, según lo promulgado por el Papa Francisco. Tendremos nuestra primera Celebración Diocesana de Jóvenes en la parroquia Nuestra Señora de Lourdes en Columbia. Clic aquí para saber más.
El día incluirá:
CONVIVENCIA: Puestos de comida para disfrutar de distintos platillos. (Favor de traer dinero si desea consumir comida)
REFLEXIÓN: Escucha a Brian Greenfield, un orador dinámico que fue el maestro de ceremonia en NCYC el 2021 y presentó en numerosas conferencias de Steubenville.
ORACIÓN: El Obispo McKnight nos guiará para concluir con la Exposición del Santísimo Sacramento, adoración y bendición.
---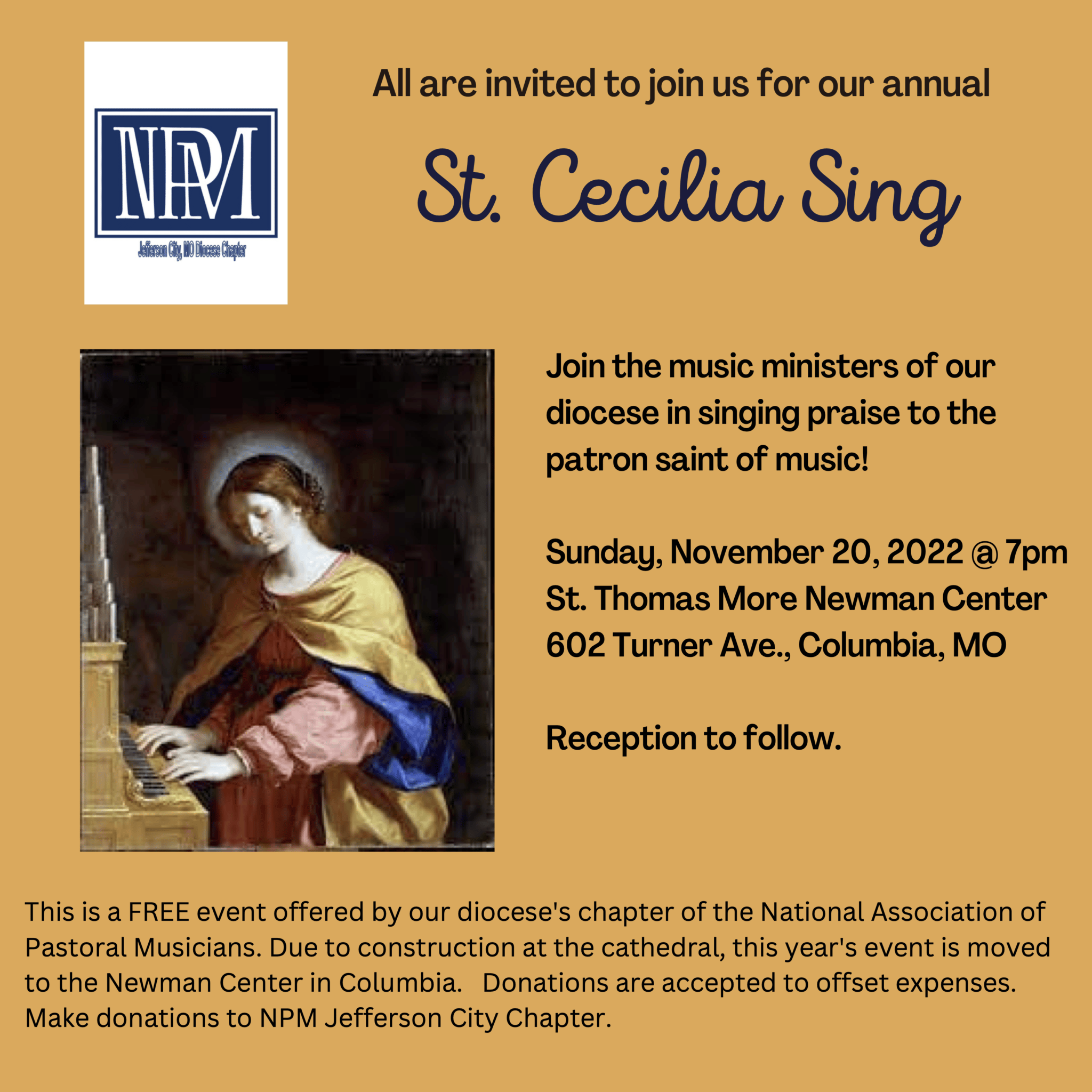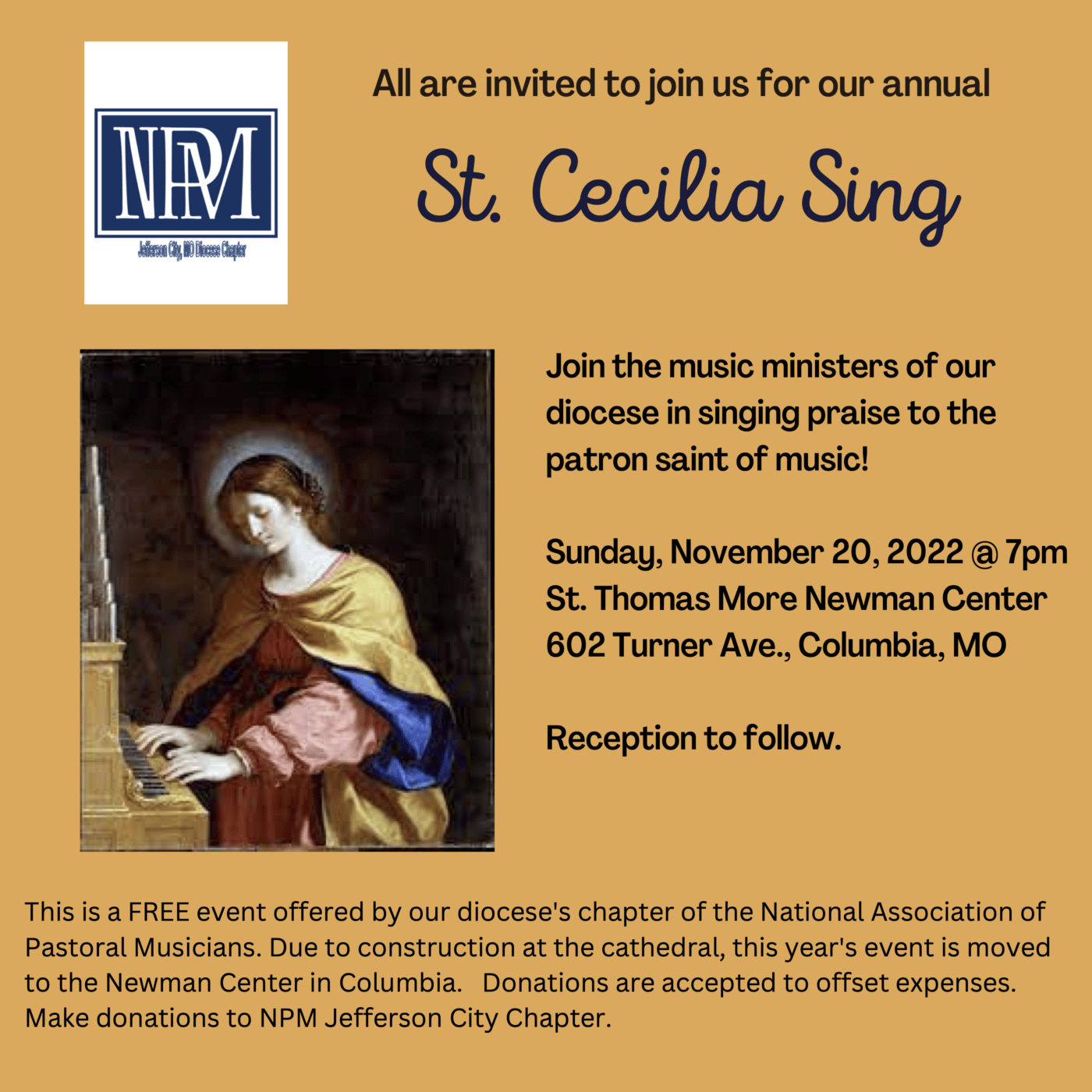 St. Cecilia Sing will take place at 7 p.m. on Nov. 20. Join the music ministers of our diocese in singing praise to the patron saint of music! Reception to follow. This is a FREE event offered by our diocese's chapter of NPM. Due to construction at the cathedral, this year's event is moved to the Columbia Newman Center. Donations accepted to offset expenses.
---
Surround yourself with women of faith at the Let Every Heart Prepare Him Room event at 6:30 p.m. on Tuesday, Nov. 29 at Msgr. Hoog Hall at St. Peter Parish in Jefferson City. All women are welcomed to join in the celebration and reflect on the season of Advent with prayer, laughter and messages of hope, joy, love and peace. Register by Nov. 19 to Sharon Naught (573-619-9636 or sharon.naught@gmail.com) or Diana Unruh (573-645-2040 or dianaunruh54@gmail.com).
---
Eventos en Español
Encuentro de Liderazgo Diocesano: Chancery Offices | Las Oficinas de la Cancillería, Jefferson City (19 de noviembre; 8:30 am-3:30 pm) El Encuentro de Liderazgo Diocesano es un evento dirigido para el liderazgo parroquial (comité parroquial Hispano, grupo base, etc.) y para el liderazgo diocesano de los movimientos (Renovación Carismática y Cursillos). Para más información contacte a Diácono Enrique Castro al (573) 680-3650 por su celular o WhatsApp o por correo electrónico a ecastro@diojeffcity.org.
---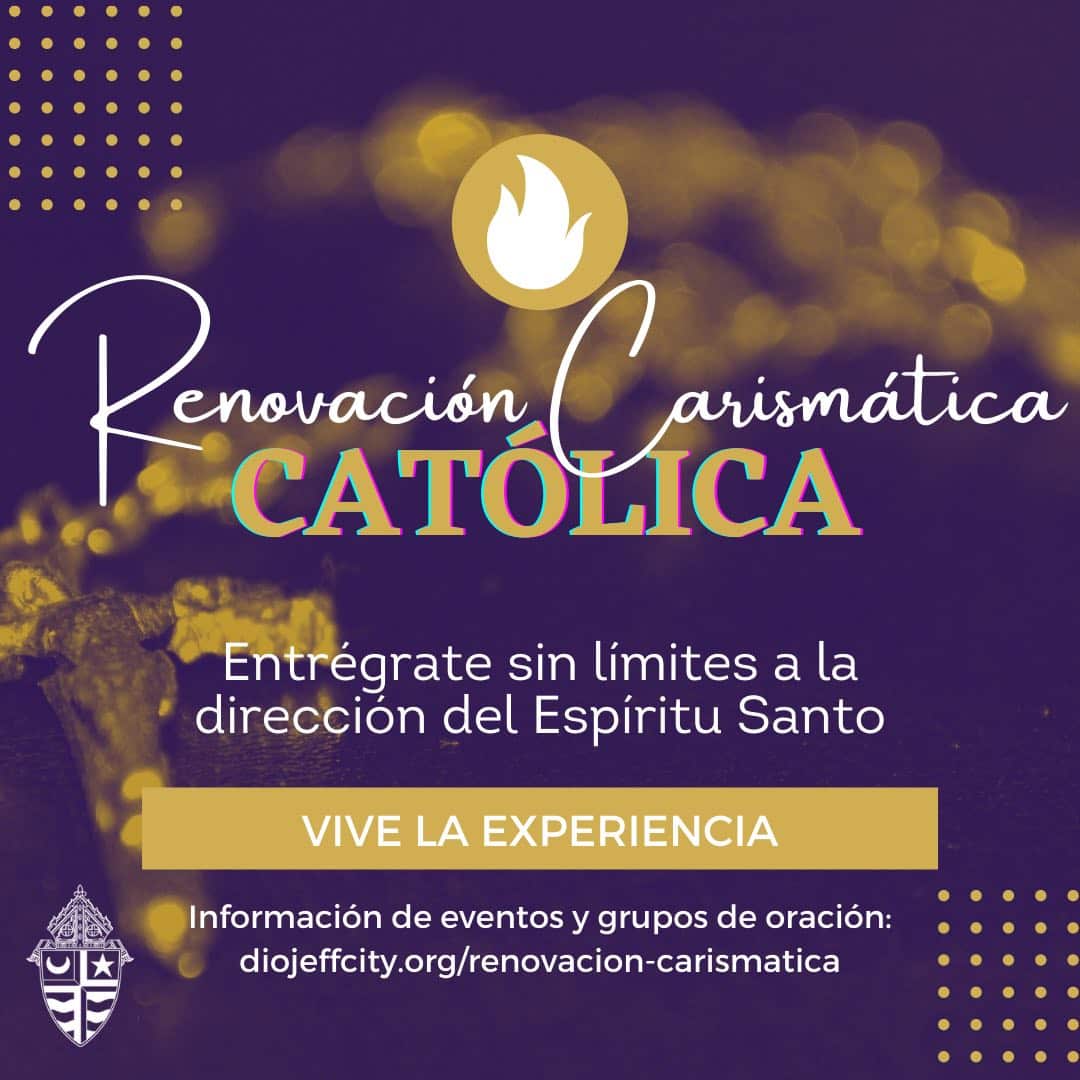 Retiros de Crecimiento: Después de que los participantes han vivido un Retiro de Inicio y recibido las clases de crecimiento, el Retiro de Crecimiento brinda una experiencia de fortalecimiento y re-encuentro con Jesús para renovar su compromiso bautismal. De esta manera, los participantes pueden contribuir de una manera más efectiva y comprometida en la misión de la Iglesia de construir el reino de Dios compartiendo los dones y talentos en sus comunidades.
Saint Peter | San Pedro, Marshall (noviembre 5-6) Para más información sobre este evento contacte a Marchelino Chávez al (660) 631-3748 o por correo electrónico a chelino2657@gmail.com.
Saint Patrick | San Patricio, Sedalia (noviembre 5-6) Para más información sobre este evento contacte a José Resendiz al (660) 281-4058 o por correo electrónico a jehresendiz@gmail.com.
---

Retiro para Cursillistas: St Patrick | San Patricio, Sedalia (3 de diciembre; 9 am- 4 pm)
Los retiros para cursillistas son eventos que tienen la finalidad de brindar un espacio de oración, reflexión y fraternidad para todos los participantes. Además, este retiro profundiza en el carisma del Movimiento de Cursillos de Cristiandad con el propósito de fortalecer al cursillistas y su servicio en el movimiento y en la Iglesia.
Para más información contacte a Oswaldo Diaz al (660) 829-5213 o por correo electrónico a deleono@sedalia200.org.
---
Employment opportunities
The Chancery Office of the Diocese of Jefferson City is seeking a full-time senior bookkeeper with advanced bookkeeping and elementary accounting work in the maintenance, review and analysis of detailed financial records throughout the entire accounting cycle. This individual will perform a variety of moderately complex to advanced bookkeeping/accounting tasks and procedures. Experience with general ledger, investments, insurance administration and payroll is strongly desired. Employer offers a comprehensive benefit package including health, dental, vision, and matching 403b retirement plan. Experience with Sage Intacct accounting system would be considered a plus. Knowledge and preparation of worksheets and financial statements and general ledger account classification is required. Qualified candidates should send their resume to HRDir@diojeffcity.org.
---
Catholic Charities of Central and Northern Missouri is seeking an organized, collaborative counseling professional who has experience in staff management and/or clinical direction to serve as the director of Counseling Services. Ideal candidates possess an understanding of and commitment to the mission of Catholic Charities, leadership skills to bring counseling services program toward integration with existing services and external accountability requirements, and is able to provide/ensure high quality mental health treatment while acknowledging the role of faith in an individual's journey as desired by the client. Click here to learn more and apply online.
---
Catholic Charities is also seeking a Clinical Therapist, Youth and Teen professional to provide faith-informed (when the client desires) compassionate counseling services to youth and teen clients. Ideal candidates are experienced in individual and group therapy, are collaborative and open to working with schools on social/emotional learning curricula, confident with public presentations an ability to travel within the agency service area (Diocese of Jefferson City). Click here to learn more and apply online.
---
If you, or someone you know, is looking for a year-long service opportunity (with a stipend) Catholic Charities has two open AmeriCorps VISTA positions in Jefferson City and Columbia, Missouri. Catholic Charities is seeking a Community Sponsorship AmeriCorps VISTA and a Volunteer Coordinator AmeriCorps VISTA to build agency capacity and community outreach for programs in Refugee Services, and additional programs. You can learn more about AmeriCorps and the year-long VISTA opportunities at https://americorps.gov/serve/fit-finder/americorps-vista
---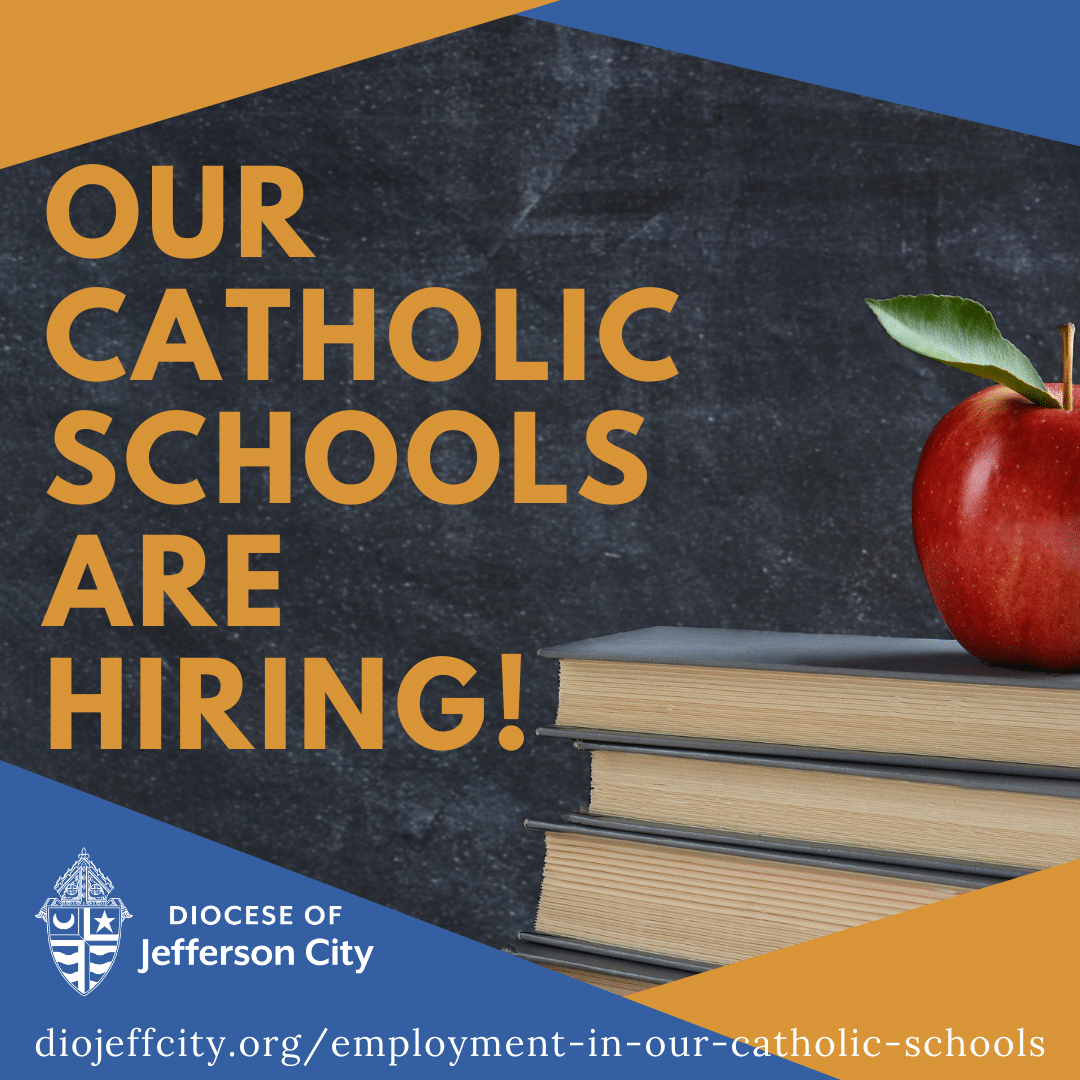 St. Andrew Catholic School in Tipton has an opening for a junior high science and literature teacher. Part-time science and/or literature would be acceptable. All interested persons can contact the principal, Kara Higgins, at khiggins@saintandrewpirates.com.