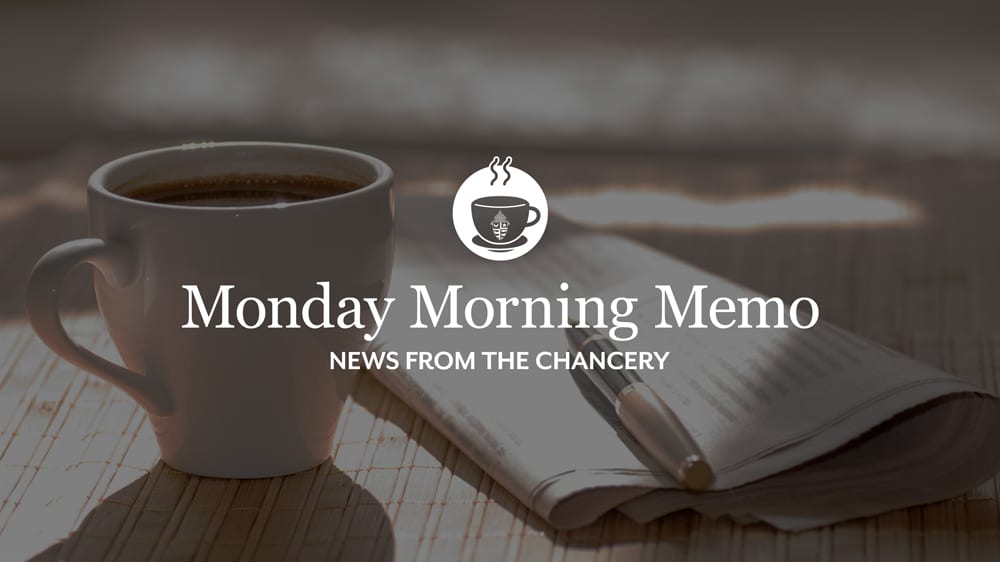 Links to more information are available by clicking on words highlighted in blue or the download graphic
---
Visiting bishops tour diocese for Catholic Home Missions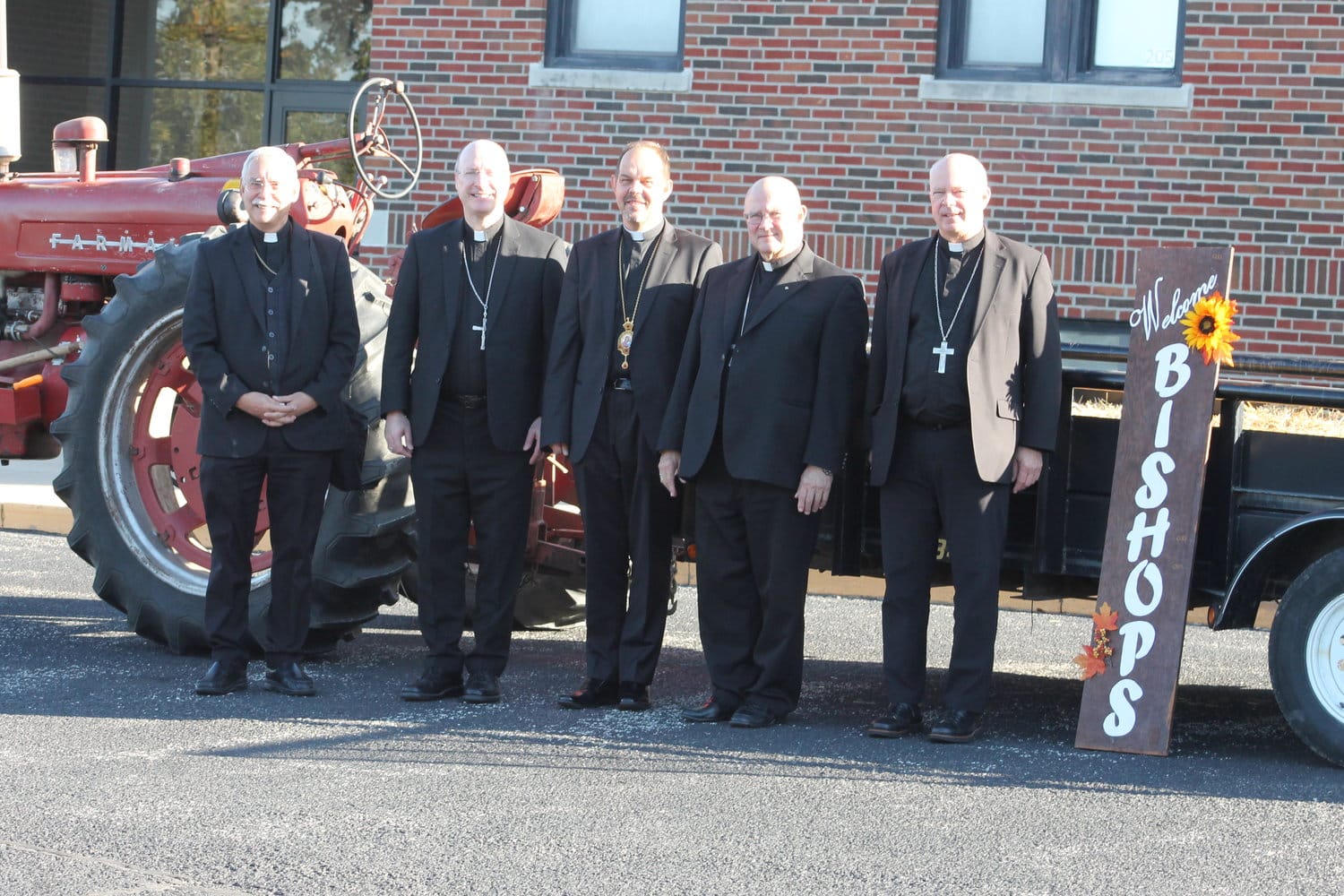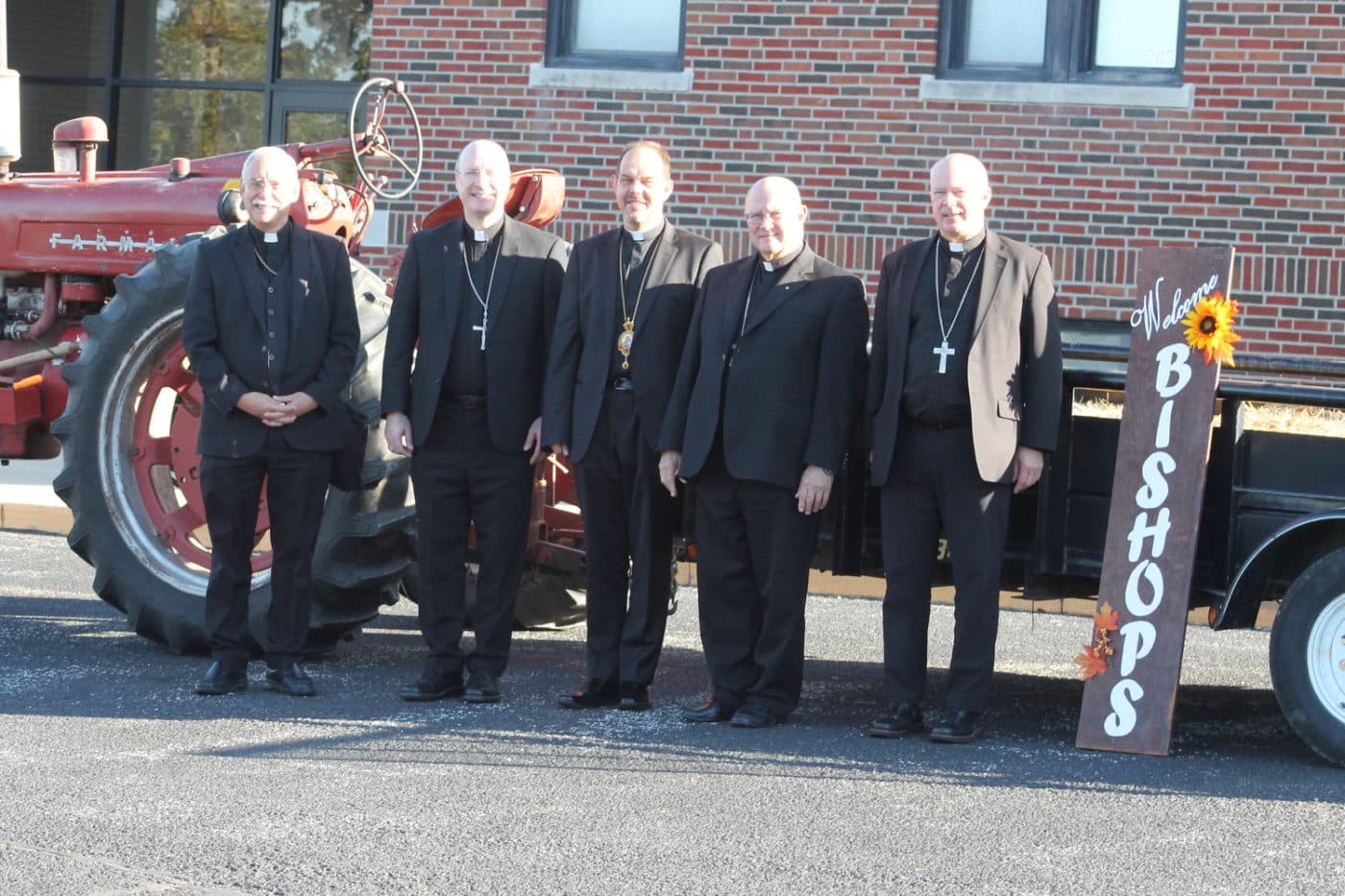 In a historic visit to our diocese, four visiting bishops spent time touring the Diocese of Jefferson City last week as part of the U.S. Conference of Catholic Bishops' Subcommittee on Catholic Home Missions. Bishop W. Shawn McKnight led the tour which visited several parishes in our diocese. Read more about their visit to St. Martin Church.
---
Diocese of Jefferson City contributes to hurricane relief

In response to the suffering caused by Hurricane Ian on people living in Cuba, the Dominican Republic and the southeastern United States, a $10,000 donation from the Diocese of Jefferson City has been sent to a special fund of the US Conference of Catholic Bishops (USCCB). Read more about the gift.
---
Missouri Catholic Conference issues statement against Amendment 3

The Missouri Catholic Conference has issued a statement expressing concerns about Amendment 3, which would legalize recreational marijuana use in the state. Read the statement.
---
"The Letter" documentary is now available on YouTube

"The Letter," is a documentary on Pope Francis' encyclical letter Laudato si' which calls for all people to "Act together! Act now!" The film highlights the voices of an indigenous leader, a climate refugee, a youth activist, and a group of scientists. Watch the documentary.
---
Matrimonial Tribunal office vacation
The Matrimonial Tribunal office will be closed on Tuesday, Oct. 11 for vacation.
---
Share in bulletins, emails, social media, and websites
---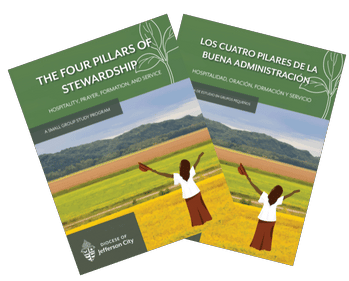 The Four Pillars of Stewardship is a four-session small group faith sharing experience. It is available in both English and Spanish. Download copies for free at www.diojeffcity.org/stewardship
---
The bulletin inserts and graphics are now available for you to download as the 2022-2023 Catholic Stewardship Appeal begins. The CSA kick-off weekend is Oct. 15-16. We also have inserts that are designed to run the weekend prior (Oct. 8-9).
---


---
St. Cecilia Sing will be held on Nov. 20 at the St. Thomas More Newman Center in Columbia. This event will feature an evening of sung prayer in honor of the patron saint of musicians. All musicians are invited to participate, including choirs, organists, song leaders and others. To avoid repetition, those interested in participating are asked to submit two songs by Nov. 1. Songs can be submitted to jeffersoncitymo@npm.org. The number of songs used will depend on the number of participants.
---
Sunday, Nov. 20, is the Feast of Christ the King and is the Global Celebration of Young People as promulgated by Pope Francis. We will be having our first Celebration of Young People at Our Lady of Lourdes in Columbia. Click here to learn more. The day will include:
FELLOWSHIP: Food Trucks to enjoy as you arrive to the parish. (please bring money for this portion only)
REFLECTION: Hear from Brian Greenfield, a dynamic speaker who was MC at NCYC 2021 and on the stage at numerous Steubenville Conferences.
PRAYER: Bishop McKnight will lead us in concluding with Exposition of the Blessed Sacrament, adoration and a benediction.
---
Spanish-speaking events
Taller de Preparación de Quinceañeras: Sacred Heart | Sagrado Corazón, Columbia (29 de octubre; 9 am-2 pm) El objetivo de este taller es capacitar a los equipos parroquiales en su tarea de proveer una preparación adecuada a quinceañeras (junto con sus damas, chambelanes y papás) en sus comunidades. Se recomienda que por lo menos 3 personas sean parte del equipo. Durante el taller, se proveerán los materiales y recursos necesarios. Favor de corroborar su asistencia llenando y enviando la forma de inscripción que encontrará en el siguiente enlace. PARA REGISTRARSE DE CLIC AQUÍ. Para más información contacte a Diácono Enrique Castro al (573) 680-3650 por su celular o en WhatsApp o por correo electrónico a ecastro@diojeffcity.org.
---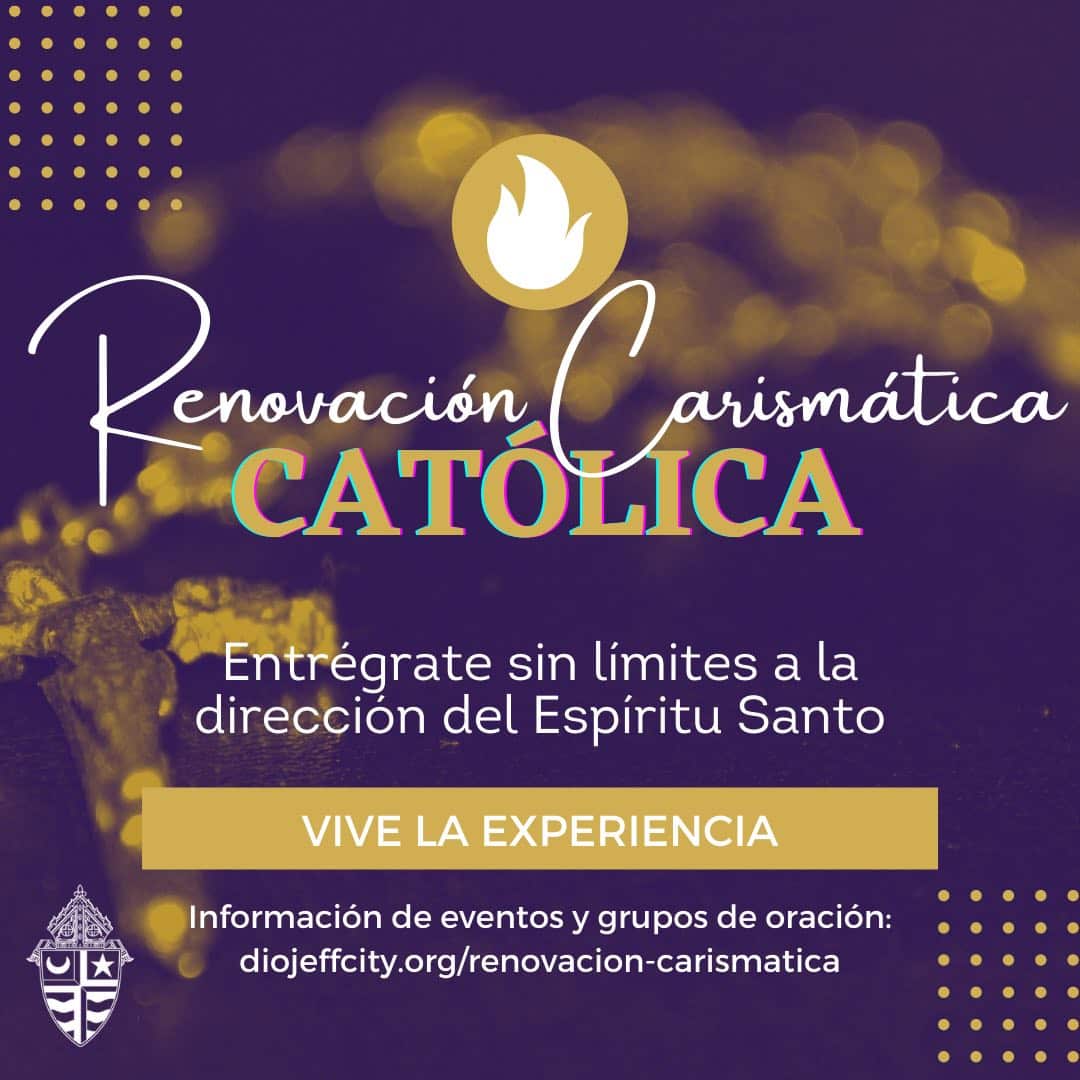 Retiro de Inicio: Our Lady of the Lake | Nuestra Señora del Lago, Lake Ozark (29-30 de octubre) El Retiro de Inicio brinda una experiencia única de encuentro con Jesús resucitado, quien nos invita a vivir una vida nueva y abundante con la ayuda del Espíritu Santo. Todo aquel que desee participar, sin importar su estado de vida actual o situación personal, tendrá la oportunidad de reflexionar sobre su vida y encontrarse con el Amor incondicional de Jesús. Esta es una oportunidad que nadie se puede perder.
Para más información contacte a Rosa o Luis Campos al 471-321-2091 o por correo electrónico a r.campos.agui@gmail.com.
---
Retiros de Crecimiento: Después de que los participantes han vivido un Retiro de Inicio y recibido las clases de crecimiento, el Retiro de Crecimiento brinda una experiencia de fortalecimiento y re-encuentro con Jesús para renovar su compromiso bautismal. De esta manera, los participantes pueden contribuir de una manera más efectiva y comprometida en la misión de la Iglesia de construir el reino de Dios compartiendo los dones y talentos en sus comunidades.
Saint Peter | San Pedro, Marshall (noviembre 5-6) Para más información sobre este evento contacte a Marchelino Chávez al (660) 631-3748 o por correo electrónico a chelino2657@gmail.com.
Saint Patrick | San Patricio, Sedalia (noviembre 5-6) Para más información sobre este evento contacte a José Resendiz al (660) 281-4058 o por correo electrónico a jehresendiz@gmail.com.
Employment opportunities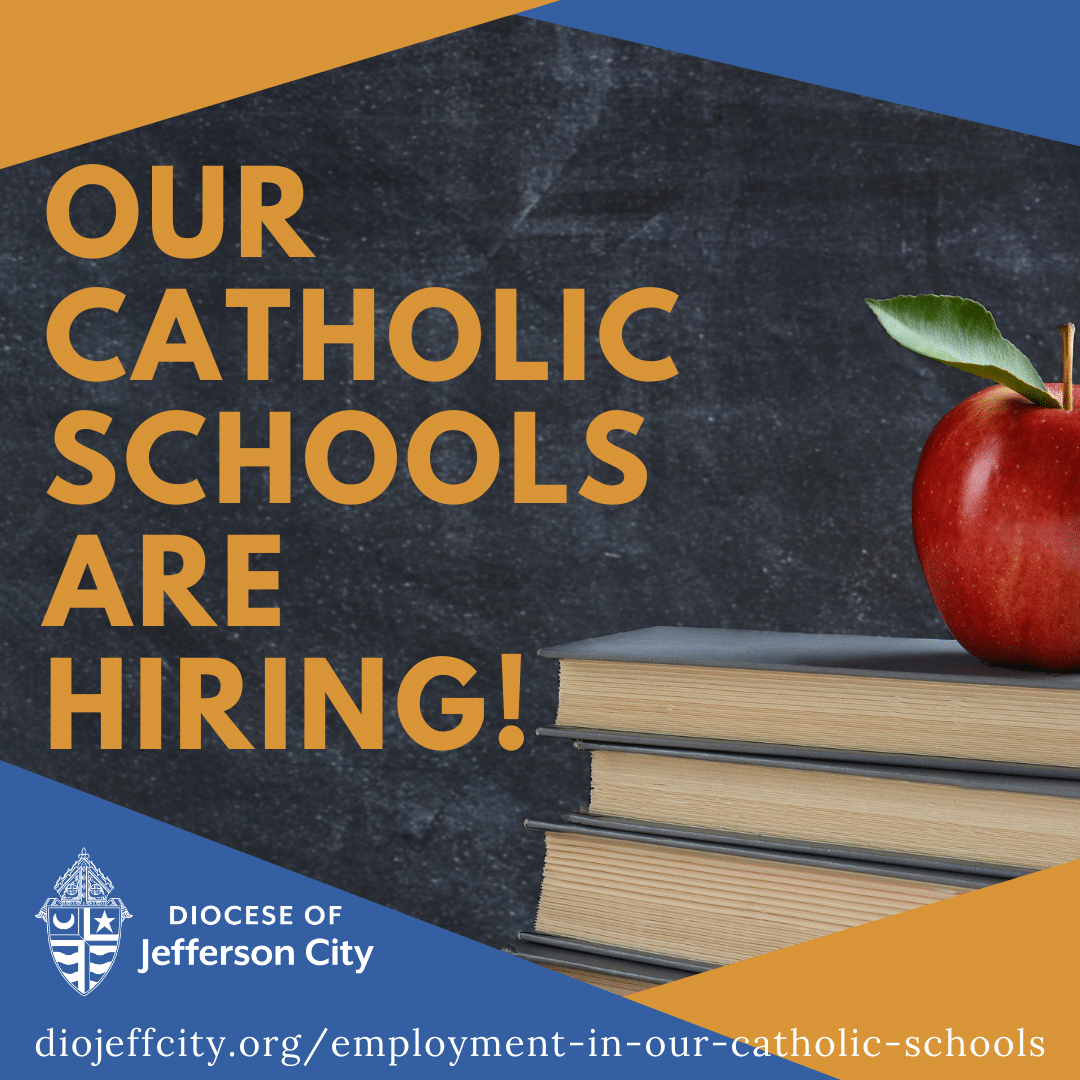 ---
St. Andrew Catholic School in Tipton has an opening for a junior high science and literature teacher. Part-time science and/or literature would be acceptable. All interested persons can contact the principal, Kara Higgins, at khiggins@saintandrewpirates.com.
---
The Missouri Catholic Conference, the public policy agency for the Catholic Church in Missouri, is seeking a legislative analyst/lobbyist to help advance the public policy priorities of the Catholic Church in state legislative work. Bachelor's degree or higher, or equivalent experience, and excellent written and verbal communication skills are required. Prior skills in government relations is preferred, but not required. Must be a Catholic in good standing, residing in or near Jefferson City or willing to relocate. Salary commensurate with experience. Submit cover letter and resume to: Missouri Catholic Conference, PO Box 1022, Jefferson City, MO 65102, or, via email, to mocatholic@mocatholic.org.