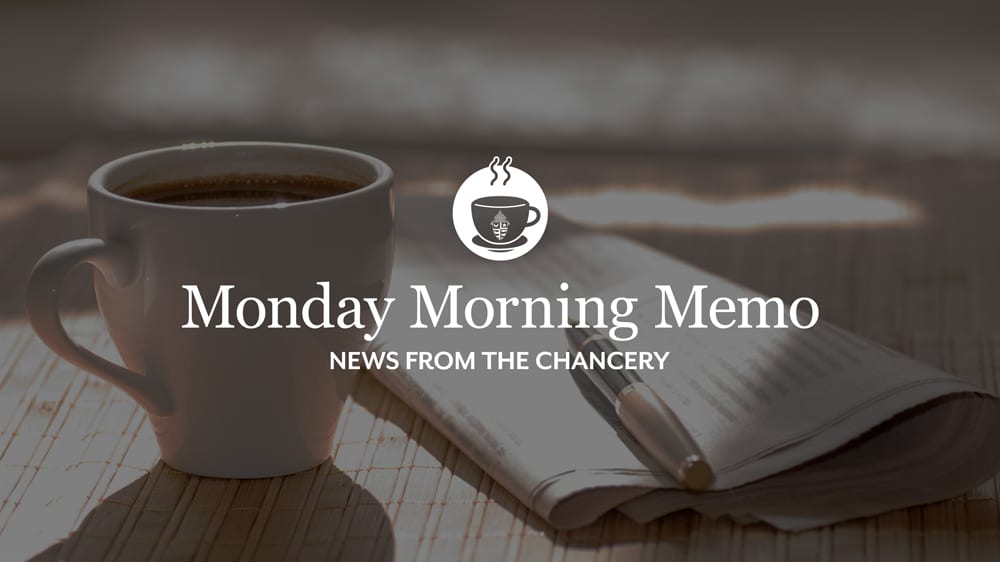 Links to more information are available by clicking on words highlighted in blue or the download graphic
---
Bishop's messages
New Presbyteral Council members
Please join me in thanking the new members of the diocesan Presbyteral Council, for their generous response to serving on the council. The new members, who will begin their service with the next Presbyteral Council meeting, are:
Rev. Joseph Abah, PhD – Missionary Priests
Rev. William D. Debo – Southeast Deanery
Rev. Gerald Kaimann – Retired Priests
Very Rev. Daniel J. Merz, SLD – Central Deanery
Rev. R. William Peckman – North Deanery
Rev. Michael W. Penn – Southwest Deanery
Rev. Msgr. David D. Cox – See City Deanery
---
New diocesan director of communications
Jacob Luecke, a parishioner of the Cathedral of St. Joseph, has been appointed diocesan director of communications, effective Sept. 15. Jacob comes from the Missouri Chamber of Commerce and Industry and is looking forward to supporting our parishes and diocese in building up our communication efforts.
---
Religious Ed, Youth and Young Adult ministry
You can read about all the wonderful activity happening for our young people in this month's newsletter from our office for Religious Education, Youth and Young Adult Ministry.
---
Order extra diocesan directories by Sept. 8
The new 2022-23 diocesan directories will be distributed at the Priests Institute in October. Each parish and school receive two free copies. In addition, each religious, priest, deacon, parish life collaborator, principal, assistant principal, and school president will receive a copy. If your parish, school, or organization would like to order additional copies, please use this link to place your order. The deadline for orders is Sept. 8. Payment is required when you place the order.
---
Vocations promotion resources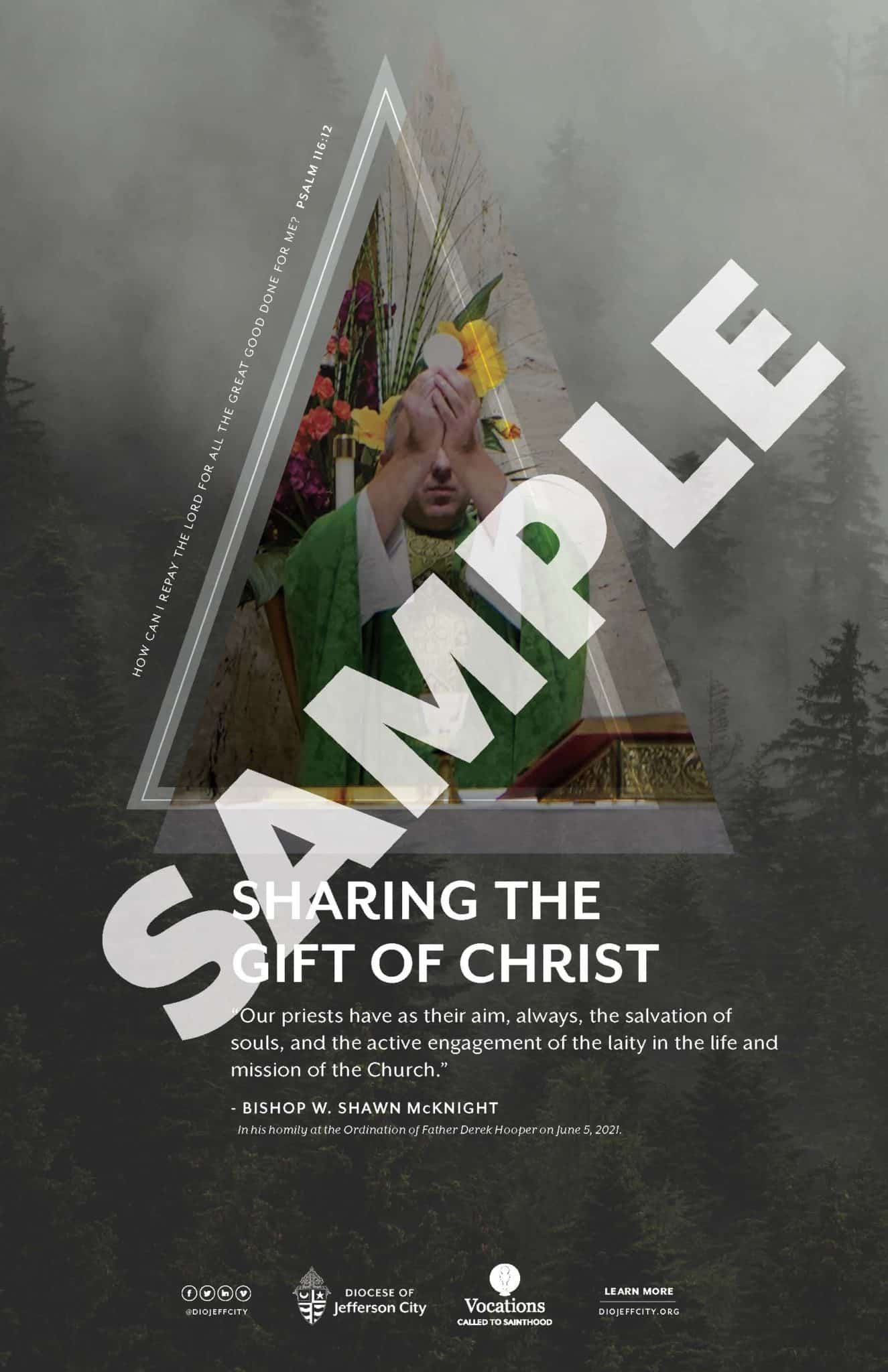 Vocation Posters and Seminarian Prayer Cards will be available soon! Complimentary copies will be provided at the Priest Institute in October. For more information, including how to order additional copies, please see the attached form. Deadline for additional orders is Sept. 16. Please also email the Vocation Office if you need material in Spanish.
---
---
Share in bulletins, emails, social media, and websites
---


---
Starkenburg Shrine to Host Annual Fall Pilgrimage
The historic shrine of Our Lady of Sorrows Shrine at Starkenburg will host its annual Fall Pilgrimage on Sunday, Sept. 11, with Bishop W. Shawn McKnight celebrating Mass at 2 pm. The day begins with Exposition of the Blessed Sacrament at 10 am. A traditional German meal of fried chicken, roast beef, mashed potatoes, green beans, corn, slaw and dessert will be served by members of the Church of the Risen Savior at Valentine Hall. The sacrament of Reconciliation and Benediction will be offered before the outdoor Mass. The Shrine of Our Lady of Sorrows is in Montgomery County, two miles north of the Katy Trail, on Highway P, and is handicapped accessible. For more information, visit www.historicshrine.com or call Brenda Van Booven at 573-236-4390.
---
Sept. 10 is final pre-Cana conference for 2022
Sept. 10 at Our Lady of Lourdes in Columbia is the last offering of a pre-Cana conference in 2022. The full day conference involves married couples and clergy presenting topics that encourage engaged couples to open a dialogue with each other and to address things that should and need to be discussed before getting married. Engaged couples should consult with their marriage preparation facilitator or priest to confirm the Pre-Cana Diocesan Conference is the best option for them. For more information and to register, visit https://diojeffcity.org/marriage-preparation/pre-cana-registration/.
---
The National Shrine of Mary, Mother of the Church invites all for a pilgrimage with speaker Kathleen Lindemann on Sept. 17, 8:30 am to 5:30 pm, with lunch provided. Kathleen is an exhilarating and dynamic Catholic evangelist. Taking everyday life situations, she weaves the joy of the Gospel into a practical application. Kathleen's authentic personal stores are "hilarious and heartfelt." Listeners will learn how to unleash the Gospel in their own lives as Kathleen leads them to realize how they can walk in the light of Christ. Kathleen will be speaking on "Mary's 'Yes' Can Be Our 'Yes' Too" and "Unlocking the Virtues to a Joyous Life." The pilgrimage day includes the two speaker sessions, the Sacrament of Reconciliation, eucharistic adoration, benediction, the Rosary and Divine Mercy Chaplet, culminating in Mass at 4:30 p.m. The Shrine is located at the Lake of the Ozarks, 176 Marian Drive, Laurie, MO 65037. Call 573-374-6279 for more information.
---
Spanish-speaking events
Congreso Diocesano: Multipurpose Building, Marshall (1 y 2 de octubre) El Congreso Diocesano es un evento organizado por el Comité Diocesano de la Renovación Carismática Católica. Es un evento de gracia y bendición para toda la comunidad y las familias Hispanas de la diócesis. Por medio de la alabanza, oración, enseñanza y fraternidad que se vive durante todo el evento, se fortalecen y sanan las familias, los servidores y las comunidades. Este es un evento único y especial que nadie puede perderse.
Para más información contacte Ilsi Palacios al (316) 530-1004 o por correo electrónico a ComiteDiocesanoRCCH@gmail.com.
---
Formación de Ministros de Comunión: Sacred Heart | Sagrado Corazón, Columbia (24 de septiembre, 9am-3pm) Esta formación está dirigida para todos los Ministros Extraordinarios de la Sagrada Comunión que ya desempeñan este servicio en su parroquia, así como aquellos que nuevos candidatos que estén interesados y hayan sido autorizados por su sacerdote para llevar a cabo este ministerio en un futuro.
Cada ministro recibirá conocimiento sobre la liturgia y el ministerio tan importante que desempeña, así como herramientas y sugerencias prácticas para desempeñar su ministerio de una manera digna y apropiada. Tenemos dos opciones para esta formación: 24 de septiembre y 17 de diciembre. Seleccione la que mejor le convenga. Favor de registrarse por medio del siguiente link: https://diojeffcity.org/ministerio-hispano/formacion-de-ministros-de-comunion/. También puede registrarse por teléfono llamando al diácono Enrique Castro al 573-680-3650.
---
Retiro de Crecimiento: Annunciation | Anunciación, California (Septiembre 24 – 25) Después de que los participantes han vivido un Retiro de Inicio y recibido las clases de crecimiento, el Retiro de Crecimiento brinda una experiencia de fortalecimiento y re-encuentro con Jesús para renovar su compromiso bautismal. De esta manera, los participantes pueden contribuir de una manera más efectiva y comprometida en la misión de la Iglesia de construir el reino de Dios compartiendo los dones y talentos en sus comunidades. Para más información contacte a Emilio Juarez al (573) 680-9326 o por correo electrónico a emiliojh@outlook.com.
---
Retiro de Inicio: Sacred Heart | Sagrado Corazón, Columbia (Septiembre 17 y 18) El Retiro de Inicio brinda una experiencia única de encuentro con Jesús resucitado, quien nos invita a vivir una vida nueva y abundante con la ayuda del Espíritu Santo. Todo aquel que desee participar, sin importar su estado de vida actual o situación personal, tendrá la oportunidad de reflexionar sobre su vida y encontrarse con el Amor incondicional de Jesús. Esta es una oportunidad que nadie se puede perder. Para más información y registrarse contacte a Jacqueline de la Cruz al 573-673-2091 o por correo electrónico a delacruzj@missouri.edu
---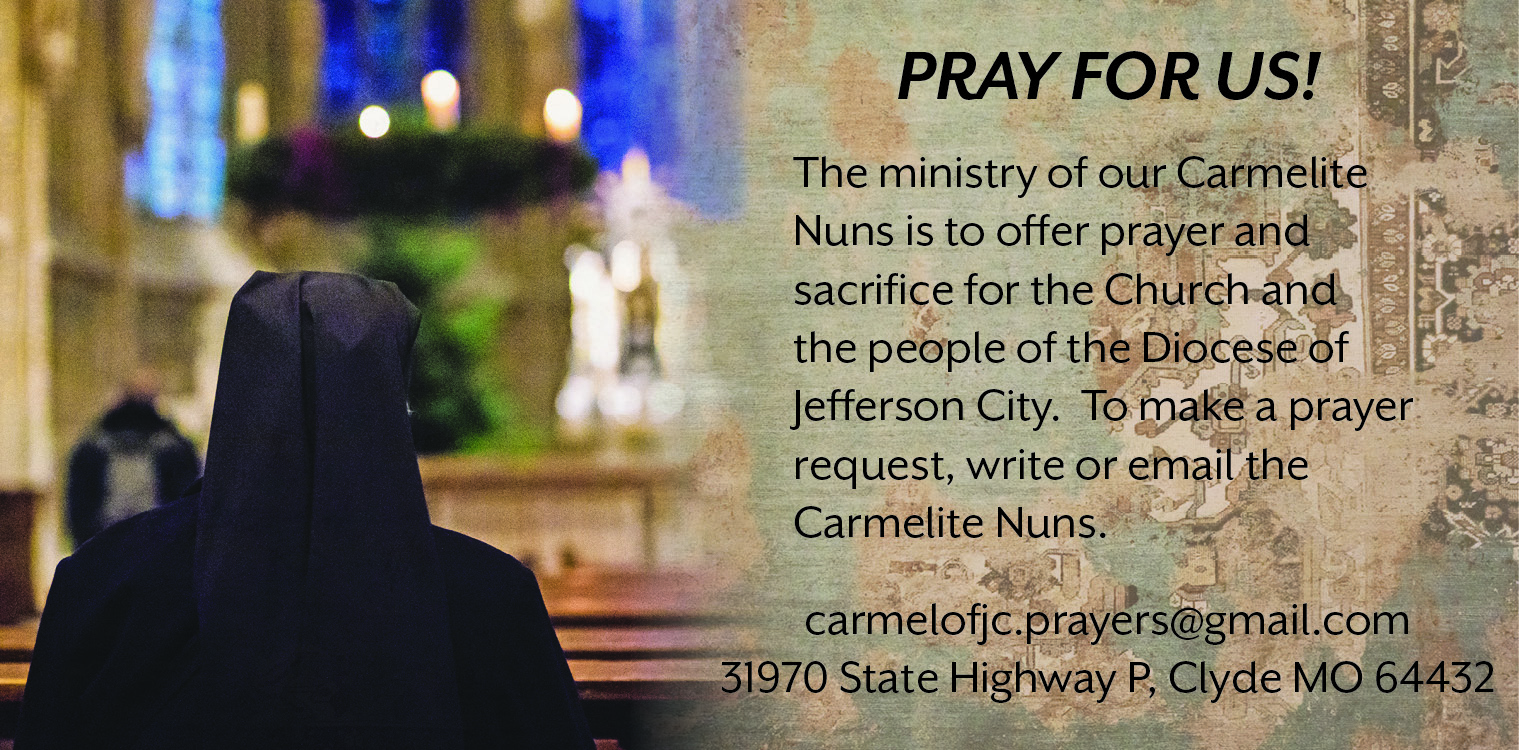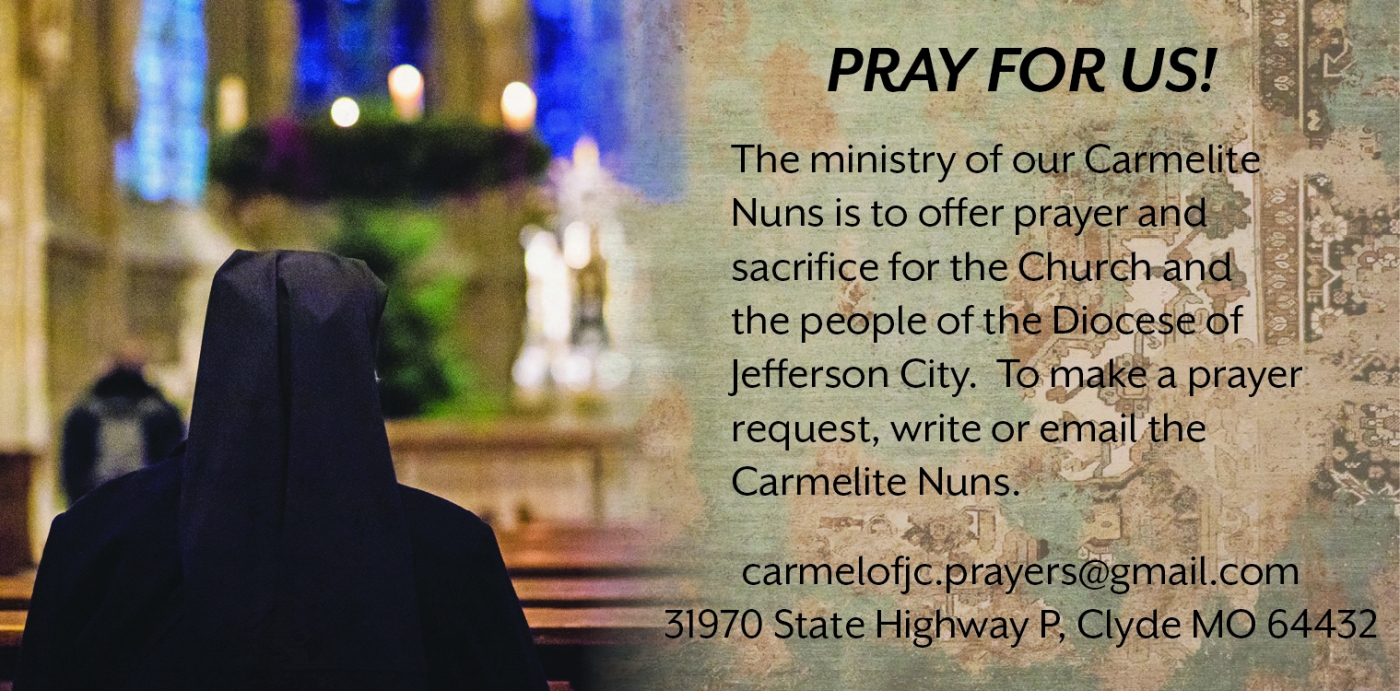 ---
Employment opportunities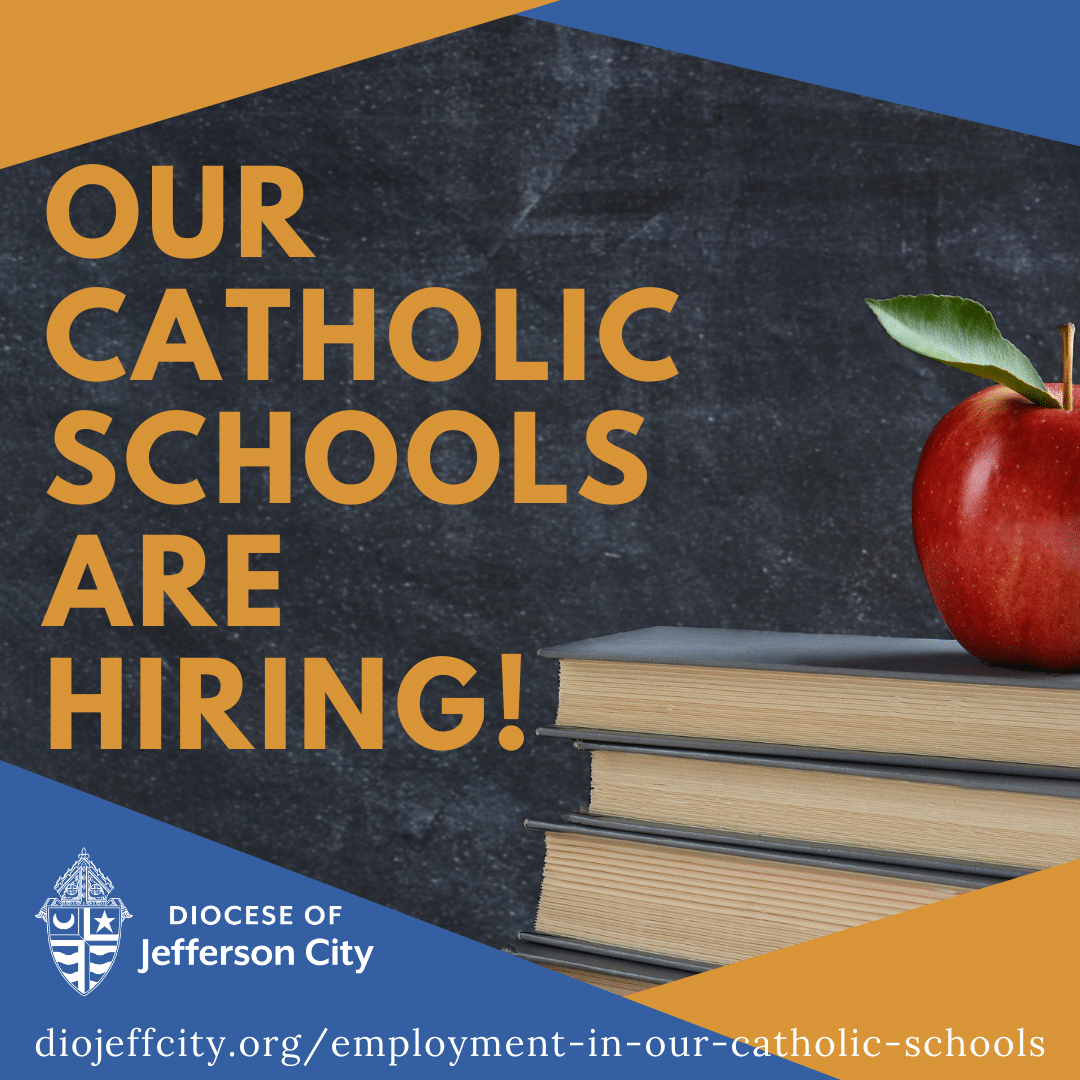 St Anthony/St Lawrence parishes in St Elizabeth has an immediate opening for the secretarial/bookkeeper position. Hourly position with benefits included. If you are interested in applying for this position, please contact Father Aubuchon by emailing only at caubuchon@diojeffcity.org. The deadline for applying for this position is Friday, September 9, 2022.
---
The Missouri Catholic Conference, the public policy agency for the Catholic Church in Missouri, is seeking a legislative analyst/lobbyist to help advance the public policy priorities of the Catholic Church in state legislative work. Bachelor's degree or higher, or equivalent experience, and excellent written and verbal communication skills are required. Prior skills in government relations is preferred, but not required. Must be a Catholic in good standing, residing in or near Jefferson City or willing to relocate. Salary commensurate with experience. Submit cover letter and resume to: Missouri Catholic Conference, PO Box 1022, Jefferson City, MO 65102, or, via email, to mocatholic@mocatholic.org.
---
The Diocese of Jefferson City is seeking a Women's Ministry Coordinator. This is a part-time position. The successful candidate will be a faith-filled Catholic woman able to recruit, equip and encourage women leadership teams in our parishes. This individual will coordinate the vision of women's ministry programs to align with the vision of the Catholic Church, addressing moral and social justice issues for women of all ages. This work will include scheduling special events and working with ministry leaders to select program speakers. Qualifications include a sensitive and caring nature and a clear theological-based understanding of God's design for women with a broad awareness of women's needs and concerns. Interested candidates should contact Cheryl Hertfelder or apply online with Indeed.com.
---
The Diocese of Jefferson City is seeking a licensed LPN or RN to serve as Wellness Care Coordinator, monitoring the health of our active and retired priests. This individual will record changes in the patient's health, act as an advocate and liaison between the patient and the medical provider, and provide education to our priests on how they can take charge of their own health. Limited nursing responsibilities may include patient charting, taking vital signs and wound care. This is primarily a remote position but will require travel within the 38 counties of our diocese; however, most of our priests live and work within seven counties surrounding Jefferson City and Columbia. This position could be part-time or full-time. Benefits are offered for full-time employees. Qualified applicants can apply on Indeed.com or by contacting Cheryl Hertfelder, Director of Human Resources, email HRDir@diojeffcity.org or telephone 573-635-9127, ext. 206.
---
Holy Family Church in Hannibal is accepting applications for a Director of Youth Ministry. The position includes, but is not limited to, coordinating the high school and middle school youth programs including worship, social, and service activities for the youth in the Catholic community of Holy Family Parish in Hannibal. This is a full-time, hourly position with benefits included. If you are interested in applying please email Father Alex Gabriel or call 573-221-1078.
---
St. Patrick Church in Laurie has an opening for Parish Secretary. This is a full time non-exempt hourly position with benefits. Qualified candidates should send their resume by email to Conny at bookkeeperstpatricks1@gmail.com. A full job description is available at https://diojeffcity.org/blog/2022/07/16/st-patrick-parish-secretary/.
---
The Chancery Office of the Diocese of Jefferson City is seeking a full-time (30-40 hours per week) Custodial and Maintenance Coordinator to personally clean and coordinate maintenance services. Hours of work can be flexible.
General duties include:
Emptying trash and cleaning of all offices, cubicles, conference rooms, mail rooms, kitchen, reception area and restrooms
Minor household maintenance such as unstopping toilets, changing light bulbs, painting, minor drywall repair, hanging pictures and moving furniture
Hard surface floor cleaning and spot cleaning carpet
Changing HVAC filters
Ordering cleaning supplies
Maintaining sidewalks, stairways and walkways in inclement weather
Coordinating maintenance for other types of repairs; plumbing, lawn care, parking lot maintenance, pest control, etc.
This position is eligible for all group insurance benefits and matching 403(b) retirement plan. Qualified individuals may contact Cheryl Hertfelder, Director of Human Resources, 573-635-9127 ext. 206 or at HRdir@diojeffcity.org.
---
St. Peter Parish in Jefferson City is seeking a Parish Volunteer Coordinator. This position provides organization, communication, parishioner engagement and leadership of all St. Peter Parish volunteers, as well as general support for the St. Peter parish office. The candidate must enjoy working with the public with a friendly and helpful demeanor, have excellent organizational and communication skills (both verbal and written), be able to take direction, and initiative to complete tasks with minimal supervision. Please see our website at www.saintpeterjc.org/employment for more detailed information.
---