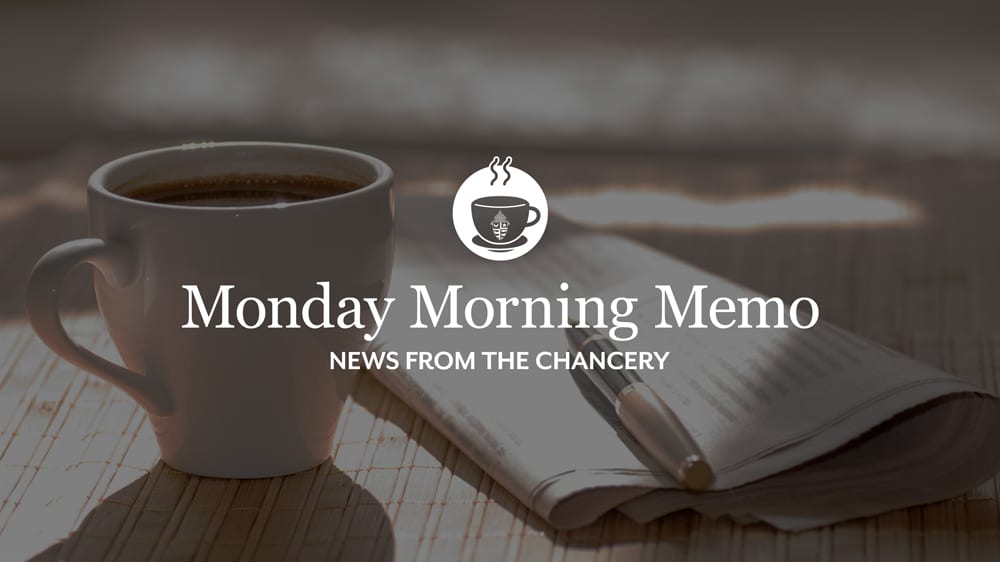 Links to more information are available by clicking on words highlighted in blue or the gold buttons. Click on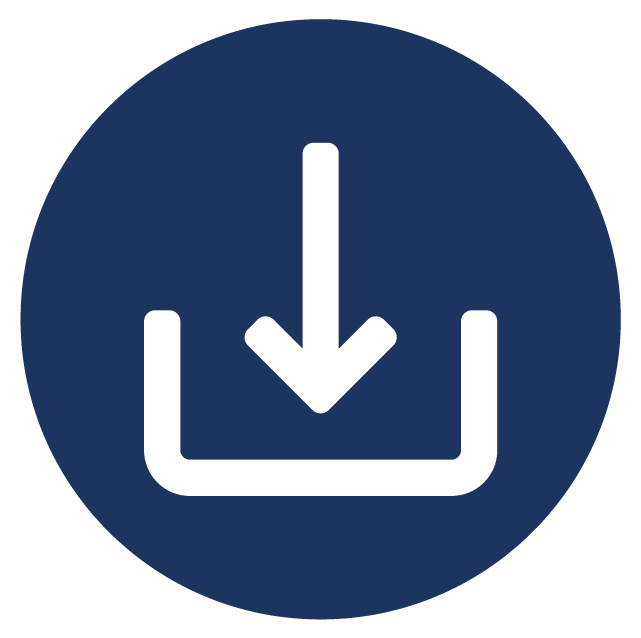 to open our folder with all graphics for use in parish print or digital resources.
---
Bishop's messages
Encouraging vaccines
On July 30, the Centers for Disease Control and Prevention (CDC) updated its COVID-19 recommendations for fully vaccinated people due to the increased surge of the Delta variant in the United States. The recommendations include:
Encouraging fully vaccinated people to wear a mask in public indoor settings in areas of substantial or high transmission.
Getting tested if one is experiencing COVID-19 symptoms.
Getting tested 3-5 days following a known exposure to someone with suspected or confirmed COVID-19 and wearing a mask in public indoor settings for 14 days after exposure or until a negative test result.
Isolating if a person has tested positive for COVID-19 in the prior 10 days or is experiencing COVID-19 symptoms.
Universal indoor masking for all teachers, staff, students, and visitors to schools.
The recommendation for fully vaccinated individuals to continue wearing masks is meant to protect the unvaccinated, including those, such as children under 12, who are not yet eligible for the vaccine.
According to the CDC, infections happen in only a small portion of those who are fully vaccinated and, if infected, those vaccinated have a substantially reduced risk of severe illness and death. However, they warn that there is evidence to suggest that fully vaccinated people who do become infected with the Delta variant can spread the virus to others.
These guidelines reverse the CDC's May guidance that the fully vaccinated no longer needed to wear a mask and are largely in response to the increased spread of COVID-19 (along with emerging variants of the virus) in areas with low vaccination rates. The St. Louis Post-Dispatch recently reported that areas in Southwest Missouri have begun to see an increase in cases, including among those under age 12. In addition, the age of those experiencing severe complications has been decreasing. In Green County, the average age of the 32 residents who died in July was 63, compared to 88 in March 2020.
The full announcement, along with other COVID-19 information, can be found at the CDC website.
As we see an increase in COVID-19 cases, parishes can reference my statement from March 4 encouraging vaccinations. At the end of my statement are links to the Missouri Catholic Conference, the USCCB and the Holy See. Please note we continue to deal with websites which are circulating false information.
We are providing graphics parishes can use in bulletins and social media to encourage vaccinations.
---
Sacrament of Confirmation
All parishes must complete a form by Aug. 31 (even if you plan to not have confirmation in 2022) regarding the celebration of confirmation. You may find all necessary information at diojeffcity.org/confirmation. Please submit a registration form regardless of whether you intend to celebrate the sacrament in 2022. Be sure to read the letters from the master of ceremonies and the director of religious education and youth ministry before completing the form.
---
Annual Parish Reports due Aug. 13
Annual Parish Reports are due Friday, August 13. Reports can be emailed to financeks@diojeffcity.org or mailed to the attention of the Finance Office. Directions for completing the reports and the downloadable form are available on the Finance and Accounting webpage.
---
Diocesan map available for reprint
Maps of our diocese, which can be printed to any size needed, are now available in our graphics repository. Please click on the link below and then click on the folder titled "Diocesan maps." We offer two versions: a full color, with names of parishes, towns, major highways and waterways, and a more simple, black and white version.
---
Catholic Missourian subscriptions
As a reminder, parishes are no longer charged for subscriptions to the Catholic Missourian. Staff are encouraged to send any updates of new parishioners, address changes, marriages, divorces, deaths, etc., as they receive these by using this online form. This includes new families in your Catholic school! Please consider bookmarking this form on your desktop and including this in your workflow when you receive updates on your parishioners! If you have any questions, please contact Denise Barnes.
---
The August Safety Talk from our insurance provider is available for download.
---
Our Lady of the Lake in Lake Ozark has 100 percent cotton, hooded altar server albs available to any parish in the diocese. Sizes available are: size 9 and size 10, two of each; size 12, six; size 14, three and size 16, one. Please contact Steve Jannetti at (417)-402-5564 if interested.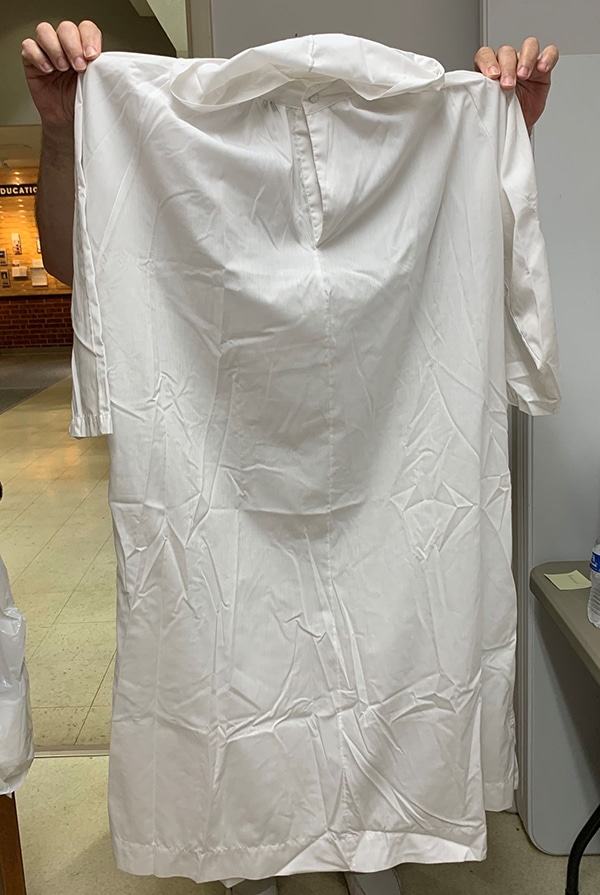 ---
---
Share in bulletins, emails, social media, and websites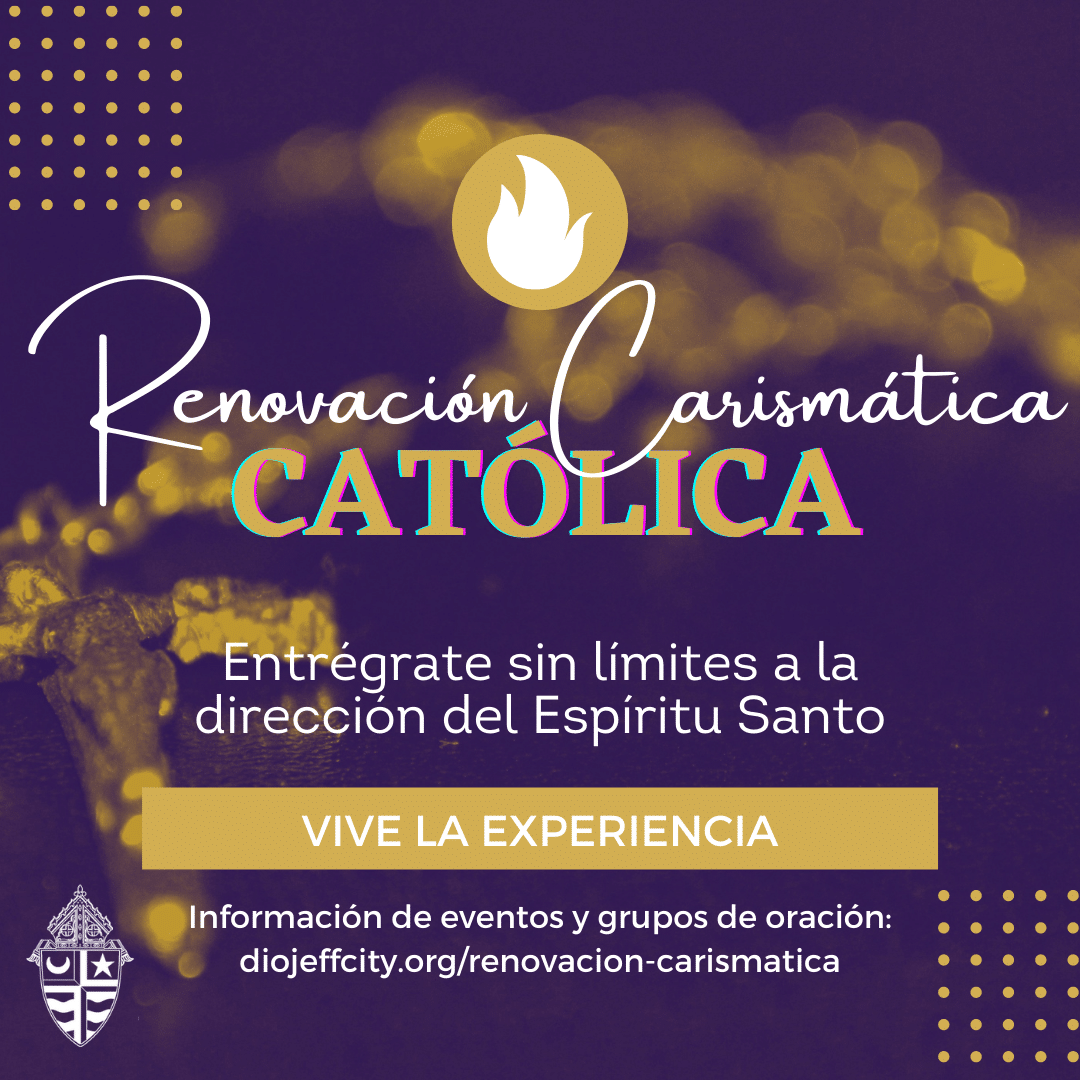 ---
Cursillo weekends coming soon!
Please note the fall men and women's Cursillo Weekends are quickly approaching. The men's weekend will be Sept 30-Oct 3 and the women's will be Nov 4-7. Both to be held in Moberly. Please get those applications in asap! For more information please see your parish contact, visit diojeffcity.org/cursillo or call Marcia Doll at 573-999-5066,
---
---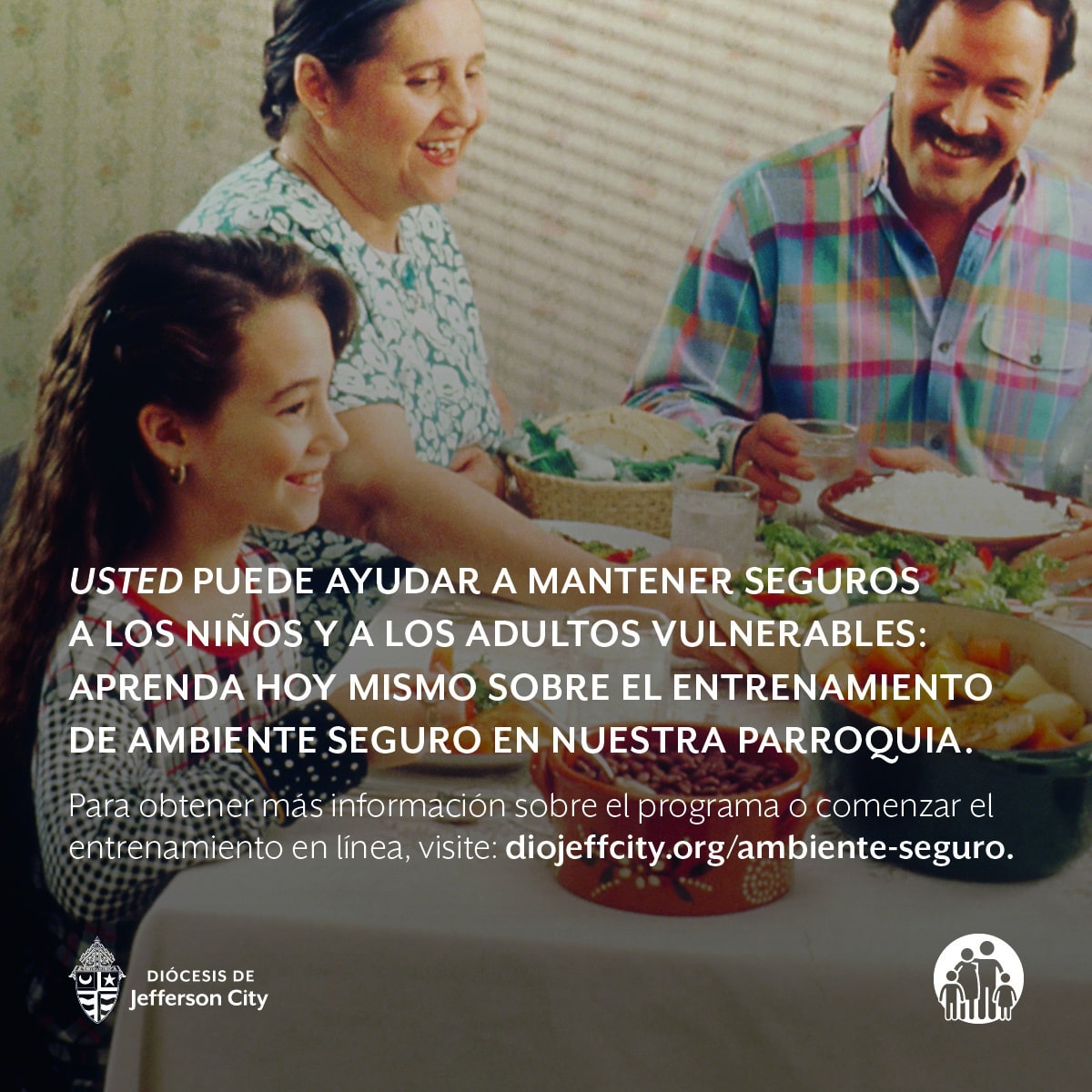 ---
Seven Sisters
Wondering about whether you might be called to participate in the Seven Sisters Apostolate of prayer for priests? From the perspective of Father Jeremy Secrist, one recipient of these committed prayers: "Thank you for the invitation to compose a small token of gratitude for the new Seven Sisters Apostolate here at St. Peter Church. In the ordination rite to the Priesthood of Jesus Christ, among the seven promises made by the ordinandi is a promise to be committed to prayer. The bishop asks the man to be ordained: Do you resolve to implore with us God's mercy upon the people entrusted to your care by observing the command to pray without ceasing? I am very grateful to the Seven Sisters Prayer Apostolate that as the people of God are daily remembered in my personal prayers and the Liturgy of Holy Mother Church, so too prayers are intentionally being offered on my behalf as an unworthy servant in the service of the Lord and His people." Questions? www.SevenSistersApostolate.org or SevenSistersJeffCity@gmail.com
---
---
Employment opportunities
Our Catholic schools are hiring! Go to diojeffcity.org/employment-in-our-catholic-schools/ to learn more!
---
St. Thomas More Newman Center Parish in Columbia is seeking a full-time receptionist/secretary. The ideal candidate will provide a welcoming and friendly face, work with varying populations including college students and families, and have excellent communication skills. They should also have a strong grasp of technology, including the ability to learn and manage the parish database. Compensation will be commensurate with experience and education and includes full benefits. The job requires performing general receptionist functions including greeting and referring visitors, receiving and transferring telephone calls, taking messages, handling Mass intentions, Columbarium sales, sorting and distributing mail and performing general clerical work such as ordering and maintaining office supplies. Duties include scheduling facilities, photocopying and duplicating materials, updating and handling of sacramental records, learn and manage the parish database, and most responsibilities related to parking lot permit sales. Benefits include: health insurance, matching retirement, vacation/sick leave, holiday pay, no nights/weekends. Typical schedule is M-F 8am-4:30pm with a half hour lunch break. Apply by sending resume to the pastor, Fr. Dan Merz, at frdan@comonewman.org.
---
The Diocese of Jefferson City is seeking an experienced Administrative Assistant to support the Director of Parish and Charitable Services. This position not only provides administrative support, but is closely aligned with direct ministry; therefore, the individual will need to have a good knowledge of the Catholic faith in order to be successful. In addition to excellent organizational and Microsoft office skills, the ideal candidate will need to be available for occasional evening and weekend work. We estimate this to be approximately 12 times a year. This is a full-time, year-round position. The Diocese of Jefferson City offers a comprehensive benefit package including paid holidays, paid vacation and sick days, group health, dental, and vision insurance, a flexible spending account and matching 403(b) retirement plan. Qualified candidates should apply on Indeed.com and complete the skills assessment.
---
The Chancery has an opening for a part-time Wellness Case Coordinator. The Wellness Case Coordinator serves as an advocate for priests and deacons within the Diocese of Jefferson City. This individual is responsible for educating priests and permanent deacons so that they can take care of their own health, and if needed, can act as an advocate and liaison between the priest/deacon and their medical provider(s). This is a part-time, virtual position with some travel within the diocese. The ideal candidate will be a RN, LPN or Nurse Case Manager with a Missouri state nursing license, or a social worker with healthcare experience. Candidates are encouraged to send a letter of interest and resume to HRDir@diojeffcity.org.
---
St. Peter Catholic Church in Jefferson City is seeking an Organist/Director of Music and Liturgy. The primary functions of the Organist and Director of Music are to assure, direct and facilitate the continuous quality of the music ministry and to assist the Pastor in directing the liturgical functions at St. Peter Parish. For a detailed description please go to www.saintpeterjc.org/employment
---