Weekly Webinar Quick-Look: Parish + School Websites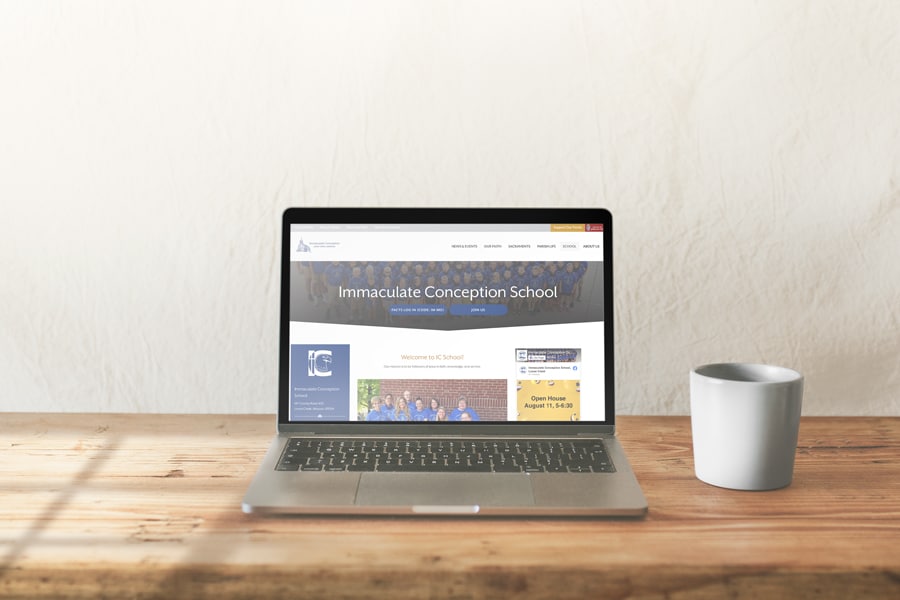 Exploring the key advantages and practicalities of combining your parish and school websites into one.
As summer winds down and the first day of school for our parish schools approaches, Dr. Erin Vader invited me to present a quick update on parish and school websites to Principals and Administrators, who gathered at the Chancery this past week.
I chose to show them an example of a Catholic school in our diocese who has opted to build out their website within their parish website, as part of the "parish website project" that I oversee, to great success!
Immaculate Conception in Loose Creek, Missouri has incorporated all of their school information, organized neatly into pages, housed within the parish website. On our end, we've built out a custom page template (a "home page" for the school, and internal/individual pages for school information) which I have toured in the video below. I invite you to watch that video, and also to click around two strong examples of this parish + school website combination here:
Why should your school and parish consider combining websites?
If your parish and school are considering building out a school website "within" your parish website, here are some key advantages to consider:
One website means one hosting plan, one domain (URL), one website fee to keep track of.

An important caveat to note here: school websites that join the parish in this project will use the URL of the parish; this means the school URL will always be: parishname.diojeffcity.org/school. However, if the school currently has it's own website or a desired URL, we can help you purchase or keep that domain and set up a forwarding service to get your school families to the right place. This solution enables you to keep communication pieces you use, or bookmarked pages families may have in tact but lead viewers to the right place.

One website provides an all-in-one-stop for parish and school families to find the information they need. Perhaps parishioners are curious about the mission, performance or general happenings at the school. They can easily find out right on the parish website! Conversely, maybe your school is looking for a way to better incorproate school families into parish life; hosting your school website on the parish website may help school families get involved in parish life, sacraments and more!
School template pages make transferring information to the parish website, but under the school "brand" consistent and easy. Viewers will clearly understand that they are looking at a "parish" or "school" page on the website with next-to-no additional work for those maintaining content on the back end.
Training is avialable through the diocese for school staff (administrators, teachers, staff, volunteers) to ensure that you have what you need to keep your school website up-to-date easily.
As a bonus: because there are no added fees to build-out school pages on the website, some parishes and schools have split the cost. In at least one case, the school was able to leverage funding for a website to cover the entire cost of the parish website project for 1-3 years! What a gift for the school and parish.
Interested? Here are some practical next-steps to get started!
Our office is ready to assist schools hoping to transfer their existing website, or start-from-scratch to build out website pages within the parish website.
Simply contact Ashley Wiskirchen to set up a meeting and get the ball rolling. She can help assess existing websites for content that should be migrated (copy/pasted, perhaps reorganized or cleaned up for the new website), or start a list of content rooted in best practices and other diocesan school experiences as a guiding example.
We look forward to hearing from you and helping your school communicate effectively the stories of learning, practicalities and policies, and connecting genuinely with your school families online soon!