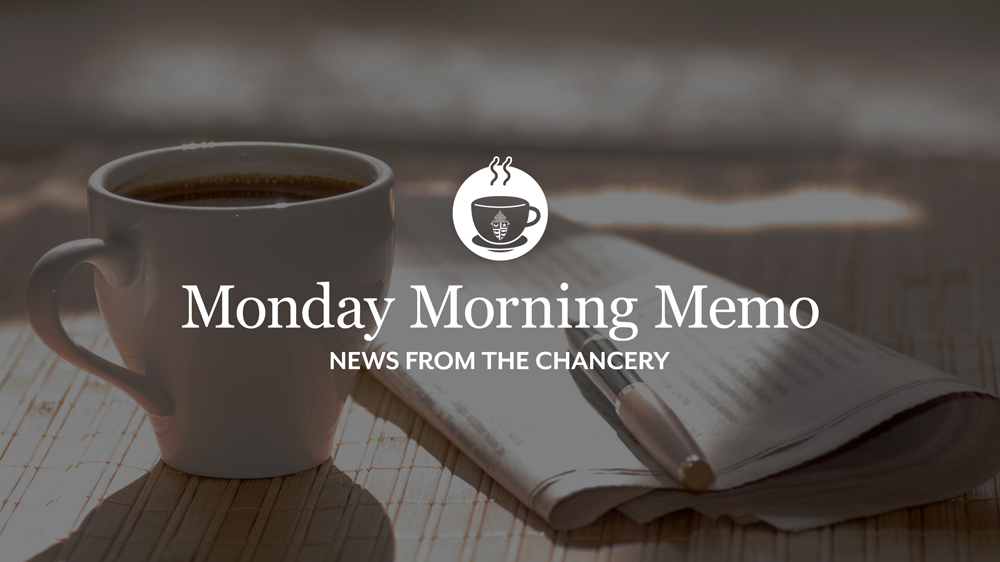 Links to more information are available by clicking on words highlighted in blue or the gold buttons. Click on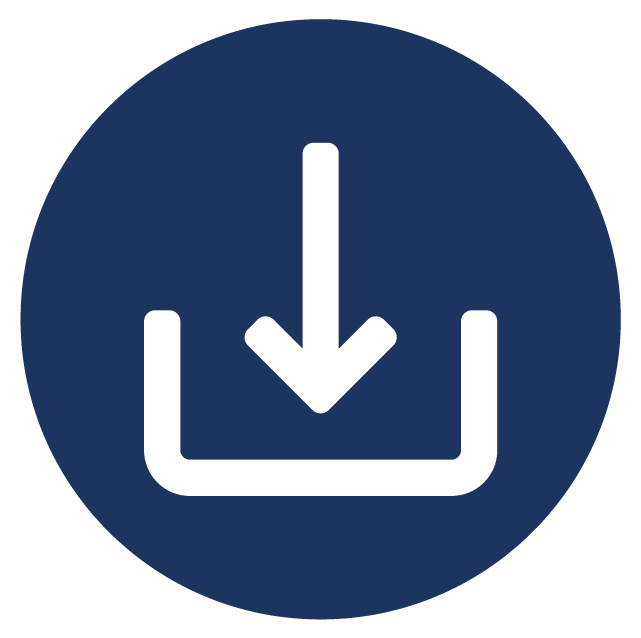 to open our folder with all graphics for use in parish print or digital resources.
---
Bishop's messages
Traditionis custodes
On July 16, 2021, our Holy Father, Pope Francis, issued an apostolic letter motu proprio entitled Traditionis custodes. This document alters church law on the use of liturgical books from before the reforms that followed the Second Vatican Council (1962–65). As with any disciplinary document of the Holy See, careful implementation with a sensitivity to the good of the faithful of our diocese is essential. My statement is available online.
---
Encouraging vaccines
As we see an increase in COVID-19 cases, parishes can reference my statement from March 4 encouraging vaccinations. At the end of my statement are links to the Missouri Catholic Conference, the USCCB and the Holy See.
---
Catholic Charities announces "Sister Hope"
Catholic Charities of Central and Northern Missouri (CCCNMO), the charitable services outreach of the Diocese of Jefferson City, has partnered with Catholic Charities USA (CCUSA) and technology provider X2AI to provide easy, immediate and free access to mental health support through a chatbot named Hope.
Built by clinical psychologists, the chatbot connects clients through AI-driven text conversations that are available in both English and Spanish 24 hours a day, 7-days a week. Research studies indicate using the chatbot led to significantly reduced symptoms, on average by 28% for depression, and 18% for anxiety. If warranted, a connection with a Catholic Charities or other licensed therapist can be made. If someone's response suggests that they are contemplating suicide or are at immediate risk of domestic violence, they will receive an immediate call from a crisis counselor.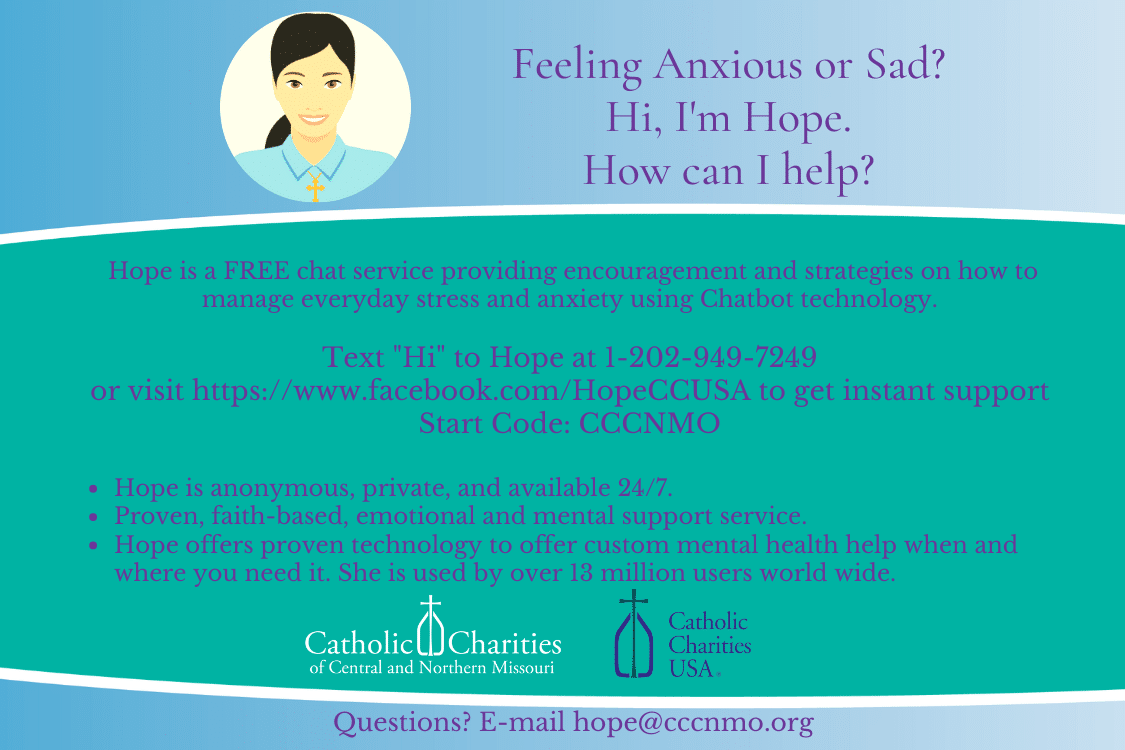 Parishes are encouraged to use the graphics (in English and Spanish) available through the link below to promote this service to parishioners. To access the free, confidential Hope service, users can text "Hi" to 1-202-949-7249, or visit https://www.facebook.com/HopeCCUSA, and utilize the start code: CCCNMO.
---
Update regarding David Haas, composer
From Alec Harris, president of GIA Publications: "Last year, we were deeply heartbroken as dozens of women came forward to share their allegations of sexual assault by composer David Haas. I assume that by now you are aware of the non-profit organization that supports survivors of sexual abuse, Into Account, which recently released a comprehensive investigation and report about these allegations at www.intoaccount.org/reports/. Unfortunately, new information has just surfaced reporting continued grooming behaviors by Mr. Haas towards a young woman, which is why we are reaching out to you now with this email to share the actions and position we have taken with regard to Mr. Haas' music.

"Specifically, we have suspended our publishing and sponsorship relationship with Mr. Haas and have also removed his music, books, and recordings from our catalog and website. While we understand that Mr. Haas maintains his innocence, we took these actions out of compassion and respect for the dozens of survivors who have come forward and because we believe Mr. Haas' music no longer has a place in communities committed to maintaining a safe environment."
As a reminder, as your bishop, I have placed a moratorium on using any David Haas music throughout our diocese. Please ensure your musicians and song leaders are informed of this. Even though his musical works may already be in your hymns or purchased material, please refrain from using them. Of course, we encourage anyone who has experienced sexual abuse or harassment, whether by David Haas, or any member of the church, to come forward. If you have any questions or concerns regarding the use of David Haas' music, please contact Father Dan Merz, chair of the Diocesan Liturgical Commission.

---
New payroll provider for 2022
After thorough research, consultation and prayer, the Diocese of Jefferson City is changing payroll providers from Paycor to Paylocity. We anticipate a four-month implementation schedule to insure success of this transition, so the earliest "go-live" date would be Jan. 1, 2022.
There are several reasons for this change. The customer service and support from Paycor has been less than satisfactory and our efforts to improve the communication have not been successful. Paycor has not been able to fully implement 360 integrations with our benefit providers. Finally, we have experienced several "system errors" causing problems with data integrity.
Paylocity has more than 28 diocesan partners, including the Archdiocese of Kansas City. We have done our due diligence and checked with many dioceses who currently use Paylocity and those who have recently moved to Paylocity. All have given very positive references. With Paylocity, we will be purchasing a bundled service platform which means that all features will be available to all parishes, regardless of size.
Paylocity's pricing is $12/employee/month, plus the one-time implementation fee. In addition, there are year-end fees for W-2 processing, ACA, etc., but in each case, Paylocity's fees are less than Paycor. Paylocity will give us three months free payroll processing which will, in effect, balance out the one-time implementation charges. Paylocity will require monthly invoice payments via ACH from each parish. One or two large parishes may see a slight increase in cost, since exact comparisons were not possible due to Paycor's "a la carte" pricing. But our research indicates most parishes will see some slight savings.
Thanks to the bookkeepers and pastors who participated in the demonstration of the Paylocity system. Please be assured that sufficient training will be provided at no cost to users of the payroll system. As a reminder, if at any time, you would like the Chancery office to assume the task of processing your payroll, we are more than happy to help.
---
Electronic organ
A family in Hermann wishes to give an electronic organ in good condition away to a parish that can put it to good use. It is a Wurlitzer Concert Organ, Model 4700, with two manuals, a full pedalboard and a bench. It is 62 inches wide and 48 inches tall. Photos available upon request. Write to krusedon63@gmail.com or call 573-486-2633 for information.
---
New Diocesan Directory
It is that time of year to begin our work on the new Diocesan Directory. Parish secretaries received an email last week to confirm and update parish contact information. We are adding livestreaming and staff information this year, so please watch for this. If you do not see this email, please contact Denise Barnes; updates are needed by August 2. We appreciate your assistance in providing accurate information for this resource used throughout the diocese. Friendly reminder: bookmark our Update Information page so you can send updates as they happen!
---
Videos for ongoing formation/education/training
If you are working in parish administration, a deacon, a pastoral musician, involved in parish communication or just interested in any of these, consider checking out these video series available on our website (see links below) and on our Vimeo channel (https://vimeo.com/diojeffcity). All of these presentations are by priests and staff from our diocese and can be shared in your parish.
---
Share in bulletins, emails, social media, and websites
Catholic Charities is offering Nutrition Education for Mid-Missouri residents through a free, six-week session on Tuesdays, 5-6 pm, over Zoom from Aug. 3 – Sept. 7. Those interested may register with Erin Perry, who serves at Catholic Charities as an AmeriCorps member, at eperry@cccnmo.org or online at https://forms.gle/wrs8Vt3Bikw5P6oFA.
---
---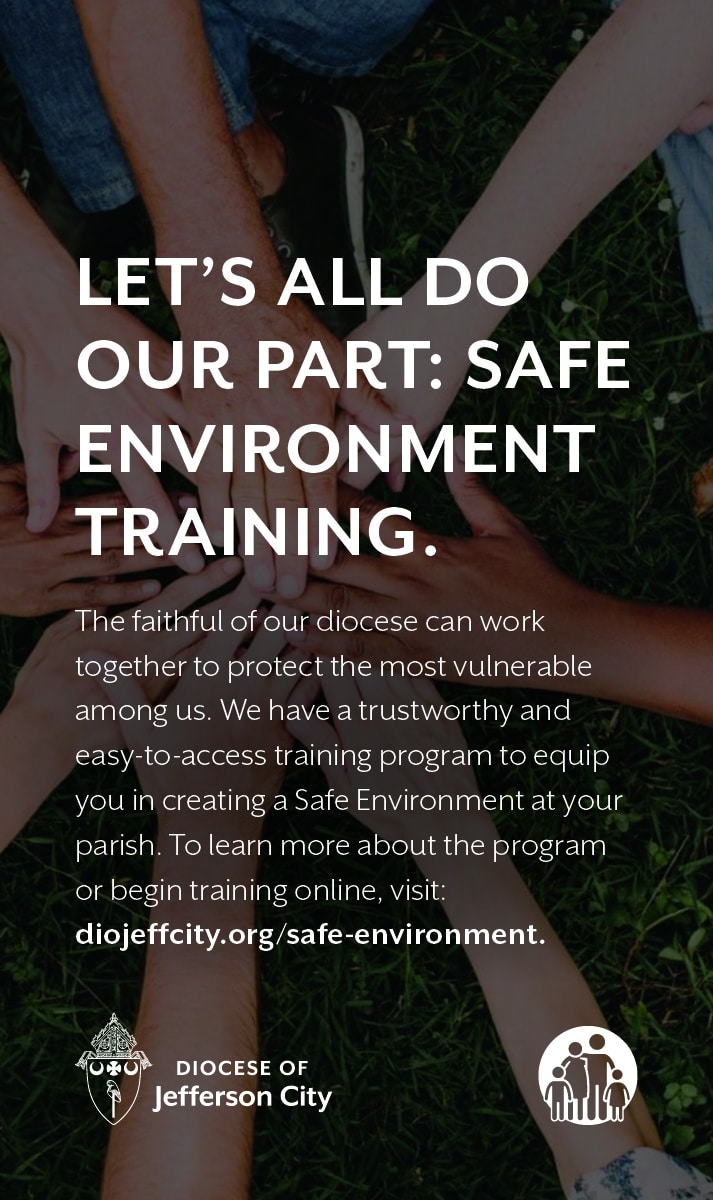 Please remember to let parishioners know about our updated Safe Environment requirements. You can use the bulletin graphics available at this link to promote our policies. (We're still working on the Spanish language versions, thank you for your patience!)
---
Pray for us!
The Carmelite nuns ask parishes to consider using these graphics in print bulletins and on social media to encourage people to send prayer requests to them.
---
Employment opportunities

The Diocese of Jefferson City is seeking an experienced Administrative Assistant to support the Director of Parish and Charitable Services. This position not only provides administrative support, but is closely aligned with direct ministry; therefore, the individual will need to have a good knowledge of the Catholic faith in order to be successful. In addition to excellent organizational and Microsoft office skills, the ideal candidate will need to be available for occasional evening and weekend work. We estimate this to be approximately 12 times a year. This is a full-time, year-round position. The Diocese of Jefferson City offers a comprehensive benefit package including paid holidays, paid vacation and sick days, group health, dental, and vision insurance, a flexible spending account and matching 403(b) retirement plan. Qualified candidates should apply on Indeed.com and complete the skills assessment.
---
The Chancery has an opening for a part-time Wellness Case Coordinator. The Wellness Case Coordinator serves as an advocate for priests and deacons within the Diocese of Jefferson City. This individual is responsible for educating priests and permanent deacons so that they can take care of their own health, and if needed, can act as an advocate and liaison between the priest/deacon and their medical provider(s). This is a part-time, virtual position with some travel within the diocese. The ideal candidate will be a RN, LPN or Nurse Case Manager with a Missouri state nursing license, or a social worker with healthcare experience. Candidates are encouraged to send a letter of interest and resume to HRDir@diojeffcity.org.
---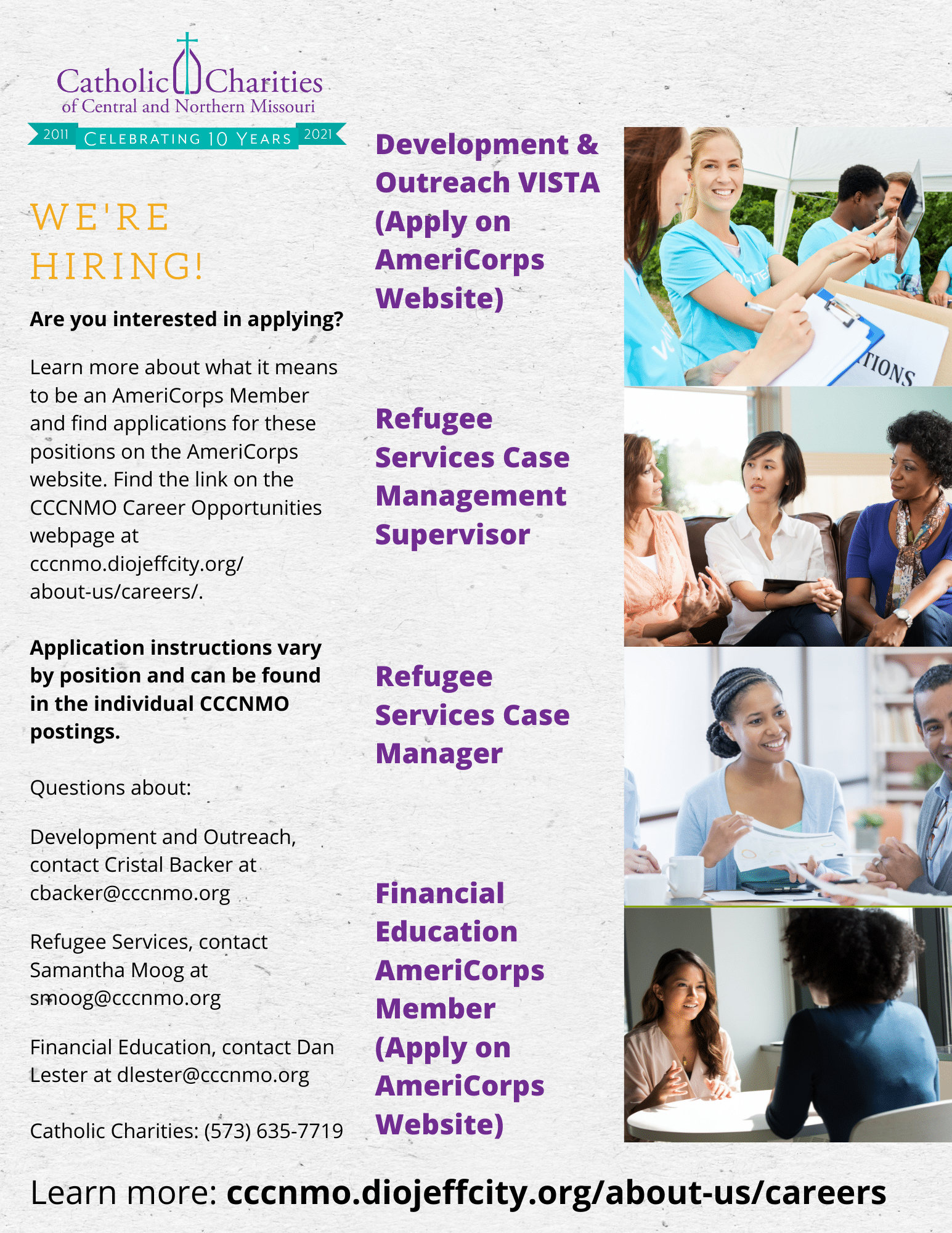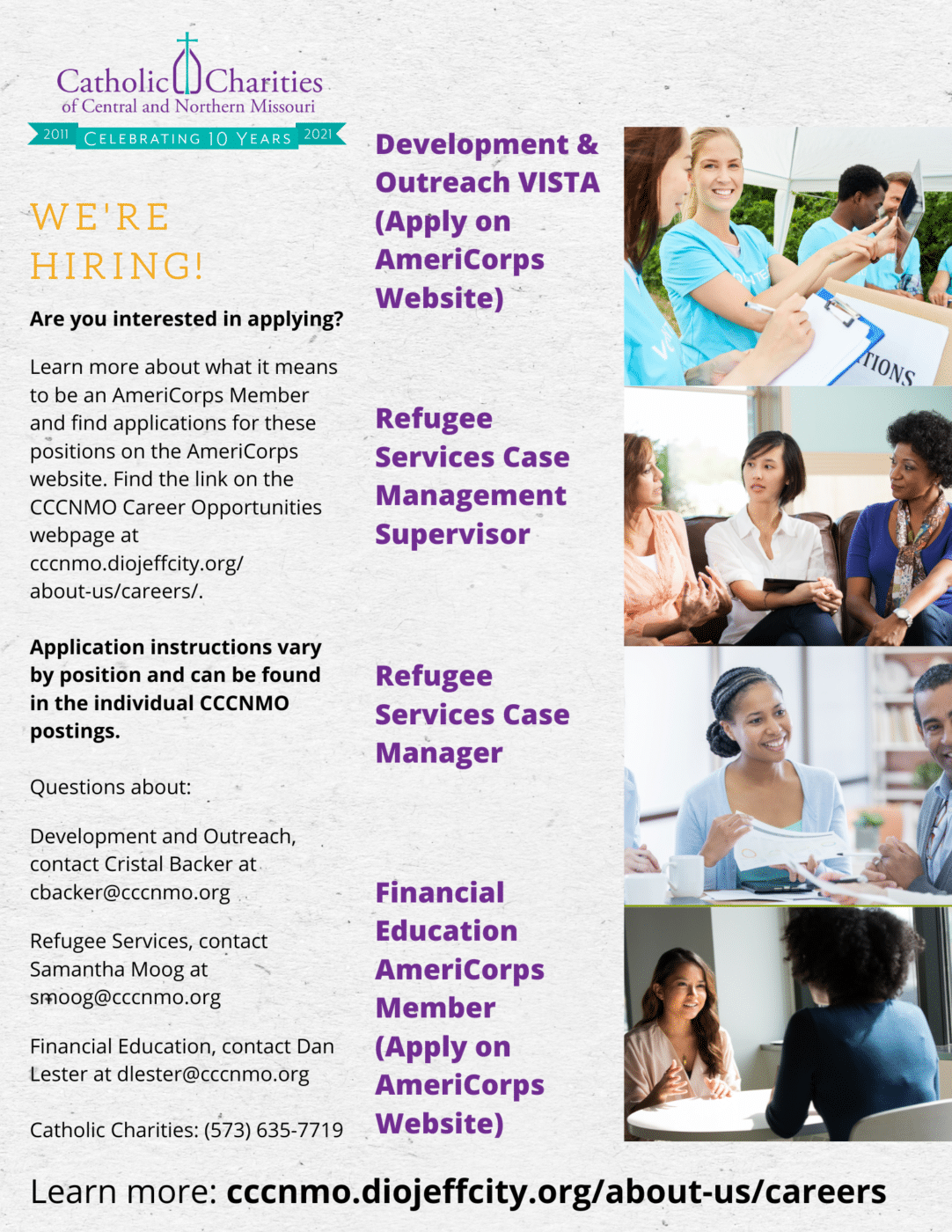 ---
St. Thomas More Newman Center, Columbia, is hiring a Development Director. Established in 1963, Newman is a vibrant Catholic parish located adjacent to the University of Missouri (MU) campus. Newman serves 850 resident parishioner households with a full range of faith formation programs including a highly active campus ministry program that serves approximately 1,000 students at MU, Stephens College and Columbia College, all located in Columbia, Missouri. The parish is looking for someone who is cheerful, enthusiastic, energetic, self-motivated, confident in their ability to ask for financial support and close philanthropic gifts, with a passion for building and maintaining strong relationships with both student and resident parishioners that will bear fruit in the form of philanthropic gifts to Newman. For more information visit www.comonewman.org.
---
St. Peter Catholic Church in Jefferson City is seeking an Organist/Director of Music and Liturgy. The primary functions of the Organist and Director of Music are to assure, direct and facilitate the continuous quality of the music ministry and to assist the Pastor in directing the liturgical functions at St. Peter Parish. For a detailed description please go to www.saintpeterjc.org/employment
---
Our Catholic schools are hiring! Go to diojeffcity.org/employment-in-our-catholic-schools/ to learn more!