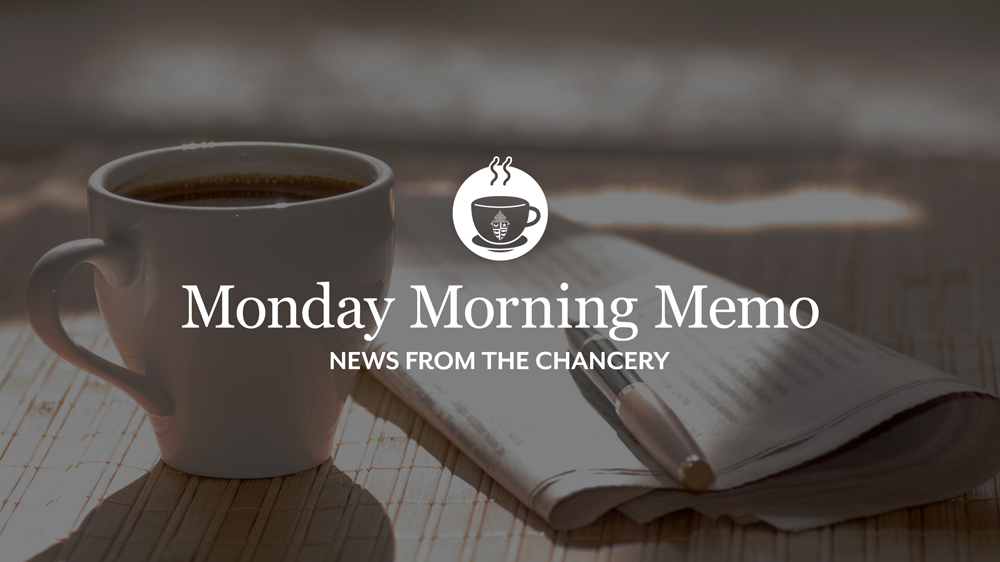 Links to more information are available by clicking on words highlighted in blue or the gold buttons. Click on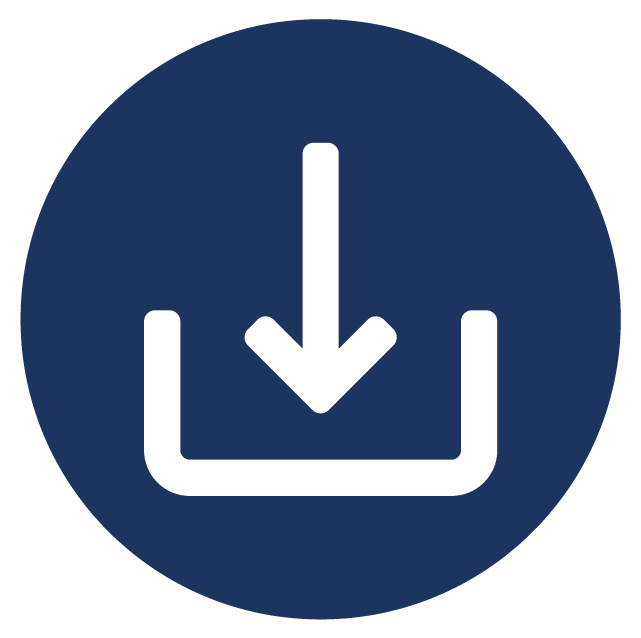 to open our folder with all graphics for use in parish print or digital resources.
---
Bishop's messages
New Diocesan Directory
It is that time of year to begin our work on the new Diocesan Directory. Parish secretaries will be receiving an email this week to confirm and update parish contact information. We are adding livestreaming and staff information this year, so please watch for this. If you do not see this email, please contact Denise Barnes; updates are needed by August 2. We appreciate your assistance in providing accurate information for this resource used throughout the diocese. Friendly reminder: bookmark our Update Information page so you can send updates as they happen!
Grandparents Day
The World Day for Grandparents and the Elderly will be celebrated annually on the fourth Sunday of July, beginning this year on July 25. Pope Francis emphasized in his message that the Lord is always with us and always calling us to play a role in spreading the Gospel no matter our age. "I was called to become the Bishop of Rome when I had reached, so to speak, retirement age and thought I would not be doing anything new. The Lord is always – always – close to us. He is close to us with new possibilities, new ideas, new consolations, but always close to us. You know that the Lord is eternal; he never, ever goes into retirement." The Dicastery for the Laity has created pastoral and liturgical resources in eight languages which parishes can use to celebrate the day.
---
Videos for ongoing formation/education/training
If you are working in parish administration, a deacon, a pastoral musician, involved in parish communication or just interested in any of these, consider checking out these video series available on our website (see links below) and on our Vimeo channel (https://vimeo.com/diojeffcity). All of these presentations are by priests and staff from our diocese and can be shared in your parish.
---
Share in bulletins, emails, social media, and websites
---

---
Pray for us!
The Carmelite nuns ask parishes to consider using these graphics in print bulletins and on social media to encourage people to send prayer requests to them.
---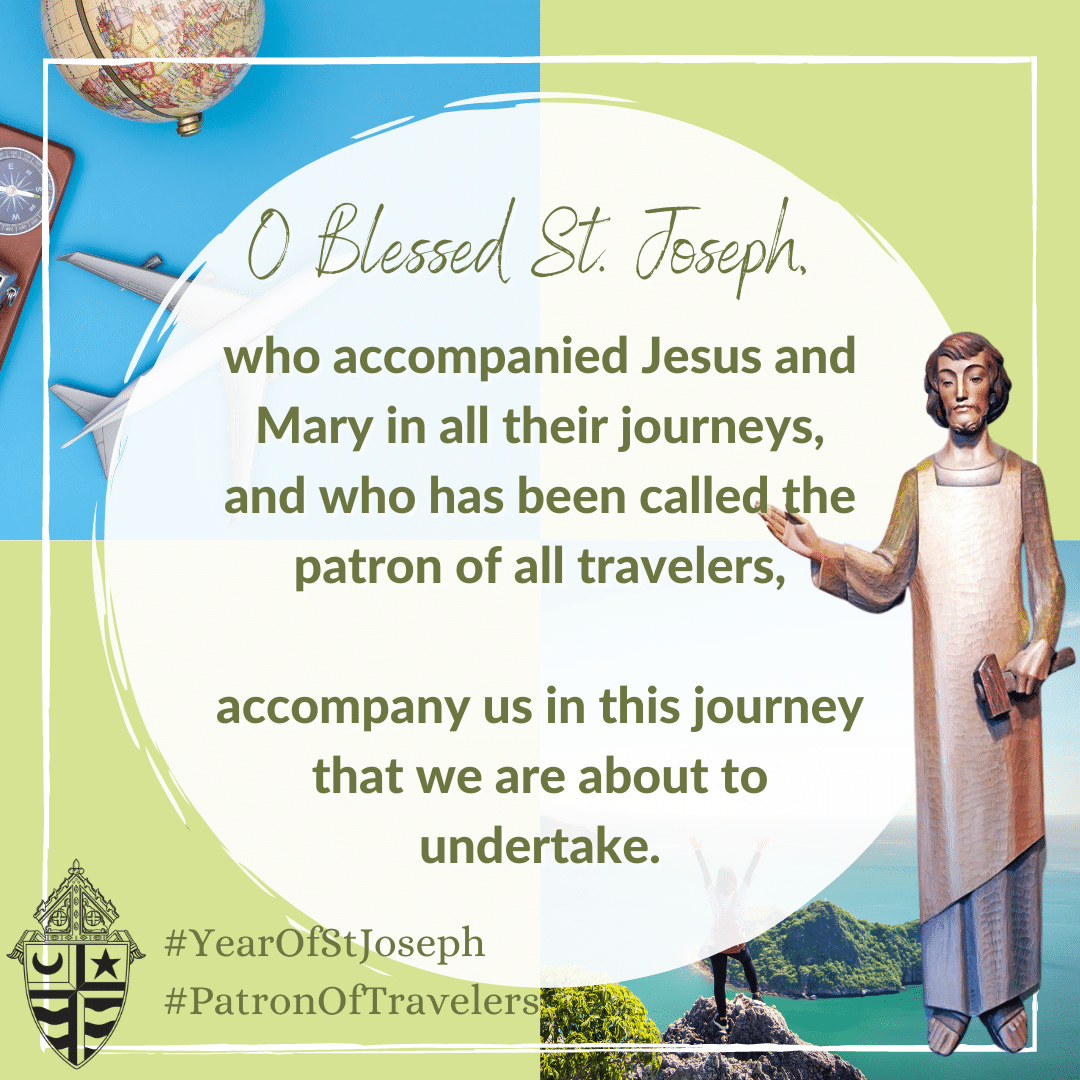 This month we recognize St. Joseph as patron of travelers. This graphic and others are available by the link below.
---
---
Thinking about establishing or joining a Seven Sisters group? Perhaps these words will clarify the importance of the apostolate to the priests served by it: "I take great comfort in the prayers of these women for me. It is as if they are my spiritual support. So often action is required in the life of a priest where time allows only a hasty prayer. The prayer of my Seven Sisters gives me confidence that they are praying with and for me as difficult situations arise. They are a powerful force before God praying on my behalf!" ~Msgr. David Cox Visit SevenSistersApostolate.org for more information, or email SevenSistersJeffCity with questions.
---
---
Employment opportunities
The Chancery has an opening for a part-time Wellness Case Coordinator. The Wellness Case Coordinator serves as an advocate for priests and deacons within the Diocese of Jefferson City. This individual is responsible for educating priests and permanent deacons so that they can take care of their own health, and if needed, can act as an advocate and liaison between the priest/deacon and their medical provider(s). This is a part-time, virtual position with some travel within the diocese. The ideal candidate will be a RN, LPN or Nurse Case Manager with a Missouri state nursing license, or a social worker with healthcare experience. Candidates are encouraged to send a letter of interest and resume to HRDir@diojeffcity.org.
---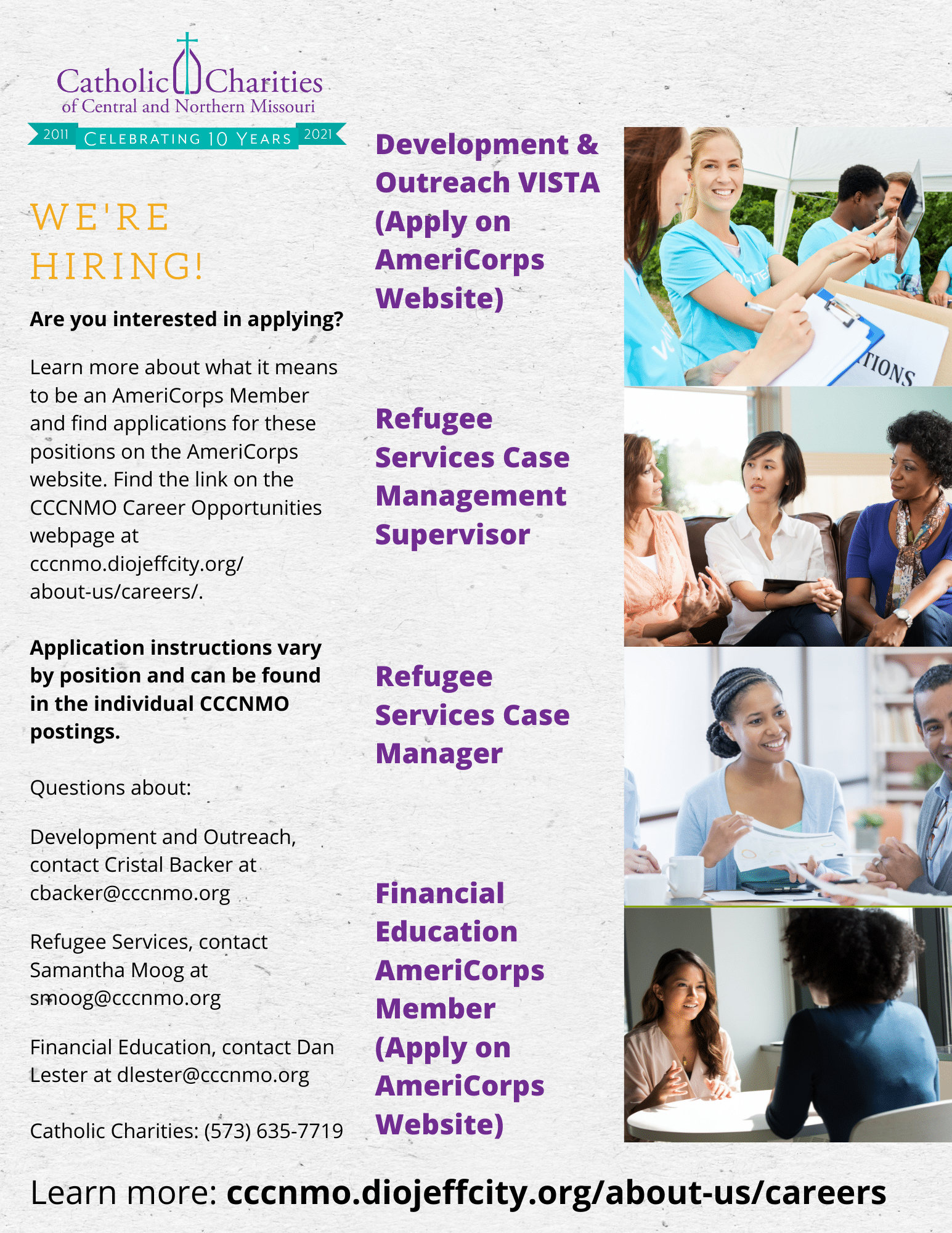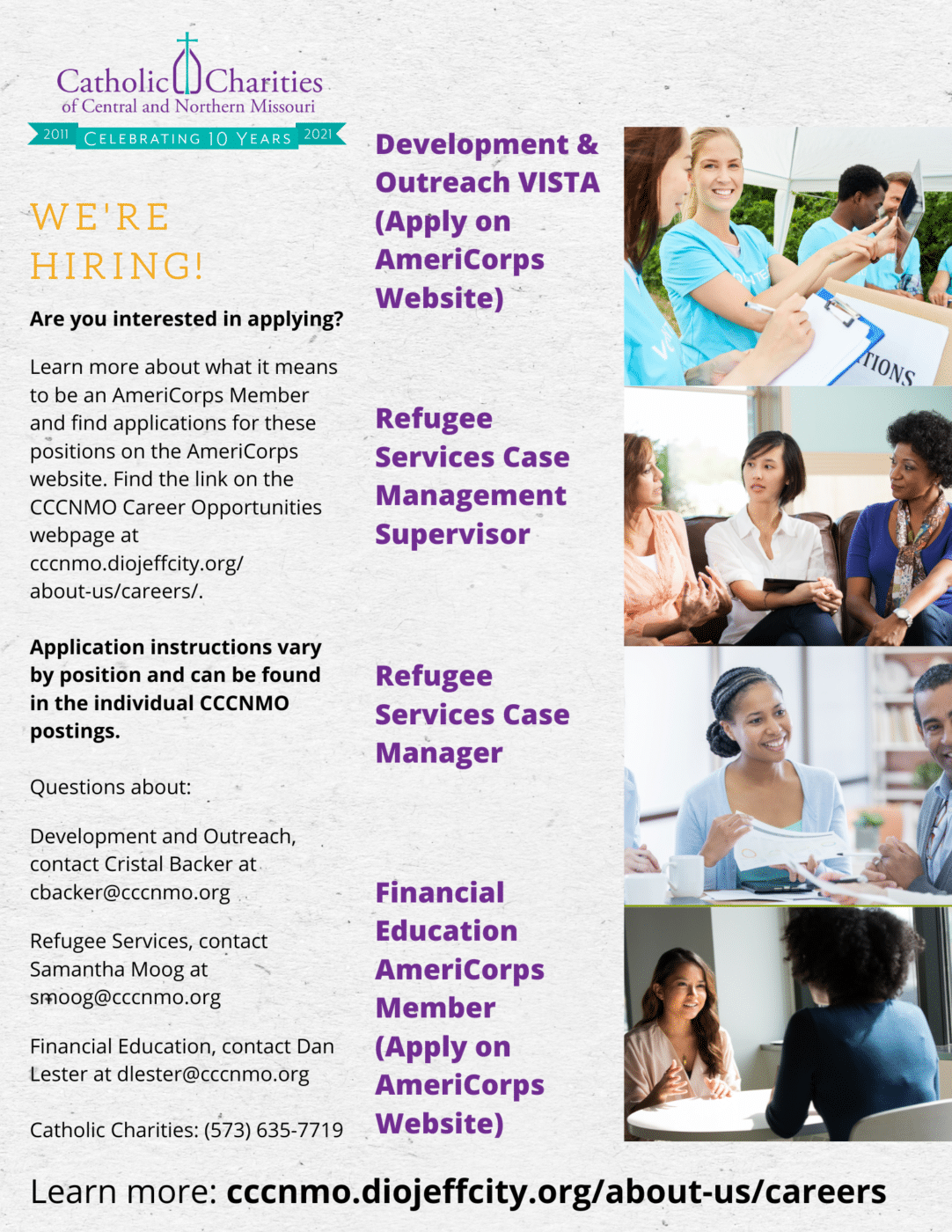 ---
St. Thomas More Newman Center, Columbia, is hiring a Development Director. Established in 1963, Newman is a vibrant Catholic parish located adjacent to the University of Missouri (MU) campus. Newman serves 850 resident parishioner households with a full range of faith formation programs including a highly active campus ministry program that serves approximately 1,000 students at MU, Stephens College and Columbia College, all located in Columbia, Missouri. The parish is looking for someone who is cheerful, enthusiastic, energetic, self-motivated, confident in their ability to ask for financial support and close philanthropic gifts, with a passion for building and maintaining strong relationships with both student and resident parishioners that will bear fruit in the form of philanthropic gifts to Newman. For more information visit www.comonewman.org.
---
Helias Catholic High School is seeking an art instructor for the 2021-2022 school year. This individual will join a dynamic and Christ-centered team in forming "a community of saints and scholars for Christ." The art instructor will plan and implement lessons for students in ninth through 12th grades. A successful candidate is a practicing Catholic in good standing who can minister to students regardless of subject area or a teacher who, consistent with the Mission of Helias Catholic High School, promotes and teaches the Catholic faith as reasonably determined by the principal. Applicants should hold the appropriate Missouri teaching certification or its equivalent. All interested persons should complete the application on the Jefferson City Diocesan website at: https://diojeffcity.org/blog/2019/06/17/employment-in-our-catholic-schools/ and contact the incoming Principal, Spencer Allen at sallen@heliascatholic.com.
---
St. Peter Catholic Church in Jefferson City is seeking an Organist/Director of Music and Liturgy. The primary functions of the Organist and Director of Music are to assure, direct and facilitate the continuous quality of the music ministry and to assist the Pastor in directing the liturgical functions at St. Peter Parish. For a detailed description please go to www.saintpeterjc.org/employment
---
Our Catholic schools are hiring! Go to diojeffcity.org/employment-in-our-catholic-schools/ to learn more!