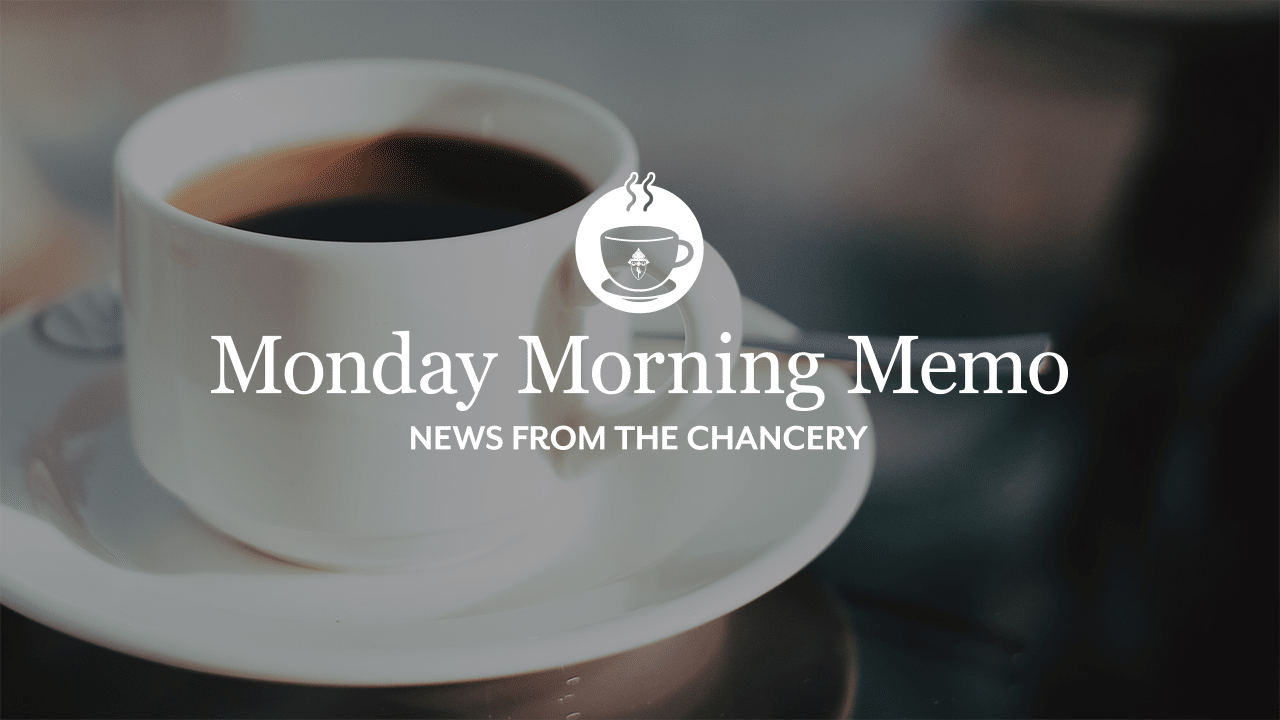 Links to more information are available by clicking on words highlighted in blue.
---
Bishop's messages
Dr. Martin Luther King Jr.
Today we honor the memory of Dr. Martin Luther King Jr., a Christian who sacrificed his life in enabling our country to come to a "more perfect union." His words are perhaps more urgent today, as we struggle with what we can do to heal the terrible divisions and to cease the violence happening in our country. My statement in full is available online. Above are two graphics which can be shared on social media.
---
Go online for Respect Life Week Jan. 18-22
Because of events beyond our control, the March for Life in Washington, DC, has been cancelled. In its place, we invite you to join us for a virtual Respect Life Week Jan. 18-22. You can find the information on our webiste at diojeffcity.org/respect-life-week-2021. Each day you can review the videos and resources below for the day's theme.
---
Criteria for lay Marriage Preparation Facilitators
To properly implement the diocesan Marriage Preparation Policy which will be mandatory July 1, 2021, all clergy (priests and deacons) and the laity who will be collaborating with the clergy as Marriage Preparation Facilitators are required to participate in training.
Priests responsible for preparing engaged couples should invite married couples and qualified lay individuals to become Marriage Preparation Facilitators. The attached document includes criteria for the facilitators and details on the required training. An online registration form for the training will be available soon.
---

Video on worship music licensing
Thank you to the more than 60 individuals who participated in the video conference hosted by the diocesan chapter of NPM on Wednesday. Representatives of ONE LICENSE provided information on copyright law in regards to worship music and how parishes can use the diocesan group agreement to abide by copyright law. For those who missed the session, it is available for a limited time online – click on the video link above.
Parishes wanting to join the group agreement (which gives you a 20% discount from the regular rate) can visit onelicense.net and contact Helen Osman for more details.
---
Sunday of the Word of God
The Third Sunday of Ordinary Time continues to be celebrated as the "Sunday of the Word of God." This year, that will fall on Jan. 24. The Federation of Diocesan Liturgical Commissions (FDLC) has prepared a resource to enrich parish celebrations. It may be found at https://www.fdlc.org/resources
---
World Day for Consecrated Life – Feb. 2
Celebrated in parishes Feb. 6-7
In 1997, Pope Saint John Paul II instituted a day of prayer for women and men in consecrated life. This celebration is attached to the Feast of the Presentation of the Lord on Feb. 2. This feast is also known as Candlemas Day; the day on which candles are blessed symbolizing Christ who is the light of the world. So too, those in consecrated life are called to reflect the light of Jesus Christ to all peoples. The celebration of World Day for Consecrated Life is transferred to the following Sunday in order to highlight the gift of consecrated persons for the whole Church.
Prayers of the Faithful
For those consecrated to God by the vows of chastity, poverty and obedience that they may seek to live their baptismal promises more intensely and have the grace to persevere in their commitment to the Lord and serve with open hearts and willing spirits. We pray to the Lord…
For those who have responded to the prompting of the Holy Spirit to be a consecrated person that they may experience the support of the Church as they continue their growth in holiness. We pray to the Lord…
To use in bulletins Jan. 30-31 or Feb. 6-7: World Day for Consecrated Life is Feb. 2. Please pray for all those who have made commitments in the consecrated life, and be sure to thank them on their special day. May they continue to be inspired by Jesus Christ and respond generously to God's gift of their vocation.
---
---
---
---
---
Share in bulletins, emails, social media, and websites
April is Child Abuse Prevention Month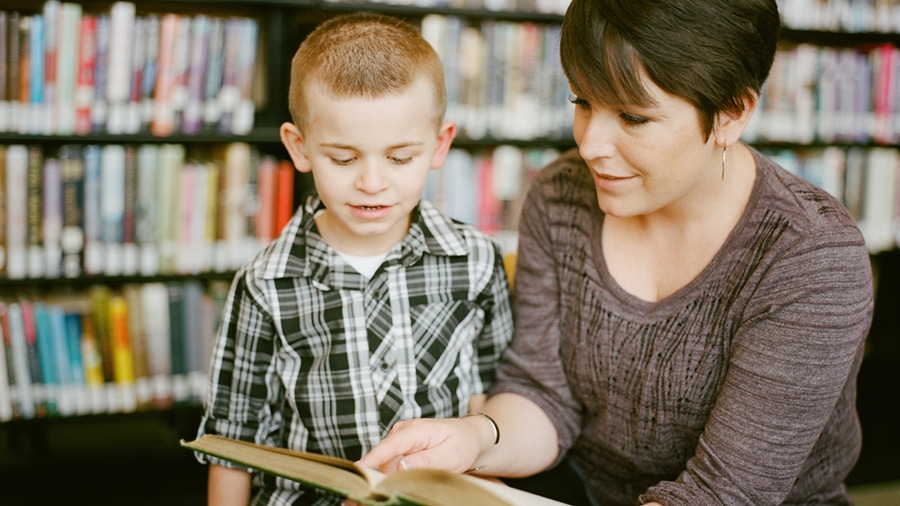 With our new safe environment policies effective Nov. 1, we have developed 12 graphics and a flyer of public service announcements parishes can use in bulletins, mailings and social media to explain the new policies. There is also a tutorial to help people understand how to register in the program. The new policies include new categories for volunteers and training for everyone is emphasized. It is important we provide information to parishioners so they can be engaged in keeping our children safe.
You will find all of these resources at diojeffcity.org/safe-environment. Also the direct links for the graphics are: one column bulletin | two column bulletin | social media. You are encouraged to rotate these, using a new one each month. Please contact Connie Schepers if you have questions or need other resources.
---
Women's ministry video series
The Women's Ministry of Jefferson City was established to help the women of our diocese connect with each other so that we can support each other in our spiritual journeys. We find inspiration and comfort in praying with each other, in talking with each other, and in sharing the stories of our faith journeys. Some of the women of our diocese have shared their stories in podcasts. These stories (diojeffcity.org/womens-ministry/reflections-from-within/) are from ordinary women doing the best they can to serve their families, their parishes, their communities and, above all, their God. Their experiences tell our story, too, about times of sorrow, challenges, hope, faith, love and joy. Each week, there will be a new podcast on this website. Let us go to our favorite resting places with our favorite beverages and spend some time with our sisters in Christ by listening to these podcasts.
---
Scholarships available
Applications for the 2021-2022 Simon Scholarship are being accepted through March 31, 2021. Applications can be acquired through the pastor or parish life collaborator or may be downloaded at diojeffcity.org/scholarship.
---
---
This year the Missouri Catholic Conference canceled its in-person Annual Assembly due to COVID-19. As an alternative, they are offering a podcast series, MCC from the Capitol. MCC executive director Deacon Tyler McClay hosts six great episodes focused on issues of interest and concern to Catholics. You can find the podcasts on their website and Spotify. Below is a description of one of the episodes, addressing Catholic education.
---
Employment opportunities
The Diocese of Jefferson City is seeking a Payroll Specialist who will be responsible for all payroll processes including the management of employee data, ensuring the accuracy of timekeeping records, computing wages, and ensuring employees are paid correctly and on time. This position will also act as a back-up to the Benefits Coordinator. The ideal candidate will have experience processing payroll for a large employer with multiple divisions. Candidates should apply on Indeed.com and include a cover letter identifying their experience with different payroll and accounting software. An excel assessment will be a part of the application process.
---
The Diocese of Jefferson City is seeking a bi-lingual Director of Religious Education and Youth/Young Adult Ministry administer the curriculum approval process within the Diocese of Jefferson City for parish based religious education. He/she will provide direct support for and development of parish-based young adult leaders and youth ministers in the outreach, evangelization, faith formation and pastoral care of their youth. For more information, visit diojeffcity.org/employment.
---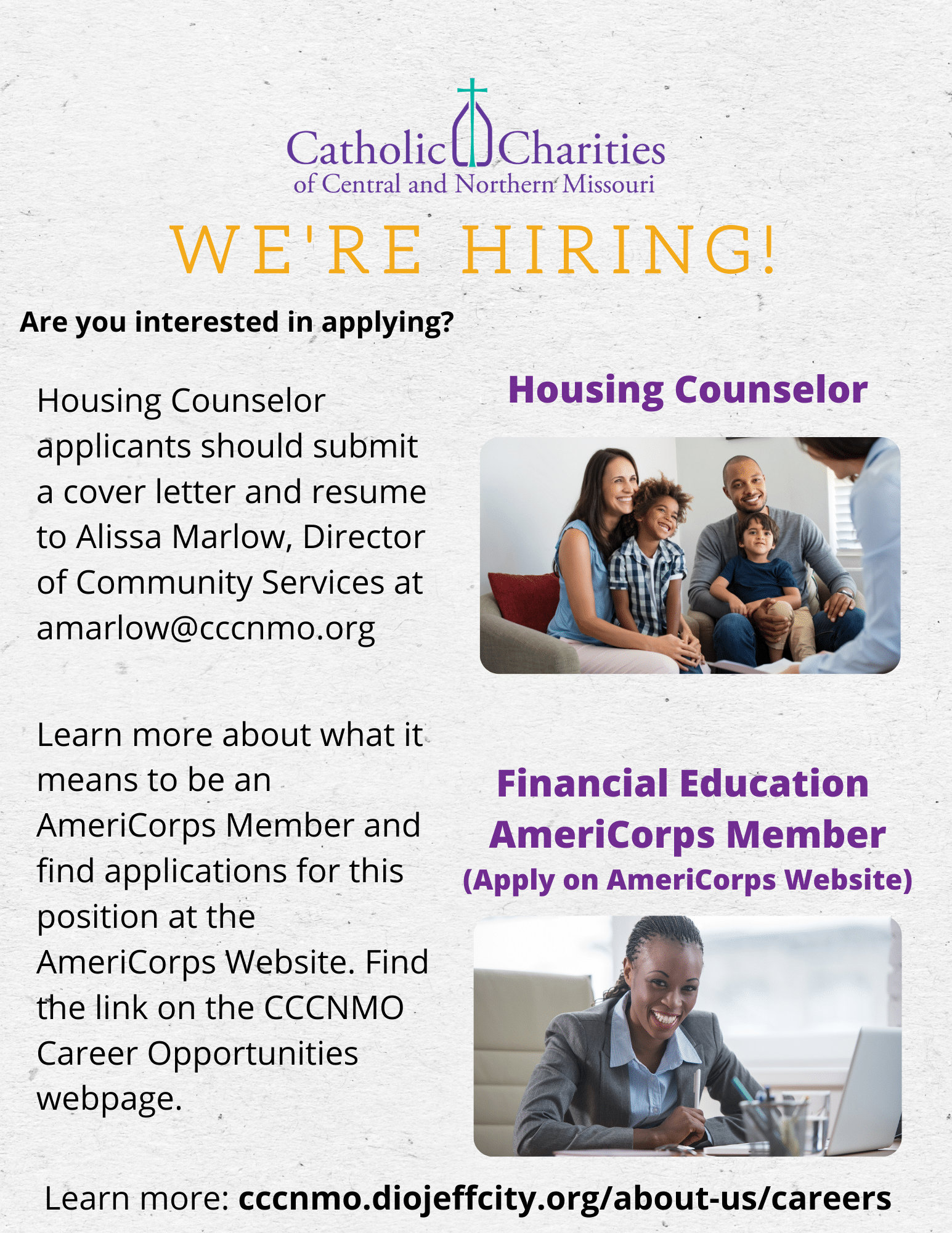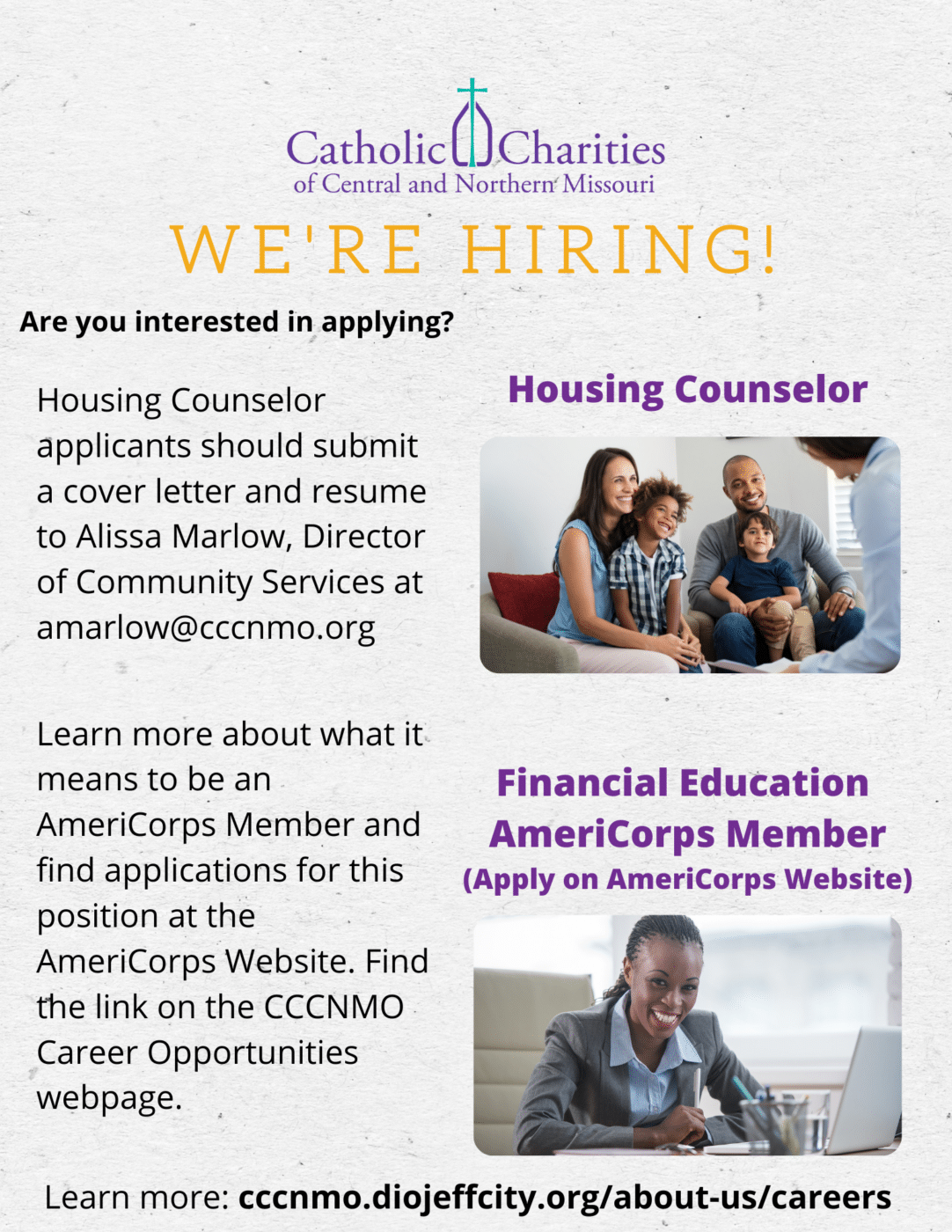 Catholic Charities of Central and Northern Missouri has the following career opportunities available: Housing Counselor and Financial Education AmeriCorps Member. Job descriptions and application details can be found at cccnmo.diojeffcity.org/about-us/careers/
---
Two administrative assistant positions are available at the Chancery and there are several openings in our Catholic schools. Please promote these openings.
---