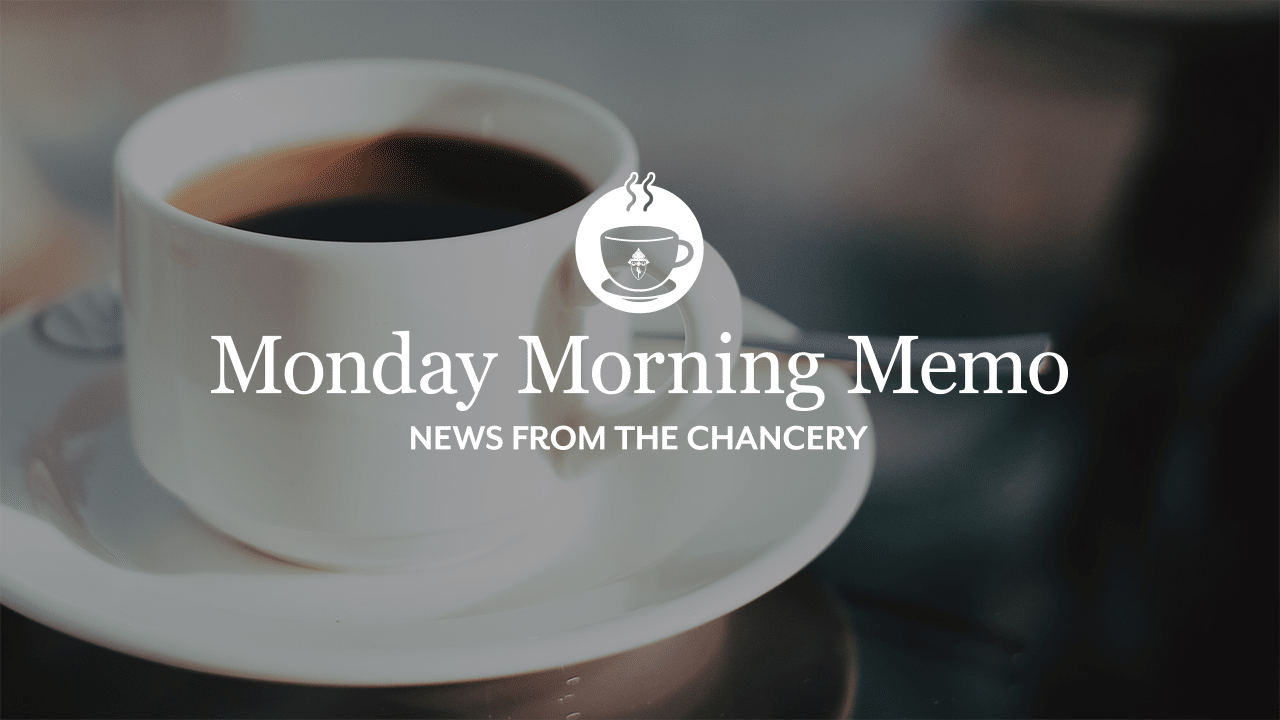 Links to more information are available by clicking on words highlighted in blue.
---
Bishop's messages
Seeking marriage preparation facilitators
With the new diocesan policy for marriage preparation (available at https://diojeffcity.org/marriage-preparation/), pastors are encouraged to recruit lay facilitators to work with engaged couples. This policy will be mandatory on July 1, 2021. In the coming months, the diocese will be providing resources and trainings for the clergy and those who will be involved in marriage preparation.
---
New mileage rates
Effective January 1, the IRS has lowered the mileage reimbursement rate to $0.56 per mile. The diocesan rate coincides with the IRS rate, so any mileage incurred on or after Jan. 1, 2021 will be at the new rate. The mileage rate for volunteers is unchanged, remaining at $0.14 per mile. Please find attached the Diocese of Jefferson City Policy on Mileage Reimbursement, enacted Feb. 13, 2020. Please contact Deacon Joseph Braddock if you have questions.
---
---
Promote your event!
Let us help promote your parish, school, organization or diocesan event. If you would like your event to be publicized in The Catholic Missourian and on the diocesan website calendar of events, please remember to submit an event listing request form. This form will also provide an opportunity for you to place a paid advertisement in the printed edition of The Catholic Missourian.
---
Scholarships available
Applications for the 2021-2022 Simon Scholarship are being accepted through March 31, 2021. Applications can be acquired through the pastor or parish life collaborator or may be downloaded at diojeffcity.org/scholarship. 
---
Updates for Diocesan Directory
Updates for the printed 2020-21 Diocesan Directory can be downloaded by clicking on this link. For your convenience, we have also provided a list of diocesan emails for all priests. Note that some of the pastor appointments are effective Jan 1. You can find all official appointments on our website here.
---
---
---
Share in bulletins, emails, social media, and websites
Women's ministry video series
The Women's Ministry of Jefferson City was established to help the women of our diocese connect with each other so that we can support each other in our spiritual journeys. We find inspiration and comfort in praying with each other, in talking with each other, and in sharing the stories of our faith journeys. Some of the women of our diocese have shared their stories in podcasts. These stories (diojeffcity.org/womens-ministry/reflections-from-within/) are from ordinary women doing the best they can to serve their families, their parishes, their communities and, above all, their God. Their experiences tell our story, too, about times of sorrow, challenges, hope, faith, love and joy. Each week, there will be a new podcast on this website. Let us go to our favorite resting places with our favorite beverages and spend some time with our sisters in Christ by listening to these podcasts.
---
---
This year the Missouri Catholic Conference canceled its in-person Annual Assembly due to COVID-19. As an alternative, they are offering a podcast series, MCC from the Capitol. MCC executive director Deacon Tyler McClay hosts six great episodes focused on issues of interest and concern to Catholics. You can find the podcasts on their website and Spotify. Below is a description of one of the episodes, addressing Catholic education.
Employment opportunities
The Diocese of Jefferson City is seeking a Payroll Specialist who will be responsible for all payroll processes including the management of employee data, ensuring the accuracy of timekeeping records, computing wages, and ensuring employees are paid correctly and on time. This position will also act as a back-up to the Benefits Coordinator. The ideal candidate will have experience processing payroll for a large employer with multiple divisions. Candidates should apply on Indeed.com and include a cover letter identifying their experience with different payroll and accounting software. An excel assessment will be a part of the application process.
---
The Diocese of Jefferson City is seeking a bi-lingual Director of Religious Education and Youth/Young Adult Ministry administer the curriculum approval process within the Diocese of Jefferson City for parish based religious education. He/she will provide direct support for and development of parish-based young adult leaders and youth ministers in the outreach, evangelization, faith formation and pastoral care of their youth. For more information, visit diojeffcity.org/employment.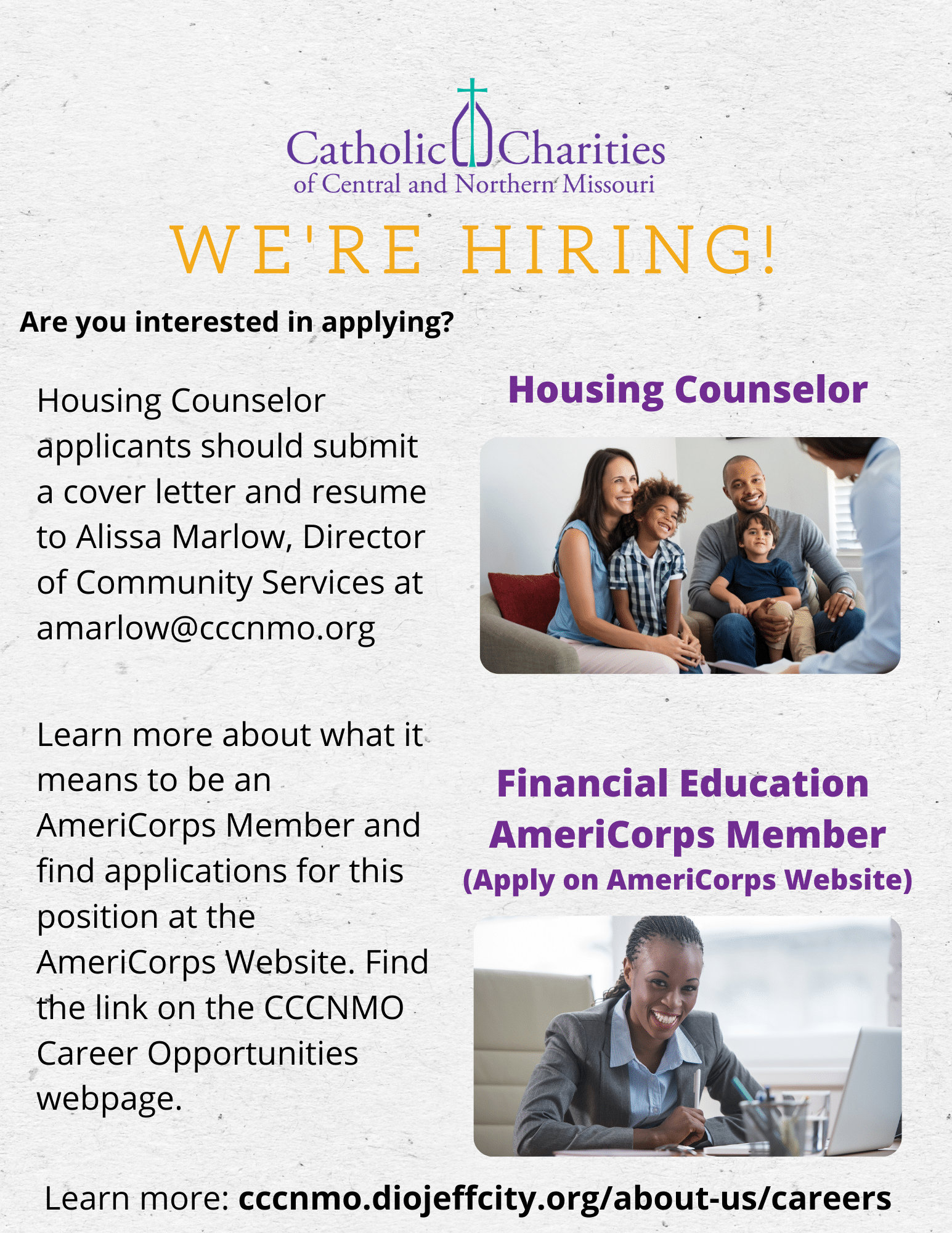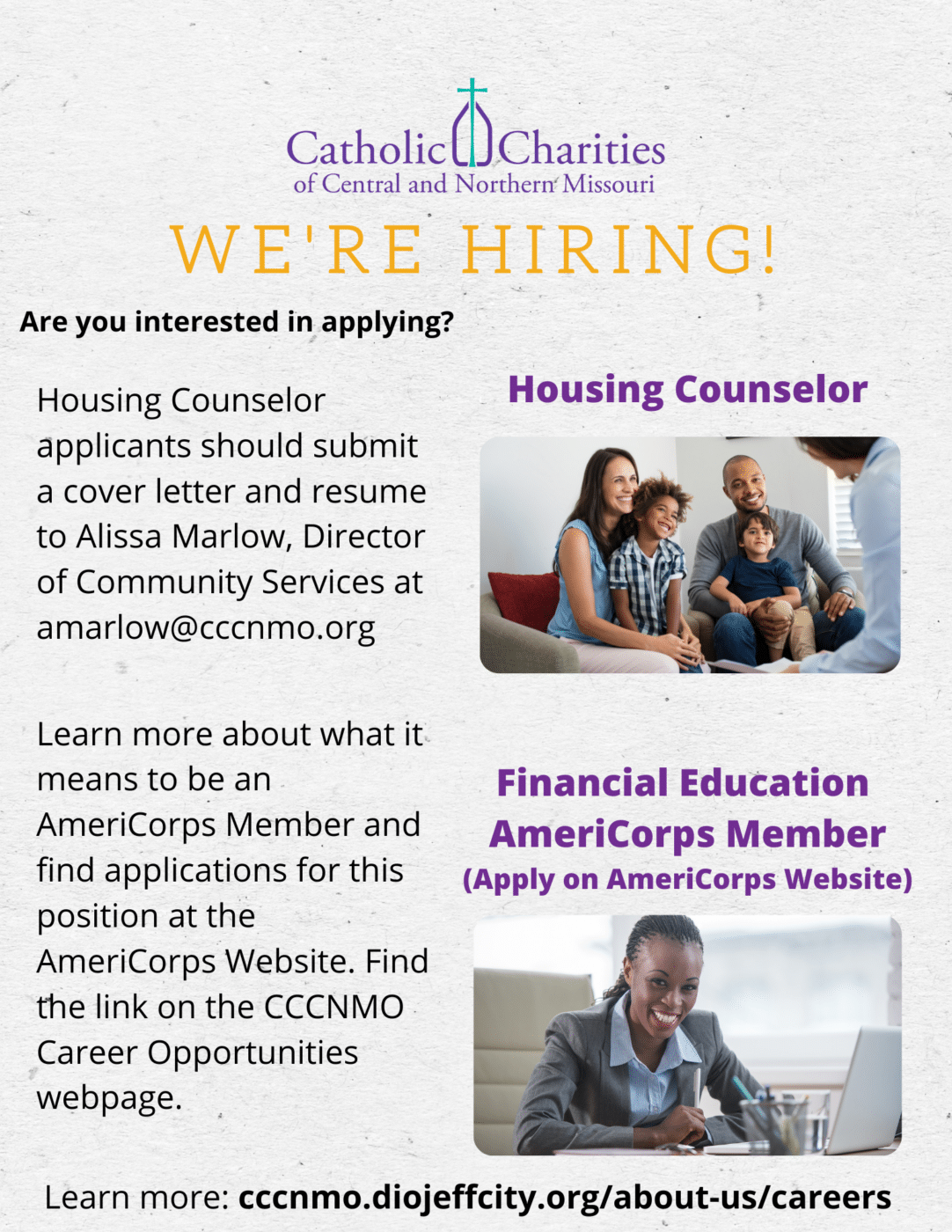 Catholic Charities of Central and Northern Missouri has the following career opportunities available: Housing Counselor and Financial Education AmeriCorps Member. Job descriptions and application details can be found at cccnmo.diojeffcity.org/about-us/careers/
Two administrative assistant positions are available at the Chancery and there are several openings in our Catholic schools. Please promote these openings.
---