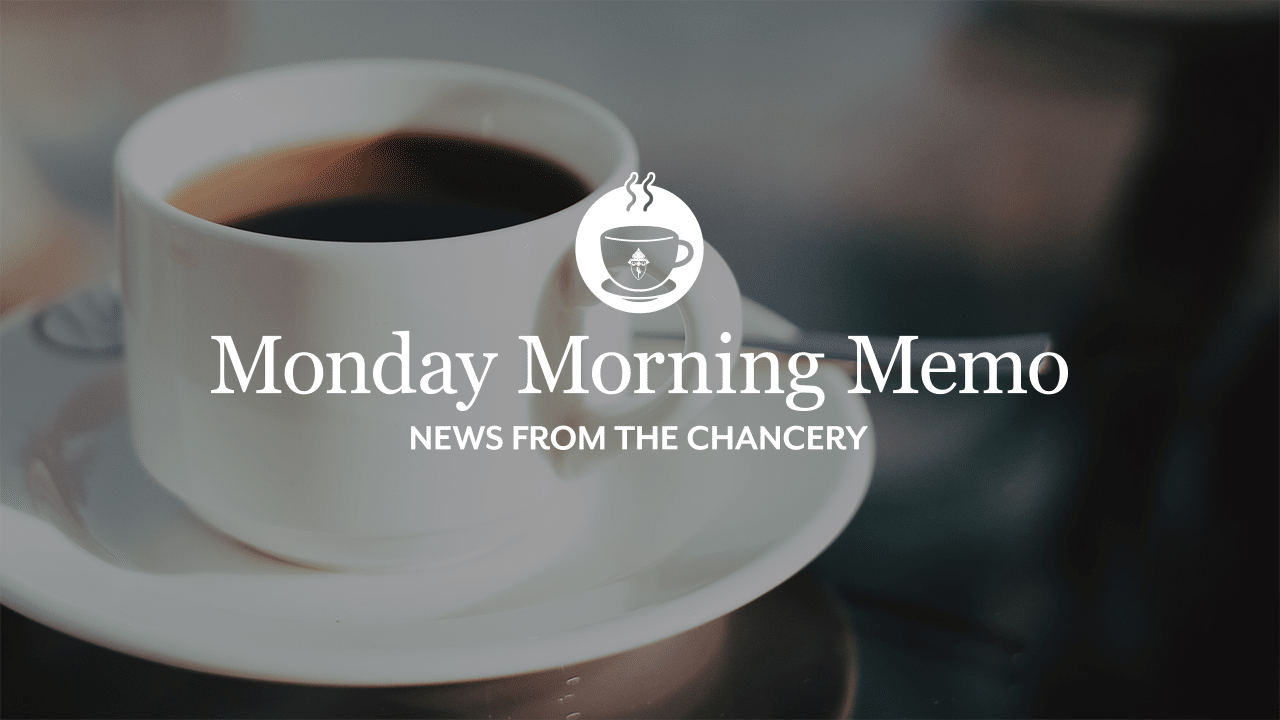 Links to more information are available by clicking on words highlighted in blue.
---
Bishop's messages

Online Advent retreat
All are invited to join Father Michael McAndrews, CSSP, and Deacon Ed and Valerie Stroesser for our online Advent retreat, which begins today, Monday, at 7 p.m. on Facebook at facebook.com/diojeffcity.
---
Governor's Office, USCCB, Missouri bishops provide information on COVID-19 vaccines for faith communities
The State of Missouri has updated the COVID-19 website to help answer questions you may hear from your congregation concerning the COVID-19 vaccines, such as, "Does the vaccine contain aluminum or fetal tissue?" or "How safe is the vaccine?" Those questions can be found under "Safety" on this link. There is also a "Rumor" section that you might find helpful as well.
The US Conference of Catholic Bishops and the Missouri Catholic Conference have also issued statements to address ethical concerns about vaccines and the use of aborted fetal stem cells in vaccine research. Please consider distributing these resources to your parishioners, too.
---
Catholic Missourian subscriptions
As a reminder, parishes are no longer charged for subscriptions to the Catholic Missourian. Staff are encouraged to send any updates of new parishioners, address changes, marriages, divorces, deaths, etc., as they receive these by using this online form. Please consider bookmarking this form on your desktop and including this in your workflow when you receive updates on your parishioners! If you have any questions, please contact Denise Barnes.
---
Music licensing requirements
Parishes using the ONE License group agreement are reminded they are required to report all music usage, both on the Internet and in print, each week. Reporting is easy via their online tools and ensures composers and artists are compensated for their music. For more information, view ONE License's tutorial videos on reporting.
Please also ensure you provide credit with each use of the music, whether in print or online. You can follow this fomat:
Words: John Doe, © 1988 ABC Music Co.; Music: Jane Doe, © 1990 XYZ Publications. Reprinted with permission under ONE LICENSE #A-xxxxxxx. All rights reserved.
As a reminder, Oregon Catholic Press' offer of free permissions to sing, project and reprint copyrights in worship aids for livestreamed celebrations ended Nov. 28, 2020. If you have questions about this licensing agreement, please contact us at communication@diojeffcity.org.
---
Chancery protocols
Effective immediately, the Chancery staff will be abiding by the following protocols:
We are restricting visits from external partners, customers, parish priests, school personnel, candidates and any other guests in the Chancery offices. In person meetings are to be cancelled and scheduled virtually if possible.
Chancery staff are to refrain from visiting parish offices and schools in person. All business trips are cancelled.
---
Share in bulletins, emails, social media, and websites
Nutrition counseling in Jefferson City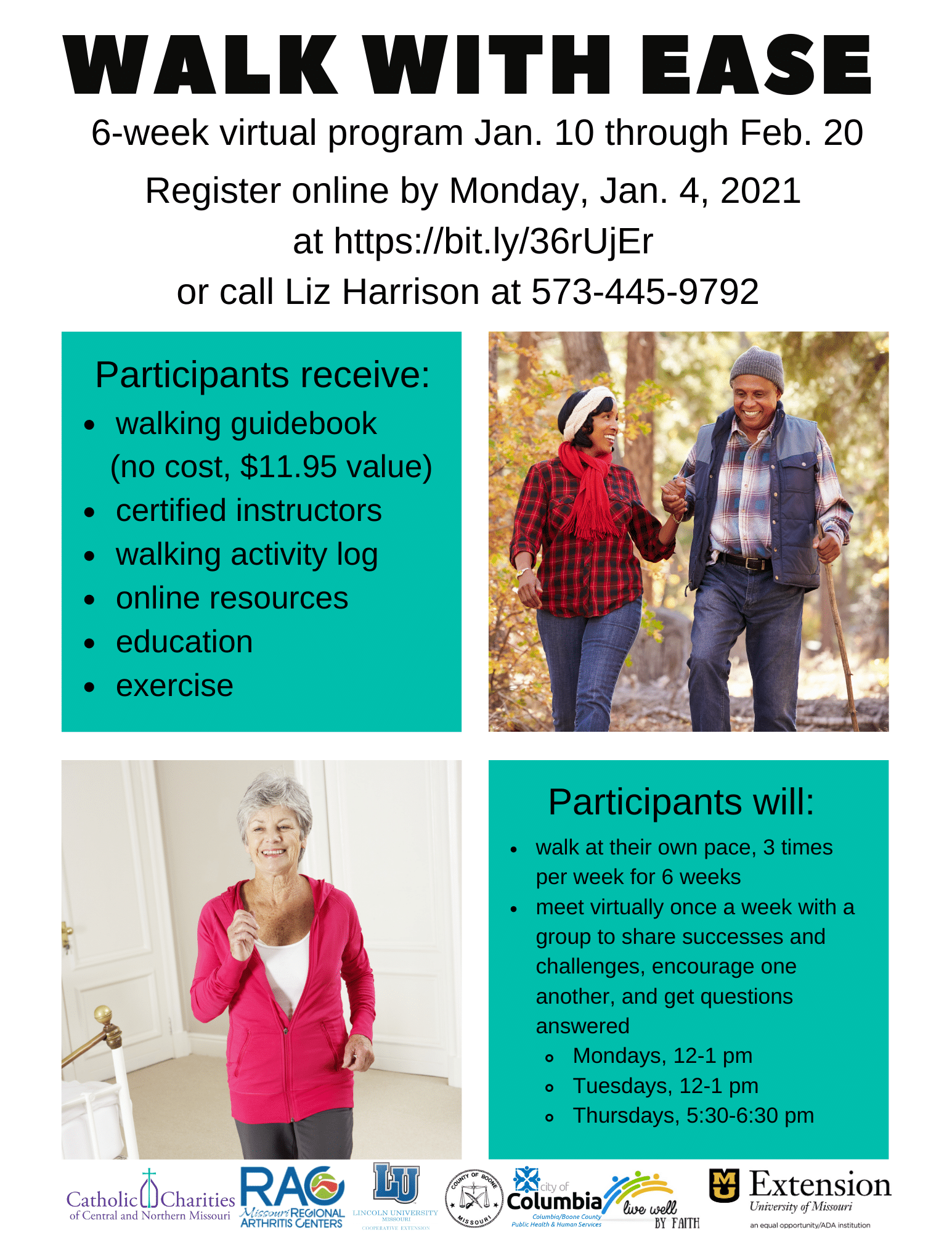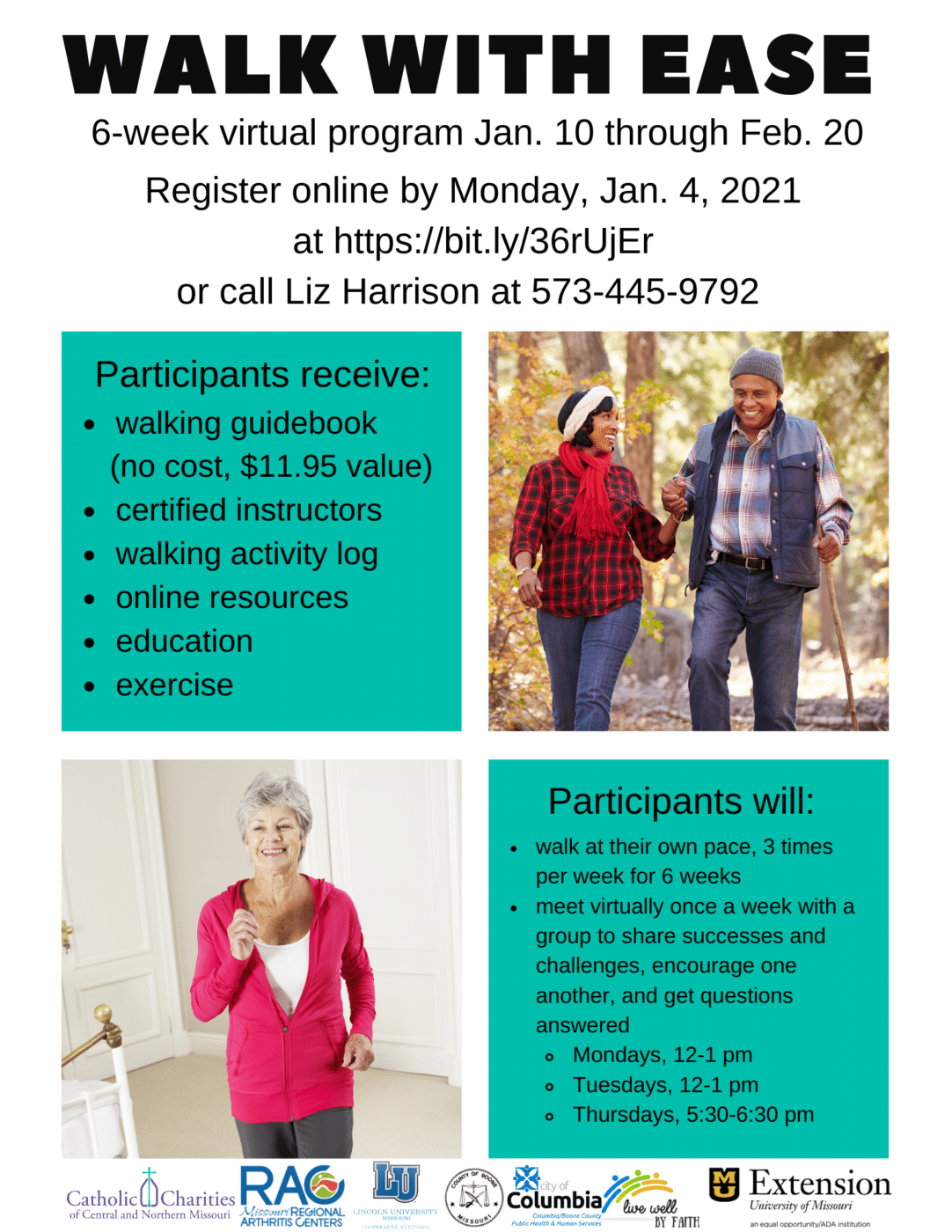 Catholic Charities of Central and Northern Missouri (CCCNMO) invites you to register for WALK WITH EASE, a six-week virtual program (Jan. 10 – Feb. 4) designed for arthritis sufferers, but all are welcome! Register by Jan. 4 at https://bit.ly/36rUjEr or call Liz Harrison at (573) 445-9792.
---
Totus Tuus applications
Are you a Catholic young adult interested in bringing the Gospel to kids and teens across our diocese? Please consider applying to be a Totus Tuus missionary. Download the materials at diojeffcity.org/totus-tuus/ and return your application to khartman@diojeffcity.org. We do hire on a rolling basis, so the earlier the better! The application packet includes a job description, application, and instructions for a letter of recommendation. Totus Tuus Missionaries serve from May 27 – Aug 1. This is a full-time, paid position.
---
Anointing of the Sick
Due to hospitals' strict protocols, it is important to seek the sacraments of the Anointing of the Sick and Reconciliation prior to going to the hospital. Most hospitals only allow a priest to provide the sacraments of Reconciliation and Anointing of the Sick if the patient has been placed on comfort care (hospice) or is nearing death.
---
---
This year the Missouri Catholic Conference canceled its in-person Annual Assembly due to COVID-19. As an alternative, they are offering a podcast series, MCC from the Capitol. MCC executive director Deacon Tyler McClay hosts six great episodes focused on issues of interest and concern to Catholics. You can find the podcasts on their website and Spotify. Below is a description of one of the episodes, addressing immigration.
Welcoming the Stranger: An Introduction to Missouri's Immigrant Community
Pope Francis has made the plight of refugees, migrants, and immigrants a focus of his pontificate, speaking frequently about the need for people of faith to offer assistance to those fleeing war, persecution and economic desperation. In this podcast, we invite you to listen to the stories of recent immigrants to the U.S. from Mexico and Central America from the perspectives of Deacon Enrique Castro, director of Hispanic Ministry for the Diocese of Jefferson City, and Javier Orozco, executive director of Human Dignity and Intercultural Affairs for the Archdiocese of St. Louis.
---
Employment opportunities
The Diocese of Jefferson City is seeking a bi-lingual Director of Religious Education and Youth/Young Adult Ministry administer the curriculum approval process within the Diocese of Jefferson City for parish based religious education. He/she will provide direct support for and development of parish-based young adult leaders and youth ministers in the outreach, evangelization, faith formation and pastoral care of their youth. For more information, visit diojeffcity.org/employment.
Catholic Charities of Central and Northern Missouri has the following career opportunities available: Housing Counselor and Financial Education AmeriCorps Member. Job descriptions and application details can be found at cccnmo.diojeffcity.org/about-us/careers/
Two administrative assistant positions are available at the Chancery and there are several openings in our Catholic schools. Please promote these openings.
---
As of April 27, the Chancery is no longer using PO Box 104900. Please address all correspondence to the street address 2207 W. Main, Jefferson City, MO 65109. The Post Office will forward mail from the PO box to the street address for up to one year, but the forwarding process will slow your delivery. Please begin using the street address immediately.
Parishes are asked to publish in their bulletins the need for relief parents at St. Nicholas Academy. You can find the listing here.
Please consider posting this helpful information for your parishioners on how to identify email and text scams.
In the interest of time and accuracy, The Catholic Missourian has moved to a simple online process for submitting events for the Things to Do page. To have an event considered for publication in Things to Do and in the diocesan online events calendar, go to diojeffcity.org/event-listing and follow the directions. The process is straightforward and user-friendly. Events submitted for display advertising will be automatically included in Things to Do, as will items that have been previously submitted.
---
Preventing text and email scams
A scam has hit many parishes across the United States, as well as other faith communities. The Federal Trade Commission provided information on this scam in July 2019. The email or text purports to be from a person the target knows, such as one's pastor, a parish staff member, the bishop or someone else from the Church. If the target responds to the fake email or text, the sender will follow up with a request for some sort of monetary assistance, often for gift cards, Google Play cards or iTune cards. Please read our post to learn how to prevent yourself or parishioners from falling prey to this scam.
---
Please feel free to disseminate the information in the "Monday Morning Memo" to a broader audience, such as parishioners and school families! Is there someone else who should receive this Weekly Memo? Please encourage them to sign up here!