Importing the 2020-2021 Diocesan Events List to your Parish Website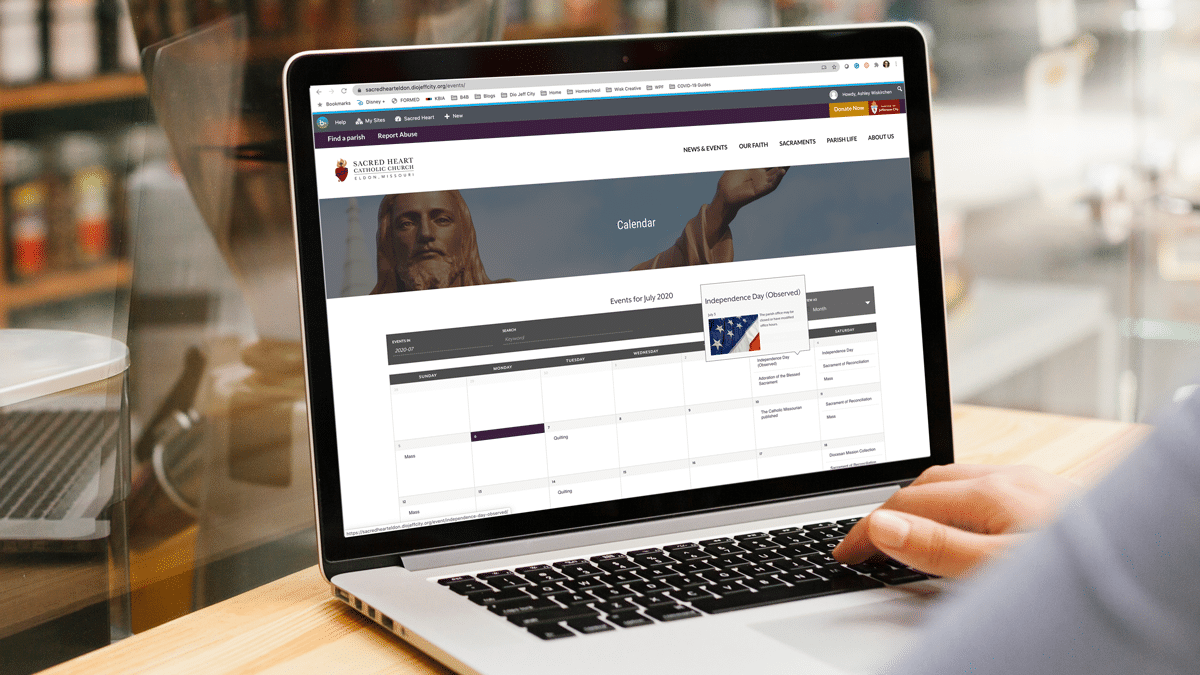 Shout out to you Parish Website Admins who bring me the best questions, dust off features we hadn't been using, and find great short-cuts to get things done. This process came from Sacred Heart, Eldon's parish website administrator, who found a way to import a CSV (excel file) as calendar items and requested a "Master Calendar" from the Diocese of Jefferson City to import, reducing her time manually tracking down diocesan-wide events that are scheduled for the 2020-2021 year.
I am going to break down this process step-by-step. Give yourself about an hour to do this (it may take you much less time, but knowing that many of you are wearing multiple hats, I want you to be prepared to see the process through from start-to-finish). If you'd prefer, I would be happy to hop into your parish website and complete this process for you. Please send me an email (awiskirchen@diojeffcity.org) requesting the Diocesan Events List import and I will take care of you in the order I receive requests!
Please note, importing these calendar items will not alter or delete any calendar items you may already have loaded. So, if you have an item on your calendar that is a duplicate of an item in our list, it will simply make a copy. You may want to click through your parish calendar and delete any duplicates to reduce confusion for viewers.
Before importing our CSV file, we need to add two important items to the Events tab in the WordPress dashboard: the diocese as a "Venue" and an "Organizer". The CSV file will reference these to place appropriate contact and location information on each event we import.
Step 1: Add the Diocese as a Venue
Begin at the WordPress dashboard, hover over "Events" and click on "Venues"
Click "Add New"
Add the following precisely:

Title: Alphonse J. Schwartz Memorial Catholic Center (Chancery)

Address: 2207 West Main Street
City: Jefferson City
(Country and State should be pre-filled for you as "United States" and "Missouri")
Postal Code: 65109-0914
Phone: 573-635-9127
Website: diojeffcity.org
Leave check marks on "Show Map" and "Show Map Link"

Click the blue "Publish" button on the right
Step 2: Add the Diocese as an Organizer
Begin at the WordPress dashboard, hover over "Events" and click on "Organizers"
Click "Add New"
Add the following precisely:

Title: Diocese of Jefferson City
Phone: 573-635-9127
Website: diojeffcity.org
Email: communication@diojeffcity.org

Click the blue "Publish" button on the right
Step 3: Import the 2020-2021 Diocesan Events Calendar into your Parish Website Events Calendar
Before we begin the steps to upload the Diocesan calendar, please download the CSV file titled "Diocesan-Events-List-2020-2021.csv" below, and save it to your computer in a place you can easily locate it (perhaps your desktop):
---
---
Next, follow the step-by-step directions below and use the screenshots in the following gallery for reference as needed.
Begin at the WordPress dashboard, hover over "Events" and select "Import" from the hovering menu.
Select "CSV File" from the list
Select "Events" from the next drop-down list
Click "Upload"; this will launch the Media Library where we will upload and select our CSV file.
Drag your file to the Media Library, once it is successfully uploaded, click "Select" in the bottom right corner
Click "Preview"
Please ensure that each drop-down matches the title below it. If they do not match, simply click the drop-down list and select the appropriate title. (See images below for clarification.)
When all titles match, click "Import All"
The Events Calendar app will load our imported events, and display an "Import complete!" message when finished.
Your events are imported! You can now view them in your "Events" list — where you can edit/delete/view them. You will also see them populating your parish website calendar with the pre-set information.
You should have permission to edit/delete these events as needed. If you do not, please contact me and I will work to fix this.
If you have questions about this process, would like for me to walk you through it via a Zoom call, or have suggestions on other workflows that you're using on your parish website I would love to hear from you!

Again, I'd be happy to complete this process on your parish website, if you would please email me a request to import the Diocesan Events List.
If you would like to begin importing your parish's calendar from an Excel file using the same process above, I've found these two helpful articles that can guide you through the process of setting up your spreadsheet and importing it using the same methods above!
Warmly!

Ashley Wiskirchen
Director of Parish Communications
Diocese of Jefferson City
Office: 573.635.9127
Email: communication@diojeffcity.org