The Second Greatest Story Ever Told: Now Is the Time of Mercy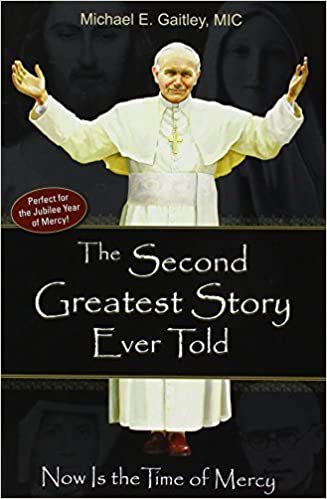 ISBN 10: 1596143169
In The Second Greatest Story Ever Told bestselling author Fr. Michael Gaitley, MIC, reveals St. John Paul II's witness for our time. Building on the prophetic voices of Margaret Mary Alacoque, Therese of Lisieux, Maximilian Kolbe, and Faustina Kowalska, The Second Greatest Story Ever Told is more than a historical account of the Great Mercy Pope. This book expounds on the profound connection between Divine Mercy and Marian consecration. It serves as an inspiration for all those who desire to bear witness to the mercy of God, focused on Christ and formed by Mary. Now is the time of mercy. Now is the time to make John Paul's story your own.
---
Fr. Michael E. Gaitley, MIC, is director of Evangelization for the Marian Fathers of the Immaculate Conception and director of Formation for the Marian Missionaries of Divine Mercy.
Fr. Michael is also the author of the bestselling books 33 Days to Morning Glory, Consoling the Heart of Jesus, and the new book 33 Days to Merciful Love. He lives and works on Eden Hill in Stockbridge, Massachusetts, home of the National Shrine of The Divine Mercy.