The Friendship Project: The Catholic Woman's Guide to Making and Keeping Fabulous, Faith-Filled Friends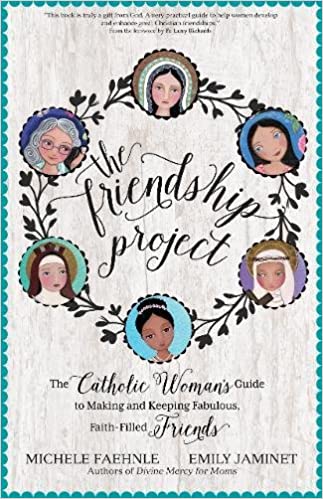 ISBN 10: 1594717613
Michele Faehnle and Emily Jaminet are busy wives, mothers, and volunteers. They are also friends, Catholic speakers, and the dedicated coauthors of Divine Mercy for Moms, which continues to inspire women to come together to pray, study, and live in friendship around the Divine Mercy devotion. In the midst of their active lives, Faehnle and Jaminet found themselves missing their old friends and searching for new ones. They also realized that they needed to continually work to develop deep, meaningful relationships that would allow them to be themselves, to care for others and be cared for, and to deepen their Catholic faith.
---
Michele Faehnle and Emily Jaminet are the co-authors of the award winning best seller Divine Mercy for Moms, and The Friendship Project. As Jesus sent out his disciples two by two to preach the Good News, Michele and Emily have also taken Christ's commissioning to heart with the help of the Holy Spirit. "He summoned the Twelve and began to send them out two by two . . . "—Mark 6:7 They have worked in women's ministry together most of their adult lives and currently both serve on the board of directors of the Columbus Catholic Women's Conference, which is the largest women's conference in the United States.
Michele and Emily have spoken at women's events across the country, are regular guests on Catholic radio and have been featured on EWTN.   They both write for various publications and contribute to Catholicmom.com
Michele and Emily both live in Columbus Ohio with their families, Michele works as a school nurse at St. Andrew School in Upper Arlington and is the mother of 4, and Emily is the mother of 7.