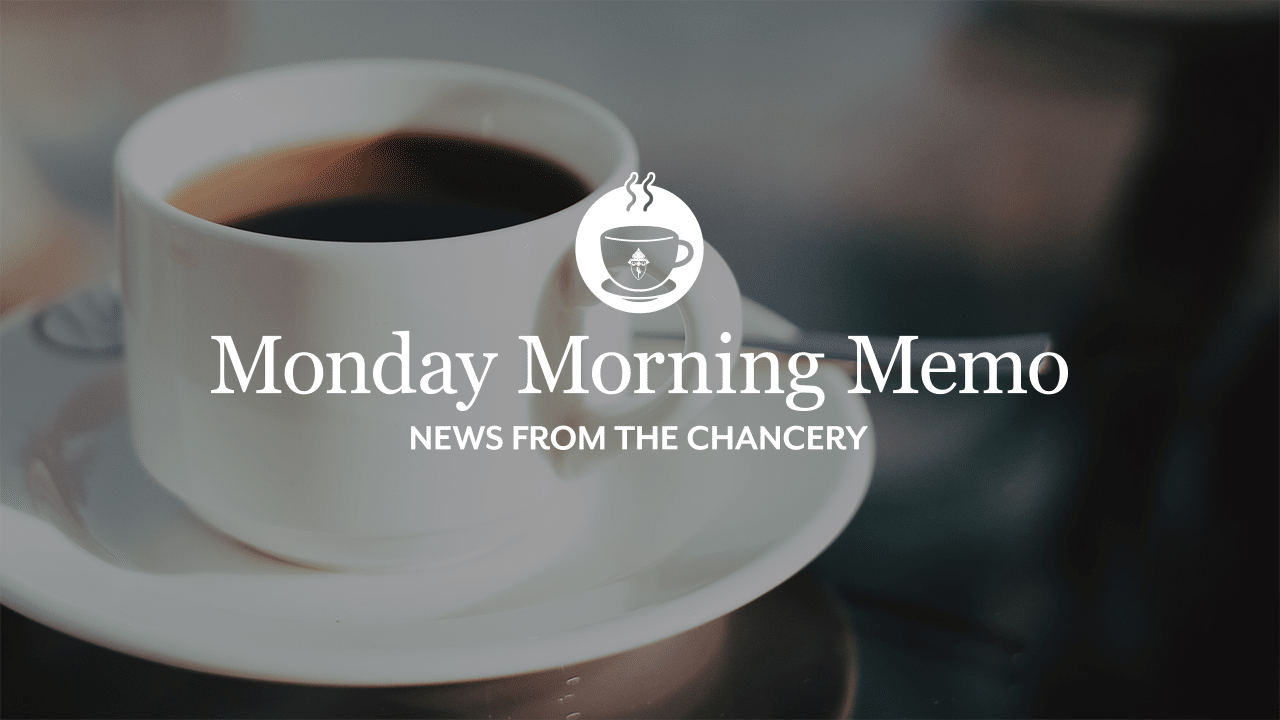 ---
Bishop's messages
!NEW! Official appointments were published in the May 15 issue of The Catholic MIssourian. You may also find them online here.
---
!NEW!

Liturgical text copyright permissions
The copyright permissions office of the Confraternity of Christian Doctrine has issued a policy on the reprinting and reproduction of Readings and Mass Prayers.
Of special note is the section entitled "Permissions for use of the Readings in English and the Mass Prayers and Readings in Spanish in Light of the Covid -19 Pandemic." It notes that "these policies apply only in the United States of America."
§ Through December 31, 2020, no permission is required for livestreaming of Masses and the Divine Office via social media. As always, relevant liturgical law should be observed regarding the choice and use of texts.
§ Gratis permission is granted to include these texts in a downloadable or print worship aid through the conclusion of the current liturgical year (November 22, 2020). The texts must be reprinted verbatim and the appropriate copyright acknowledgment must be provided.
§ Permission will not be granted to project the readings or other Mass texts.
§ Families and individuals are encouraged to bring their own participation aids (hand missals, seasonal or monthly booklets, etc.) to Mass. Parishes or other groups may wish to coordinate bulk purchase and distribution of such resources if local health restrictions allow. "
Please read the full text of the entire policy. It may be found at http://www.usccb.org/bible/permissions/index.cfm
---
!NEW!

Spiritual adoption during COVID-19

Many in our communities are suffering with the coronavirus. They are sick, lonely and in fear of the unknown. In these times of suffering, Christ calls out to us through the scriptures to "Bear one another's burdens, and so fulfill the law of Christ." With the individuals' permission, please send the first names only of anyone seeking prayers to LeAnn Korsmeyer, director of Parish and Charitable Services, at lkorsmeyer@diojeffcity.org.

Please consider placing in your bulletins the following announcement.
COVID-19 Spiritual Adoption: If you or your prayer group would like to spiritually adopt an individual or family within our diocese that has been affected by the coronavirus, please contact Erin Boeckmann at eboeckmann@diojeffcity.org. Only first names of those affected by the virus will be shared.

COVID-19: A PRAYER OF SOLIDARITY: ENGLISH and SPANISH

Especially, Lord, we lift up ________. May s(he) feel Your power of healing through the care of doctors and nurses. Take away the fear, anxiety, and feelings of isolation as they receive treatment or under quarantine. Give them a sense of purpose in pursuing health and protecting others from exposure to the disease. Protect their families and friends and bring peace to all who love them.

Especialmente, Señor, oramos por ________. Que experimente el poder de tu sanación a través del cuidado de los médicos y las enfermeras. Quita el miedo, la ansiedad y los sentimientos de soledad durante su tratamiento o tiempo en cuarentena. Concédele un sentido de paz al buscar su salud y la protección de los demás. Proteje a sus familias y amigos y bríndales tu paz a todos los que los aman.
---
---

The Virtual Youth Summit is now live!
Even though the in-person Summit is cancelled, our teens can still participate in your parish's pastoral planning process. This video-based "virtual summit" allows parish delegations who registered to gather via web-conference, learn about Bishop McKnight's key priorities, and provide input for both your parish's and the diocese's pastoral plan. Visit https://diojeffcity.org/youth-summit-digital to get started! If your parish did not originally register but you would like to participate, please contact the Office of Youth Ministry and Religious Ed to learn how: jdelaporte@diojeffcity.org or 573-635-9127, x233.
Pastoral Planning timeline revised
The deadline for submission of all discernment reports from parishioners, Sessions 1-4, has been extended to May 31. This is intended to allow as many parishioners as possible to participate. As we move forward in our focus and discernment of how our parish communities can become stronger centers of charity and mercy, practicing stewardship with a co-responsibility mentality between our clergy and laity, please encourage parishioners to consider how they can participate and finish the discernment process. Small group and/or individual discernment reports are to be submitted directly to the pastor or via online entry. To ensure a wider vision for planning, all parishioners throughout our diocese are encouraged to take this opportunity to share their thoughts and vision for their parish and provide insight into our diocesan pastoral plan. For more information regarding Better Together, please visit www.diojeffcity.org/better-together.
---
The Immaculate Heart of Mary is the patronness of our diocese. Bishop McKnight asks all our parishes to celebrate this feast on June 21. Readings and psalm settings can be found here.
---
If you intend to come to the Chancery office in person, you must have an appointment in advance with the person you intend to meet. Please note the Chancery will be screening all guests with a health questionnaire and temperature check. This is for the safety of all.
---
Resources during COVID-19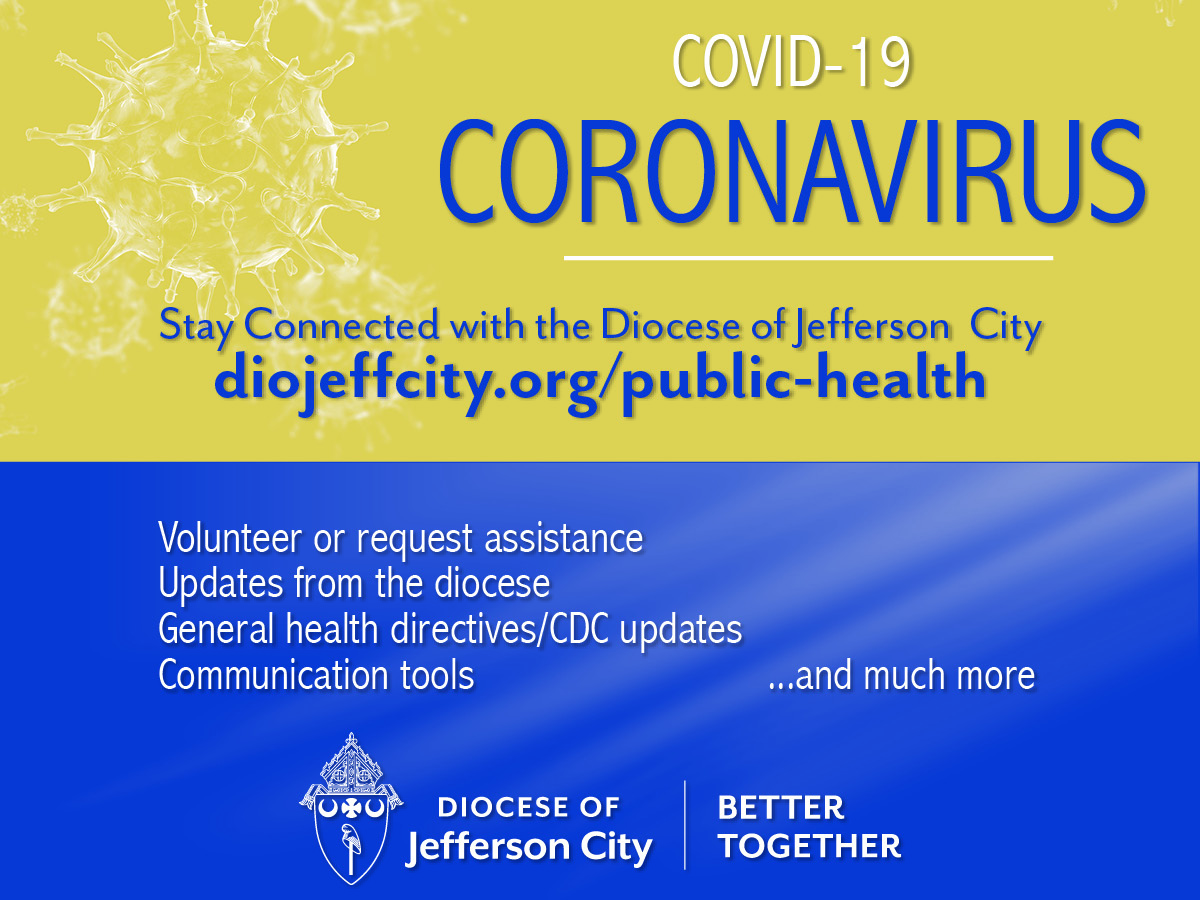 As our parishes begin the process of reopening our churches for public, in-person Masses and other activities, the following resources are intended to assist parishes in returning safely to publc worship:
Frequently Asked Questions – can be used in digital communications, pulpit announcements, signs, etc.
Welcome people – can be used as pulpit announcements, on signs, in newsletters, etc. (please modify as needed)
Communion instructions – can be used as pulpit announcements, on signs, in newsletters, etc. (please modify as needed)
There could be city and county ordinances still in effect that could further restrict or limit church services in person. All pastors, administrator and parish life collaborators are obliged to follow the requirements of legitimate state authorities with regard to the pandemic.
All of our resources can be found at www.diojeffcity.org/public-health. Most are in Spanish and English. Remember, the most reliable source of information is the Centers for Disease Control and Prevention.
The diocesan website is now able to accept donations for all parishes in our diocese. If your parish does not have the capacity to receive online donations, please let your parishioners know about this option. They can donate using this URL: https://diojeffcity.org/support-parish/.
We can help parishes establish online giving forms which can be used on the parish website. Please email communication@diojeffcity.org to begin the conversation.
---
To share in emails, social media, and websites
Connect your college-bound seniors with a Newman Center next year!
Newman Connection is an online resource to help high school seniors connect to the Newman Center serving their college campus. Newman Centers rely heavily on their affiliation with Newman Connection for support in evangelizing to the incoming class of students. Click here for digital materials for parishes and schools to use to help connect your seniors to a Newman Center next year. Or, share this sign-up page with your high school seniors and they can sign themselves up to connect with a Newman Center at their college or university.
---
---
Stay-at-Home FertilityCare Instruction
FertilityCare Instruction continues to be offered by Zoom. The Introductory Session is always complimentary and follow-up fees have been waived until June 1. This class is of interest for marriage preparation, infertility, medical applications, regular or irregular cycles, breastfeeding and fertility appreciation from adolescence to menopause. Contact FerilityCare of Columbia, Phyllis A. White, CFCE 816-550-8789 or FertilityCare.CoMo@gmail.com
---
---
The Retrouvaille Program is for married couples facing difficult challenges in their relationship. A Christian marriage program, Catholic in origin, for couples of all faiths or no faith background, it is primarily a practical program to improve communication, build stronger marriages, and help couples reconnect. Presenters are not trained marriage counselors, but couples sharing their personal stories of marital struggles and the tools they used to rediscover their love. The next session is May 29 in Kansas City, KS. For more information and registration go to: https://www.helpourmarriage.org/
---
Employment opportunities
There are several openings in our Catholic schools. Please promote these openings.
!NEW! Holy Rosary Parish and St. Stephen Parishes in Monroe City (two Catholic parishes with a combined 500 households) are seeking a director of Parish Faith Formation. The director of Parish Faith Formation is a member of the pastoral staff and is responsible for assisting the pastor, Father Greg Oligschlaeger, in the responsibility for the Catholic faith formation for all parishioners. For more information, visit https://diojeffcity.org/blog/2020/05/15/director-of-parish-faith-formation-monroe-city/
Catholic Charities of Central and Northern Missouri has an immediate opening for a Bilingual (English/Spanish) Disaster Case Manager.  Disaster Case Management is a time-limited process by which a skilled Disaster Case Manager partners with a disaster-affected individual or family (Client) in order to plan for and achieve realistic goals for recovery following a natural disaster (including COVID-19/Coronavirus). This comprehensive and holistic Disaster Case Management approach to recovery extends beyond providing relief, providing a service, or meeting urgent needs.For a full job description visit the Catholic Charities website at: https://cccnmo.diojeffcity.org/about-us/careers/.  To apply please submit cover letter and resume to Alissa Marlow, Director of Community Services.
---
Parishes are asked to use this form to send any updates of their parishioners: address changes, marriages, divorces, death, etc.
---
As of April 27, the Chancery is no longer using PO Box 104900. Please address all correspondence to the street address 2207 W. Main, Jefferson City, MO 65109. The Post Office will forward mail from the PO box to the street address for up to one year, but the forwarding process will slow your delivery. Please begin using the street address immediately.
Parishes are asked to publish in their bulletins the need for relief parents at St. Nicholas Academy. You can find the listing here.
Please consider posting this helpful information for your parishioners on how to identify email and text scams.
In the interest of time and accuracy, The Catholic Missourian has moved to a simple online process for submitting events for the Things to Do page. To have an event considered for publication in Things to Do and in the diocesan online events calendar, go to diojeffcity.org/event-listing and follow the directions. The process is straightforward and user-friendly. Events submitted for display advertising will be automatically included in Things to Do, as will items that have been previously submitted.
---
Please feel free to disseminate the information in the "Monday Morning Memo" to a broader audience, such as parishioners and school families! Is there someone else who should receive this Weekly Memo? Please encourage them to sign up here!