Loved as I Am: An Invitation to Conversion, Healing, And Freedom through Jesus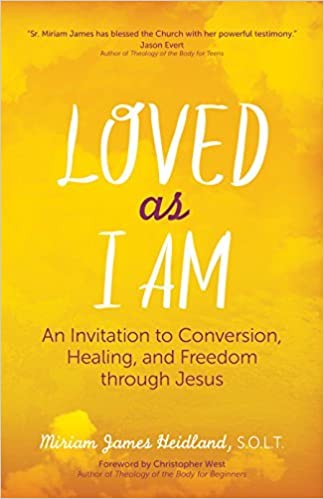 ISBN : 1594715467
When Sr. Miriam James Heidland's life as a successful college athlete proved unfulfilling, she went searching for something deeper and ended up falling in love with Jesus. By charting her own journey toward wholeness, Heidland invites young Catholics to pursue their own relationship with Jesus. Heidland chronicles her story from "college athlete party girl" to "bride of Christ". She shares the struggles of child sexual abuse and alcoholism – as signs that Christ is the true healer and lover of every person's heart. Heartwarming and gentle, Loved As I Am provides a template for finding peace and freedom in Jesus.
---
Sr. Miriam James Heidland, SOLT was raised in Woodland, WA and is a graduate of the University of Nevada-Reno where she played volleyball on a scholarship and majored in Communications.
Upon graduation, she joined the Society of Our Lady of the Most Holy Trinity (SOLT), a missionary community that serves global areas of deepest apostolic need. Sr. Miriam James has served at various SOLT missions including Rome, Seattle and Texas. In addition to speaking, her apostolates have included working with elementary school students, parish ministry, coaching high school volleyball and co-hosting a Catholic radio program.
Her story has been featured in the Seattle Times, The National Catholic Register and heard on Relevant Radio, Sirius XM, Catholic Answers Live and EWTN's The Journey Home and Life on the Rock, as well as at Steubenville conferences, FOCUS' SEEK conference, the National Catholic Youth Conference, the USCCB Convocation, and various retreats and conferences both nationally and internationally.
Sr. Miriam James speaks often on the topics of: Authentic Love and Conversion, Forgiveness and Mercy, The Healing Power of Christ, and The Dignity and Beauty of Woman.
She holds a Master's degree in Theology from the Augustine Institute and is the author of the book Loved As I Am published by Ave Maria Press.