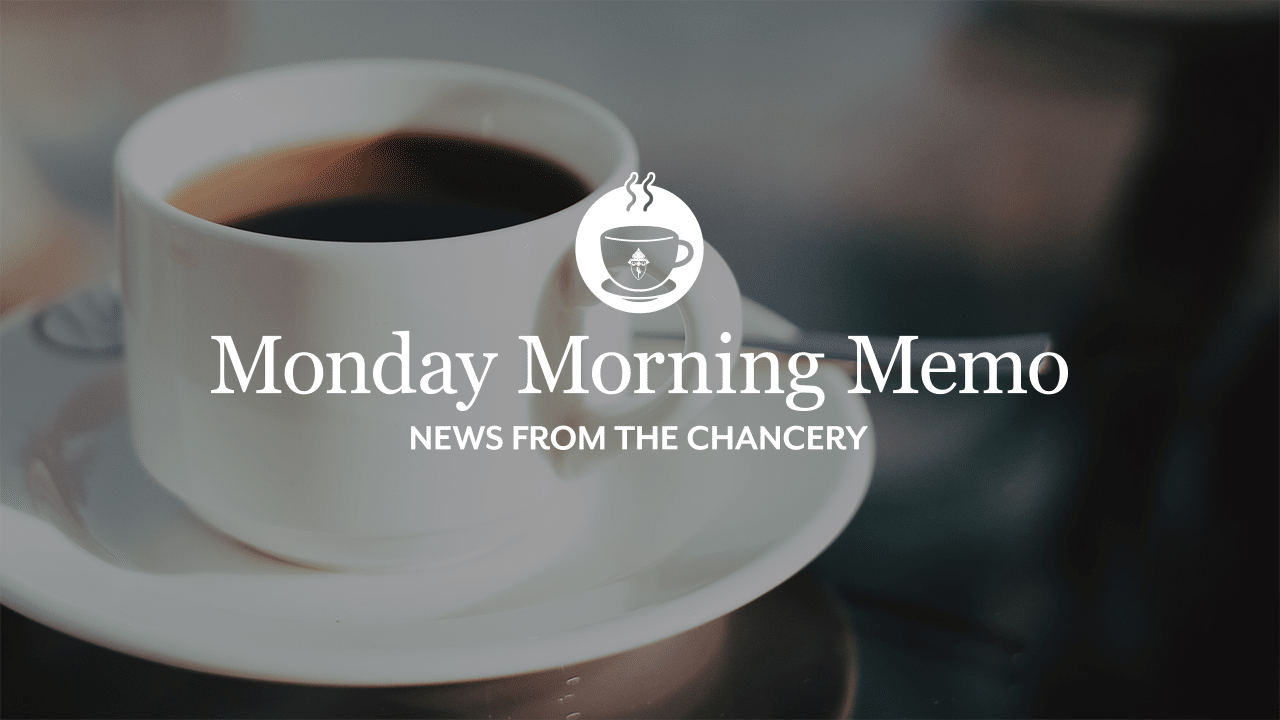 ---
Bishop's messages
On Friday, I extended and modified a decree which dispenses the faithful from the Sunday Mass obligation and restricts the type of public gatherings in the 95 parishes of the diocese. The decree was originally to expire April 30, but has now been extended through June 30.
---
Better Together Pastoral Planning
As we move forward in our focus and discernment of how our parish communities can become stronger centers of charity and mercy, practicing stewardship with a co-responsibility mentality between our clergy and laity, please be reminded the deadline for submission of all discernment reports, Sessions 1-4, is Friday, May 1. Small group and/or individual discernment reports are to be submitted directly to the pastor or via online entry. To ensure a wider vision for planning, all parishioners throughout our diocese are encouraged to take this opportunity to share their thoughts and vision for their parish and provide insight into our diocesan pastoral plan. For more information regarding Better Together, please visit www.diojeffcity.org/better-together.
---
I will ordain Mr. Derek Hooper to the transitional diaconate on May 30 during a 10 am Mass. Due to the ever-evolving and uncertain nature of the COVID-19 pandemic, attendance to the ceremony will be very limited. THe public is invited to join us through livestreaming on the diocesan website. There will be no reception following the ceremony.
---
Please consider using the following prayer for a "spiritual communion," written by the chair of our Diocesan Liturgical Commission, Father Dan Merz. THis should replace the prayer many have been using which is attributed to St. Alphonse of Ligouri.
Prayer for a Communion of Desire
My Jesus, I believe You are present in the Most Holy Sacrament. I love You above all things, and I desire to receive You into my soul. Since I cannot at this moment receive You sacramentally, renew my heart now with the power of Your Spirit. I embrace You and unite myself wholly to You. Unite me more closely to Your Body, the Church. And never permit me to be separated from You. Amen.
Oración para la Comunión de Deseo
Jesús mío, creo que estás presente en el Santísimo Sacramento. Te amo por sobre todas las cosas y deseo recibirte en mi alma. Como no puedo recibirte en este momento sacramentalmente, renueva mi corazón con el poder de tu Espíritu. Te recibo y me uno completamente a ti. Úneme más a tu cuerpo, la Iglesia y nunca permitas que me separe de ti. Amén.
---
Copyright permissions for online usage
Music: In response to the Covid-19 pandemic, OneLicense.net (which represents most major music publishers) was offering gratis permission for music used in live-streaming Masses. That permission ended April 15. Now they are offering a special discounted license. Our diocese is currently pursuing a diocesan wide agreement with One License, so before purchasing any online licenses, please check with Helen Osman, director of diocesan communication, on the status of the diocesan agreement. Please do indicate for your livestreaming liturgies if you have permission to use music and the source of that permission.
Scripture and liturgical texts: The USCCB Permissions Office has confirmed that the Confraternity of Christian Doctrine and the USCCB have waived the requirement to request permission to use readings or Mass prayers — in English and Spanish — for livestreamed liturgies.
No permission from the International Commission on English in the Liturgy (ICEL) is required to stream or record liturgies. If you wish to put a transcription or guide alongside the recording, this is permitted (assuming the usual conditions about the text being reproduced correctly and the acknowledgement is placed somewhere appropriate) for the duration of the pandemic." For the text of the usual acknowledgement, please visit http://www.icelweb.org/copyright.htm
---
On Tuesday we announced Dr. Daniel Everett is the new president/principal of Fr. Tolton Catholic High School. You can find more details here.
---
Charity & Mercy Grants
As parishes respond to the needs in your communities from the impact of COVID-19 (Coronavirus), Catholic Charities of Central and Northern Missouri invites you to apply for a Charity & Mercy Grant to support your efforts.
Charity & Mercy Grants are available to support parish social ministry efforts, whether expanding a current ministry or beginning a new ministry. If you are assisting your neighbors in need impacted by the coronavirus, these funds can be especially useful.
Applications are available on the Catholic Charities website, cccnmo.diojeffcity.org; or email info@cccnmo.org or call 573-635-7719 to request an application. Application questions can be directed to John Doyle, Parish & Community Outreach Coordinator, at jdoyle@cccnmo.org.
---
Catholic Home Mission Appeal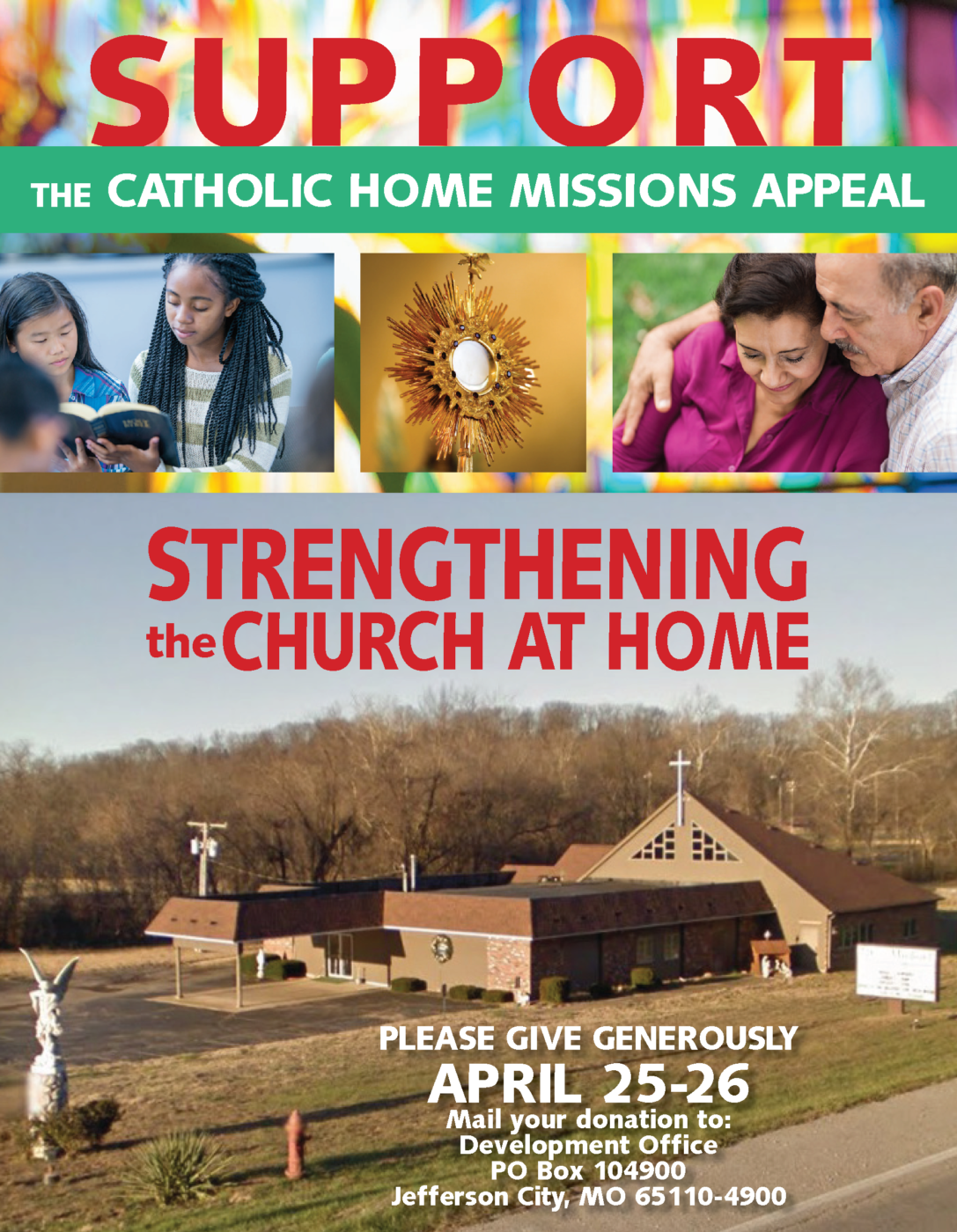 Across the United States, Catholics are being asked to support the Catholic Home Missions Appeal the weekend of April 26-27. Nearly half of our country is considered mission territory. This appeal helps our brothers and sisters in our own diocese and throughout the United States who do not have access to basic pastoral services like Mass, the sacraments, and religious education.
Please consider using the graphic above and my letter, which is available in English (PDF and MSWord) and Spanish (PDF and MSWord), and resources from the US Conference of Catholic Bishops to promote this appeal. Last year we received a grant of $70,000 to assist Hispanic ministry across our diocese.
Promotional material in English and Spanish, including pulpit and bulletin announcements, posters and social media graphics, is available through the USCCB here: http://usccb.org/catholic-giving/opportunities-for-giving/catholic-home-missions-appeal/index.cfm.
---
In our Communication staff's review of our parishes' digital presence, we discovered some parishes have no information for their parishioners, dated information or only indicate that Masses are cancelled. We encourage you to update your parish site, since for many of our parishioners these sites are our new "front doors." Please let your parishioners know you are still present and available, and how! If you don't have a volunteer or staff who can assist, below is a simple graphic you can use to direct people to the diocesan website.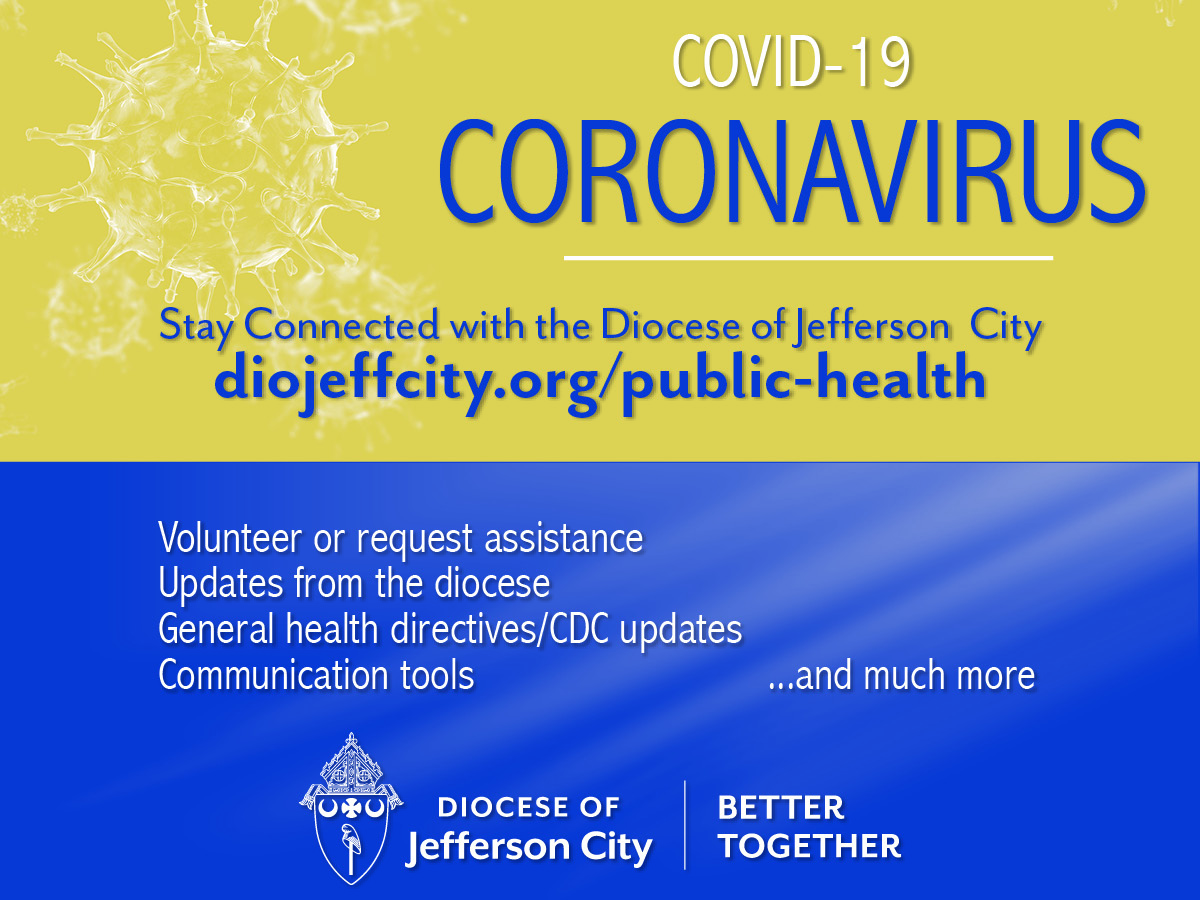 ---
If you intend to come to the Chancery office in person, you must have an appointment in advance with the person you intend to meet. Please note the Chancery will be screening all guests with a health questionnaire and temperature check. This is for the safety of all.
---
Resources
We can help parishes establish online giving forms which can be used on the parish website. Please email communication@diojeffcity.org to begin the conversation.
---
All of our resources can be found at www.diojeffcity.org/public-health. Most are in Spanish and English. They include:
Remember, the most reliable source of information is the Centers for Disease Control and Prevention.
---
To share in emails, social media, and websites
---
Stay-at-Home FertilityCare Instruction
FertilityCare Instruction continues to be offered by Zoom. The Introductory Session is always complimentary and follow-up fees have been waived until June 1. This class is of interest for marriage preparation, infertility, medical applications, regular or irregular cycles, breastfeeding and fertility appreciation from adolescence to menopause. Contact FerilityCare of Columbia, Phyllis A. White, CFCE 816-550-8789 or FertilityCare.CoMo@gmail.com
---
---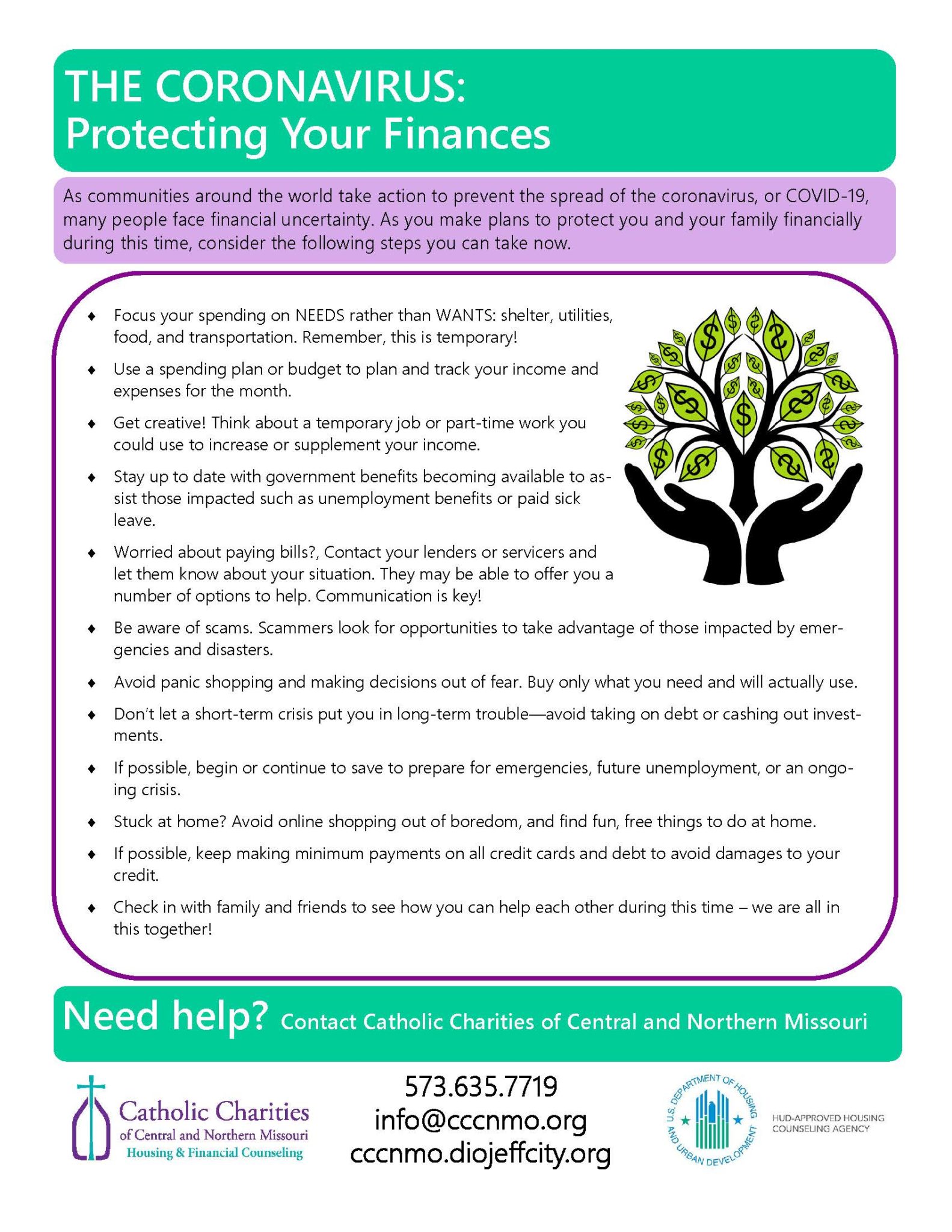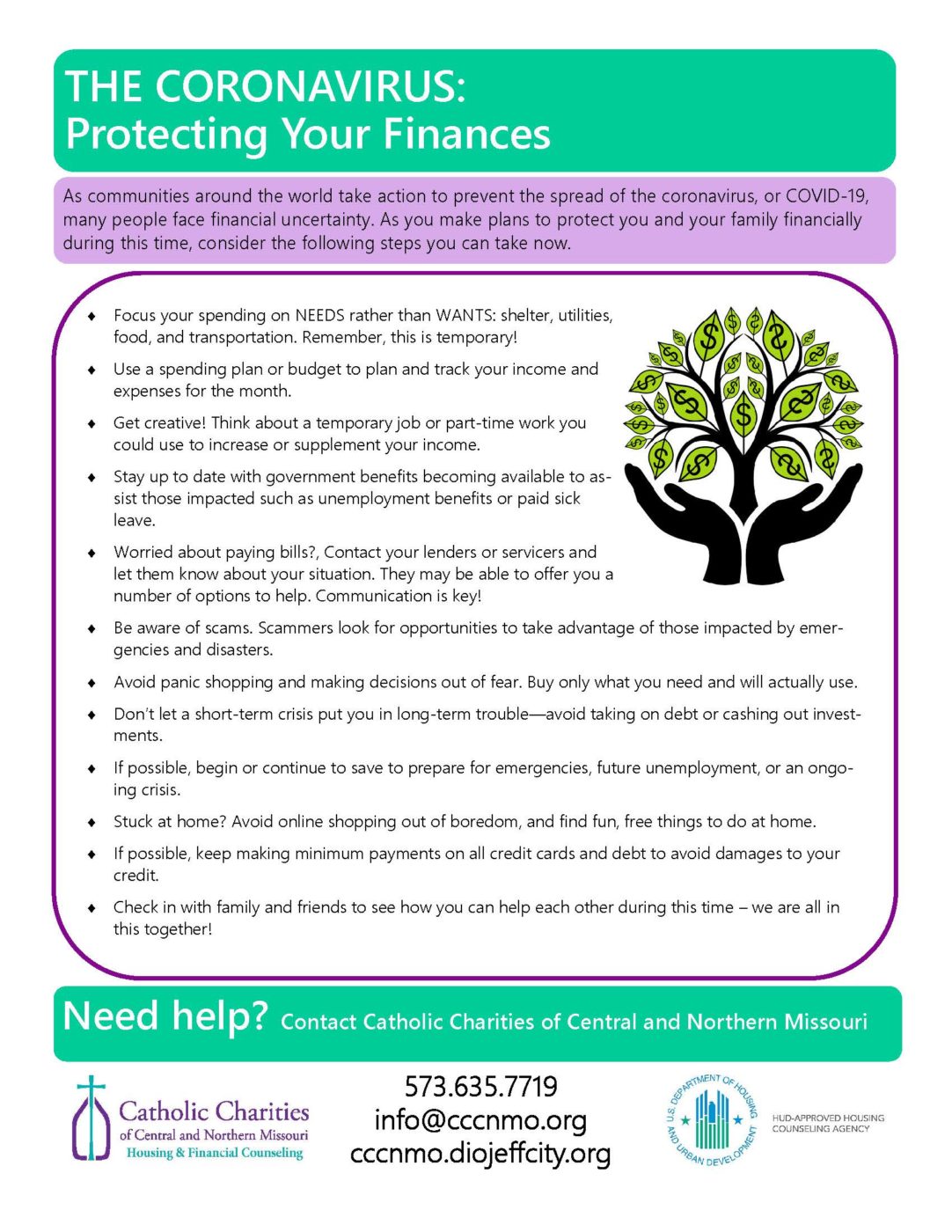 ---
The Retrouvaille Program is for married couples facing difficult challenges in their relationship. A Christian marriage program, Catholic in origin, for couples of all faiths or no faith background, it is primarily a practical program to improve communication, build stronger marriages, and help couples reconnect. Presenters are not trained marriage counselors, but couples sharing their personal stories of marital struggles and the tools they used to rediscover their love. The next session is May 29 in Kansas City, KS. For more information and registration go to: https://www.helpourmarriage.org/
---
Employment opportunities
There are several openings in our Catholic schools. Please promote these openings.
St. Thomas More Newman Center in Columbia is seeking a Director/Campus Minister of Music & Liturgy. The St. Thomas More Newman Center is a university parish of more than 650 families and over 1,000 students, serving the Columbia community as well as the collegiate campuses of the University of Missouri-Columbia, Stephen's College, and Columbia College. A full job description and more details are available at https://www.comonewman.org/job-openings/.
St. Stanislaus Church in Wardsville is seeking a director of Religious Education to oversee the religious and spiritual formation of youth and adults. This will entail scheduling Parish School of Religion Classes, as well as sacramental preparation and events. For more information, to receive a complete job description and / or application please email ststansec@socket.net.
---
Parishes are asked to use this form to send any updates of their parishioners: address changes, marriages, divorces, death, etc.
---
Parishes are asked to publish in their bulletins the need for relief parents at St. Nicholas Academy. You can find the listing here.
Please consider posting this helpful information for your parishioners on how to identify email and text scams.
In the interest of time and accuracy, The Catholic Missourian has moved to a simple online process for submitting events for the Things to Do page. To have an event considered for publication in Things to Do and in the diocesan online events calendar, go to diojeffcity.org/event-listing and follow the directions. The process is straightforward and user-friendly. Events submitted for display advertising will be automatically included in Things to Do, as will items that have been previously submitted.
---
Please feel free to disseminate the information in the "Monday Morning Memo" to a broader audience, such as parishioners and school families! Is there someone else who should receive this Weekly Memo? Please encourage them to sign up here!