Parishes across the diocese live-stream Masses to engage the faithful in the liturgy remotely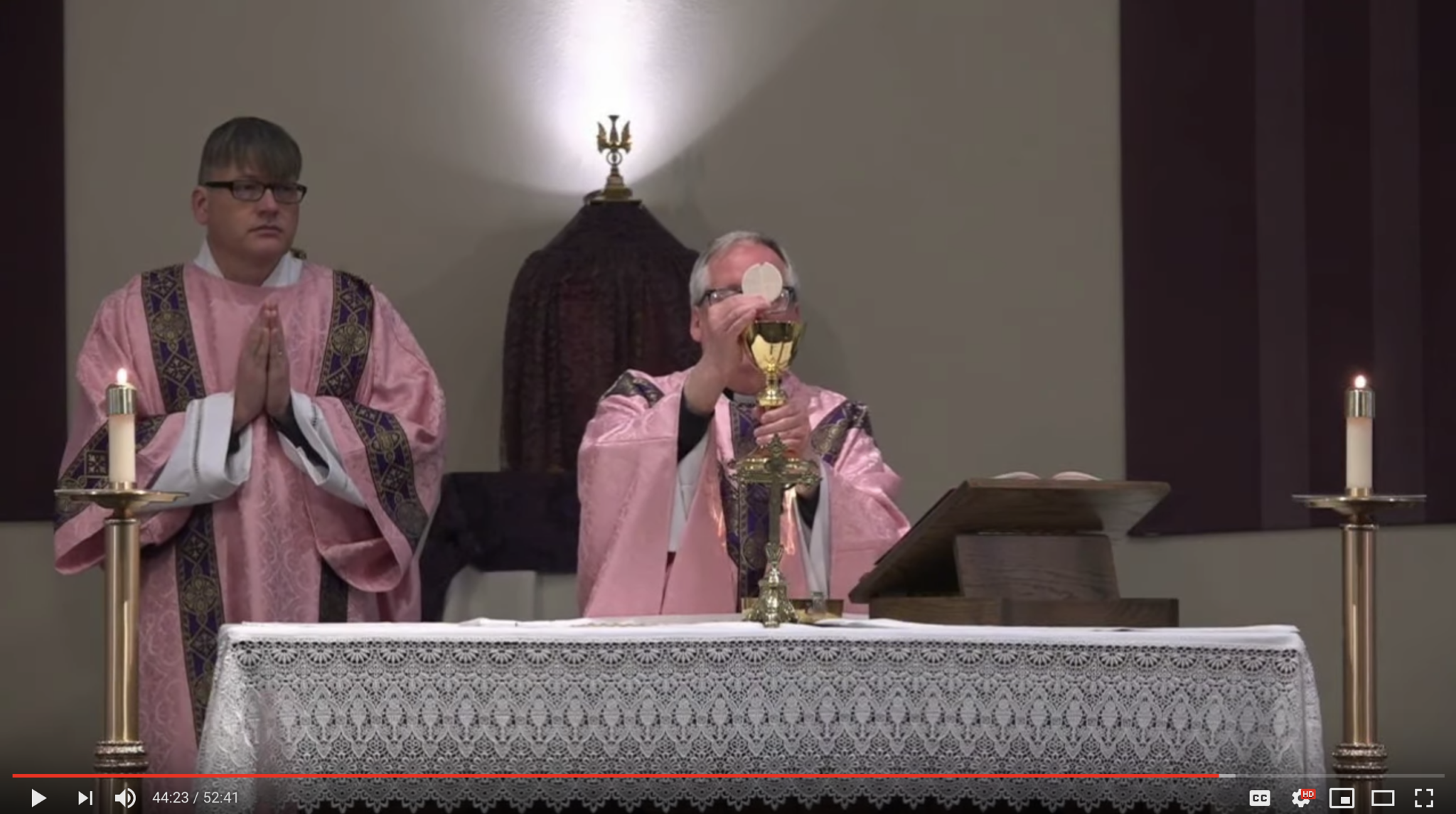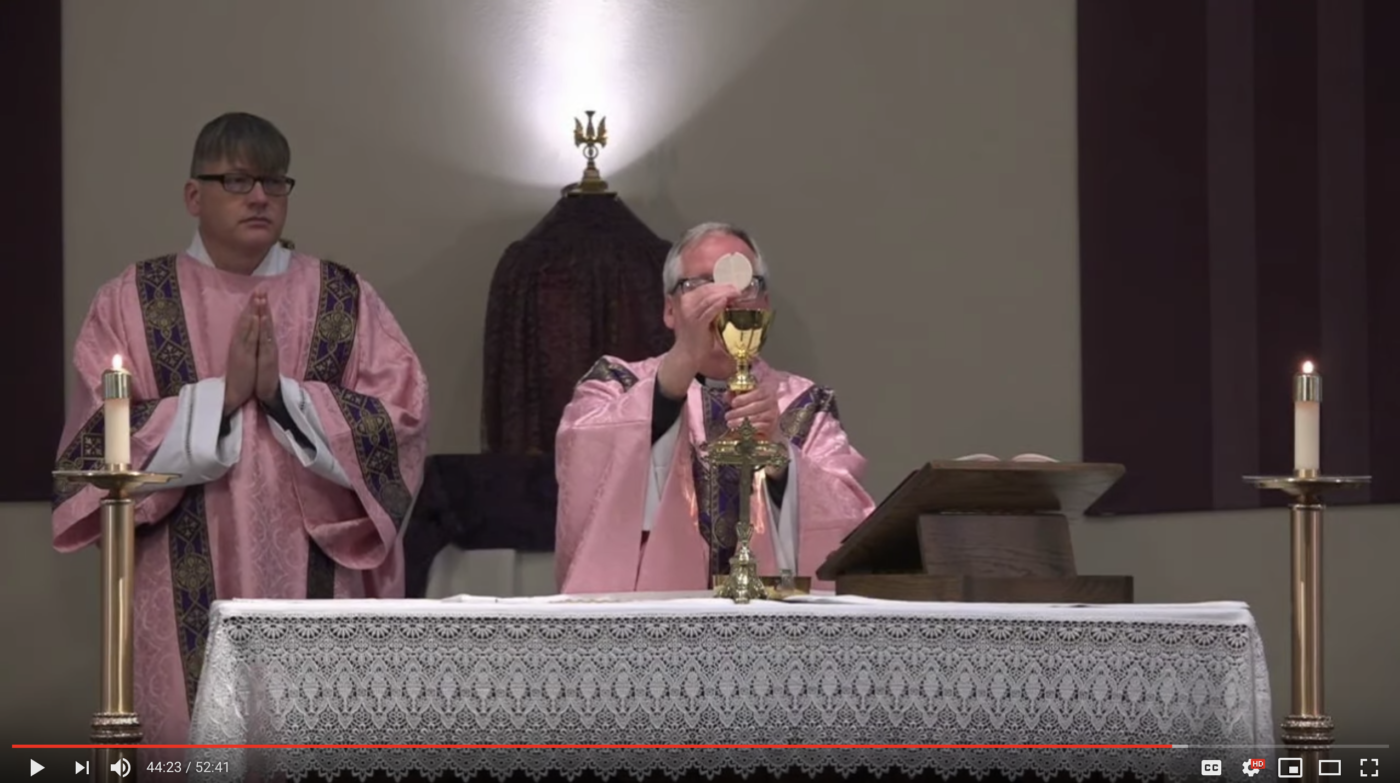 For your convenience, we have compiled a partial list of parishes who are live-streaming Masses in both English and Spanish. Please check your parish's website or social media channels for more information, and let us know if we can add yours by emailing communication@diojeffcity.org.
Remember, too, to support your parish as we increase our efforts to spread the Gospel. Here's an important message from Bishop McKnight on this.
---
UPDATED 3/30 8:00 AM
---
Masses in English:
Bevier – Sacred Heart
https://www.facebook.com/shbevier/
Sunday Mass: 8 AM
Bonnots Mill – St. Louis of France (broadcasting from Immaculate Conception in Loose Creek)
https://www.facebook.com/ICParishLooseCreek/
Saturday Night Vigil: 5 PM
Boonville – SS Peter & Paul
https://www.facebook.com/ssppchurchboonville/
Sunday Mass: 9 AM; Daily Mass: Tues. thru Sat. 9 AM
Eucharistic Adoration with Benediction: Wed. & Sun. 9:45- 11 AM
Brunswick – St. Boniface
https://www.facebook.com/St-Boniface-Catholic-Church-100513974933167/
Sunday Mass: 10 AM
Centralia – Holy Spirit
https://www.facebook.com/Holy-Spirit-Church-of-Northern-Boone-County-MO-869160226493880
Saturday Night Vigil: 5 PM; Daily Mass: Wed. 6:30 PM
Columbia – Our Lady of Lourdes
https://www.facebook.com/OurLadyofLourdes.Columbia
Sunday Mass: 8:30 AM, Daily Mass: (check Facebook for updates)
Columbia – Sacred Heart
https://www.facebook.com/sacredheartcomo
Sunday Mass (recorded)
Columbia – St. Thomas More Newman Center
https://www.facebook.com/pg/CoMoNewman/videos/
Sunday Mass: 11 AM, Daily Mass: noon
Fayette – St. Joseph
https://www.facebook.com/stjosephfayette/
Eucharistic Adoration with Benediction: Tues. 4-5 PM
Folk – St. Anthony of Padua
https://www.facebook.com/pg/St.JosephChurchWestphaliaMO
Sunday Mass: 8:30 AM
Frankenstein – Our Lady Help of Christians
https://www.facebook.com/groups/1465964356805525/
Sunday Mass: 8 AM; Daily Mass: Thur. 10 AM
Freeburg – Holy Family
https://www.holyfamilyfreeburg.com
Sunday Mass (recorded)
Fulton – St. Peter
https://www.facebook.com/stpeterfulton
Sunday Mass: 9 AM live; recorded/posted on Youtube
Weekday prayer opportunities: 3 PM on Facebook
Glasgow – St. Mary
https://www.facebook.com/glastgowstmary/
Sunday Mass: 8:30 AM
Hannibal – Holy Family
https://www.facebook.com/myholyfamilychurch/
Sunday Mass: 10 AM
Hermann – St. George
https://www.stgparish.com
Sunday Mass (recorded)
Holts Summit – St. Andrew
https://www.youtube.com/channel/UCxQWwuO9iiCUJixo2hBUcKA
Sunday Mass: 9:30 AM; Daily Mass: Tues. thru Fri. 8 AM
Indian Creek – St. Stephen
(Broadcasting from Holy Rosary in Monroe City)
http://shorturl.at/zNQ57
Sunday Mass: 8 AM
Jefferson City – Immaculate Conception
https://www.facebook.com/immaculateconceptionjc/
Saturday Night Vigil: 7 PM (Live on Facebook), reposed for Sun. 9 AM on: www.icangels.com
Jefferson City – St. Peter
https://www.facebook.com/saintpeterchurch/
Saturday Night Vigil: 4 PM
Stations of the Cross: Fri., noon
Priest on the Porch: Confessions, Anointing of the Sick, conversation — Mon. thru Fri. 10 AM-2 PM (check Facebook for weekend updates)
Jonesburg – St. Patrick (broadcasting from Immaculate Conception in Montgomery City
https://www.facebook.com/immaculateconceptionmcmo/
Sunday Mass: 9 AM
Kirksville – Mary Immaculate
https://m.youtube.com/channel/UC4py17NWQhZPaN4HqqLdwCg
Sunday Mass: 9 AM
Lake Ozark – Our Lady of the Lake
https://ourladylake.diojeffcity.org (check homepage for links)
Sunday Mass: 10 AM, Daily Mass: Tues. Thur. & Fri. 8 AM, Wed. 6 PM, Sat. 11 AM
Linn – St. George
https://www.facebook.com/stgeorgeparishlinn/
Sunday Mass: 10 AM; Daily Mass: Mon. Wed. & Fri. 8 AM, Tues. 6 PM, Sat. 8:30 AM
Confessions: Drive-up (parking lot behind church) Sat. 5-6 PM
Loose Creek – Immaculate Conception
https://www.facebook.com/ICParishLooseCreek/
Saturday Night Vigil: 5 PM
Macon – Immaculate Conception
https://www.facebook.com/icchurchmacon/
Sunday Mass: 10 AM
Marceline – St. Bonaventure
https://sites.google.com/view/st-boncatholicmass/home
Sunday Mass (recorded)
Marshall – St. Peter
https://www.facebook.com/stpeter.office
Saturday Night Vigil: 5:30 PM; Daily Mass: Tues. thru Fri. 8 AM
Martinsburg – St. Joseph
https://www.facebook.com/pages/category/Catholic-Church/St-Joseph-Catholic-Church-Martinsburg-MO-221708691212598/
Sunday Mass: 9 AM
Mary's Home – Our Lady of the Snows
https://www.facebook.com/oloschurchmaryshome/
Saturday Night Vigil: 6 PM
Mexico – St. Brendan
https://www.facebook.com/stbrendanchurch/
Sunday Mass: 9 AM
Stations of the Cross: Mar. 27 @ 1 PM
Milan – St. Mary
https://stmary.church/masses
Sunday Mass: 8:30 AM
Moberly – St. Pius X
https://www.facebook.com/pg/SPXMoberlyMO
Sunday Mass: 9 AM
Homilies (audio): https://www.stpiusxmoberly.com/weekend-homily
Monroe City – Holy Rosary
http://shorturl.at/zNQ57
Sunday Mass: 8 AM
Montgomery City – Immaculate Conception
https://www.facebook.com/immaculateconceptionmcmo/
Sunday Mass: 9 AM
Palmyra – St. Joseph
https://www.facebook.com/StJosephCatholicChurchPalmyraMO/
Sunday Mass: 8 AM
Pilot Grove – St. Joseph
https://www.facebook.com/stjosephcougarspilotgrove/
Sunday Mass: 9 AM
Rich Fountain – Sacred Heart
https://www.sacredheartrf.com
Sunday Mass: 7:45 AM
Rolla – St. Patrick
https://www.facebook.com/stpatsrolla/
Saturday Night Vigil: 5 PM; Sunday Mass: 10:30 AM
Daily Mass (as often as possible)
Stations of the Cross through Mary's eyes and heart (recorded)
St. Elizabeth – St. Lawrence
https://www.facebook.com/groups/2695122610719788/?ref=share
Saturday Night Vigil: 5 PM
St. Martins – St. Martin
https://www.facebook.com/stmartinparishjc/
Sunday Mass: 8 AM; Daily Mass: Mon. Tues. & Fri. 88:30 AM
Gospel reflections with Fr. Stephen Jones (on Facebook)
St. Robert – St. Robert Bellarmine
https://www.facebook.com/Saint-Robert-Bellarmine-Catholic-Church-158635704310347/?epa=SEARCH_BOX
Saturday Night Vigil: 6 PM
St. Thomas – St. Thomas the Apostle
https://www.facebook.com/St-Thomas-the-Apostle-Church-109903037307741/
Sunday Mass: 10 AM
Salisbury – St. Joseph
https://www.facebook.com/StJosephSalisburyMO/
Sunday Mass (recorded)
Sedalia/Pettis County – St. Vincent de Paul
https://www.facebook.com/StVincentdePaulCatholicParish/
Sunday Mass: 8 AM; Daily Mass: Tues. thru Fri. 8 AM
Shelbina – St. Mary
https://www.facebook.com/St-Marys-Catholic-Church-of-Shelbina-MO-325533647542316/
Sunday Mass: 9 AM
Taos – St. Francis Xavier
https://www.facebook.com/groups/102623563199241/
Saturday Night Vigil: 5 PM; Daily Mass: Tues. 7 PM & Thur. 8 AM
(Recorded Sat. Vigil Mass also posted at https://www.sfxtaosmo.org/ )
Unionville – St. Mary (broadcasting from St. Mary in Milan)
https://stmary.church/masses
Sunday Mass: 8:30 AM
Vienna – Visitation
https://www.facebook.com/Visitation-of-the-BVM-Vienna-MO-349487041870005/?eid=ARBMhhOwDpWbIsom11TQDAmPLP-RM0k3koTB-UD02VPDQem8bJZErnhPhMU-VCHKtYaiFK0dG5QPSRoB
Saturday Night Vigil: 4 PM
Westphalia – St. Joseph
(broadcasting from St. Anthony of Padua in Folk)
https://www.facebook.com/pg/St.JosephChurchWestphaliaMO
Sunday Mass: 8:30 AM
Wien – St. Mary of the Angels
(broadcasting from St. Joseph in Salisbury)
https://www.facebook.com/StJosephSalisburyMO/
Sunday Mass (recorded)