Transforming the Church, one website at a time.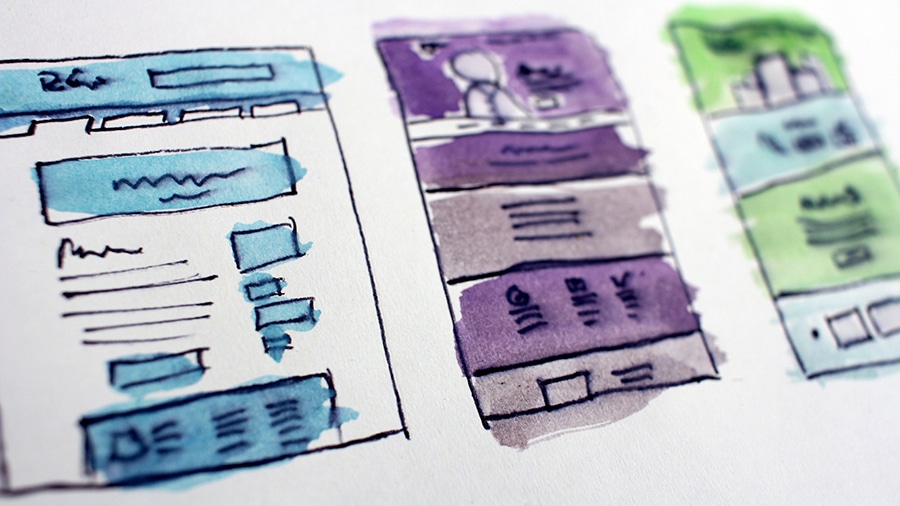 This post is part of a weekly series exploring the "Better Together Branding Initiative" a diocesan-wide project helping parishes refresh their brands and digital presence.
---
If you're joining today to read, I hope you are looking forward some time off this week to celebrate the Fourth of July with your friends and family. Though we have many irons-in-the-fire here, I know our team here is grateful for a break from the everyday routine to reflect on the freedoms and privileges afforded to us in the United States.
On a personal note, I am also praying for migrant families who are facing hardship and trial at the US-Mexico border. Did you see this beautiful and challenging story of Bishop Mark J. Seitz of El Paso Texas? I pray that we may all be "doctors of the soul" to the neighbor, the stranger and each other, and strive for true freedom and dignity for our brothers and sisters who suffer.
In an effort to keep this week's Better Together Branding Initiative relatively light – I want to remind readers that the Frequently Asked Questions post offers more in-depth insight into a few of the ideas I'm highlighting today.
I also wanted to quickly acknowledge the many wonderful and insightful questions and concerns brought to me by parishioners, parish staff and pastors. I am encouraged by the thoughtful questions and insights brought to my office. They signal to me that parishes are ready to think broadly about how they are communicating their missions and, in some cases, to take a leap of faith to enrich their communications plans.
I know it can be frustrating to take one small step at a time, and to feel that our progress is slow. But, looking at the big picture, I see that our plans are being formed not as a one-time-solution to issues or a one-size-fits-all approach to parish communications, but a living breathing plan that is scalable to our unique communities and evolves naturally into serving pastor and parishioner needs. I have been humbled by the patience, understanding and charity of each parish as we get to know each other and collaborate on this project!
To these points, I also want to offer a link to the Diocesan Communications Plan, in which our Director of Diocesan Communications, Helen Osman, unpacks the big-picture for us in a 15 minute video presentation that addresses current states of Mass attendance, effectiveness of our traditional communication mediums, generational preferences in receiving news and more. In addition, she has graciously delved into a few more pointed topics in her post, "Why are we doing that? How data is informing our decision making."
And now, moving forward!
This week marks a very positive step forward in our parish website development project! On Tuesday, I delivered the "Parish Website Template Packet" to parish website administrators. This comprehensive packet of worksheets, checklists and content guides lays out the structure and content of parish websites and allows for parish website administrators to get a jump on planning and preparing content to migrate on to their new sites this fall.
While I look forward to publicizing that packet more fully in the future, today I'd like focus on one key feature that will enrich the experience of parishioners and non-Catholics alike who find themselves visiting the new parish websites across our diocese, and that is the ability to integrate information from the Diocesan website seamlessly onto each parish website.
Because our new parish websites will be connected to our Diocesan website as a "sub-domain", we now have the ability to share information from the Diocese with parishes without asking parish staff to seek updates on our website or manage multiple changes themselves.
Here are few ways that feature plays out:
Well researched, source-cited articles exploring and explaining Church teachings on the sacraments, worship & prayer and more, written by Diocesan staff and updated by the Diocese automatically for parishes.
Diocesan-wide events and news items that parishioners and community members seek regularly at parishes can be displayed on parish home pages, event pages and news pages as the parish staff see fit.
Diocesan standards for becoming Catholic, reception of sacraments, and other high-level information is updated by Diocesan staff to ensure accuracy and relevancy to visitors. (For example, when the Confirmation age announcement was made, the information on all parish websites would be updated automatically.)
While the "Universal" content is managed by the Diocese, parishes are able to expand on these articles in their own sections to further explain or explore how those high-level teachings play out in their parishes.
As website developer, these features are music-to-my-ears! I hope that as a visitor to this page, and many other websites, to you it sounds logical… maybe it even has an air of "That's not exciting, that's just how it should be!" to which, I very much agree.
What excites me is the willingness I've experienced here at the Chancery and with each parish I've met with to keep moving forward. To keep stepping out in faith, trusting my office and Blackbaud with figuring out how this all works – to enable parishes to focus less on the paper work, and more on the mission of bringing their people to Christ in their role as centers of mercy and charity.
Honestly, the technology behind these advancements can be tedious; I am so thankful for the skilled developers at Blackbaud who receive my big-picture requests and run with it, clicking away, calculating and coding to deliver features that we'll be able to simply point-and-click to use. Because, my focus is still on streamlining how we deliver information to our people, reducing the noise and chaos of the digital world they inhabit to bring them back into the fold of a Church rich in history, liturgy and teachings that transform our hearts, and bring us closer to the God of the Universe.
As Matt Meeks says, in his talk, The New Renaissance:
"I took roughly a couple hundred years since the death and resurrection of Christ for an empire [The Roman Empire] to become a church [The Roman Catholic Church], and that was traveling at the speed of walking. If we're traveling at the speed of digital, how long will it take the for the church to transform? What if we committed to unity, to fervent prayer for a Renaissance of the digital continent, and committed to entering into the fray? I think…we could transform the world in ten years. It took Facebook fifteen years, we could do it in ten, we've got the saints behind us."

THE NEW RENAISSANCE, MATT MEEKS
Until next time!