Bishop's messages
---
---
---
Scheduling confirmation
It is time to begin the planning and scheduling process for the celebration of the sacrament of Confirmation in 2019-2020. Attached is a form every parish needs to submit to schedule confirmation in the year ahead. This confirmation cycle marks the first year in our transition process to lower the age. Thus, there are several changes to the response form and age policy. In addition, I have approved three options by which parishes can choose to administer the sacrament during the three-year transition phase. Please read the cover letter carefully and complete the form at your earliest convenience. It is due in our Office of Youth Ministry no later than July 22. Finally, the attachment includes a "frequently asked questions" section intended to provide clarification on common questions that may arise. Please contact John DeLaporte with questions at 573-635-9127, ext. 233, or jdelaporte@diojeffcity.org.
---
This week is the US Conference of Catholic Bishops' General Assembly. Please pray for us as we meet to discern several important issues. You can monitor the public meetings online at http://usccb.org/about/leadership/usccb-general-assembly/index.cfm
---
As a reminder:
---
Notices
With Pentecost and World Communication Day here, it seems a great time to remind folks not to miss the latest post from our director of parish communications, Ashley Wiskirchen, with key takeways for those parishes in the first wave of our parish website adventure! And, wait, there's more…
---
St. Robert Bellarmine and St. Jude have a new email address, office@strobertcatholic.com, effective immediately. Father John Groner's new email address is jgroner@strobertcatholic.com.
---
The May issue of the Bishops' Committee on Divine Worship newsletter has information on new translations, deacons at baptism, and more.
---
Please check out this month's Safety Guide.
---
Parishes are asked to publish in their bulletins the need for relief parents at St. Nicholas Academy. You can find the listing here.
---
As a reminder:
---
Upcoming events
Please consider promoting these events in your bulletins, other print publications, on your website and in other digital sites. Please use the description in our online event page (links provided for each event) for your print products. You may find more events on our diocesan website.
---
Protecting God's Children workshops
The Catholic Church in the United States is committed to providing safe environments in all of our ministries and activities, especially those involving children and youth. One aspect of our commitment is that anyone who works with minors in our parishes, schools and other Catholic organizations in the Diocese of Jefferson City receive training. For a full list of trainings currently available, please visit our Virtus site and select "Jefferson City, MO (Diocese)," or go to our Events page and filter by "Protecting God's Children."
---
CHRISTpower needs you! Please feel free to use this video to promote this wonderful camp for young people!
CHRISTpower is an authentically Catholic service retreat for high school students to grow in relationship with Jesus Christ and his Church where a safe environment is created for each retreatant to ask the question, "Who is God the Father creating me to become?" Retreatants are divided into teams. In the course of a week, each team goes to five different service sites. In the evening, everyone is brought back together where spectacular life nights filled with uplifting Christian music and activities allow the retreatants to grow in relationship with Jesus Christ, each other and themselves. Camp is at Helias Catholic High School in Jefferson City on July 14-20. For more information visit https://www.oymdiojeffcity.com/christpower.
---
There are several opportunities in June for married and engaged couples to learn about the Creighton method of Natural Family Planning. Check our website for more details.
June 15: Chancery, Jefferson City. Call Phyllis White, 816 550 8789
June 17: Guiding Star Mid-MO, St. James. Call Marca Stephens, 573.247.8624 or email marcastephens@gmail.com
---
Several bi-lingual events are being offered in the upcoming weeks. Please visit these links for more information and for suggested promotional graphics and text, in English and Spanish:
June 15: Precious Blood Prayer Group concert, Sacred Heart, Columbia | graphic
June 15: Retreat, St. Brendan, Mexico | graphic
June 22-23: St. Mary Prayer Group retreat, St. Mary, Milan
June 22-23: Couples Retreat, St. Peter, Marshall | graphic
---
---
---
Are you or a loved one suffering from abortion? Find hope and allow God to heal your heart by attending a Rachel's Vineyard weekend retreat. The second of three 2019 retreats to be held in the Kansas City area will be on July 26-28. For more information or to register, please contact Teresa O'Donnell at (816) 679-4973, rvkcmo@gmail.com (please note: you might have to check your Spam folder for the guaranteed email reply) or www.rachelsvineyardkc.org.
---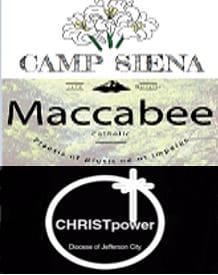 There are several youth camps available this summer. Please check them out!

Camp Maccabee 2019
The Camp Maccabee session for June 16-21 has been cancelled. However, there's still time to sign up Catholic young men (grades 9-12) for the sessions June 23-28 and July 21-26. Camp Maccabee was founded in 2009 with the purpose of forming bold, Catholic, masculine leaders. For more information visit https://www.oymdiojeffcity.com/camp-maccabee.
Camp Siena
Camp Siena is a summer camp experience committed to helping young Catholic women (grades 9-12) deepen their relationship with God and others by exercising, understanding, and living their unique feminine spirituality and becoming the woman God is calling them to be. It is offered July 28-Aug. 1. For more information, visit https://www.oymdiojeffcity.com/camp-siena.