Bishop's messages
---
We continue to pray for all who are impacted by the natural disasters this year, both the tornadoes that hit Cole, Hickory, Miller and Randolph counties this past week, and the flooding of major rivers in our Diocese. Counties impacted by that flooding include Boone, Callaway, Camden, Chariton, Clark, Cole, Gasconade, Howard, Lewis, Linn, Maries, Marion, Miller, Moniteau, Monroe, Montgomery, Morgan, Osage, Pettis, Phelps, Perry, Pike, Ralls, Randolph and Saline.

Catholic Charities of Central and Northern Missouri, an agency of our Diocese, is working with other agencies to ensure a coordinated and integrated network of support is provided to those affected.

As was done in response to the 2017 floods, Catholic Charities is putting in place a process to assist those who have a very fragile safety net: people without insurance, who are not homeowners, on limited income, with disabilities, or whose livelihood has been impacted by the natural disaster. If you are interested in assisting in this effort, please consider donating to Catholic Charities' Disaster Relief Fund. Every dollar will be used for direct assistance of people affected by the flooding and tornadoes. Donations may be made at diojeffcity.org and cccnmo.org.

Please continue to monitor our social media and website for ways to provide assistance to our neighbors. We are better together!
---
Thank you to those who join me every month in a special prayer intention for our Diocese. June's prayer intention may be found on our website now.
---
On Pentecost, June 9, we are asked to support two campaigns which help to spread the Good News today: the Catholic Communication Campaign and The Catholic University of America. Please consider using this linked letter from me to promote this special collection: English PDF | Spanish PDF | English MSWord | Spanish MSWord. Online resources are also available through these links for the Catholic Communication Campaign and The Catholic University of America.
---
As a reminder:
---
Notices
The Chancery office is closed today, Memorial Day. We pray for those who courageously laid down their lives for the cause of freedom. May the examples of their sacrifice inspire in us a selfless love for Jesus Christ and His people.
---
We are happy to announce Cheryl Hertfelder as the new director of Human Resources for the Diocese of Jefferson City, beginning June 3. A certified human resources professional, Ms. Hertfelder was the human resources manager for the Shrine of Our Lady of the Snows in Belleville, IL, from 1994 to 2017. Please join us in welcoming her. Her email will be HRDir@diojeffcity.org and she will be available at ext. 252.
---
Beginning July 1, non-employees will be reimbursed for mileage at $0.14/mile, a rate established by Congress for volunteer reimbursement and which is not taxable.
---
The calendar for special collections for 2019 and 2020 is available online at this link.
---
The Tribunal office will be closed until Tuesday, May 28. If you need to reach Msgr. Higley by email you may contact him at glh@stgparish.com. Terry Vignola will be checking her email periodically during this time, tvignola@diojeffcity.org, but will not have access to case files. Questions regarding the status of a particular case will be answered after Terry returns to the office on May 28. We apologize for any inconvenience this may cause.
---
Order your 2019 Diocesan Directory here!
Printed copies of the Diocesan Directory will be available in early July. Thank you to those who have already placed an order. Please use this form to order directories for priests, deacons, religious and key lay staff for parishes and schools. There is no charge for these copies. If you have any questions, please contact Helen Osman via email.
---
Father Joe Corel is seeking information regarding the extent of Catholic jail ministry in our diocese. If you know someone who is involved in Catholic jail ministry, or about visits to jails by volunteers or ministers, please take a moment to complete this survey: www.surveymonkey.com/r/DioJeffCityJailMinistry. Please also consider including this information in parish communications.
---
The Diocesan Safety Committee assists parishes and schools in providing safe workplace environments for employees, students and the public. The Diocesan Safety Committee reviews workplace claims, offers suggestions to improve safety in work environments and sends out monthly safety bulletins. It also provides financial assistance through a Safety Grant program. Parishes, schools and other diocesan employers may apply for grants up to $2,500 to meet safety needs and concerns. Deadline for applying for this year's grant cycle is May 31. Please submit grant applications by email or by postal mail to the Diocese, to the attention of the Finance Office, Safety Grant. Questions may be addressed to Deacon Joe Braddock, 573.635.9127.
---
As a reminder:
---
Upcoming events
Please consider promoting these events in your bulletins, other print publications, on your website and in other digital sites. Please use the description in our online event page (links provided for each event) for your print products. You may find more events on our diocesan website.
---
Protecting God's Children workshops
The Catholic Church in the United States is committed to providing safe environments in all of our ministries and activities, especially those involving children and youth. One aspect of our commitment is that anyone who works with minors in our parishes, schools and other Catholic organizations in the Diocese of Jefferson City receive training. For a full list of trainings currently available, please visit our Virtus site and select "Jefferson City, MO (Diocese)," or go to our Events page and filter by "Protecting God's Children."
---
CHRISTpower needs you! Please feel free to use this video to promote this wonderful camp for young people!
CHRISTpower is an authentically Catholic service retreat for high school students to grow in relationship with Jesus Christ and his Church where a safe environment is created for each retreatant to ask the question, "Who is God the Father creating me to become?" Retreatants are divided into teams. In the course of a week, each team goes to five different service sites. In the evening, everyone is brought back together where spectacular life nights filled with uplifting Christian music and activities allow the retreatants to grow in relationship with Jesus Christ, each other and themselves. Camp is at Helias Catholic High School in Jefferson City on July 14-20. For more information visit https://www.oymdiojeffcity.com/christpower.
---
There are several opportunities in June for married and engaged couples to learn about the Creighton method of Natural Family Planning. Check our website for more details.
June 1: Sacred Heart, Columbia. 816 550 8789
June 8: Mary Immaculate, Kirksville. Call Lynn Carter, 660.988.9279
June 15: Chancery, Jefferson City. Call Phyllis White, 816 550 8789
June 17: Guiding Star Mid-MO, St. James. Call Marca Stephens, 573.247.8624 or email marcastephens@gmail.com
---
---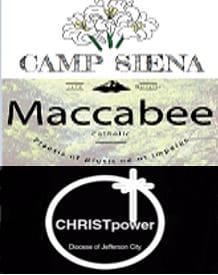 There are several youth camps available this summer. Please check them out!

Camp Maccabee 2019

The Camp Maccabee session for June 16-21 has been cancelled. However, there's still time to sign up Catholic young men (grades 9-12) for the sessions June 23-28 and July 21-26. Camp Maccabee was founded in 2009 with the purpose of forming bold, Catholic, masculine leaders. For more information visit https://www.oymdiojeffcity.com/camp-maccabee.

Camp Siena

Camp Siena is a summer camp experience committed to helping young Catholic women (grades 9-12) deepen their relationship with God and others by exercising, understanding, and living their unique feminine spirituality and becoming the woman God is calling them to be. It is offered July 28-Aug. 1. For more information, visit https://www.oymdiojeffcity.com/camp-siena.