Bishop's messages
The weekend after Easter Sunday, April 27-28, we will be participating in a national special collection for our Home Missions. The Appeal funds grants to home mission dioceses — dioceses and eparchies in the United States unable to offer their people the basic pastoral ministries of word, worship, and service without outside help. People across the United States long to grow closer to Christ but too many cannot access even basic pastoral programs. The Catholic Home Missions Appeal helps dioceses overcome obstacles of geography, poverty, and limited resources, and fosters solidarity to help others experience the presence of the risen Lord. Bulletin announcements and other promotional material are available at the USCCB website. Also attached is a letter from me: English in PDF and MSWord, Spanish in PDF and MSWord.

---
Thank you to all who participated in the Chrism Mass last Thursday. I am blessed to be your shepherd! For those who weren't able to attend, we have some video of the Mass on our Facebook page, and my homily is posted on our website.
As a reminder:
---
Notices
The Diocesan Safety Committee assists parishes and schools in providing safe workplace environments for employees, students and the public. The Diocesan Safety Committee reviews workplace claims, offers suggestions to improve safety in work environments and sends out monthly safety bulletins. It also provides financial assistance through a Safety Grant program. Parishes, schools and other diocesan employers may apply for grants up to $2,500 to meet safety needs and concerns. Deadline for applying for this year's grant cycle is May 31. Please submit grant applications by email or by postal mail to the Diocese, to the attention of the Finance Office, Safety Grant. Questions may be addressed to Deacon Joe Braddock, 573.635.9127.
---
The Chancery offices will be closed from Holy Thursday, noon, through the Monday of Holy Week, April 22.
---
As a reminder:
---
Upcoming events
Please consider promoting these events in your bulletins, other print publications, on your website and in other digital sites. Please use the description in our online event page (links providing for each event) for your print products. You may find more events on our diocesan website.
Protecting God's Children workshops
The Catholic Church in the United States is committed to providing safe environments in all of our ministries and activities, especially those involving children and youth. One aspect of our commitment is that anyone who works with minors in our parishes, schools and other Catholic organizations in the Diocese of Jefferson City receive training. For a full list of trainings currently available, please visit our Virtus site and select "Jefferson City, MO (Diocese)," or go to our Events page and filter by "Protecting God's Children."
---
April 19: Way of the Cross for victims of abortion
---
April 27: Pre-Cana
---
April 27: FertilityCare Practitioner training
Ever consider being a FertilityCare Practitioner? Apply now for a class beginning April 27 with FertilityCare Center of Kansas City. Complete info and application materials can be found on the website at www.fertilitycarekc.com. Phyllis A White,CFCE Program Director with Dr. Joseph B. Stanford, MD, CFCMC as Medical Consultant. Call Phyllis at 816-550-8789.
---
April 27-28: Marriage Encounter. Please use the graphic below to promote.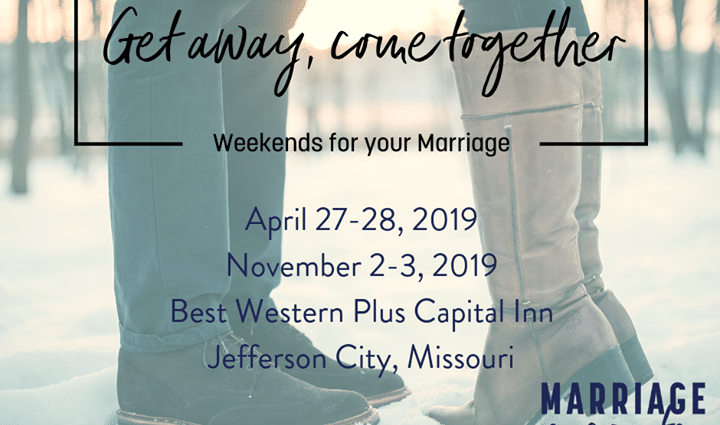 ---
April 27-28: Retiro de Jóvenes: A great retreat opportunity for the preparation of this year's quinceañeras and chambelanes for any 14- to 18 year-olds, a Retiro de Jóvenes will be held April 27-28 at Sacred Heart School in Sedalia. A chance to share, have fun, learn, reflect, pray and encounter Jesus. Please use the graphic here to promote on social media. Parental consent forms should be sent to the diocesan Faith Formation team.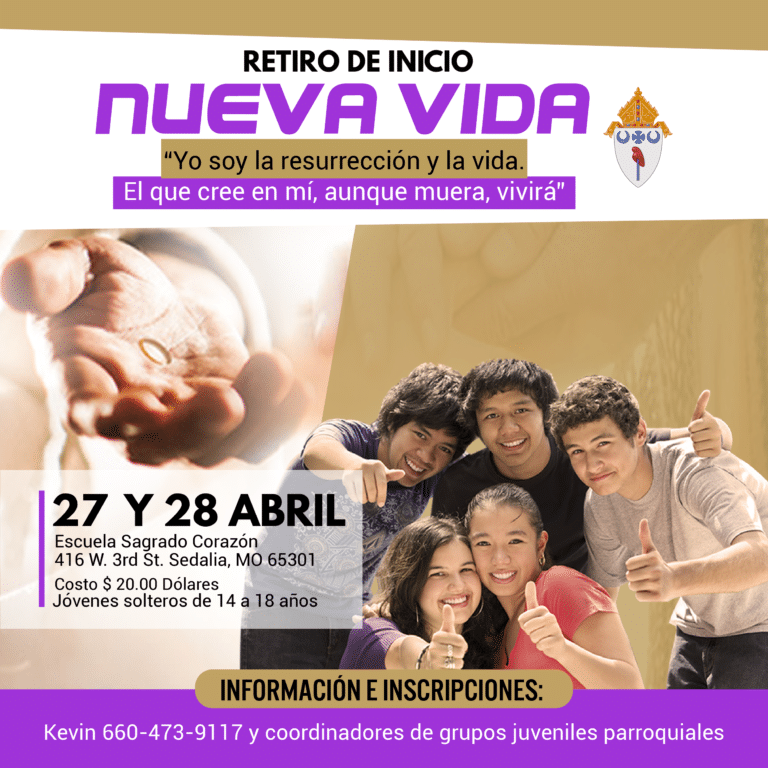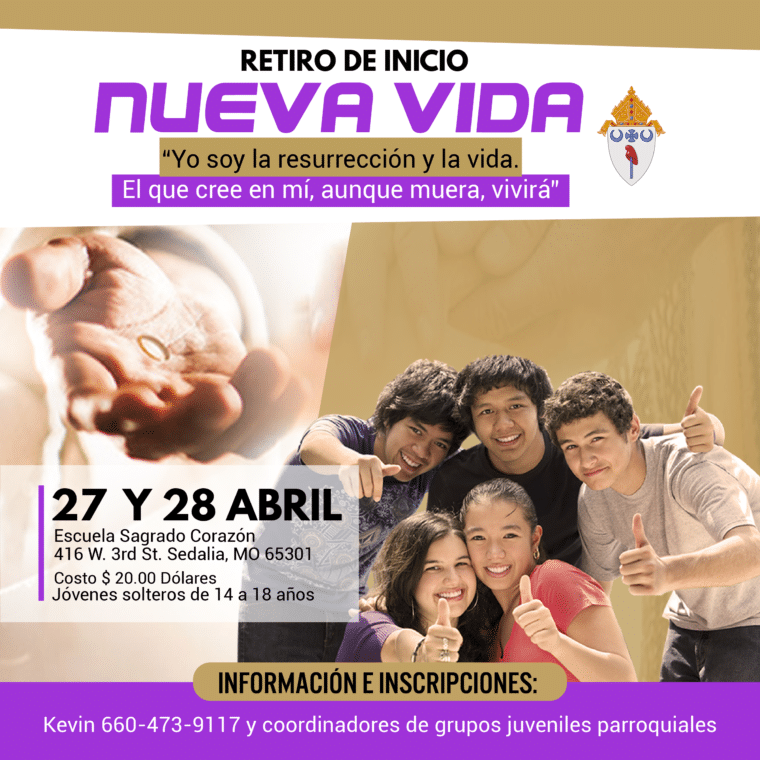 ---

May 1: REBOOT!
---
May 3-5 Rachel's Vineyard retreat in Kansas City: Are you or a loved one suffering from abortion? Find hope and allow God to heal your heart by attending a Rachel's Vineyard weekend retreat. The first of three 2019 retreats to be held in the Kansas City area will be on May 3-5. For more information or to register, call Teresa O'Donnell at 816-679-4973 or email rvkcmo@gmail.com or visit www.rachelsvineyardkc.org.
---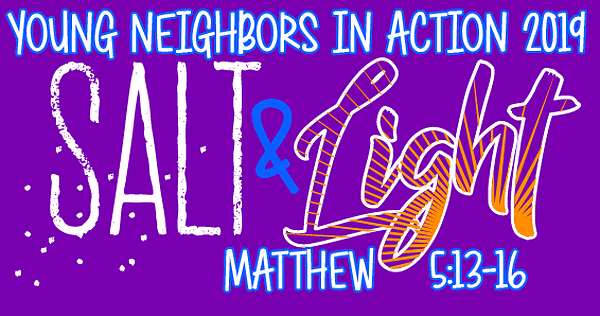 July 6-12: Summer mission trip for teens (deadline May 1)
---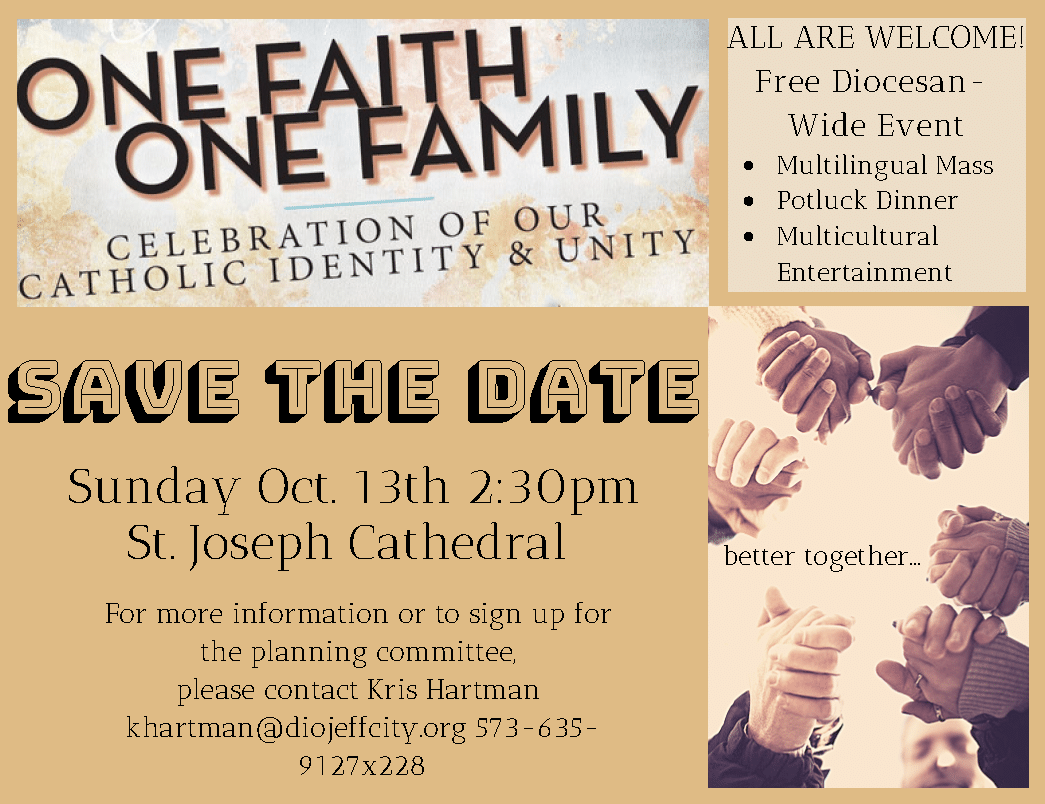 ---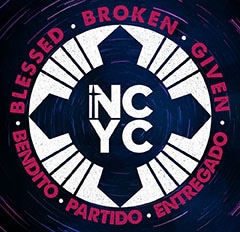 National Catholic Youth Conference: Nov. 21-23
May 13 is the deadline to register for the 2019 National Catholic Youth Conference, to be held Nov. 21-23 in Indianapolis. Visit www.oymdiojeffcity.com/ncyc for more details and promotional material.